Vegan Butternut Squash Risotto is the perfect fall meal! This savory dish is gluten-free and vegan, yet it is so creamy, that you will think that it must have dairy!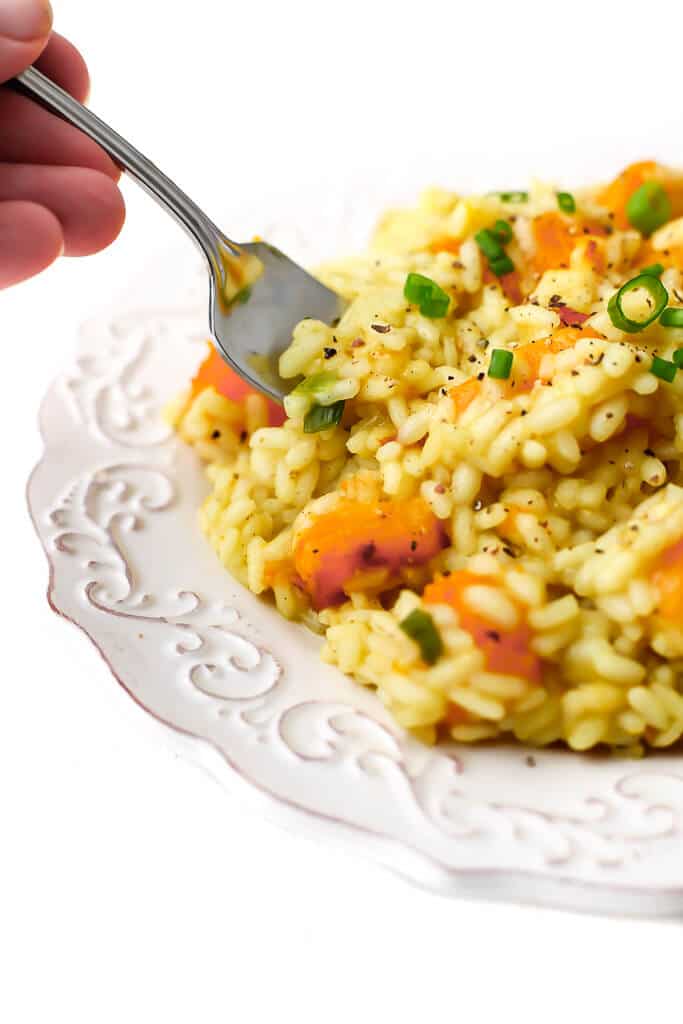 This is one of my favorite dishes to make for a plant-based Thanksgiving or any fall dinner party! Everyone loves it, not just the vegans, and it is free of all common allergies, so almost anyone can it!
Jump to:
This squash risotto is rich and creamy, hearty, and satisfying. It's full of healthy vitamin-packed squash, plus it's naturally gluten-free. This plant-based risotto makes a naturally creamy meal without the need for dairy or dairy substitutions.
🧾 Ingredients and substitutions
Butternut Squash - a medium squash or about 3-4 cups cubed squash. You can also use any other winter squash that you would like.
Arborio Rice - this is the only type of rice you should use to make risotto. It cooks differently than other types of rice giving it a creamy texture.
Vegan Butter - to warm the garlic and coat the rice. You can my homemade vegan butter or use extra virgin olive oil instead of butter.
Garlic - for flavor. (optional)
Green Onions - for flavor. (optional)
Dry White Wine - to give it an authentic risotto flavor. (Optional - my kids like it better without wine).
Vegan Broth - to cook the rice in.  Any vegetarian broth will work, but I think that the chicken-flavored vegan broth has the best flavor with the squash and sage.
Sage or Poultry Seasoning - to give it a savory flavor. Fresh sage adds flavor and is a beautiful garnish.
Turmeric - for a beautiful color.
Olive Oil - to roast the squash.
Salt and Black Pepper - for flavor.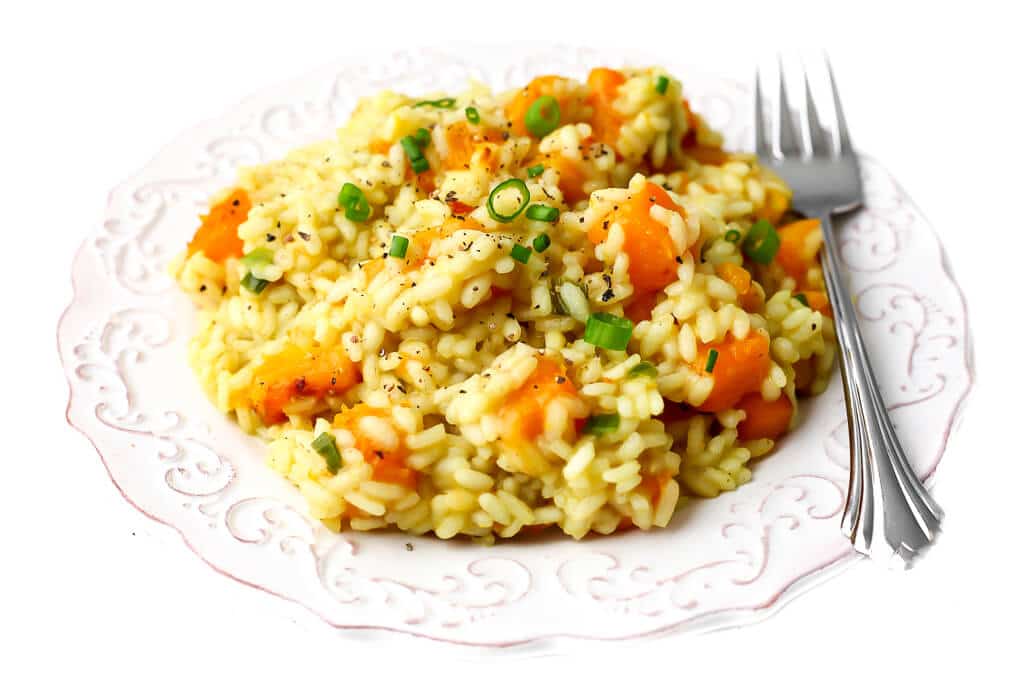 🥄 How to make vegan butternut squash risotto
Roast the butternut squash
Start by roasting the squash because this will take the longest.
Step 1 - Just wash your squash, and put the whole thing in the oven at 300 degrees F for about ½ hour. Take it out and let it cool for about 5-10 minutes until you can hold it without getting burned.
Step 2 - Use a peeler to easily peel off all the skin. Then cube it into bite-sized pieces, making sure to throw away the seeds and stem.
Step 3 - Next, put the squash on a cookie sheet, drizzle with some olive oil, sprinkle with salt and pepper, and bake at 375° F for about another ½ hour until it is soft all the way through and a little crispy on the outside.
Step 4 - Flip the cubed squash with a spatula about every 10 minutes. (If you don't pre-bake the squash, you will need to cook it for about 45-50 minutes).
Step 5 - Roast the squash until tender and easily pierced with a fork.
Note: You can peel and cube the butternut squash in its raw state if you are strong and have a very sharp knife, however, I prefer to bake it a little first to make it easier to peel and cut.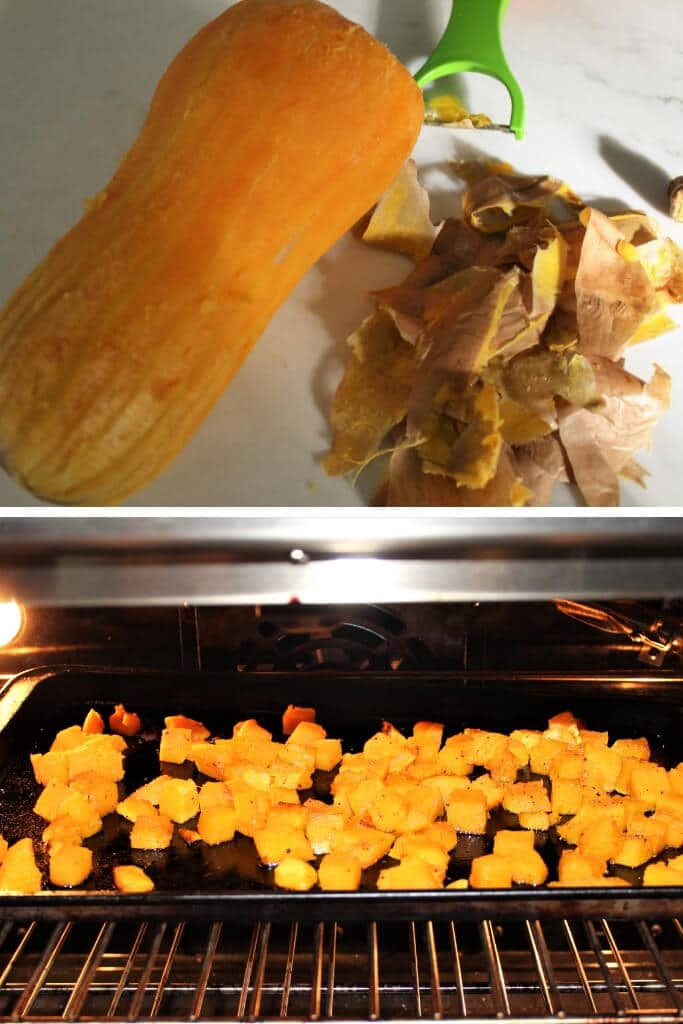 Cook the risotto
Step 1 - While the cubed squash is baking, heat vegan butter (I like to use my vegan butter recipe) or margarine in a large pan on low until it melts.
Step 2 - Add 4 cloves of minced garlic (and/or green onion optional) and allow the garlic to warm in the butter for a few minutes.
Step 3 - In a separate pot, make 6 cups of broth by pouring 6 cups of water into a pot with 3 bouillon cubes of Not chick'n and add a tablespoon of poultry seasoning and a dash of turmeric to the broth. Heat and stir until the broth cubes are dissolved.
Step 4 - Pour in the dry arborio rice and stir until the grains of rice are coated in the margarine and turn slightly translucent.
Step 5 - Turn up the stove to medium heat and add the white wine if desired, or simply the first ½ cup of broth, and stir slowly until nearly all the liquid is absorbed.
Step 6 - Add the remaining 6 cups of vegetable broth mixture ½ cup at a time, stirring frequently and adding more as soon as the liquid is absorbed.
Step 7 - Once you have used up all the broth, add the roasted butternut squash and fold the squash into the rice. Don't stir too much or you will mash the squash.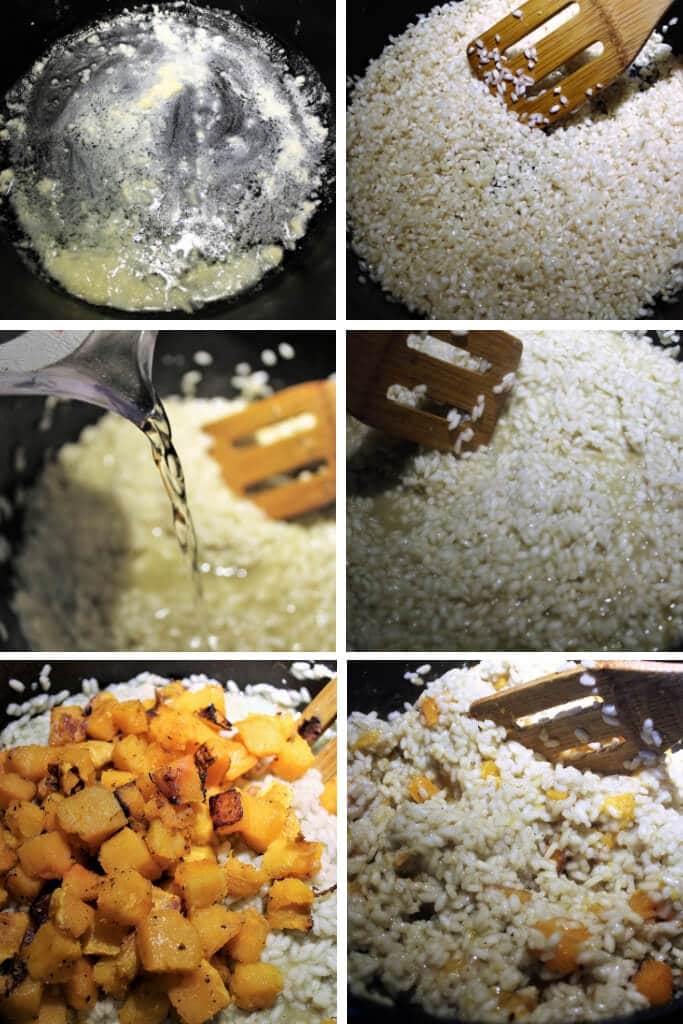 You may want to pour yourself a glass of that white wine and talk to a friend while you make this vegan roasted squash risotto. It doesn't take much brainpower to make, but you can't walk away from this dish!
Be patient, cook the rice over low heat, and slowly add the broth for a creamy risotto.
👩🏻‍🍳 Pro Tips
It's delicious with vegan Parmesan or nutritional yeast sprinkled on top! You can make your own dairy-free Parmesan cheese using my quick and easy nut-free recipe.
If you want a quicker and easier way to make risotto, you can also try my vegan orzo pasta recipe that's made in about half the time.
You can also make vegan risotto with other vegetables, you can check out my post about the different ways to make vegan risotto for more ideas, or check out my cauliflower risotto recipe for a low-carb option.
❓ Frequently asked questions?
What is risotto?
Risotto is a creamy dish made with a special type of rice called Arborio that gets creamy when you cook it the right way. Make sure to use the arborio rice in this recipe or it won't be the right texture. 
Do I have to use wine in risotto?
No, it's traditionally made with white wine, but to make it more kid-friendly, I give the option to exclude the wine. My husband and I love the flavor with the wine in it, but my kids hate it. Although the alcohol cooks out, it does have a flavor that kids aren't used to. When I omitted the wine, my kids gobbled it down!
🥡 Storing and freezing
Refrigerate: This vegan squash risotto will keep well in the fridge for 3 - 5 days in a sealed container.
Freeze: Risotto also freezes well and can be stored in an airtight container in the freezer for up to 3 months. Allow the frozen risotto to thaw overnight in the fridge before reheating.
🥘 Reheating
You can reheat leftover risotto in a saucepan with a few tablespoons of extra water added. Add the extra water and stir frequently until a creamy consistency is achieved. You can also reheat it in a microwave with a little extra water stirred in.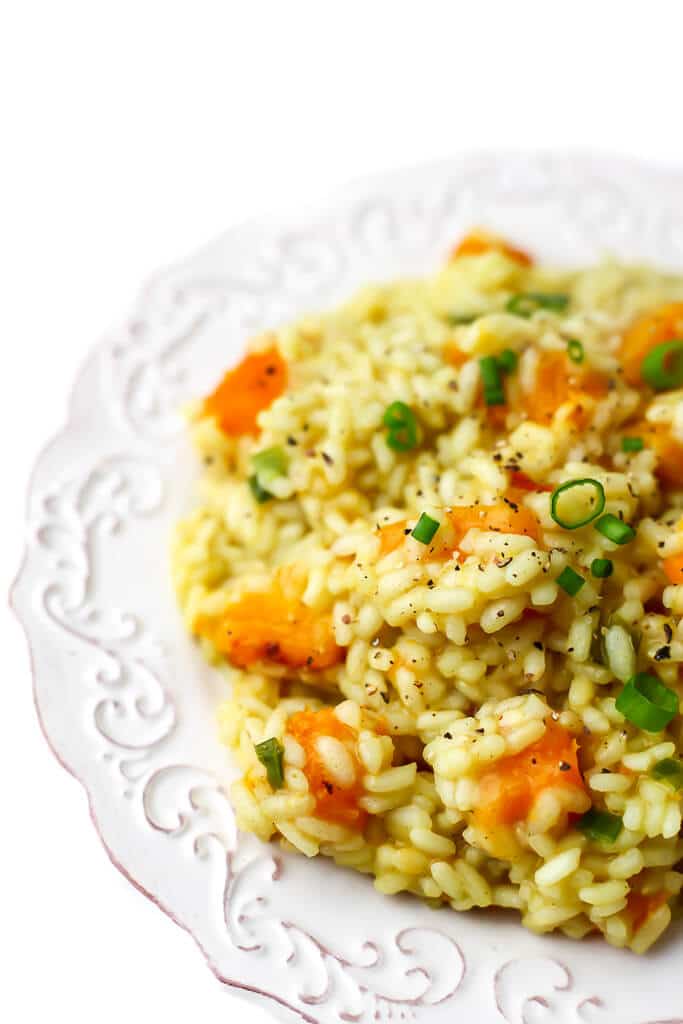 If you love butternut squash, you have to try my creamy vegan butternut squash soup and my vegan squash curry recipe too!
📌 Be sure to follow me on Pinterest for new vegan recipes!
📋 Vegan squash risotto recipe
Print Recipe
Vegan Butternut Squash Risotto
Creamy vegan risotto with butternut squash and sage for a hearty fall meal.
Ingredients
2

tablespoons

vegan butter

or vegan margarine or olive oil

4

cloves

garlic

minced

2

stalks

green onions

2

cups

Arborio rice

½

cup

dry white wine

or ½ cup additional broth or water

6

cups

Not Chick'n broth

or any other vegan broth of choice

1

tablespoons

poultry seasoning

or sage

1/8

teaspoons

turmeric

(optional for color)

2

tablespoons

olive oil

Salt and pepper to taste

1

medium butternut squash

(about 3-4 cups cubed)

1

tablespoons

olive oil
Instructions
Wash the squash and place it in the oven at 300°F (150°C) for about 30 minutes until it becomes slightly soft.

Take it out and let it cool until you can hold it. Then peel and cube the squash.

Place cubes on a cookie sheet and sprinkle with olive oil, salt, and pepper.

Bake the cubes at 375°F (190°C) for an additional 30 minutes, flipping with a spatula every 10 minutes until slightly crisp on the outside.

Make 6 cups of broth by pouring 6 cups of water into a pot with 3 bouillon cubes of Not chick'n and add a tablespoon of poultry seasoning to the broth. Heat and stir until the broth cubes are dissolved.

While the cubed squash is baking, melt vegan margarine on low in a large pot.

Add minced garlic and thinly slice green onions and let it warm for about 3 minutes in the margarine.

Pour in 2 cups Arborio rice (dry unwashed) and coat the rice with butter and garlic. It will turn slightly translucent.

Add the wine (or ½ cup of broth) and stir until it absorbs.

Add the remaining 6 cups of broth mixture about ½ a cup or 1 ladle full at a time.

Stir slowly and constantly adding more each time the liquid is absorbed.

When all the broth has been used. Add the roasted squash to the rice and stir carefully until mixed. Serve immediately.
Notes
Make sure to add the broth slowly stirring between each scoop of broth.
You can peel and cube the squash without pre-cooking, however, it will be very hard to cut.  It will also need to bake a little longer on the cookie sheet.
Squash baking time will vary depending on the size of the cubes.
Nutrition
Serving:
1
cup
|
Calories:
315
kcal
|
Carbohydrates:
52
g
|
Protein:
4
g
|
Fat:
8
g
|
Saturated Fat:
1
g
|
Sodium:
538
mg
|
Potassium:
384
mg
|
Fiber:
3
g
|
Sugar:
2
g
|
Vitamin A:
10115
IU
|
Vitamin C:
20.1
mg
|
Calcium:
56
mg
|
Iron:
3
mg
*updated on 10/10/19 with new photos.
⭐⭐⭐⭐⭐ Click the stars above or leave a comment! I'd love to hear from you!