M&Ms are a classic chocolate candy created by Mars Inc. in 1941 consisting of a colorful hard candy shell covering a milk chocolate center. They have grown in popularity over the decades and now there are numerous varieties like Peanut, Peanut Butter, Dark Chocolate, and more.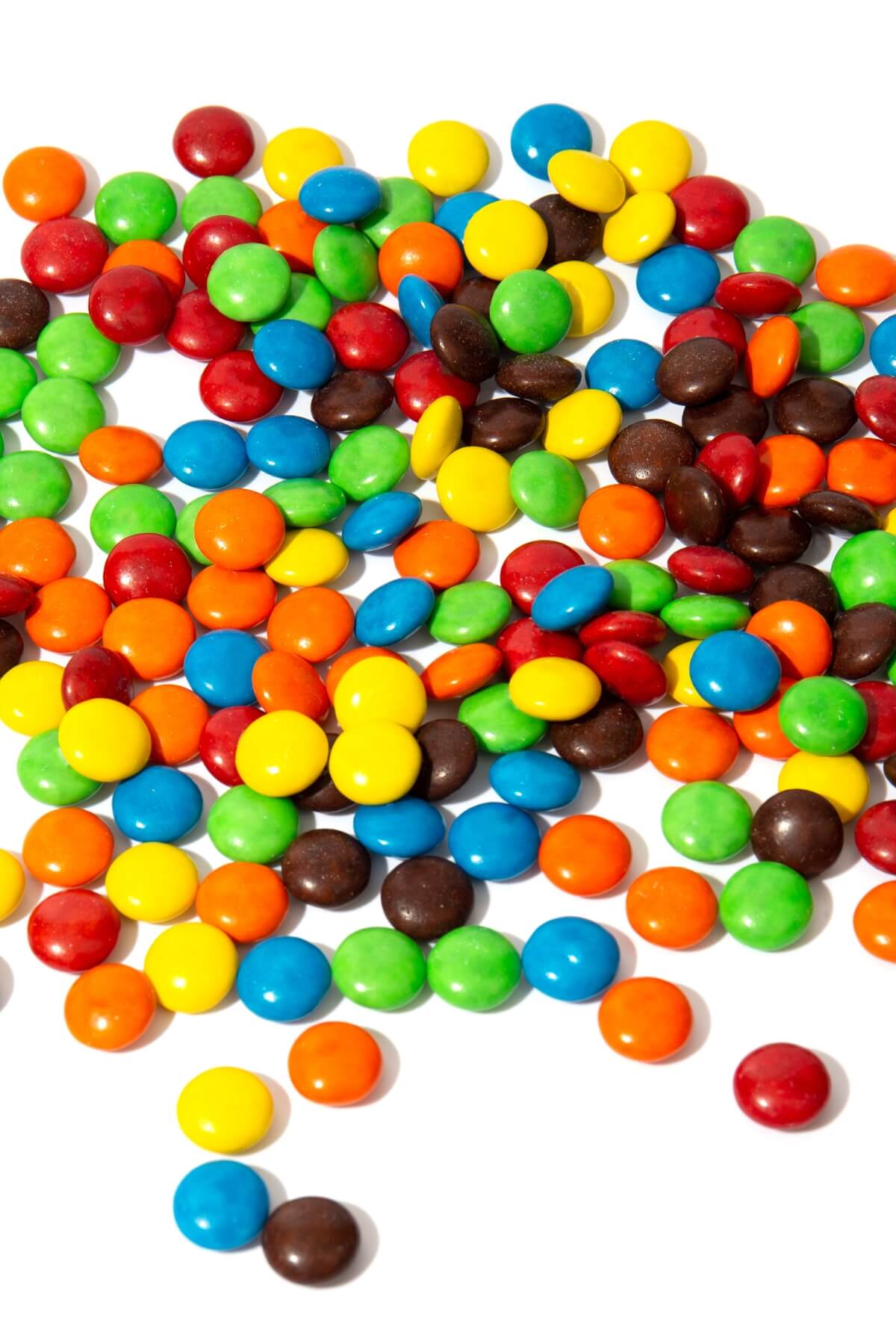 So you may be wondering, are M&Ms vegan-friendly? Upon checking the ingredient list, however, you'll find multiple animal-derived ingredients, that make M&M's not suitable for vegans to enjoy. But there are some vegan-friendly alternatives!
What are the ingredients in M&M's?
Milk Chocolate (Sugar, Chocolate, Skim Milk, Cocoa Butter, Lactose, Milkfat, Soy Lecithin, Salt, Artificial Flavors), Sugar, Cornstarch, Less Than 1% - Corn Syrup, Dextrin, Coloring (Includes Blue 1 Lake, Red 40 Lake, Yellow 6, Yellow 5, Red 40, Blue 1, Blue 2 Lake, Yellow 6 Lake, Yellow 5 Lake, Blue 2), Gum Acacia.
What ingredients make m&m's not vegan?
The first listed and most obvious non-vegan ingredient in M&Ms is milk chocolate. Milk chocolate is made with skim milk, lactose, and milkfat meaning that M&Ms contain dairy and are not vegan. M&Ms also contain artificial colors which some vegans avoid due to concerns over animal testing during.
Additionally, M&Ms are made with cane sugar, and some cane sugar in the US is processed with bone char. It is unclear whether or not the cane sugar in M&Ms is processed with this technique. If you want to be sure to avoid bone char processed sugars, opt for treats that get their sweetness from beet or coconut sugar.
Are any varieties of M&M's vegan?
As mentioned above, Mars has released a wide variety of M&M flavors over the years. Unfortunately, all of the varieties of M&Ms contain non-vegan ingredients, making them non-vegan.
It is important to note M&M's UK products may also not be suitable for a vegetarian diet due to the inclusion of Carmine and Beeswax in place of the Red 40 and Carnauba Wax that is used in the United States.
What are some vegan alternatives to M&M's?
Fortunately, there is a wide variety of vegan M&M alternatives that do not contain any animal products. Check out these options for vegan chocolates!
Add these vegan M&M alternatives to vegan chocolate chip cookies, vegan blondies, or vegan chocolate cookies. They're even great in vegan pancakes!
📌 Be sure to follow me on Pinterest for new vegan recipes!