Hi, I'm Monica. I'm the recipe developer, writer, and photographer for The Hidden Veggies Blog!
With over 23 years of being vegan and raising 2 vegan teenage boys since birth, I've learned how to feed a hungry vegan family! I created The Hidden Veggies to share my recipes, tips, and tricks with all of you. You will find recipes for "normal" everyday comfort foods that you and your whole family will love!
I'll help you to recreate all the classic comfort foods that you crave!
Ever since I can remember, I've been inventing new recipes and getting creative in the kitchen, so I decided to start sharing all of these recipes on this blog. These are my family's favorite foods that I've been making for years. I've tested, retested, and perfected each one to make sure that you have success in the kitchen each and every time.
How we maintain a vegan lifestyle
It was difficult to transition to a vegan diet at first. I missed those comfort foods I ate as a child, but instead of giving up on veganism, I learned to get creative in the kitchen and make vegan food taste like the foods I was craving.
Finding balance in eating
Finding this middle ground between plant-based food like whole grains, fruits, and vegetables, and food that still tastes good has helped me to stay vegan for 23 years (and my husband stay vegan for over 26 years). It has also allowed us to raise 2 vegan children who have never wanted a drop of meat or dairy!  I truly believe that this balance in eating is the key to maintaining a vegan lifestyle.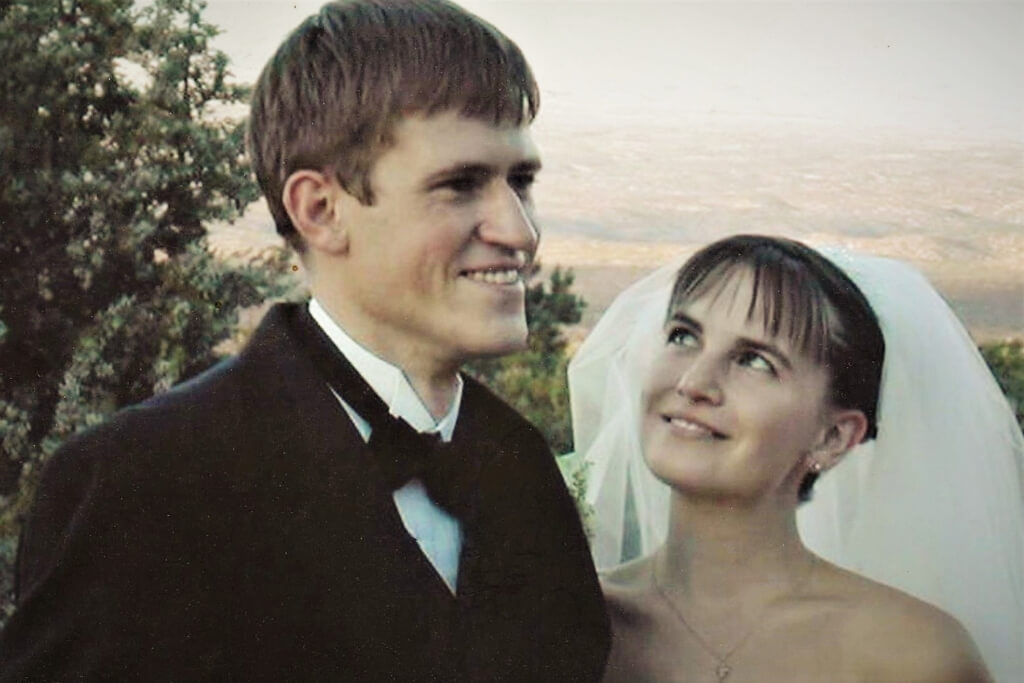 Why I make a lot of homemade vegan basics
I have been vegan since January 1, 2000! That means I haven't had any animal products since the turn of the millennium!
Back when I gave up animal products, there weren't many options if you wanted a vegan version of milk, cheese, or butter. Vegan mayo, vegan sour cream, and vegan cream cheese were nearly impossible to find. (This was back before things like Beyond Burgers or Daiya cheese were invented and there were only a few bad options at specialty stores).
So, if I wanted good-tasting vegan alternatives, I had to make them myself. (I even had to bake my own vegan wedding cake, since I couldn't find a vegan option back then).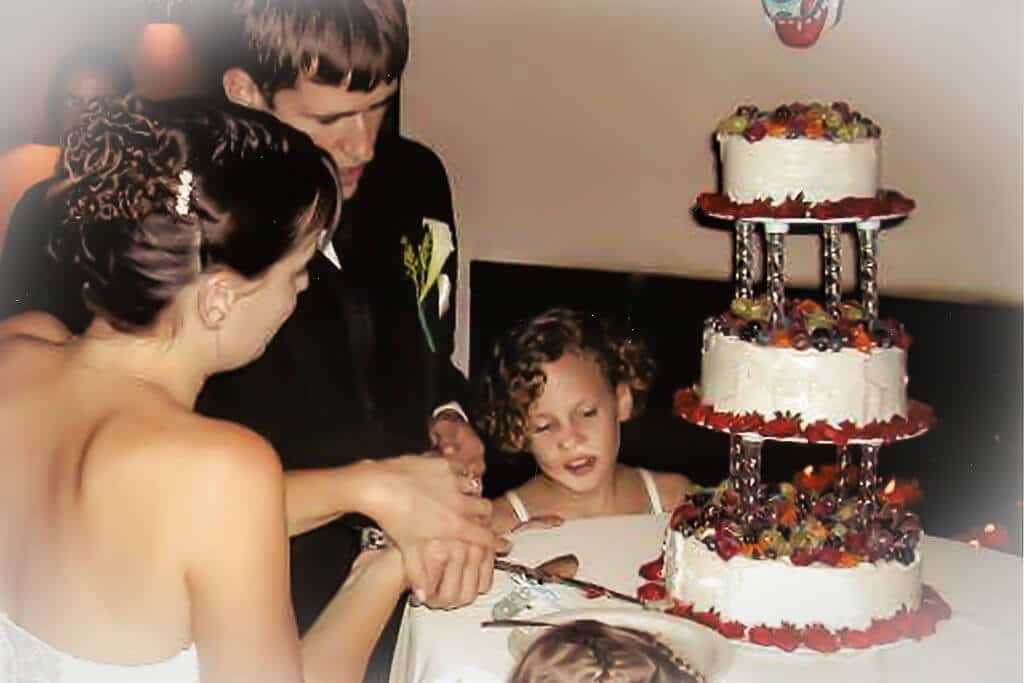 Even though vegan products are now widely available, I still use my homemade vegan staples like butter, cheese, ranch dressing, sausage, burgers, and more. They simply taste better, are free of preservatives, reduce packaging, and save my family a ton of money!
How you can make your own vegan basics too
If you want to learn how to make some basic vegan staples check out my cookbooks!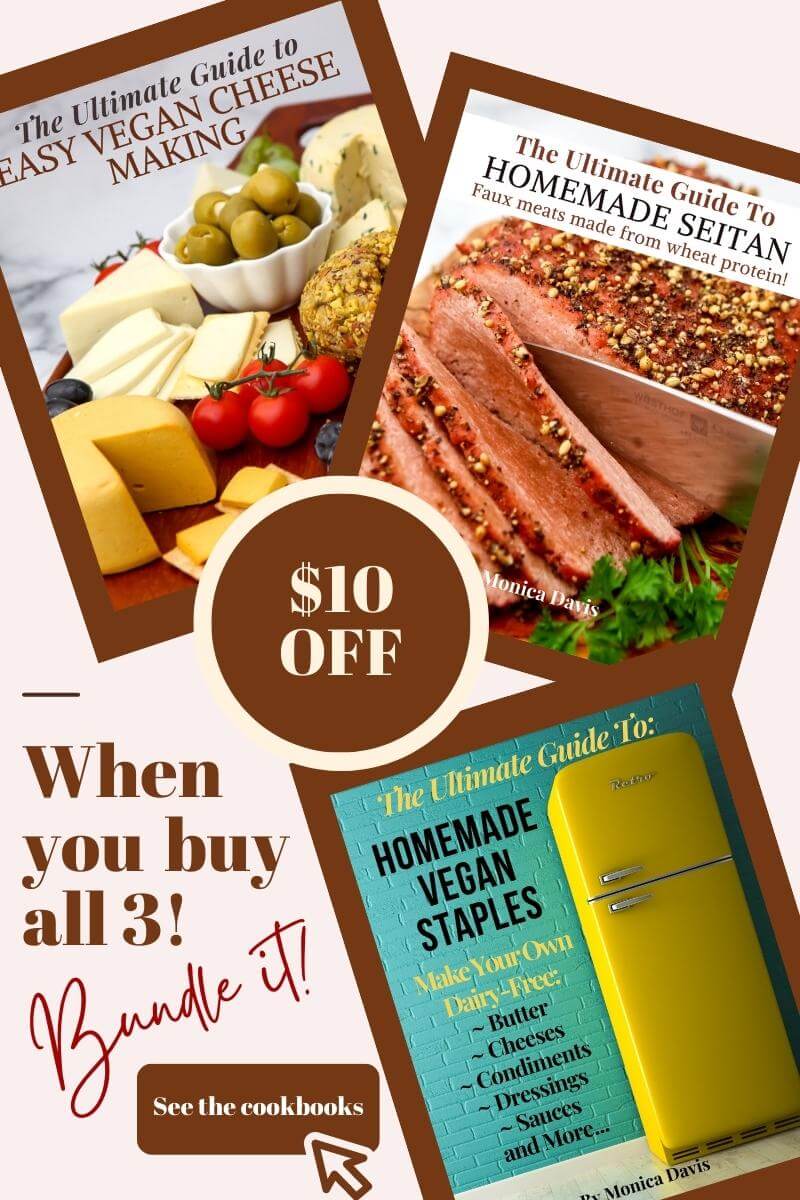 Free resources on the blog
If you are new to eating vegan I have a collection of vegan guides and easy vegan recipes for beginners that will help you have success immediately with your new vegan cooking adventures.
If you want to learn more about making your own basics sign up for one of my free eBooks that will show you how to get started.
My philosophy
I'm vegan for the animals and the environment - not weight loss! Veganism is not a diet!
I'm not a health nut!  Food is an important part of our culture and is one of the great pleasures of life.  So I work hard to make my recipes taste as similar as possible to those that you may miss or crave.
My site is simply a place to share awesome recipes that are free of animal products!  These recipes will help you and your family eat vegan long-term without feeling deprived.  It's not a low-fat, low-sugar, or low-carb recipe blog (there are enough of those out there).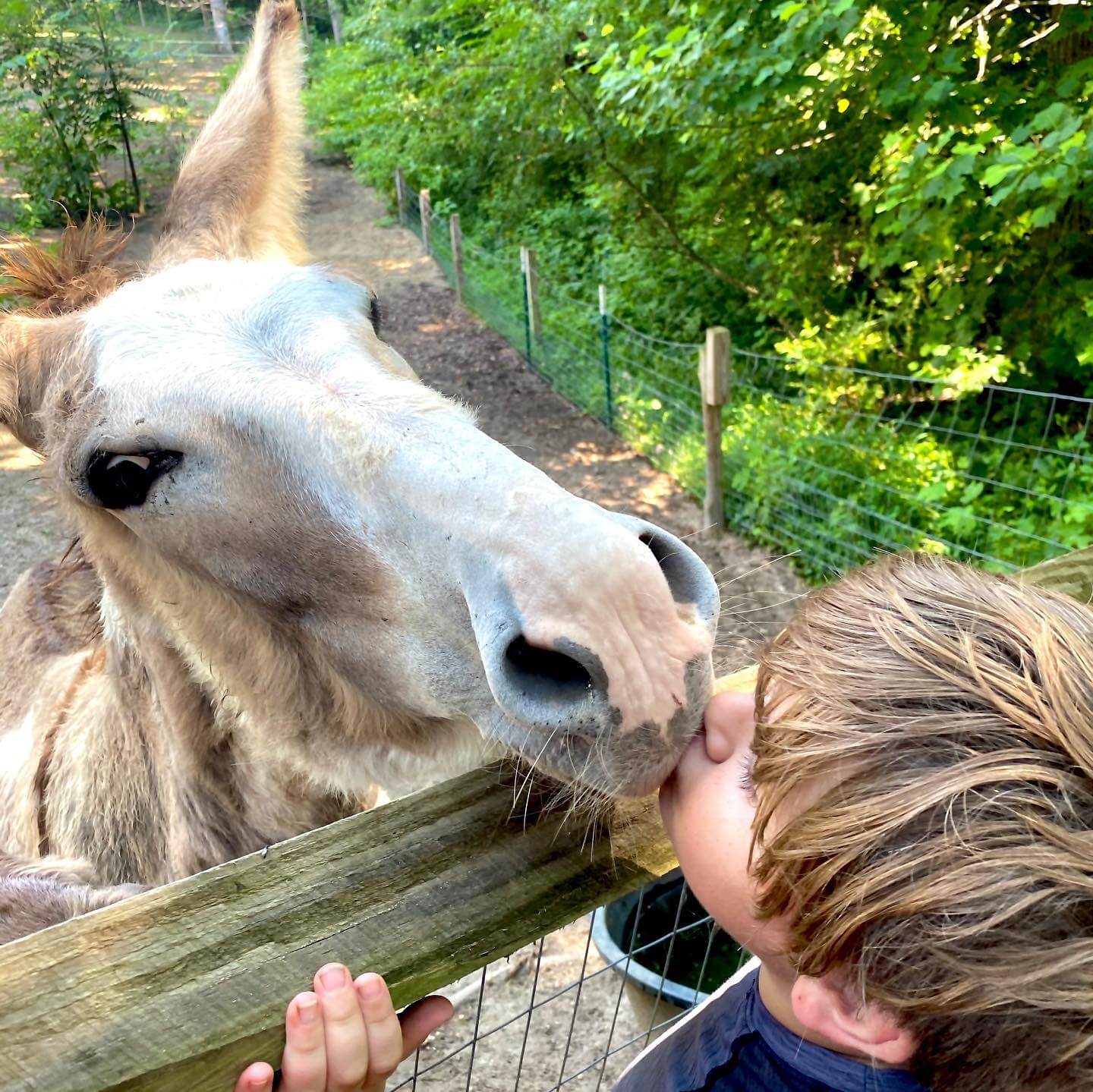 Some random facts about me
Before I started blogging I went to the University of New Mexico and got a BA in health education, and child psychology. I worked for the Head Start program on Native American Pueblos in New Mexico for a year before getting my Master's degree in special education. I then spent 7 years teaching children with behavior disorders in Albuquerque, NM.
I met my vegan husband while thru-hiking the Appalachian Trail during my summer break in 2000. He moved to New Mexico with me after he was done hiking from Georgia to Maine.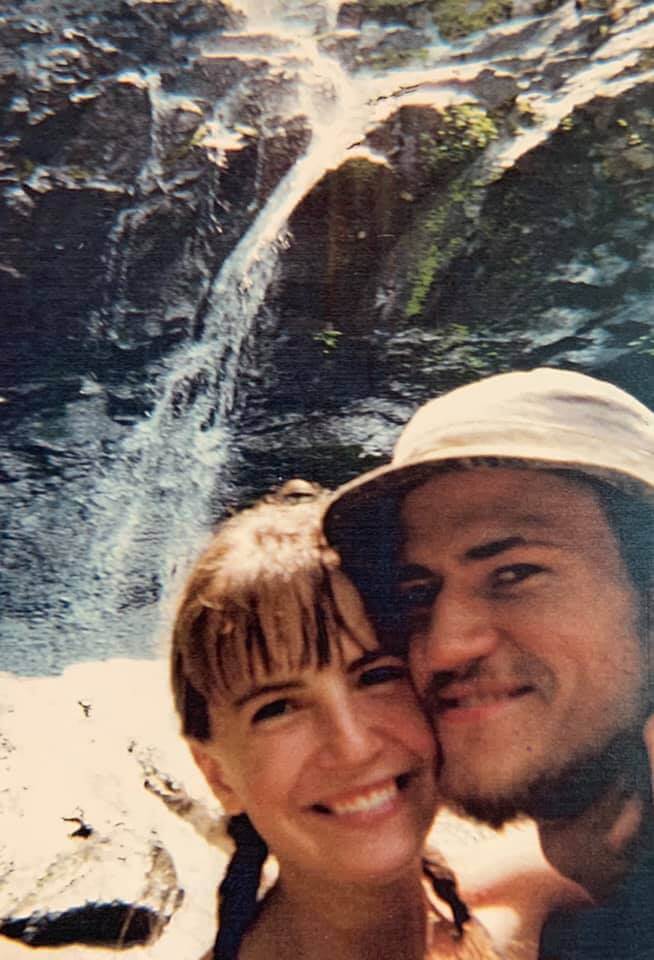 We moved to Pittsburgh in 2005 when my son was born to be close to family. I stopped teaching and spent another 7 years working as a certified behavior therapist for children on the Autism Spectrum.
I started The Hidden Veggies in 2017 when I quit my job to stay home with my son who had extensive medical needs at the time. (He is doing great now and even competes in American Ninja Warrior!)
Being a vegan recipe blogger is my ultimate dream job and I'm incredibly thankful to everyone who reads my blog and tries my recipes! You help make my dream a reality - thank you!
Vegan Airbnb (Our newest vegan adventure)
About 20 years ago when my husband and I lived in Albuquerque, NM. We would travel to this beautiful little town in the mountains on weekends.
One day while driving home from soaking in the hot springs we saw a for-sale sign pointing up a steep dirt road that led to the top of a mesa. We drove up there to check it out and saw the most beautiful view ever - with 1300-foot high red rock mesas surrounding us, mountains in the distance, and a lush river valley below! There was a small piece of land for sale for $20,000 which might as well have been a million dollars to us at the time.
We stood there and promised each other that one day we would live on that road. (It's a tiny, isolated town with very few places to work. So, for the last 20 years, I have been trying to figure out a way to make the dream a reality.) I casually looked for a home to come for sale on this small 1-mile-long stretch of road for 20 years.
Then, one day a house popped up for sale (with no pictures) we loaded our boys in the car and drove 26 hours from Pennsylvania to New Mexico to see it.  It was our dream house, but we weren't in the position to make the move there yet. We took a big leap of faith and decided to buy it and set it up as a vegan Airbnb until we could move there full-time.
Why a vegan Airbnb?
We know how hard it is to travel as a vegan, so we wanted a place where vegans could feel comfortable! The Airbnb doesn't use any animal products. All of the bedding and furnishings are free of wool, leather, and down. There's a fully stocked kitchen with vegan staples in the pantry and vegan soaps and shampoos in the bathrooms.
If you are looking for a beautiful relaxing vacation with lots of hiking, natural hot springs, art galleries, and pretty views, you can check it out here.
Why most of my recipes have gluten-free options
My children have PANDAS/ PANS which is an autoimmune disorder triggered by strep or other infections. (The disease has a strong genetic component).  It has been a long hard battle to get them well and a gluten-free diet was prescribed to them by their doctors.
We spent over 7 years eating both vegan and gluten-free, so most of my recipes are gluten-free or can easily be made gluten-free. Luckily, my children's immune systems have healed enough to eat gluten again.
If you want to learn more about our journey, this is an article I wrote for Huff Post about my son's battle with this illness.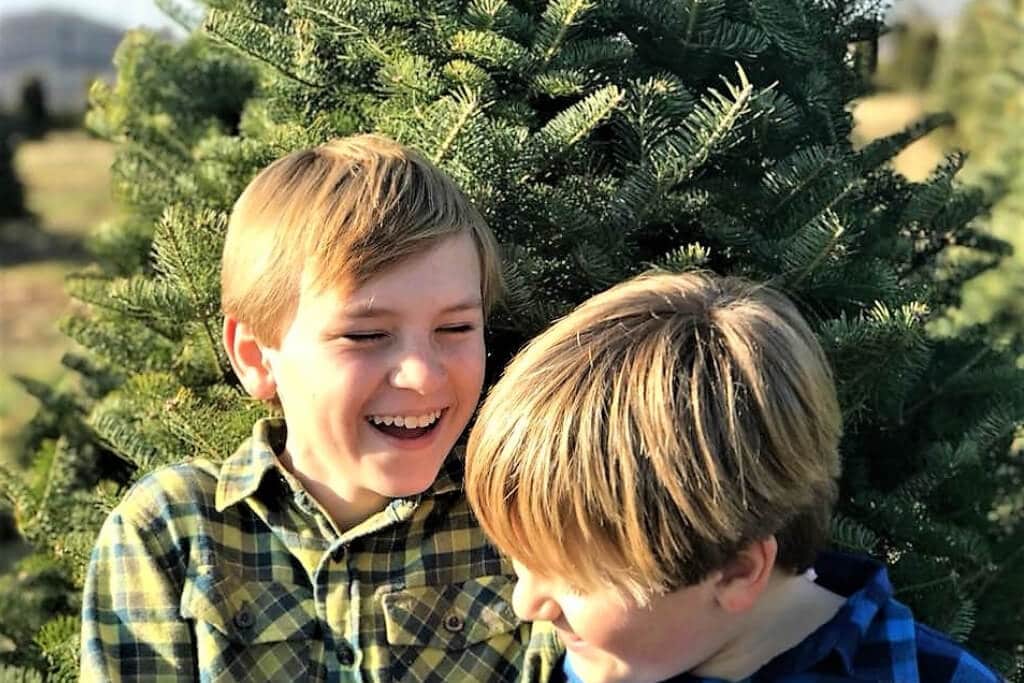 I am excited that you have found The Hidden Veggies! I hope that you give my recipes a try. I'm here to help you with any questions you may have along the way!