The quick answer to "Are ramen noodles vegan?" is ... well, sometimes. There are many different types of ramen and brands of ramen noodles, so you have to do a little homework to see. Don't worry, I've done the research for you and outlined all you need to know about vegan ramen.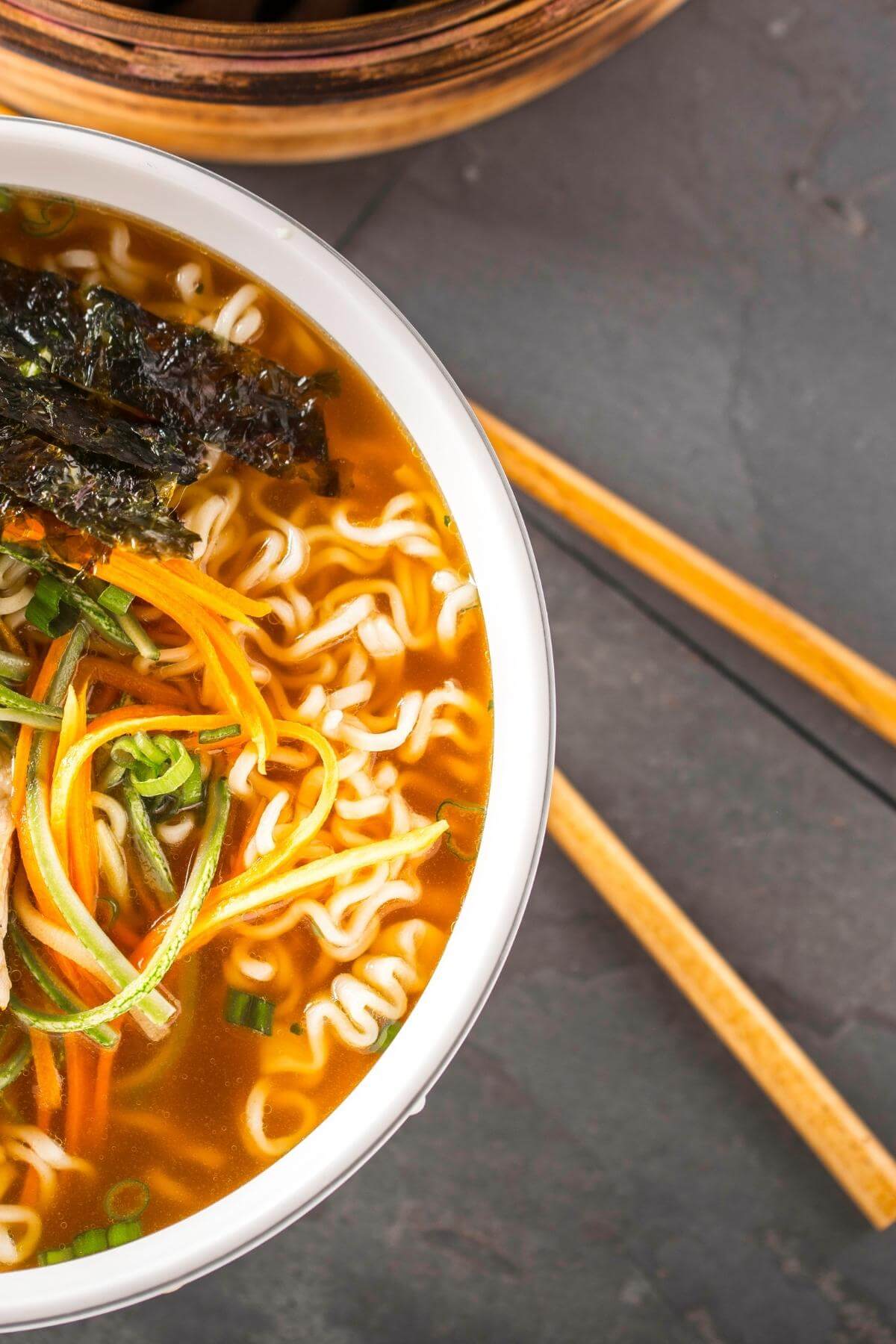 Traditional ramen noodles are made of wheat flour, water, and salt, making them totally vegan. Even so, not all ramen noodles are vegan. Some restaurants and manufacturers will include eggs in their recipes. So while it is often safe to say that ramen noodles are vegan friendly, it is still important to ask first or check the ingredients label to be positive.
Instant ramen ingredients that are not vegan
While the actual noodles in ramen may be vegan the flavor packets in instant ramen typically are not.
Beef, chicken, shrimp, etc. flavor varieties obviously contain animal products, unless the flavors are artificial. Be sure to check the ingredients for meat/seafood extracts or powders before purchasing.
Ordering ramen at a restaurant
Traditional ramen noodle soup that you order in a restaurant is oftentimes not vegan as it is made with a soup stock called dashi. Dashi is made from bonito flakes or dried tuna.
The broth is typically infused with beef or other types of meat and traditional toppings for ramen often include eggs or some sort of meat. Therefore, even if the menu states a dish is vegetarian, it is important to ask before ordering.
Ramen ingredients that are vegan
As mentioned above, the ingredients in traditional ramen noodles are very simple, usually just wheat flour, water, and salt. So if you are purchasing noodles at the store and see these items on the ingredients list you can be sure that these ingredients are vegan.
Vegan ramen noodle soup broth often gets its rich umami flavor from dried shitake mushrooms, and there are plenty of delicious vegan options for toppings like green onions, edamame, sesame seeds, and bean sprouts.
Is instant ramen vegan?
The packs of instant ramen noodles at the grocery store make for a super affordable and comforting meal in a pinch. The noodles in many instant ramen packets are vegan, however, the flavor packets more often than not contain animal products. Beware, the Maruchan ramen noodles are not vegan.
Nissin Top Ramen comes in soy sauce and chili flavors that are both vegan. These are the easiest to find and least expensive vegan ramen options.
There are some lesser-known brands that have some great vegan instant ramen options. Here are a few!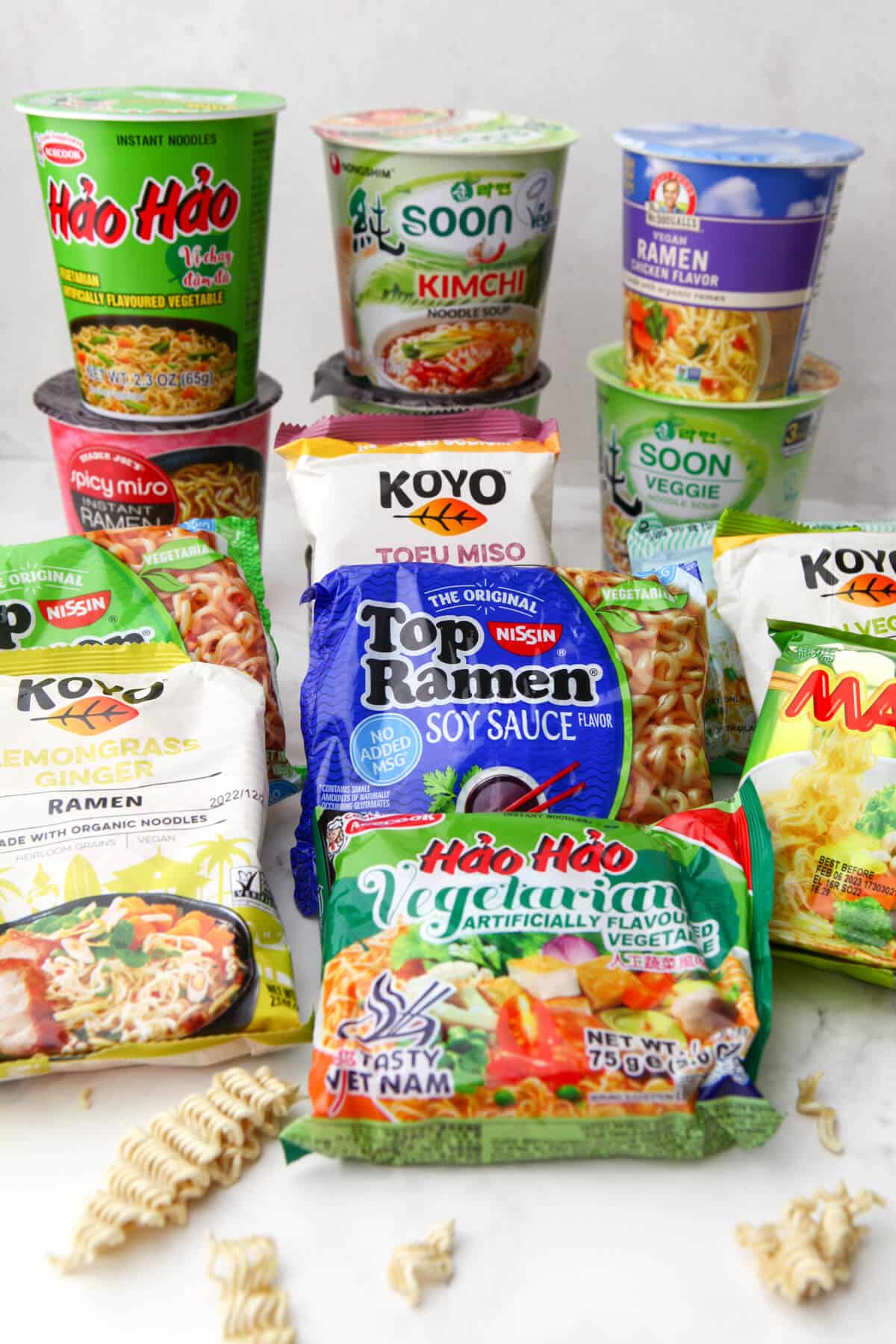 Vegan ramen brands
Nissin Top Ramen
As mentioned Nissin's Top Ramen Soy Sauce and Chili flavors are totally vegan, and probably some of the easiest to find in an average grocery store. The company also sells Very Veggie Soy Sauce Flavor Cup Noodles that are vegan and have a full serving of veggies.
This is also the type of ramen noodles that you want to use in a ramen noodle salad, other varieties won't work.
Thai Kitchen
Thai Kitchen is popular for its different noodles and sauces, but they also sell vegan ramen! It's sold in both a bowl and package and they have Spring Onion, Thai Ginger, and Garlic & Vegetable Varieties.
Dr. Mcdougall's Right Foods
This brand sells a variety of plant-based soups including vegan ramen. They sell Miso, spring onion, and vegan Chicken Flavor varieties.
Koyo
Koyo sells organic ramen noodles in three vegan varieties including Tofu Miso, Asian Vegetable, Wakame Seaweed, and Garlic Pepper. I'm seeing them pop up lately in regular grocery stores.
Soon
Soon brand ramen has kimchi and veggie versions that both taste great plus they're even labeled certified vegan on the package. This is my kids' favorite brand of packaged ramen. I find them at my local Asian market, but you can order them from amazon too. They also have the soup in a disposable cup that we love for traveling when we know vegan dinner will be impossible to find.
Trader Joe's
Trader Joe's sells 2 varieties of instant vegan ramen noodles in a cup. They have both miso ramen and spicy miso ramen.
Hao Hao
Hao Hao makes a vegetarian ramen variety that is also vegan. It comes in a soup packet and also in an instant noodle cup. I also find these at my local Asian market.
Gluten-free vegan ramen noodles
A few brands offer vegan ramen made with gluten-free noodles. Dr. Mcdougall's makes a Pad Thai rice noodle cup and Lotus Foods sells a gluten-free, vegan millet and brown rice ramen. Big green organic foods also sells millet ramen noodles.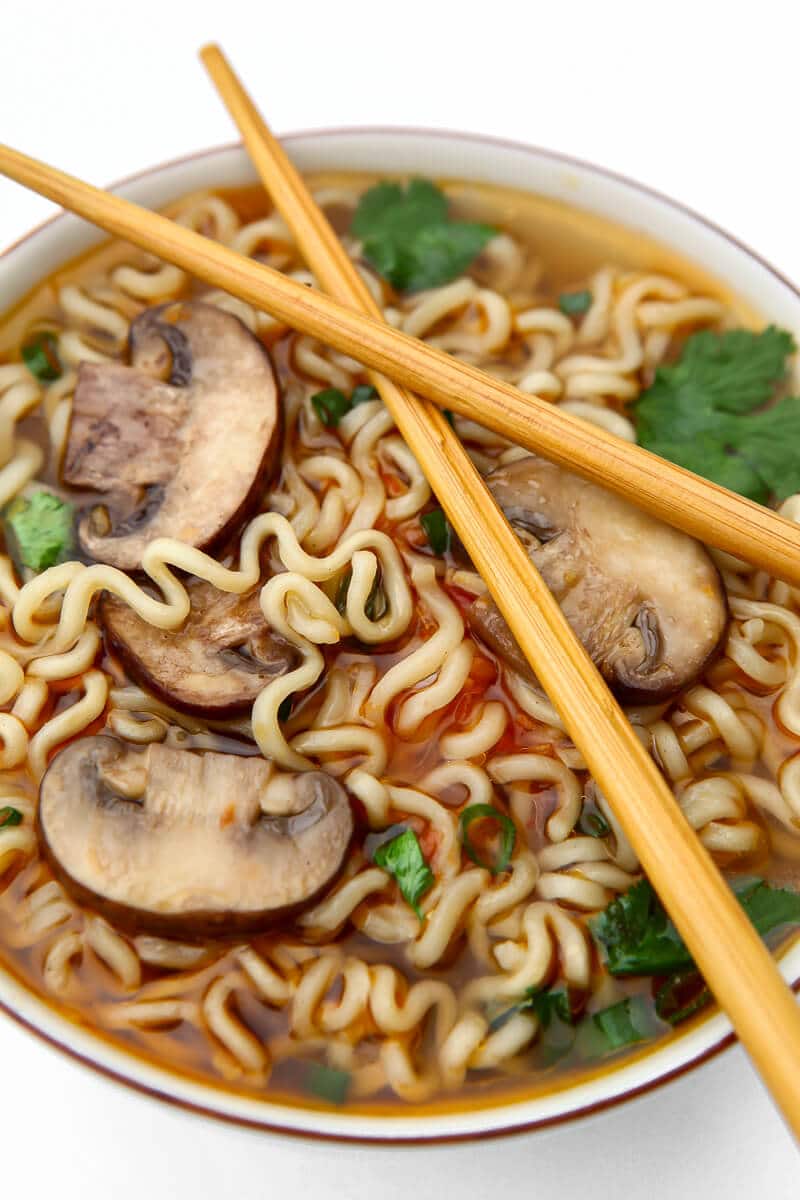 Homemade vegan ramen recipe
If you love ramen noodle soup, but don't want to use the powdered soup mix that comes with the ramen packs, use this easy vegan ramen recipe to make your own vegan ramen broth.
📌 Be sure to follow me on Pinterest for new vegan recipes!
Leave a comment and let me know what is your favorite vegan ramen.