If you have ever wondered, "Is gnocchi vegan?" the answer is... it depends. Generally speaking, homemade gnocchi (which you may find at restaurants) contains eggs, therefore is not vegan. Typically store-bought gnocchi does not contain eggs and therefore is vegan.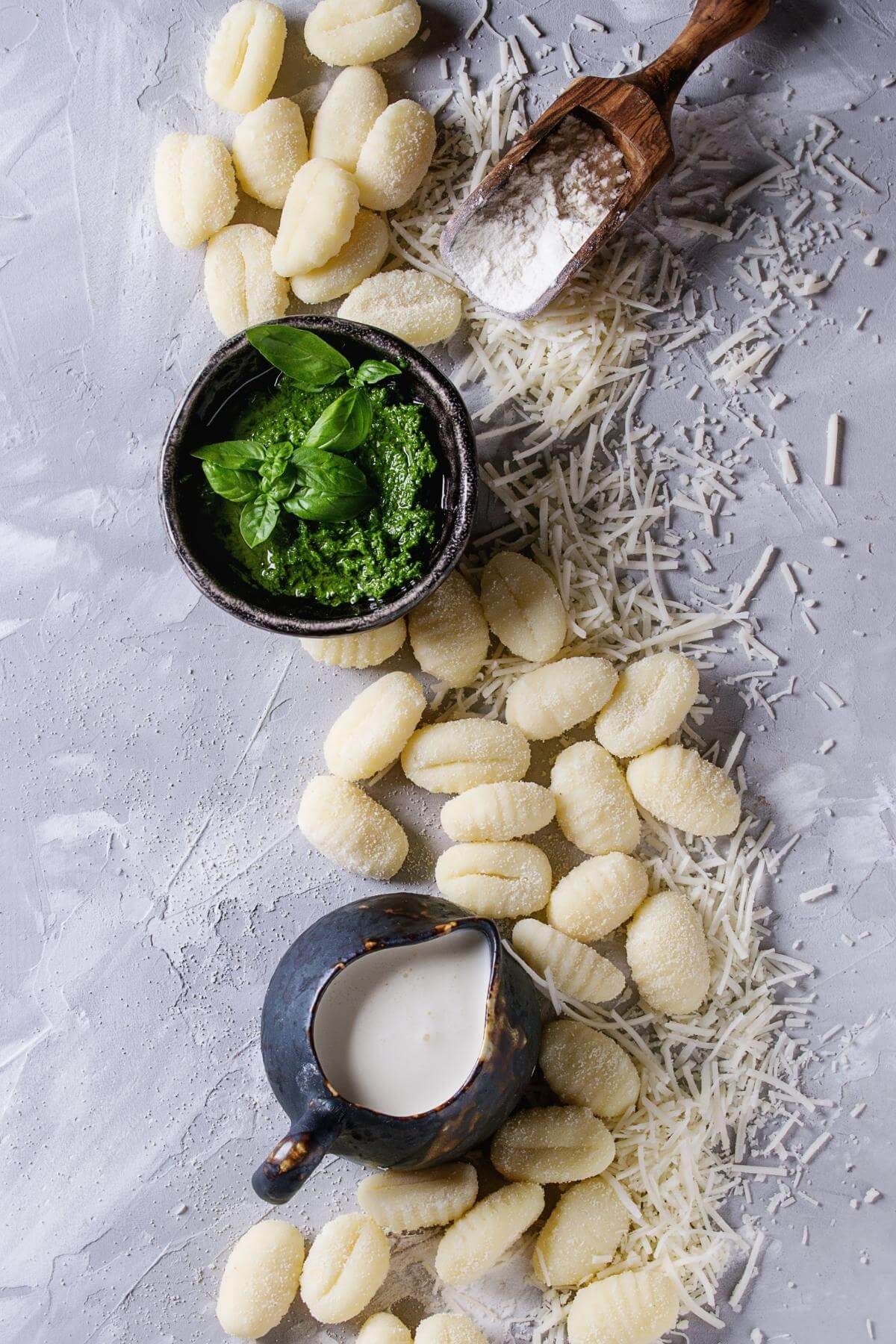 Jump to:
🏠 Homemade Gnocchi
Most traditional homemade gnocchi is made with egg so it would not be vegan. You can make your own vegan gnocchi at home though! You just need flour and starch such as potato, semolina, polenta, or rice flour. These starches gelatinize when placed in boiling water. You can find a recipe for homemade vegan gnocchi here.
🏪 Store-Bought Gnocchi
You can find vegan gnocchi in stores if you want to save a ton of time and skip making it from scratch. The packaged gnocchi is typically made from potato starch and flour, which means it is vegan. When buying gnocchi from the store, look for a package that says vegan or shows the certified vegan symbol. These simply cook in boiling water for 2-3 minutes! Top with vegan sauce and/or vegan cheese of choice for an incredibly quick and easy meal.
Frozen gnocchi is much more likely to contain eggs, as homemade gnocchi does. Also be careful with gnocchi found in the frozen section, as they are more likely to come with sauce already on the gnocchi. Most sauces for gnocchi include milk and /or egg products and are not vegan.
🚫 Gnocchi ingredients that are not vegan
Egg
Milk
Cheese
Lactic Acid - sometimes gnocchi contains lactic acid, this can be from a plant or animal source. Contact the company if you are not sure of the source.
🥬 Gnocchi ingredients that are always vegan
Starch (usually potato, semolina, polenta, or rice flour)
Wheat flour
Salt
🌾 Gluten-free vegan gnocchi
Several brands sell gluten-free gnocchi. Since most store-bought gnocchi is already vegan, look for a package that says gluten-free.
⭐ Gnocchi for people with egg allergies
Most gnocchi brands are made in facilities that also process eggs, so if you have a severe egg allergy, you should read the labels and double-check pasta brands that may contain trace amounts due to manufacturing.
🌟 Vegan gnocchi brands guide
I have listed common brands of gnocchi that are commonly found in the US. If you don't see a specific brand in the list, be sure to check the label for egg and milk products under the names listed above.
Here's a look at some of the most common brands of vegan gnocchi.
Gia Russa Potato Gnocchi
I like the Gia Russa brand from my local supermarket. It has the certified vegan symbol on the package. They also have mini gnocchi that kids love.
De Cecco Pasta, Potato Gnocchi
De Cecco is easy-to-find gnocchi that is also usually vegan. They also have mini gnocchi that you can try.
Le Veneziane Gluten-Free Potato Gnocchi

Le Veneziane has vegan written right on the package & is also available gluten-free!
Sanniti Potato Gnocchi
Sanniti gnocchi is also vegan with a gluten-free option as well.
La Gnoccheria

La Gnoccheria is certified vegan, plus it has a great name, so I think it's a must-try!
Colavita Cauliflower Gnocchi
This cauliflower gnocchi from Colavita is listed as vegan on their website even though the package only states vegetarian. However, their potato gnocchi is unknown since it contains lactic acid and I could not find a source saying that it was truly vegan.
Green Giant Frozen Gnocchi

This cauliflower gnocchi from Green Giant is one of the frozen gnocchi brands that are vegan.
📋 Vegan gnocchi recipe
My favorite way to make vegan gnocchi is this fried gnocchi with pesto and veggies, but you can also top it with any vegan sauce that you would like.
Gnocchi is delicious topped with some simple marinara or with vegan pesto cream sauce, vegan alfredo, or tofu cream sauce too.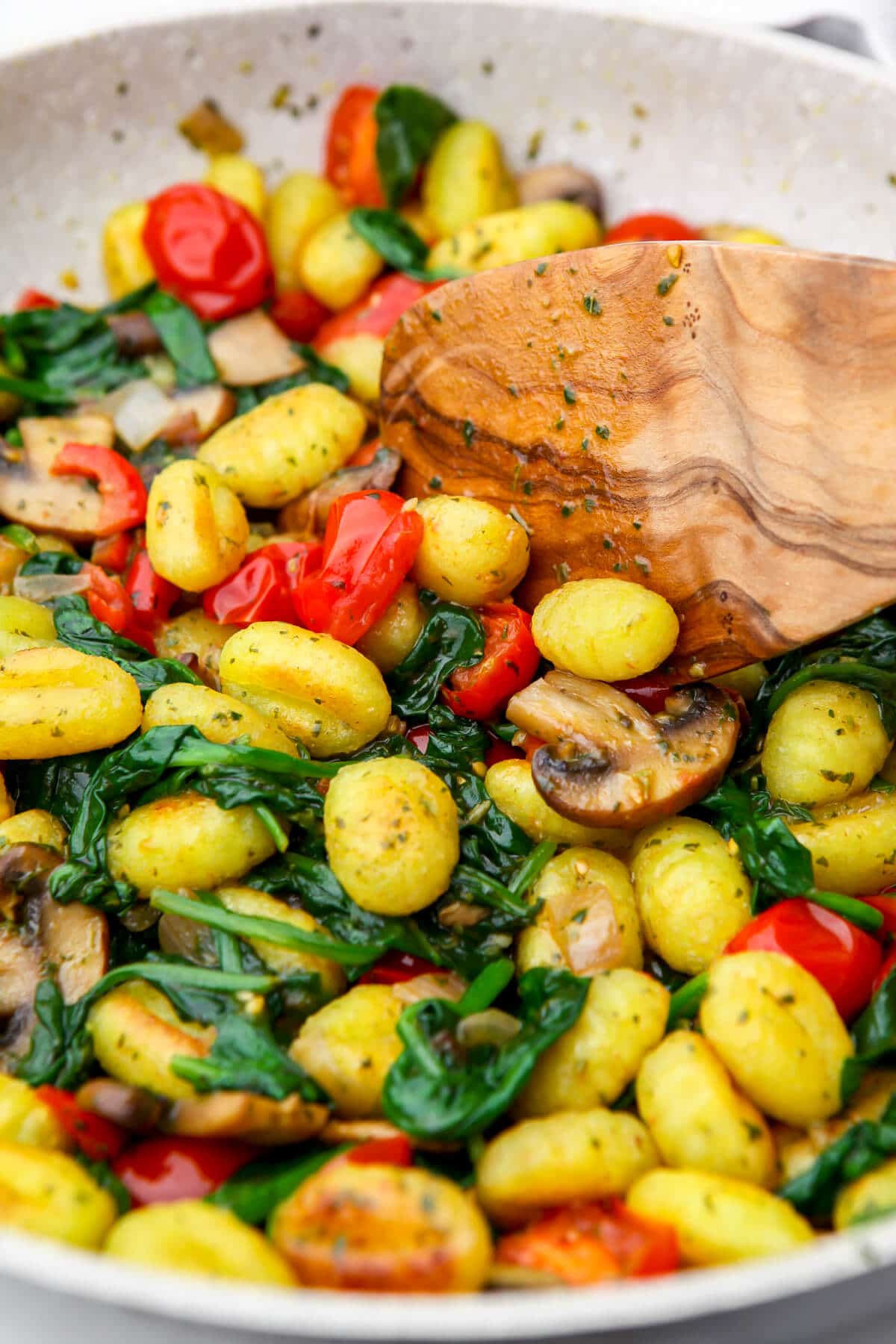 📌 Be sure to follow me on Pinterest for new vegan recipes!