If you have ever wondered, "is pasta vegan," you're not alone. I get this question a lot, and it's not as cut and dry as you may think. The quick answer is... yes, most dry pasta is vegan.
The general everyday dry pasta in shapes like spaghetti, linguini, fettuccini, fusilli, penne, orzo, jumbo shells, manicotti, lasagna noodles, and elbow macaroni are usually vegan. The fresh pasta sold in the refrigerated section usually contains eggs and is therefore not vegan. Specialty artisan pasta is sometimes vegan.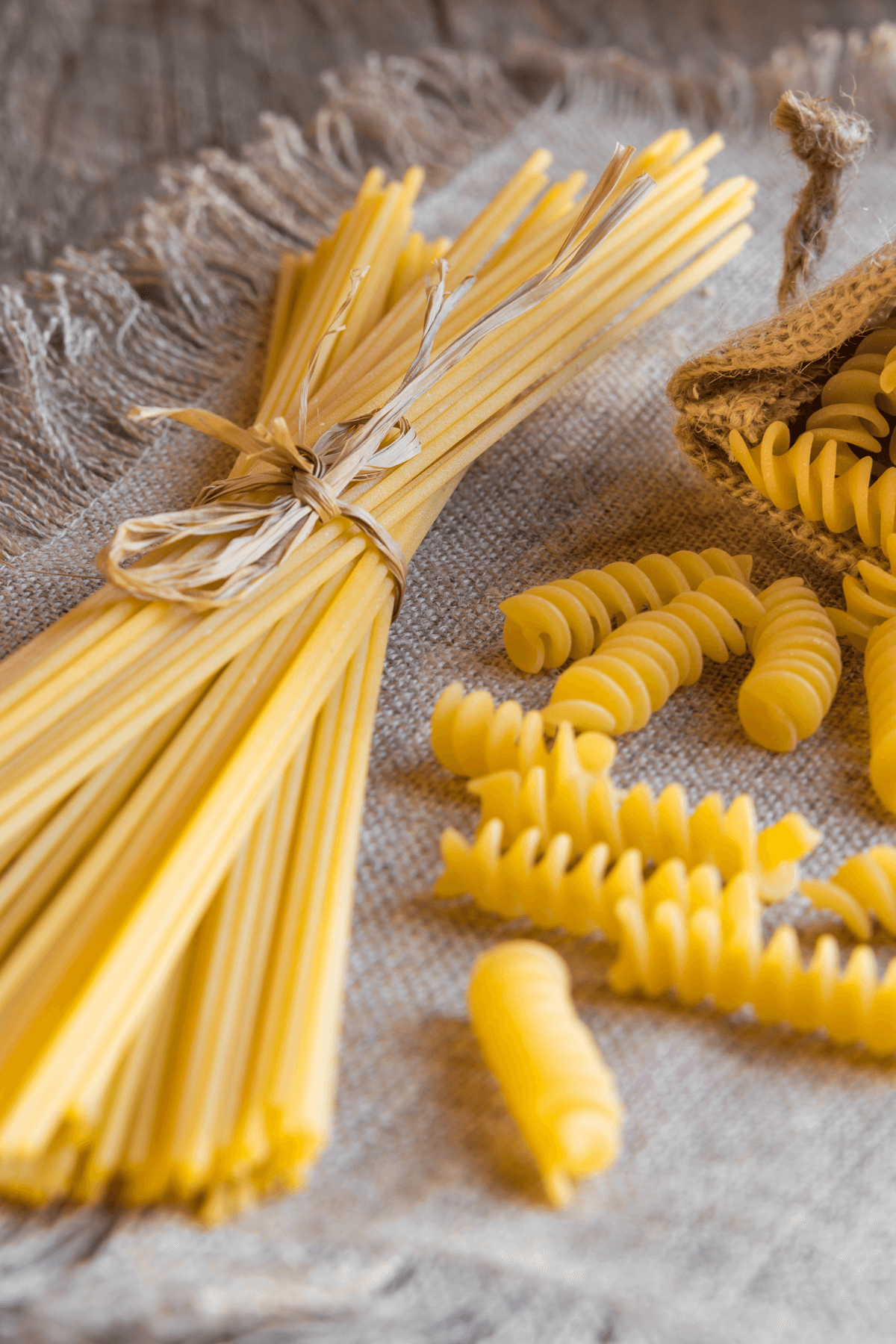 Even if you are buying dry pasta, you should do a quick check of the label if you are buying a new brand of pasta that you have never used before. They sometimes sneak in ingredients that you wouldn't expect, especially in high-protein or specialty pasta.
Jump to:
🚫 Pasta ingredients that are not vegan
Eggs
Egg Whites
Egg Yokes
Egg Albumin - this is the protein found in eggs.
Milk
Milk Powder
Whey - this is a milk protein
*Tortellini is frequently sold with dry pasta, but it is almost never vegan.
🌗 Pasta ingredients that are sometimes not vegan
Occasionally you will find pasta that contains iron lactate, monoglycerides, or calcium phosphate. They are sometimes vegan and sometimes not vegan depending on the source. If you come across one of these, you will have to inquire with the company to see if their pasta is vegan.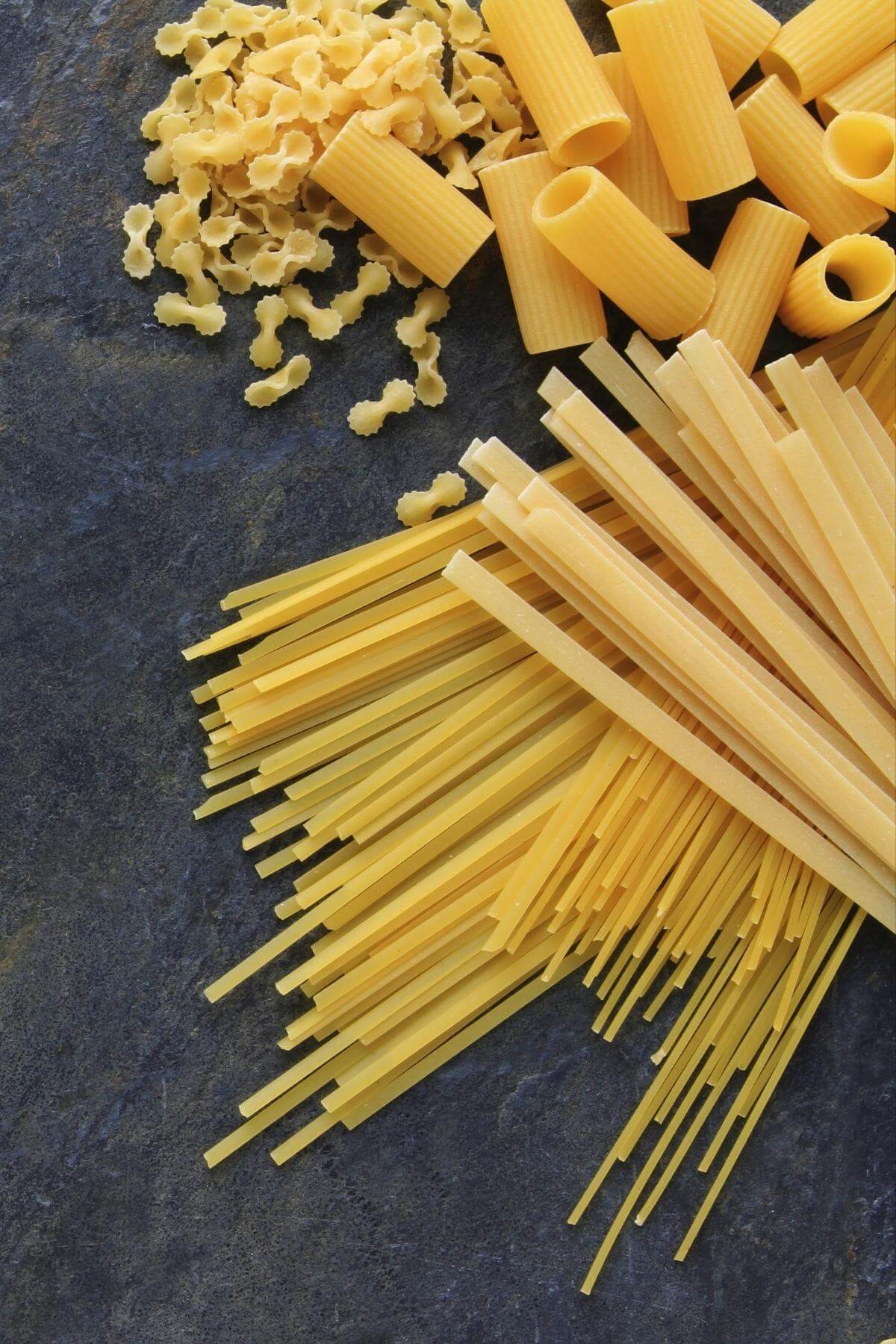 🥬 Pasta ingredients that are always vegan
Most dry pasta is made from durum semolina as the main ingredient. This is simply wheat flour. The only other ingredients are usually water and salt which are also vegan.
🌾 Gluten-free vegan pasta
If you are looking for gluten-free vegan pasta, most brands of dry pasta are also vegan. A lot of gluten-free products do have eggs in them as a binder to help replace the binding ability of wheat gluten, so read the label to be sure.
⭐ Pasta for people with egg allergies
Most pasta brands are made in facilities that also process eggs, so if you have a severe egg allergy, you should read the labels and double-check pasta brands that may contain trace amounts due to manufacturing. Read more about egg-free pasta brands for people with allergies.
🌟 Vegan pasta brands guide (15 common brands)
I have listed common brands of pasta that are commonly found in the US. If you don't see a specific brand in the list, be sure to check the label for the egg and milk products under the names listed above.
Here's a look at some of the most common brands of vegan pasta.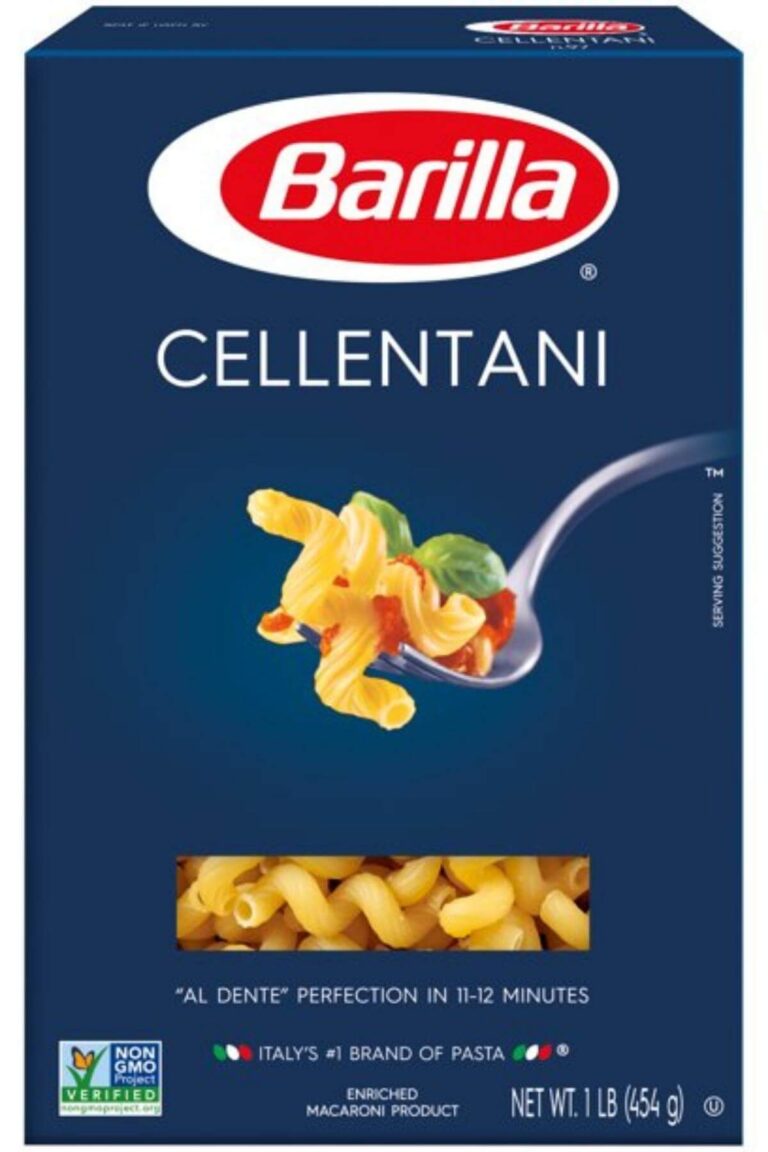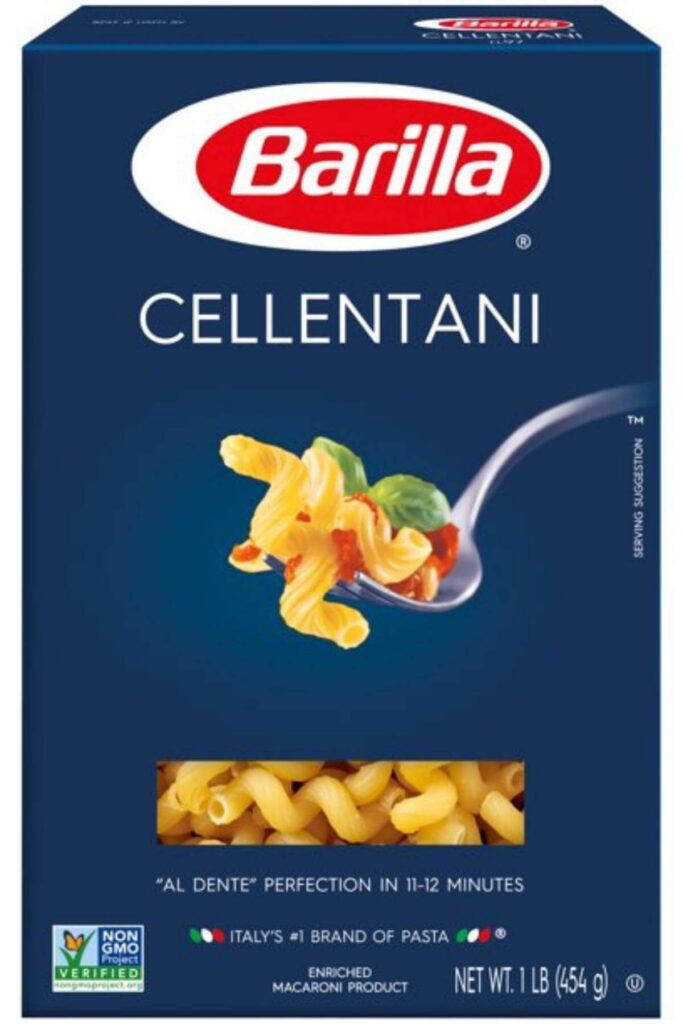 1. Barilla
Nearly every type of Barilla pasta is vegan. Even their ready pasta, high protein pasta, chickpea pasta, and red lentil pasta are vegan.
*Barilla brand tortilini is not vegan.
2. Store Brands
Generic store-brand dry pasta is almost always vegan. Walmart's Great Value brand even has egg-free ribbons if you are looking for a vegan alternative to egg noodles.
Once again, the tortellini pasta is almost never vegan.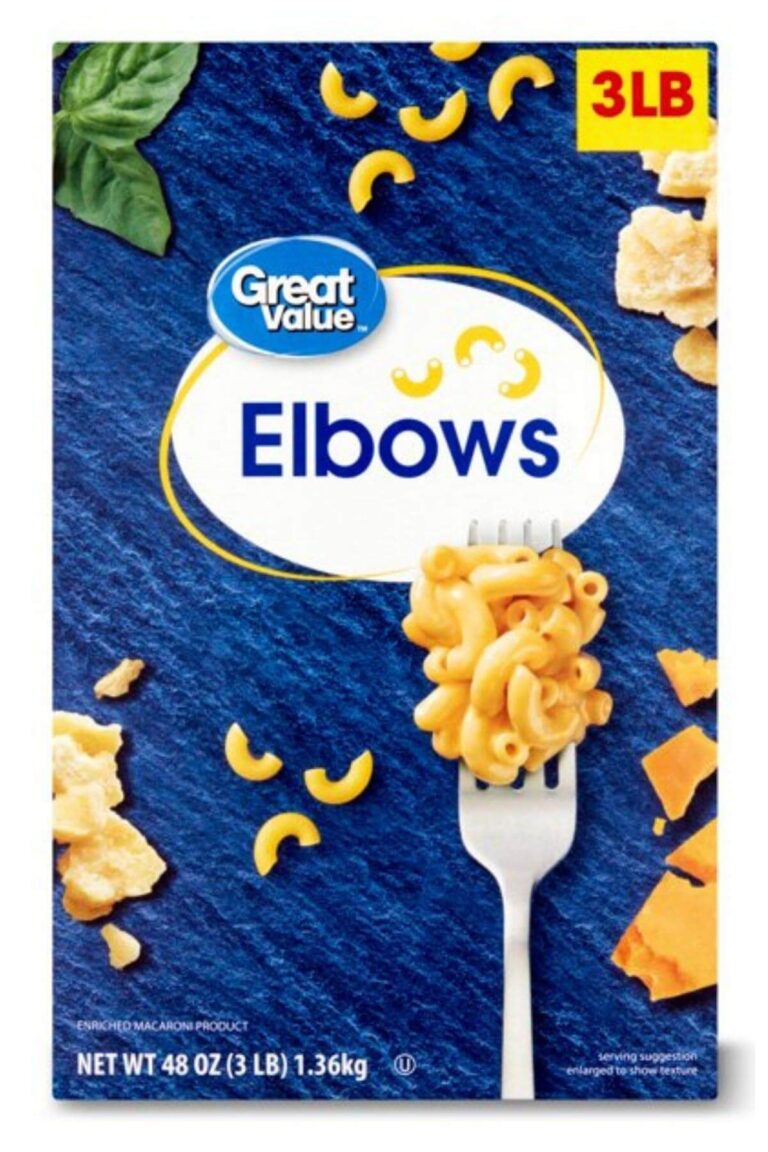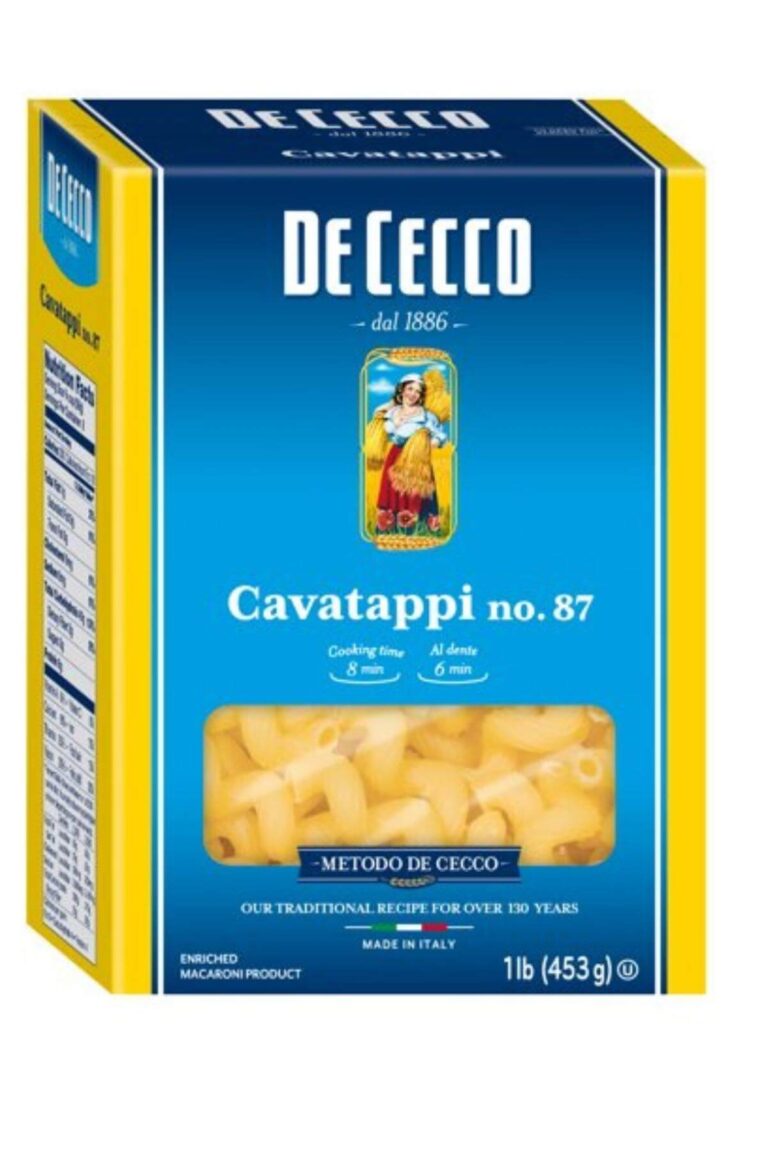 3. De Cecco
De Cecco is an easy-to-find high-quality pasta that is also usually vegan. They do have a line of egg pasta that comes in yellow boxes that are clearly marked as egg pasta. Stick to the blue boxes of DeCecco pasta and you'll be good. De Cecco even has delicious vegan gnocchi.
4. Mueller's
This pasta company has been around since 1867! They have a bunch of vegan varieties including whole wheat, gluten-free, hidden veggie, and flavor-infused pasta.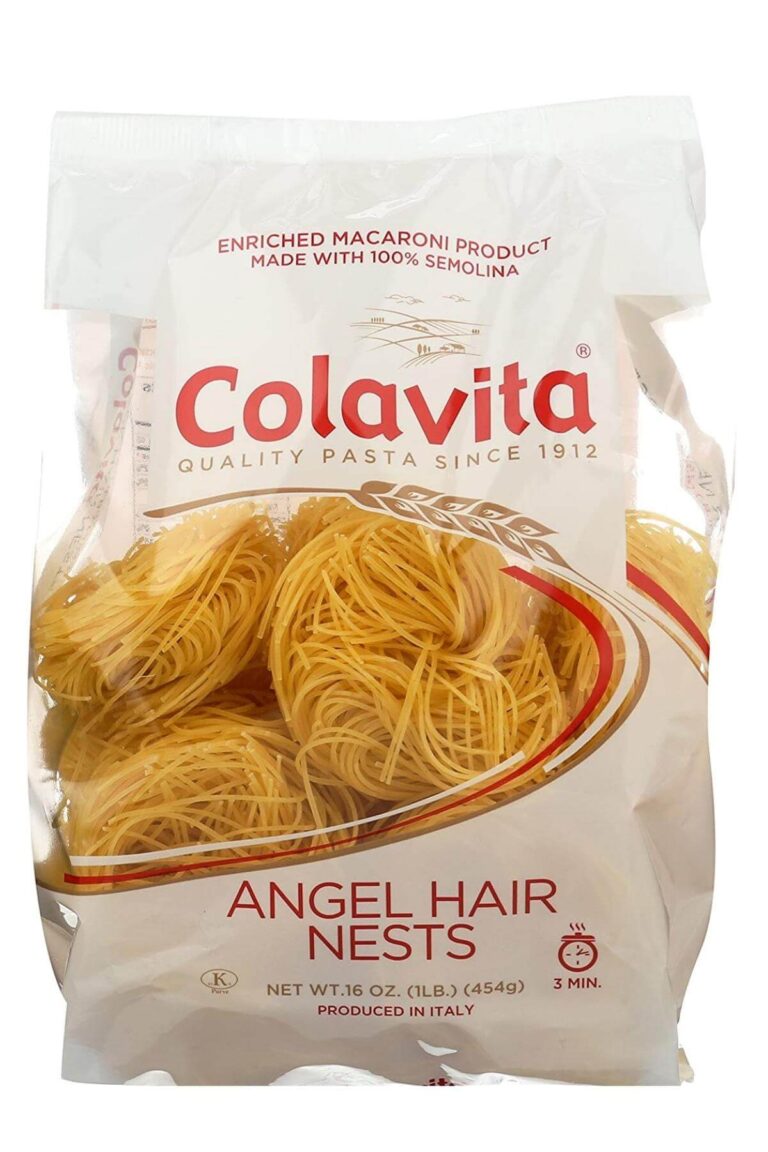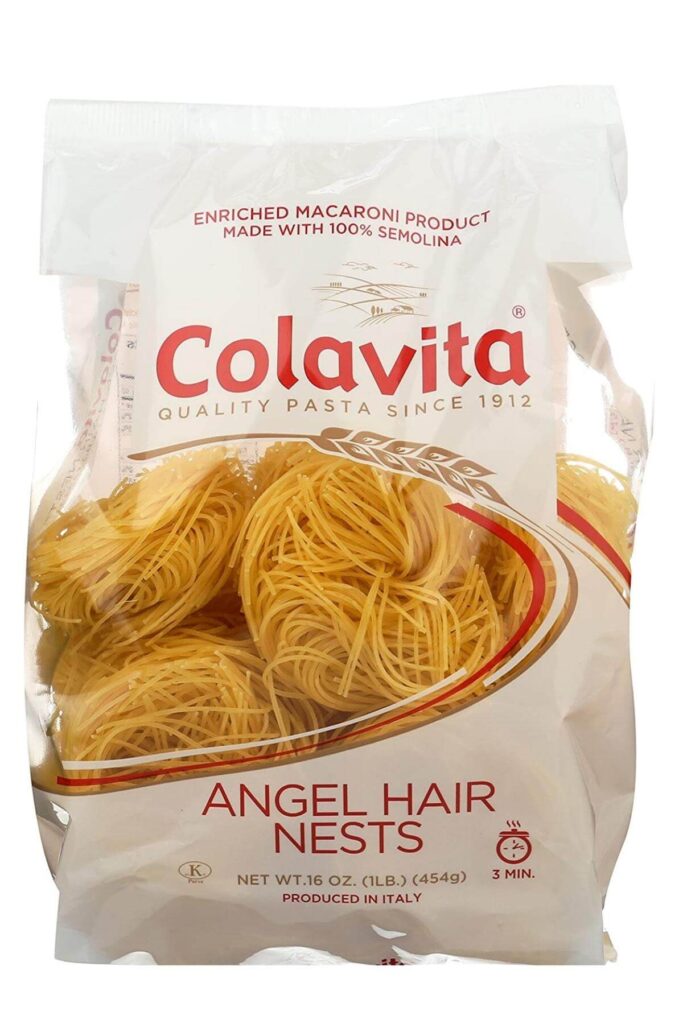 5. Colavita
Colavita brand contains iron lactate which can be a red flag for vegans. There are animal sources of iron lactate, but it can also be derived from beets. I personally called the company and double-checked that the iron lactate in Colavita pasta is sourced from plants and is indeed vegan. They even have some cool shapes like these Angel Hair Nests.
6. Ronzoni
This is a common brand of dry pasta that is found in many stores. It comes in just about every shape that you can think of. They even have a quick cook and low-calorie pasta that is vegan.
Their homestyle varieties are not vegan.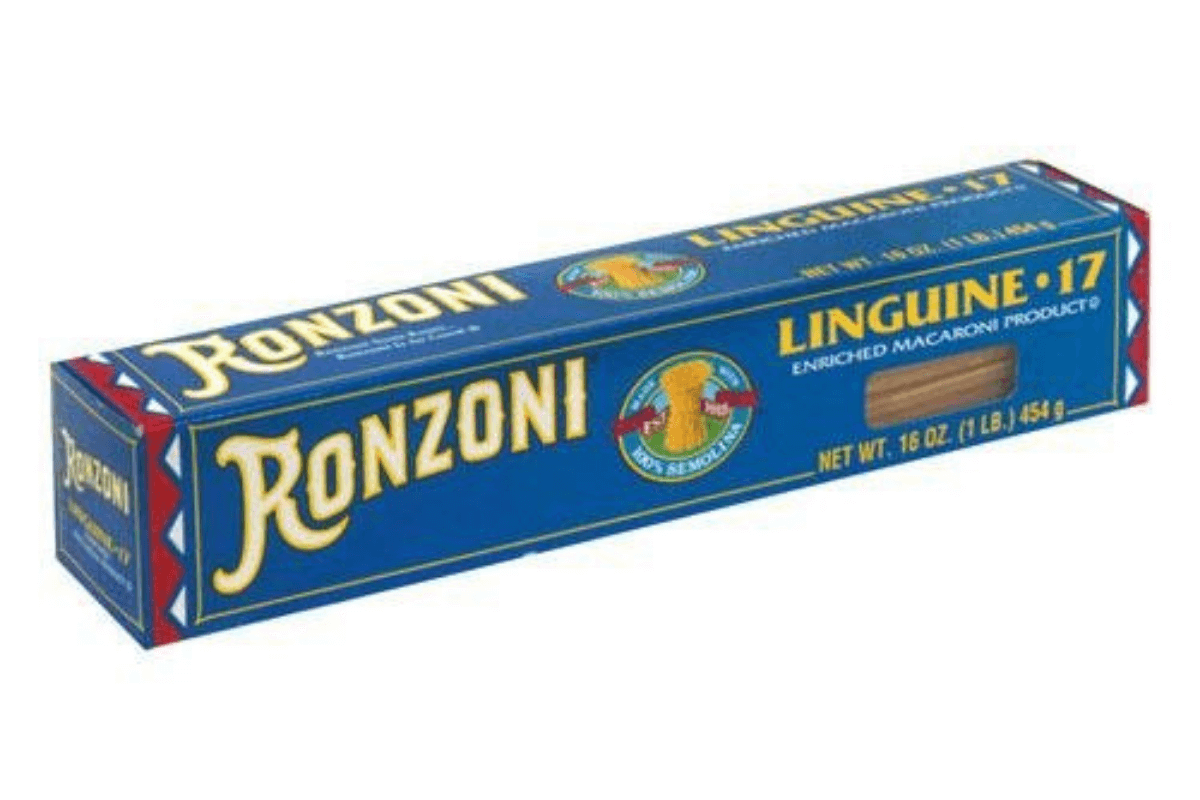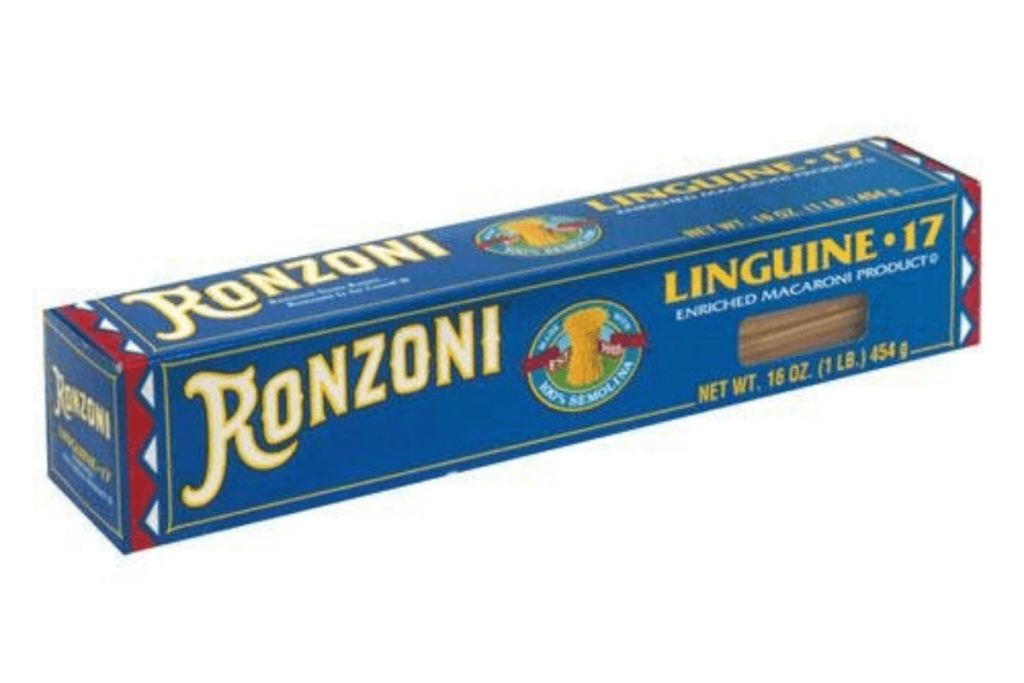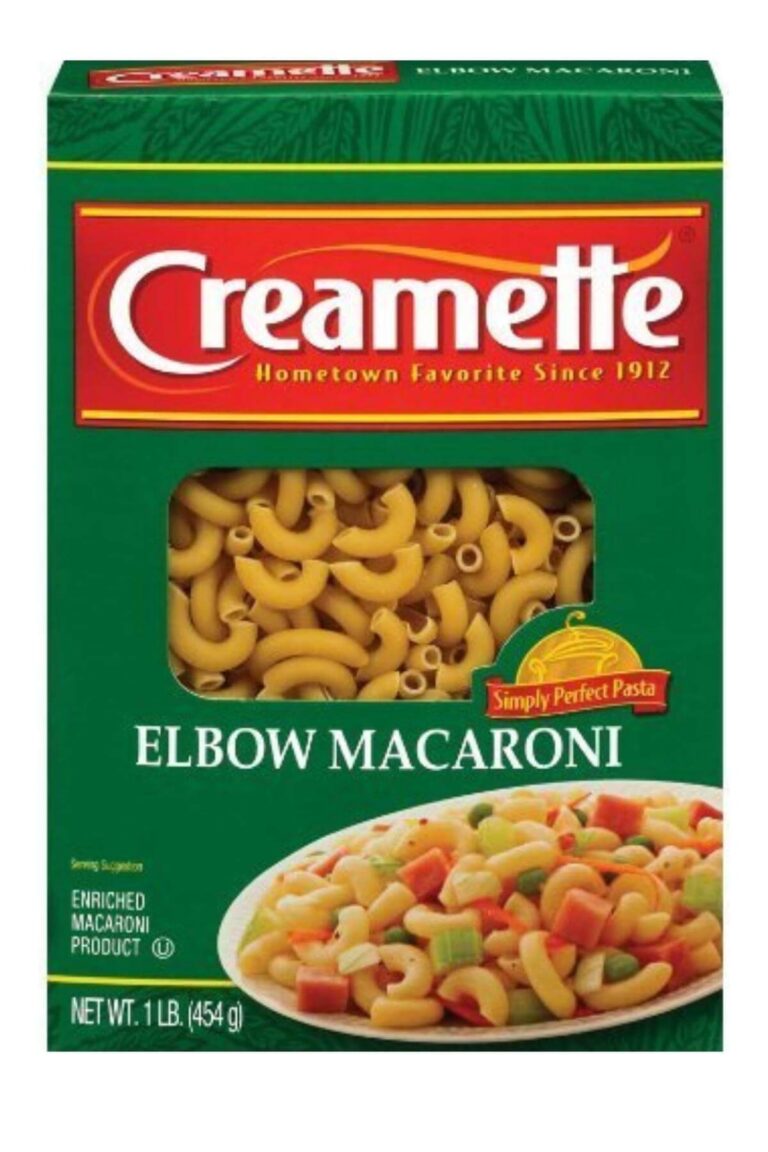 7. Creamette
The Creamette brand has a large variety of pasta shapes that are vegan. They also have a vegan quick cook and tri-color pasta. They have egg noodles that are not vegan but are clearly labeled as containing eggs.
8. San Giorgio
San Giorgio is a common brand in most major grocery stores. They have a variety of vegan pasta shapes including jumbo shells, manicotti, and lasagna noodles. They have quick cook pasta and even oven-ready lasagna noodles that are also vegan.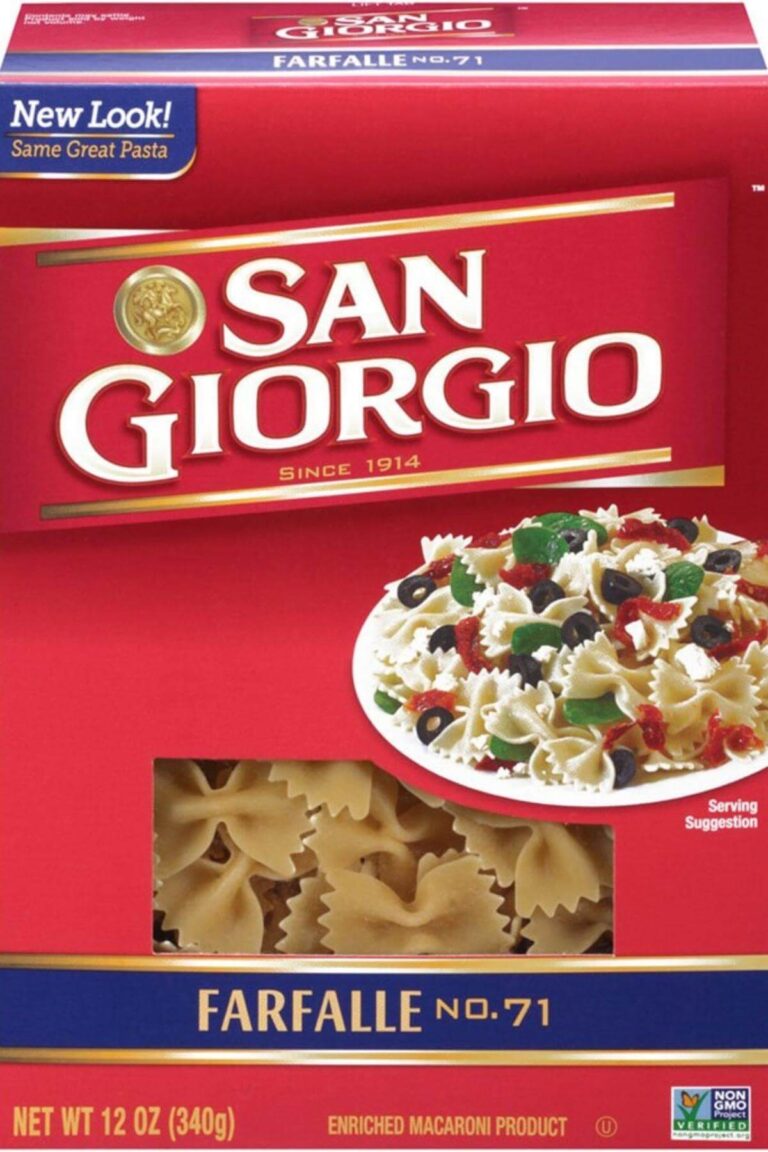 9. Skinner
This brand comes in a variety of pasta shapes. They recently launched gluten-free and super-green (with added vegetables) varieties that are both also vegan.
10. Priano
The Priano brand is an artisan-style pasta that is sold and Aldi and is vegan. This is one of my family's favorite brands of pasta, with a taste and texture similar to fresh pasta.
11. Garofalo
Garofalo brand comes in a variety of uncommon shapes. They also have lines of gluten-free and organic pasta.
12. Banaza
This pasta brand has a large selection of gluten-free vegan pasta shapes made from chickpea flour. They also make pizza and boxed mac and cheese that are both vegan.
13. Schar
Schar makes a large line of gluten-free products. All of their boxed pasta is vegan and gluten-free. It is one of my family's favorite brands of gluten-free pasta and it even stays firm in soups.
14. Jovial
Jovial makes organic gluten-free pasta from brown rice. They do have 1 variety of egg-based pasta, but it has a picture of an egg on the front of the package to alert you.
15. Tinkyada
This gluten-free brown rice pasta is one of the only brands that are certified vegan. It is also not made on equipment that is shared with milk or eggs.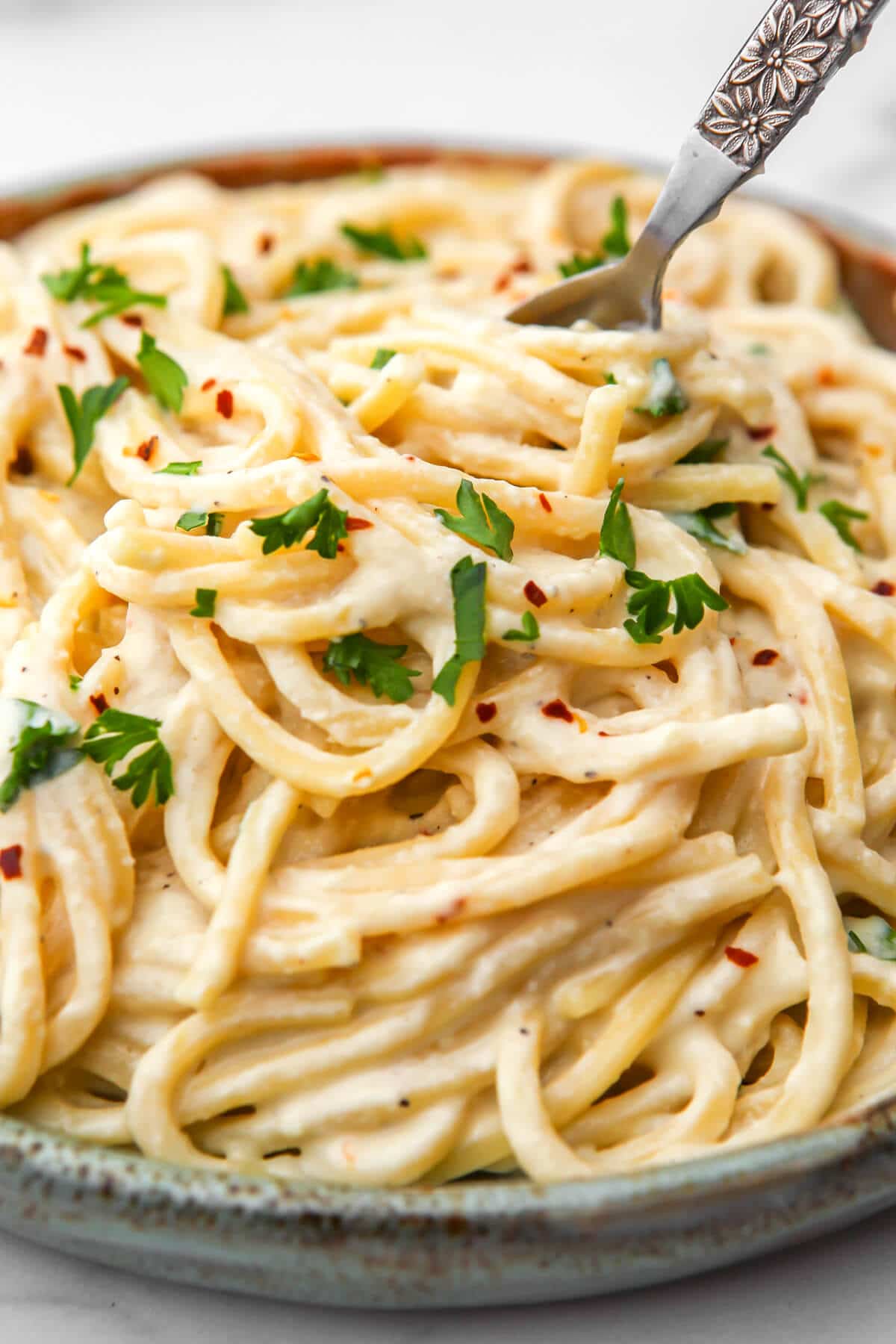 🍝 Easy vegan pasta recipes