A basic pizza dough recipe is typically flour, yeast, and salt, meaning that oftentimes, pizza dough is vegan. Some store-bought and chain restaurants, however, may include added ingredients like dairy, eggs, and/or honey in their recipes. So it is important to check first!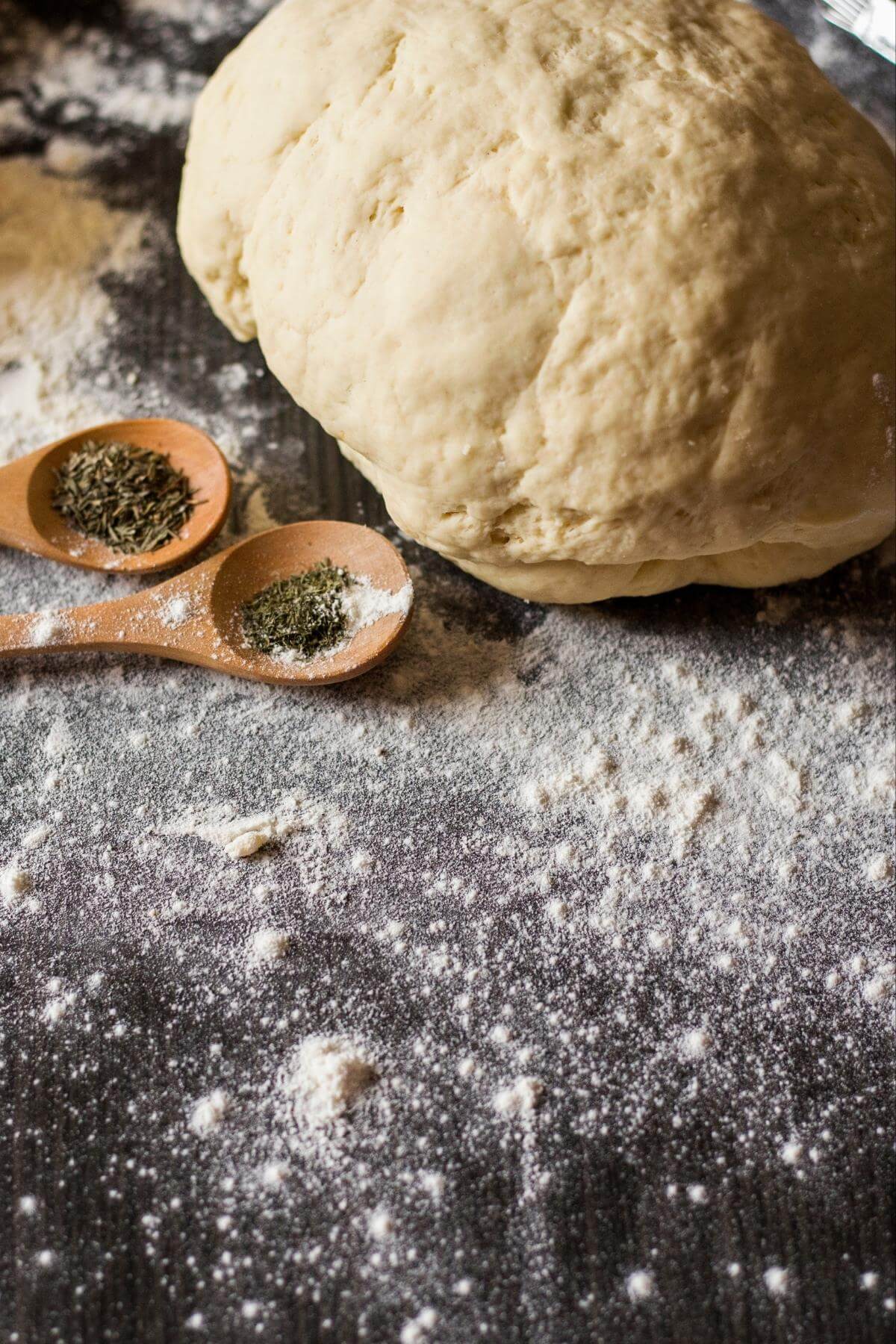 Jump to:
🏠 Homemade vegan pizza dough
Making your own vegan pizza dough at home is super simple, and it makes it possible to control what you add! You don't need many ingredients or supplies to make homemade dough. Just a bowl, wooden spoon, and kitchen towel can get you on your way. A basic recipe typically includes flour, active dry yeast, warm water, and salt.
You can also flavor your dough with a couple of teaspoons of seasonings like basil, oregano, or garlic powder. From there, you can add your favorite toppings like pizza sauce, vegan cheese, mushrooms, peppers, basil, red onion, and black olives...the possibilities are endless!
Then simply pop it in the oven to bake and your set with a comforting dinner in no time!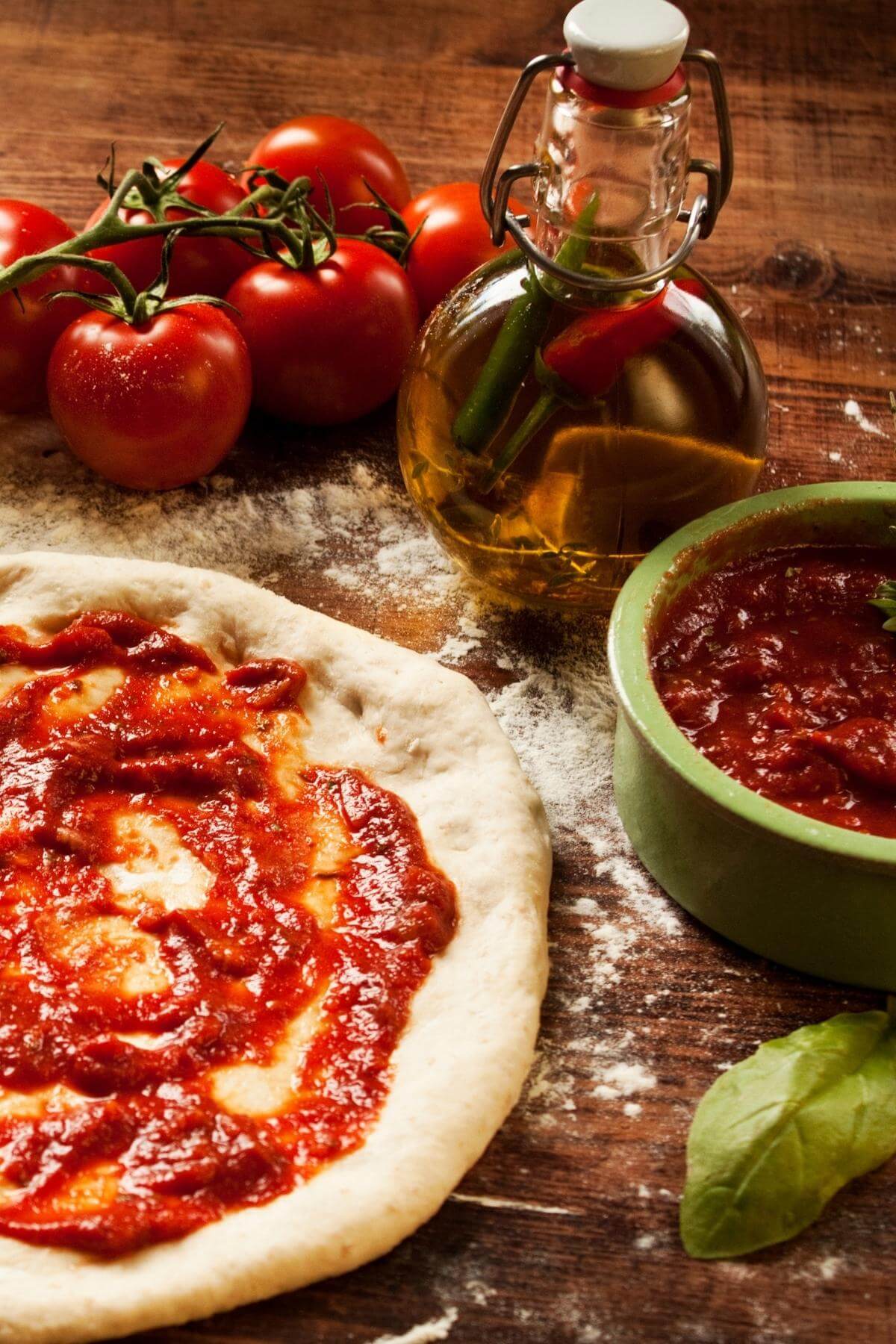 🏪 Vegan store-bought pizza dough
If you want to speed up the pizza-making process, you can opt for store-bought dough. Many stores carry pizza doughs that are already vegan. It's important, however, to check if the package says vegan or includes the vegan-certified symbol before buying. If you don't see that symbol, check the ingredients list to be sure that the dough doesn't include any non-vegan ingredients.
Trader Joe's
Trader Joe's sells premade pizza dough in a plain and garlic & herb flavor. Both varieties are vegan.
Whole Foods
Whole Foods sells a couple of types of pizza dough. Their premade refrigerated pizza dough is vegan as well as their two packs of Organic Whole Wheat Thin & Crispy Pizza Crusts.
Aldi
Aldi also sells vegan premade pizza dough in the refrigerated pizza section of the store.
Boboli
Boboli pizza crust is not vegan. The brand offers multiple varieties, Original, Thin and Whole Wheat, and each type contains dairy ingredients.
Pillsbury
Pillsbury pizza dough is typically in the refrigerated section at many supermarkets. Both the Classic and Thin Crust varieties are vegan.
🌟 Pizza Dough from Chain Restaurants
Pizza Hut
This chain is best known for its Original Pan pizza crust which is vegan, as well as its Thin N' Crispy and Hand-Tossed crusts. Pizza Hut also offers flavor add-ons for their crusts which all contain dairy, and therefore are not vegan.
Domino's
Domino's offers quite a few varieties of crusts, but most of them contain dairy and/or honey. The only vegan crust that they offer is their Thin Crust.
Papa John's
Papa John's also offers a few varieties of crusts. Their Original Hand Tossed Dough, however, is the only vegan option. The rest contain milk and/or egg.
Little Caesars
The Original and Thin N Crispy crusts from Little Caesars are both vegan. If your location offers another variety, it's best to check the ingredients list before ordering.
🥬 Pizza Dough Ingredients that are vegan
All Purpose Flour
Whole Wheat Flour
Active Dry-Yeast
Olive Oil
Salt
❌ Pizza Dough Ingredients that are not vegan
Whey
Eggs
Honey
L-cysteine - this is derived from either human hair or duck feathers. L-cysteine is in most premade shelf-stable pizza shells.