This creamy vegan oven-roasted tomato sauce is hands down the best-tasting pasta sauce ever! If you can cut a tomato, operate an oven, and turn on your blender, you can make the most delicious marinara sauce ever! You won't believe how easy it is to make your own roasted tomato sauce from fresh tomatoes!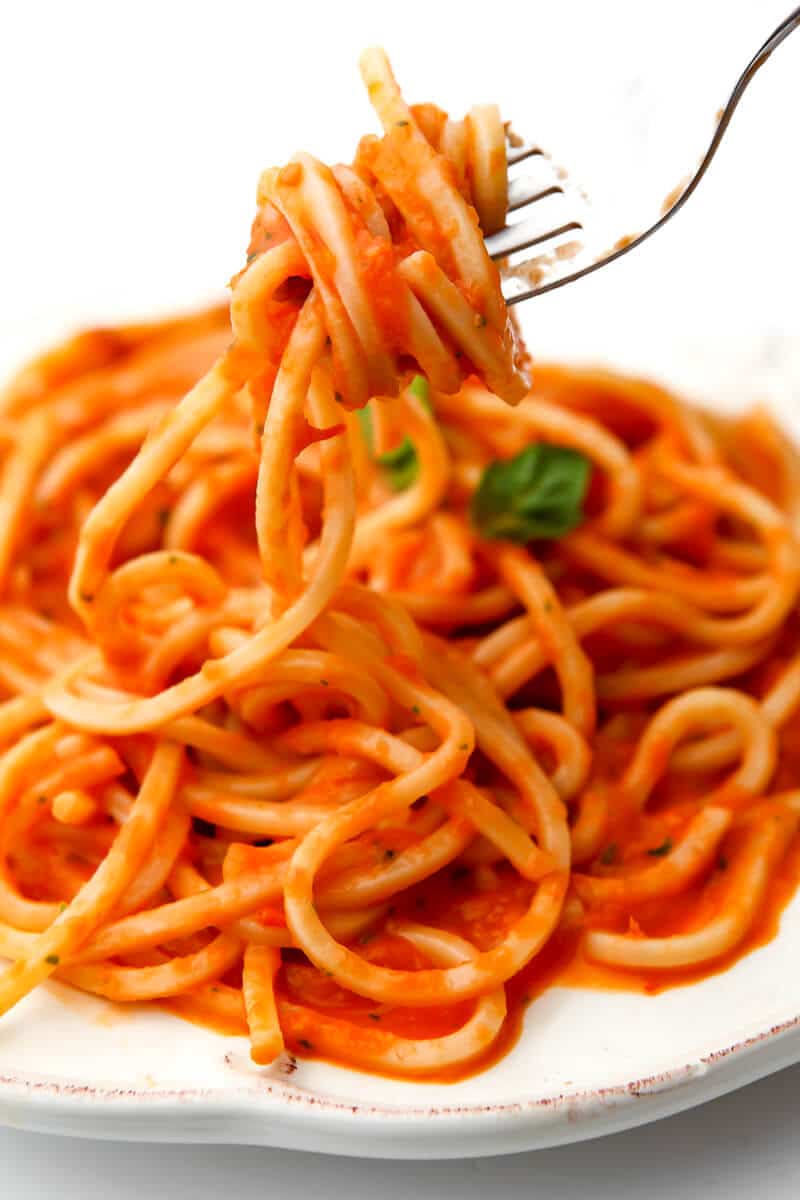 You may think of homemade pasta sauce as a chore where you would have to labor over the stove for hours carefully watching it simmer. I did too until I started making my tomato sauce using this method.
Simply cut them in half, and bake them on a cookie sheet. Then put them in the blender with some garlic, olive oil, salt, and basil, and something magical will happen! The most delicious fresh-tasting creamy tomato sauce will appear!
Jump to:
❤️ Why you will love this recipe
It is so fresh, creamy, and delicious that you would never guess that it's dairy and gluten-free!
This sauce is so good, that we sometimes just eat it by the spoonful. It works great as a dip for focaccia bread or zucchini fries too.
It's great for using up fresh tomatoes from the garden.
You can make a huge batch and freeze any unused sauce for up to 3 months.
It makes a quick easy meal over plain pasta or it works well with vegan stuffed peppers, baked ziti, stuffed shells, ravioli, or lasagna.
🧾 Ingredients and substitutions
Tomatoes - about 10 Roma or other medium-sized ripe tomatoes work best. The riper the tomatoes, the sweeter and more flavorful the sauce.
Garlic - for flavor. A clove or two will flavor the sauce well. You can use 1/4 teaspoon of garlic powder if you don't have fresh garlic.
Basil - or any other fresh herbs. If you don't have fresh, about 1 teaspoon of dried basil or Italian seasoning will work.
Olive Oil - this is important for making a rich and creamy sauce. You can reduce the amount of oil a little if you wish, but some oil it's important for the texture of the sauce.
Salt - for flavor. Feel free to adjust to your taste.
🥄 How to make oven-roasted tomato sauce
Step 1 - Simply cut tomatoes in half and put them cut side down on a cookie sheet.
Step 2 - Roast them in the oven at 350° F for about 30 minutes until the skins start to wrinkle.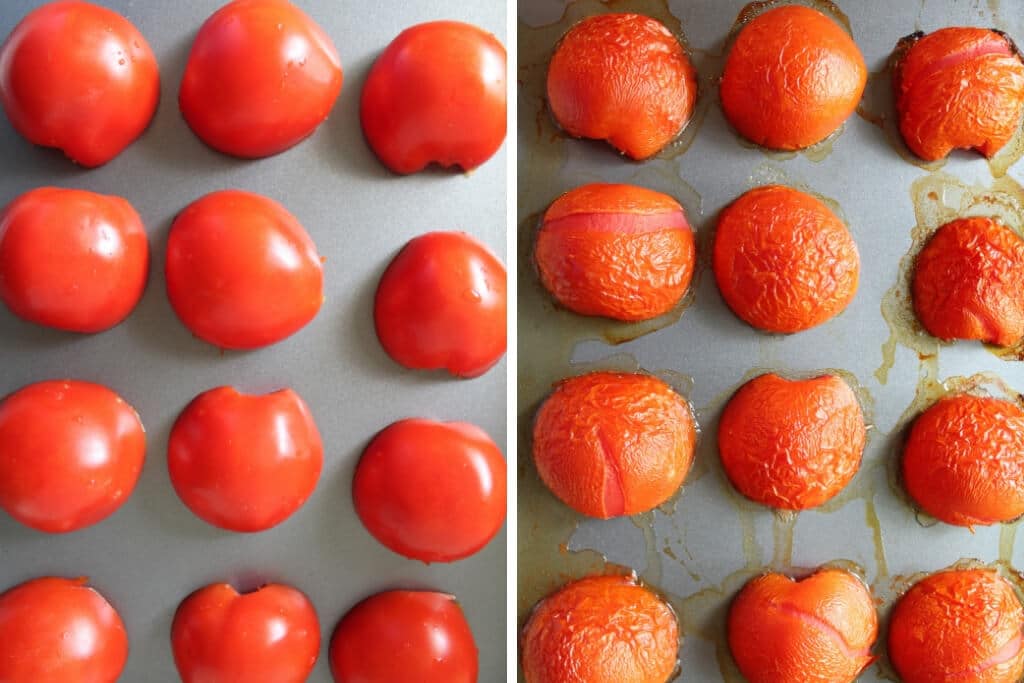 Step 3 - Then place the tomatoes and their juices, along with some basil and olive oil in a blender.  (You may have to do this in 2 batches depending on the size of your blender.  Don't fill it over 3/4 of the way full or it could come out of the top and burn you).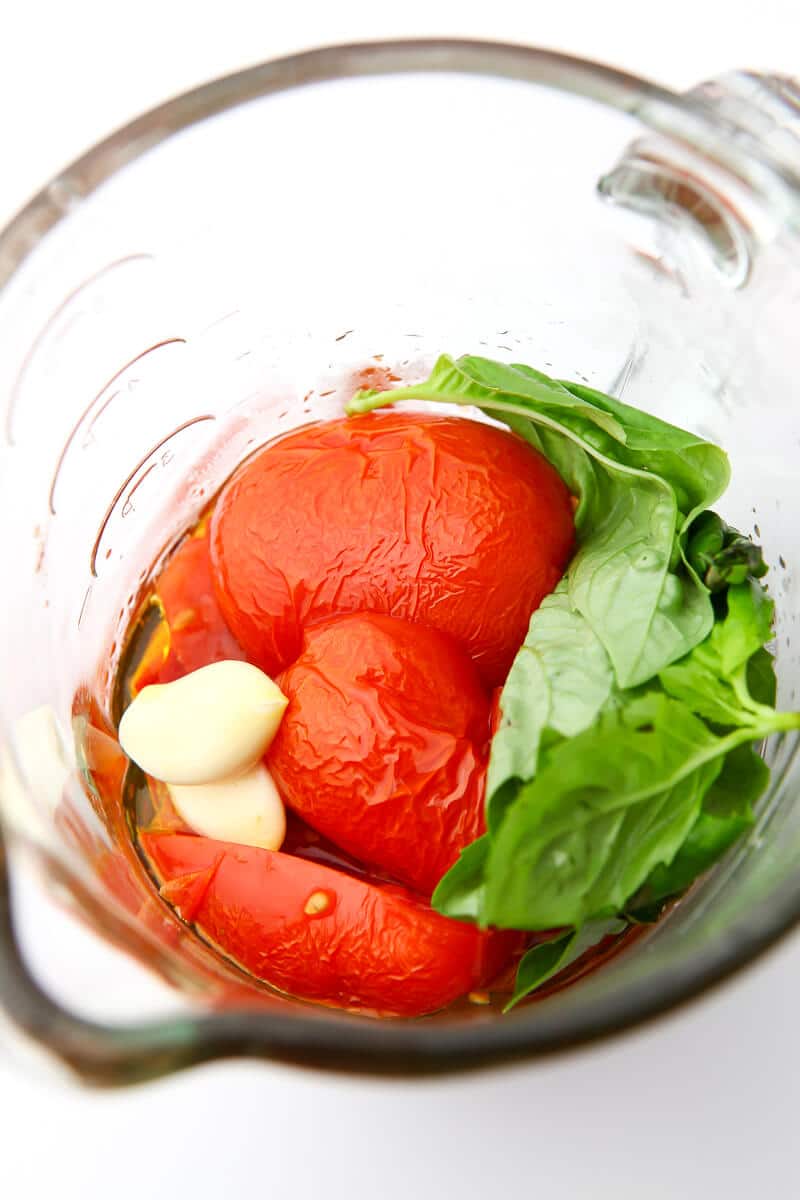 Step 4 - Blend for about 30 seconds until creamy.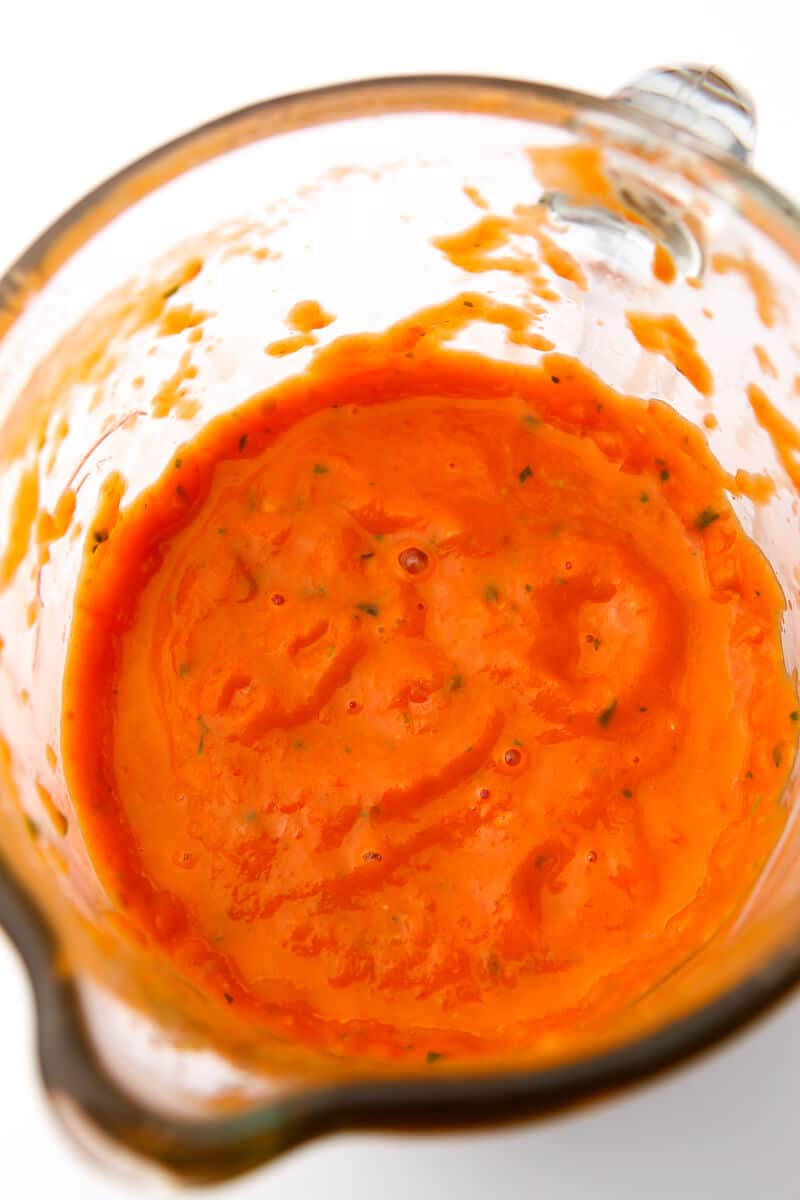 Step 5 - Pour over your choice of pasta, or use it in vegan ravioli, vegan stuffed shells, vegan baked ziti, or vegan lasagna.
🌿 Flavoring the sauce
Basil is my favorite herb to use in this sauce. You can just throw in a fresh handful while you blend it or you can use some vegan pesto. If you don't like the flavor of basil, substitute it with oregano or any other herbs that you like.
Tip: Big batches of vegan pesto are great to keep in the freezer, so it is ready to use in soups and sauces. I pour my pesto into ice cube trays and then put them into freezer bags.
If you like the flavor of roasted red peppers, try my tomato and red pepper pasta sauce.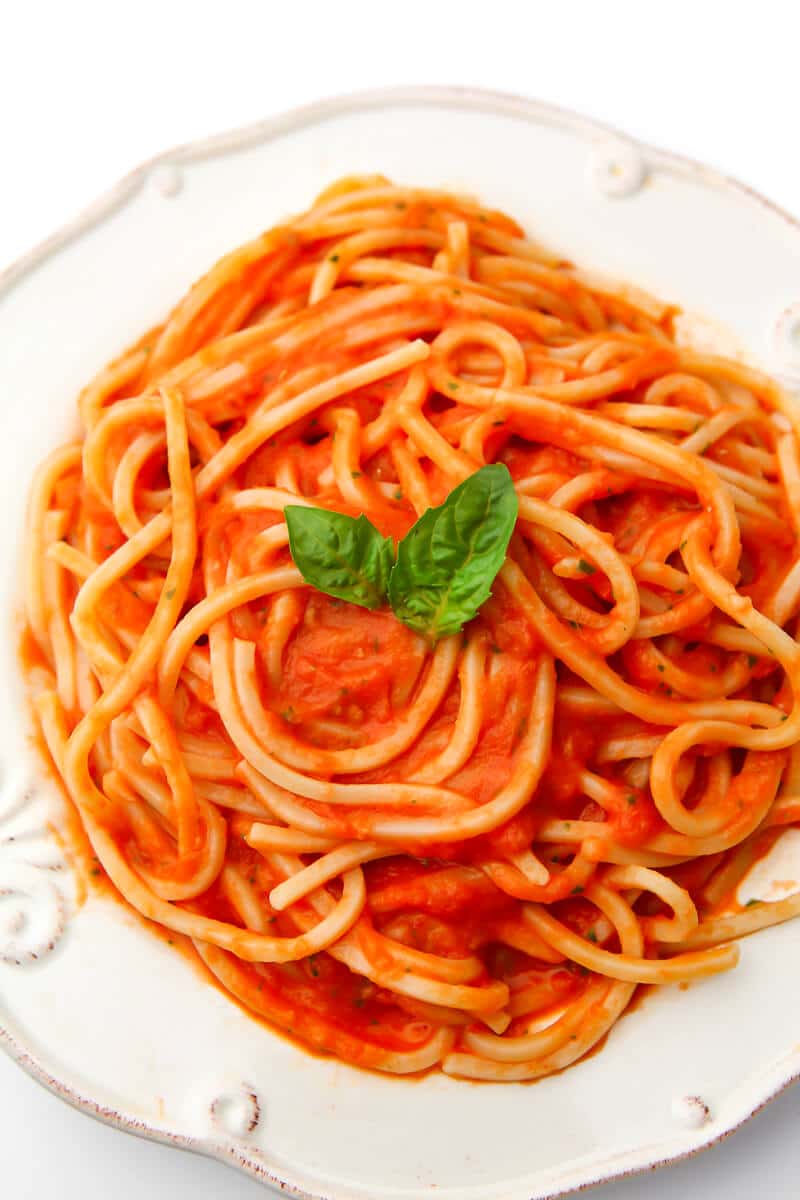 ❔ Why is it so creamy?
There is no milk or cream in the recipe, so I'm not exactly sure why it tastes so creamy, but something magical happens with the oil mixes with the acid in the tomato. If you want to eliminate or reduce the oil, feel free. It will just be a lighter and less creamy sauce.
👩🏻‍🍳 Pro Tips
Make sure that you don't overcook your tomatoes or they will dry out. They should have wrinkled skin and there should be juice on the cookie sheet.
If you accidentally get them too dry, just add a little water while blending until you achieve a good consistency.
Make this in the summer with fresh ripe tomatoes from the garden, and it will need no added sugar. I only add sugar if the tomatoes are not in season and are therefore not as naturally sweet.
Don't fill your blender with more than 2 cups of tomatoes at a time to ensure that it doesn't overflow and burn you.
You can also put the roasted tomatoes into a large bowl or pot and use an immersion blender.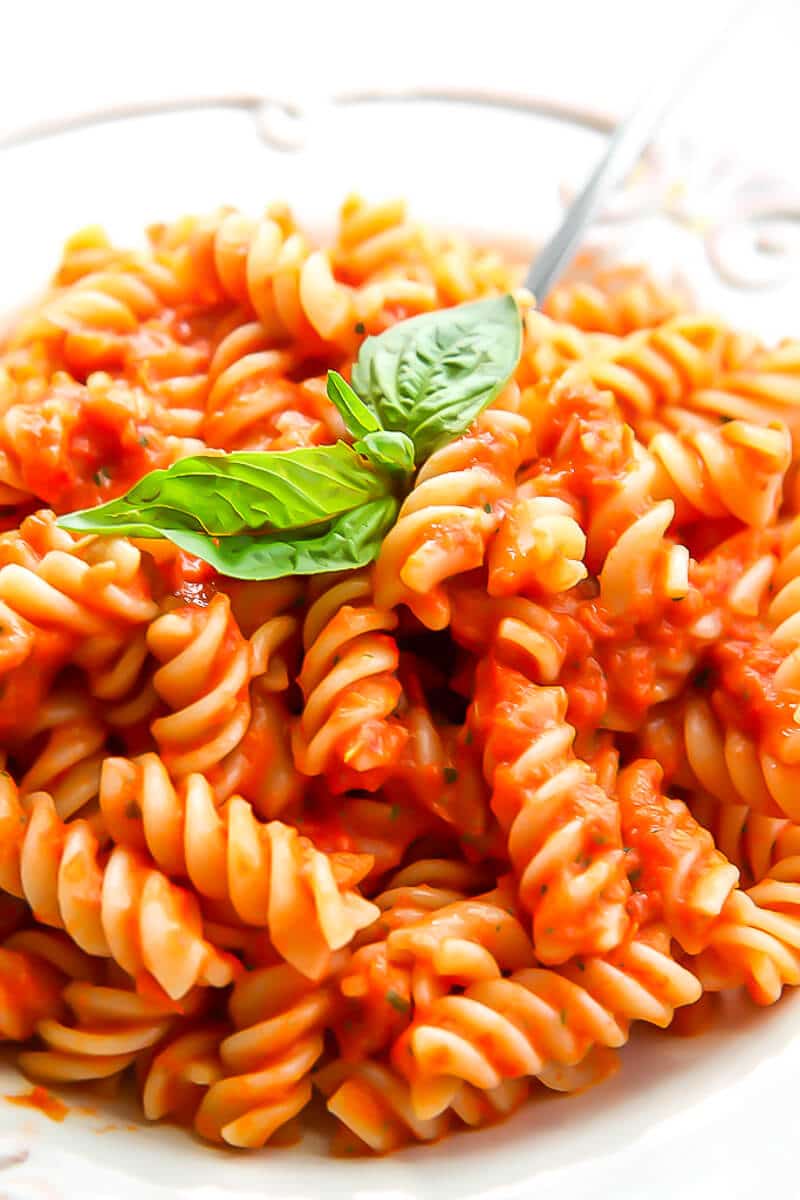 Serve this oven-roasted tomato sauce over pasta with some homemade vegan focaccia bread, vegan drop biscuits, or vegan garlic knots on the side!
🌟 More easy pasta recipes
📌 Be sure to follow me on Pinterest for new vegan recipes!
📋 Roasted tomato sauce recipe
Print Recipe
Oven Roasted Tomato Sauce
This creamy marinara sauce is made by roasting tomatoes in the oven and then blending into a rich creamy sauce that is both vegan and gluten-free.
Instructions
Wash tomatoes, cut them into half, and cut out any brown stems.

Place them cut sides of the tomatoes down on a cookie sheet and bake at 350°F (117°C) for about 30 minutes until the skin wrinkles and juice starts to come out.

Put the roasted tomatoes, garlic, olive oil, pesto or basil, salt, and sugar into a blender.

Blend until creamy (Add a tiny bit of water if needed).

Serve as you would any tomato sauce.
Notes
If the tomatoes are in season, you will not need any added sugar.
If you are using less ripe tomatoes, you may want a little sugar to sweeten up the sauce.
If your tomatoes dry out too much at a tablespoon or 2 of water while blending.
garden fresh tomatoes make the best sauce!
Nutrition
Serving:
0.75
cup
|
Calories:
59
kcal
|
Carbohydrates:
6
g
|
Protein:
1
g
|
Fat:
3
g
|
Sodium:
127
mg
|
Potassium:
364
mg
|
Fiber:
1
g
|
Sugar:
4
g
|
Vitamin A:
1300
IU
|
Vitamin C:
21.2
mg
|
Calcium:
15
mg
|
Iron:
0.4
mg
*Original recipe published March 2017 and updated on 3/15/2021 to include new images and more detailed information.
⭐⭐⭐⭐⭐ Click the stars above or leave a comment! I'd love to hear from you!