This aquafaba chocolate mousse is the best way to make vegan chocolate mousse! Fluffy, rich, and creamy, yet dairy-free, gluten-free, and nut-free too. This vegan mousse is the perfect make-ahead no-bake dessert!
Made with the liquid from a can of chickpeas or white beans, it whips up into an ultra-light and fluffy texture, but still rich and creamy like chocolate mousse should be!
Jump to:
🌟 What is Aquafaba?
The secret to fluffy mousse is aquafaba. If you haven't heard of it before, it simply means the liquid from a can of chickpeas or the reserved cooking water from any beans. When this chickpea water is beaten, it gets very fluffy and works up like egg whites when making a meringue.
❤️ Why you'll love this recipe
It's fast! This dessert whips up in about 10 minutes.
It's simple to make with simple ingredients that you probably already have in your pantry.
It's so fancy that your family will think you have turned into a gourmet pastry chef!
It's simply delicious! You won't be able to get enough of it!
🧾 Ingredients and substitutions
Aquafaba - this is the liquid from canned chickpeas or white beans. See my post about everything you need to know about aquafaba if you have never used it before.
Cream of Tartar - this is a white powdery acid to help the protein in the aquafaba bond with each other. You can also use lemon juice. Learn more about cream of tartar in this post.
Vanilla Extract - for flavor
Powdered Sugar - organic powdered sugar is vegan. You can also use granulated sugar and toss it in a blender for a minute or two to get it very fine and powdery.
Refined Coconut Oil - it must be refined or it will taste like coconut. You can not substitute any other type of oil for this or it will not set correctly.
Cocoa Powder - for the chocolate flavor.
Note - for a lower fat method, you can use melted chocolate like melted chocolate chips or a melted dark chocolate bar instead of refined coconut oil mixed with cocoa powder, but I find the coconut oil gives the best flavor and texture.
🔪 Helpful tools
A Stand Mixer - with a whisk attachment. You must beat the aquafaba for a long time to get fluffy and strong enough to hold its shape. A stand mixer makes this process much easier, but you can use a hand mixer too. Don't use a blender or food processor, it will not whip it the same.
🥄 How to make vegan chocolate mousse
Step 1 - Simply drain the liquid from a can of salt-free chickpeas or white beans into a mixing bowl. There is usually about a ¾ cup of liquid in the standard can. (If the liquid is very watery, you may need to reduce it for better results. See reducing aquafaba below.)
Step 2 - Use a mixer to beat the liquid until it gets foamy. Add a ¼ teaspoon of cream of tartar to help it to hold its shape. Then continue to beat the liquid for 5 more minutes on high until it forms stiff peaks.
Step 3 - Add 1 tablespoon of vanilla extract and beat for another 2 minutes.
Step 4 - After you have whipped it for about 7 minutes, slowly add 2/3 cup of vegan powdered sugar, about 1 tablespoon at a time, while continuing to beat the mixture. (You can also use granulated sugar, but I have found that it maintains a fluffier smoother texture with powdered sugar).
Step 5 - Continue beating for another minute or 2 until all of the sugar is incorporated and it maintains firm peaks.
Step 6 - Now, turn off the mixer and melt ¼ cup of refined or triple-filtered coconut oil and stir in a ¼ cup of powdered cocoa into the oil.
Step 7 - Pour the chocolate mixture into the whipped aquafaba and mix again on low for 10 seconds. Just enough to get the chocolate mixed in. Do not over mix or you will have deflated mousse!
Step 8 - Use a rubber spatula to scrape the edges and fold in any parts that didn't get incorporated.
Step 9 - Finally, pour the vegan chocolate mousse into stemmed glasses and refrigerate for a least 1 hour before serving.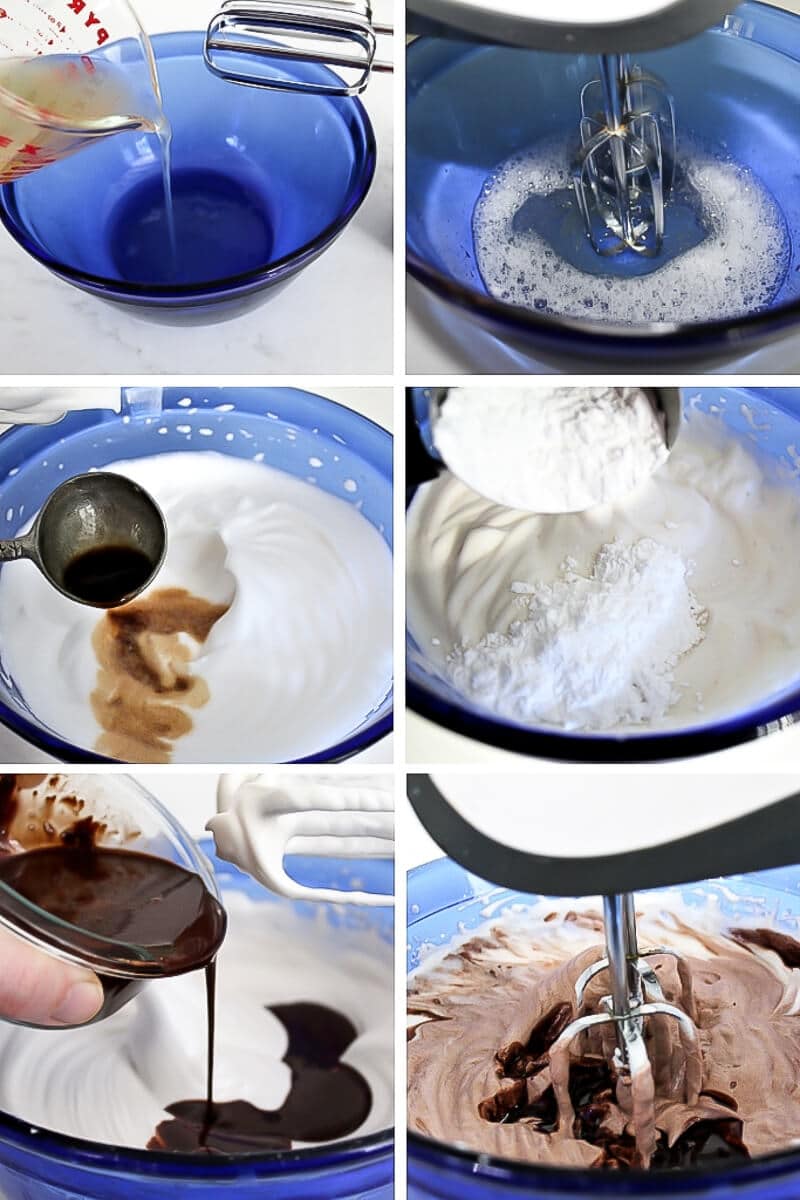 This aquafaba mousse makes a super light and fluffy dessert. If you want a richer and creamier vegan chocolate mousse, try my silken tofu chocolate mousse recipe.
🍳 Reducing aquafaba
Your aquafaba should be fairly thick when you pour it out of the can, similar to an egg white consistency. If it is very clear and thin like water, it won't whip up as well and hold its shape.
To fix this issue, put it into a saucepan and simmer it for about 10 minutes uncovered then let it come back down to room temperature before whipping.
👩🏻‍🍳 Pro Tips
I start with the same recipe that I use for aquafaba whipped cream. (You can double the recipe and take ½ out before adding the chocolate mixture. This way you will have whipped cream to use to top your mouse if desired).
Beat the aquafaba for a total of 9 minutes to ensure that it doesn't deflate.
Once you add the oil and chocolate, only stir enough to get it mixed in.  Over-stirring once the oil has been added will cause it to deflate.
Allow it to set up in the fridge for at least 1 hour.  It will be even slightly firmer after a few hours.
🥡 Storage
Refrigerate: You must keep the aquafaba mousse in the fridge until served. They will keep well in the fridge for 1-2 days if they are covered. The mousse will start to separate after a few days in the fridge.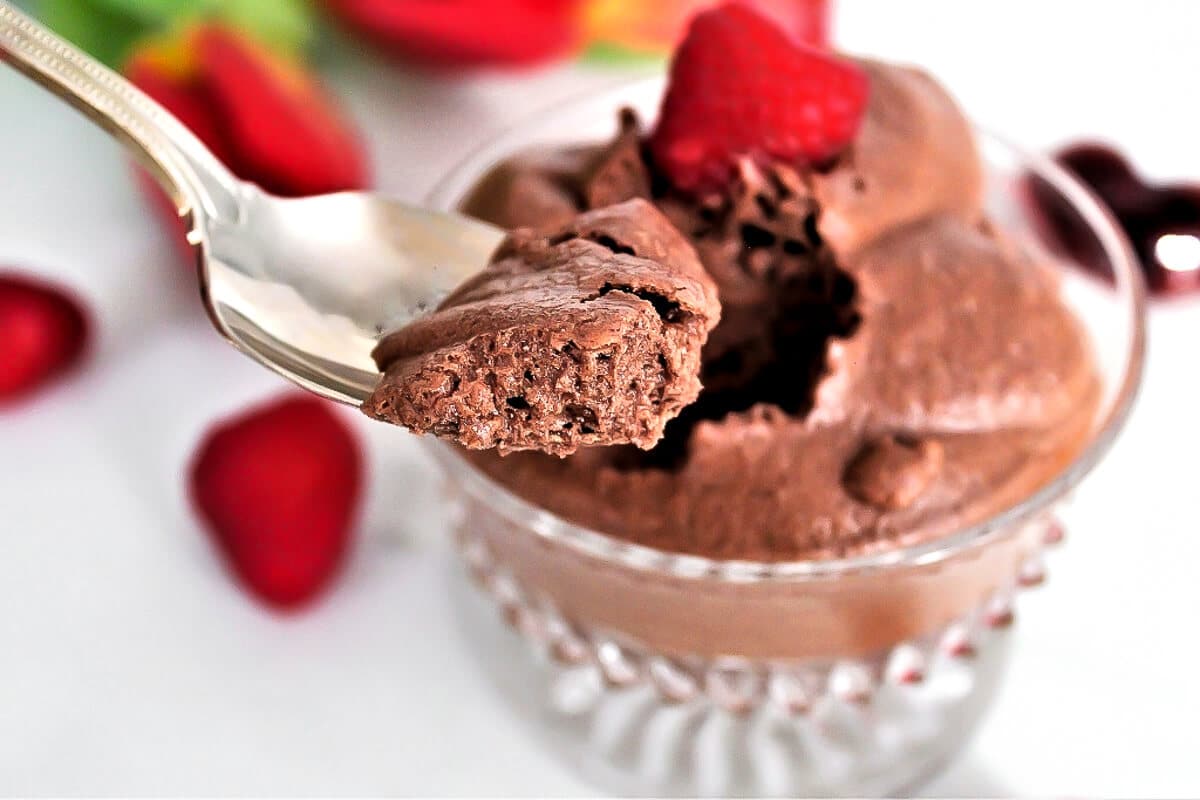 🌟 More aquafaba recipes
📌 Be sure to follow me on Pinterest for new vegan recipes!
📋 Aquafaba mousse recipe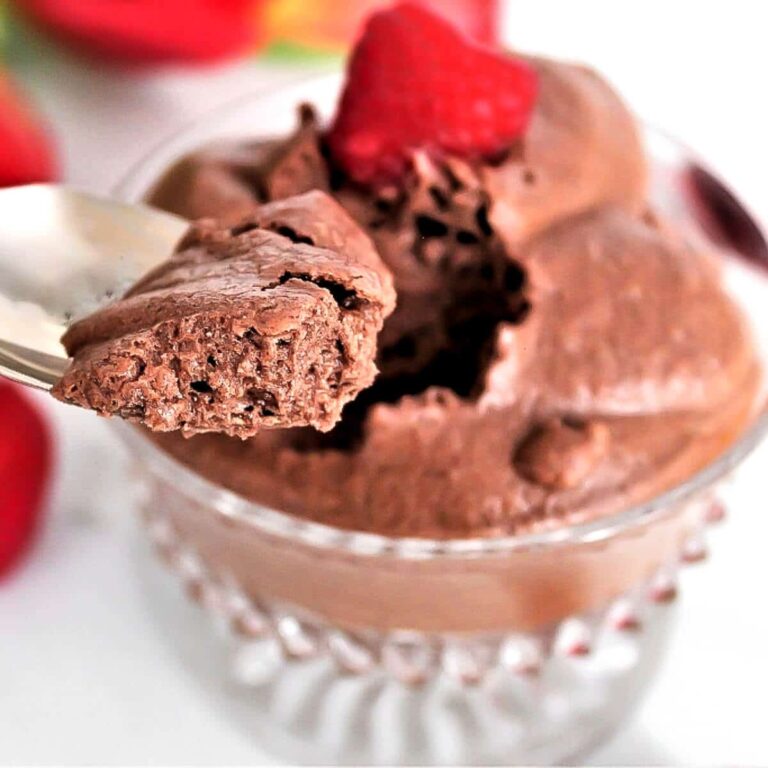 Print Recipe
Aquafaba Chocolate Mousse
A light and fluffy vegan chocolate mousse that is gluten free, dairy free, and nut free.
Instructions
Drain and save the liquid from a can of chickpeas or white beans.

Pour 3/4 cup of the liquid in a medium sized mixing bowl.

Use a mixer and beat the liquid until it starts to get foamy.

Add the cream of tartar and continue to mix for 5 minutes on high until it becomes very fluffy and forms stiff peaks.

Add vanilla and continue to beat for another 2 minute. (Total of 7 minutes so far).

Slowly add powdered sugar while continuing to mix on high for 2 additional minutes until all vanilla and sugar are mixed in and the mixture if very fluffy. (This should equal a total of 9 minutes beating the aquafaba).

Turn off mixer and mix melted coconut oil and cocoa powder until very smooth.

Pour chocolate mixture into the aquafaba mixture.

Turn on the mixer to low and beat for 10 seconds to get the oil distributed. (Do not over mix or you will lose the fluffiness)!

Use a rubber spatula to fold in any sections that didn't incorporate.

Pour into pretty glasses and refrigerate for at least 1 hour in the serving containers.
Notes
Make sure to beat aquafaba for the time stated in the recipe.
You may substitute lemon juice for the cream of tartar for the acid in the recipe.
Once you add the oil, only mix for 10 seconds.  It will start to flatten once the oil has been added.
Nutrition
Serving:
1
cup
|
Calories:
217
kcal
|
Carbohydrates:
23
g
|
Protein:
1
g
|
Fat:
14
g
|
Saturated Fat:
12
g
|
Sodium:
4
mg
|
Potassium:
112
mg
|
Fiber:
1
g
|
Sugar:
20
g
|
Calcium:
7
mg
|
Iron:
0.7
mg
⭐⭐⭐⭐⭐ Click the stars above or leave a comment! I'd love to hear from you!