Aquafaba whipped cream is light and fluffy vegan whipped cream that is gluten-free, soy-free, and nut-free too! You will be shocked by how amazingly delicious it tastes!  Made without coconut milk, this whipped cream is light and fluffy and stays creamy for days in the fridge or months in the freezer as a vegan cool whip.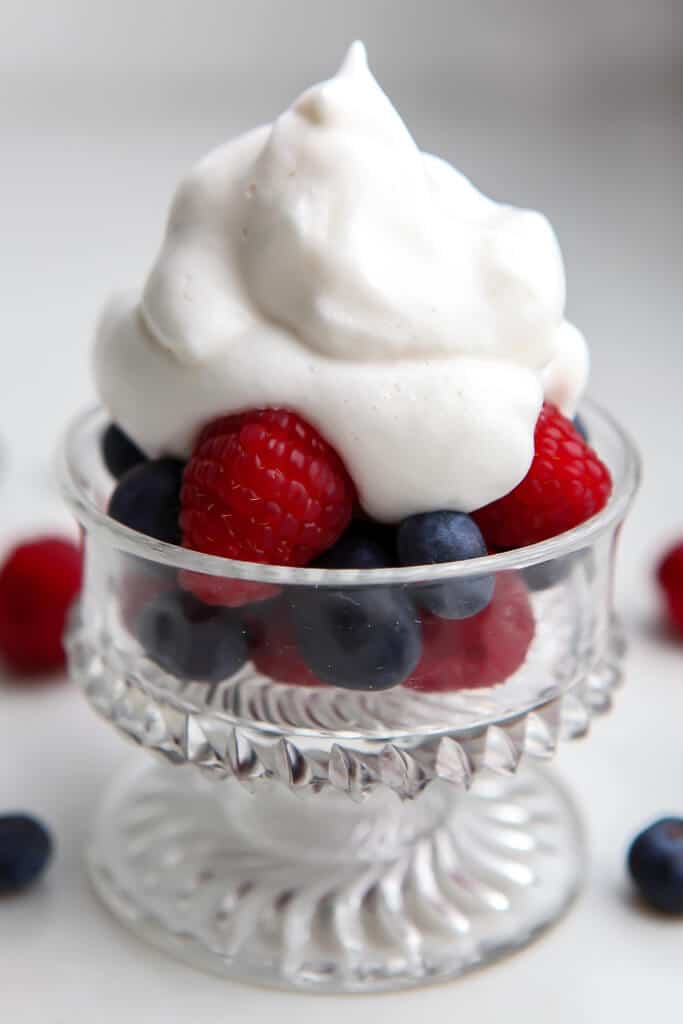 You will LOVE vegan whipped cream made with aquafaba because it's …
easy to make.
free of soy, gluten, dairy, nuts, and can be made fat free too!
light and fluffy and won't deflate easily.
What you will need to make the best tasting vegan whipped cream:
Aquafaba – the liquid from a can of garbanzo beans.
Cream of Tartar – for acidity to help the protein whip into a sturdy foam.  You can also use lemon juice instead if you wish.
Vanilla Extract – for flavor.
Powdered Sugar – to make it sweet.  You can also use granulated sugar, but I have found that powdered sugar makes it lighter and creamier.
Oil – for richness.  you can use any neutral flavored oil to make the whipped cream richer and creamier. (Optional)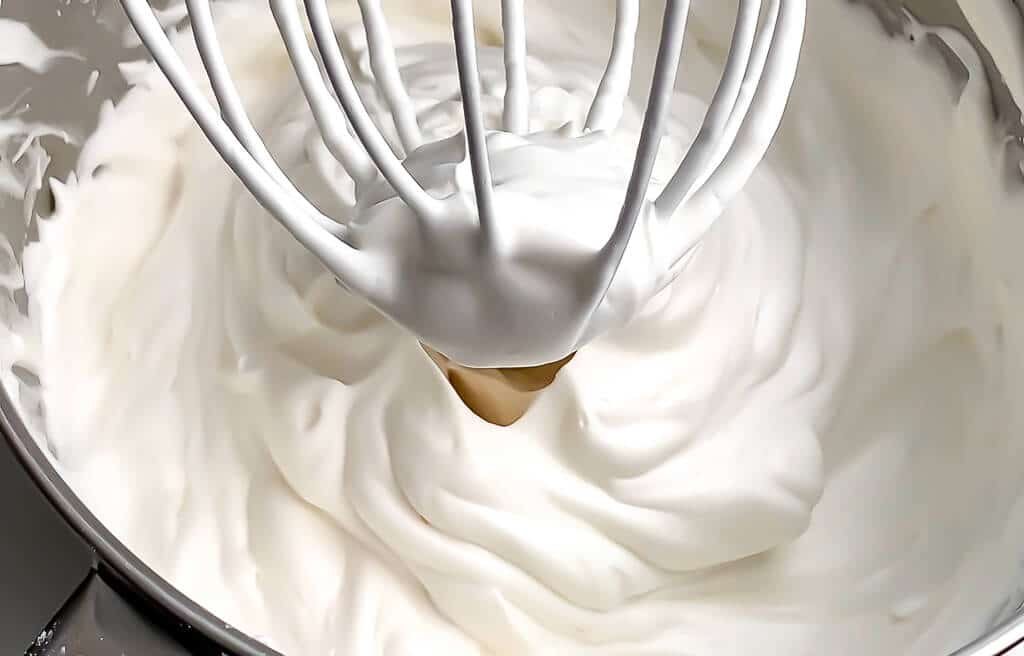 What is Aquafaba?
Aquafaba translates from Latin as bean water. Yes, that stuff in the can of beans that you usually wash down the drain and rinse off the beans. Bean water doesn't sound very appetizing, so they call it something a little fancier – aquafaba!  I usually use the liquid from chickpeas, but any bean liquid will work.  Chickpea and white beans will have the most neutral flavor and whip up the whitest, so most people choose one of those 2 beans.
Does aquafaba really taste good?
Although it has a pretty name, you may still be turned off by the idea of bean juice. I was hesitant to try anything with aquafaba. Actually, it took me a few years before I worked up the nerve to try it. Wow! I was missing out! I wish I had gotten over it years ago.  It doesn't have much flavor itself but is delicious when sugar and vanilla are added.
Tip: Most people prefer to use unsalted beans for sweets made with aquafaba.  I have used both and I don't notice a big difference if you can't find unsalted beans.  I have also noticed that different brands of beans have slightly different flavors.
Do I have to use canned beans for the aquafaba liquid?
No, you don't need to use canned beans.  If you make your own beans from scratch, simply save the cooking water from your beans to make the whipped cream. 
*This cooking liquid can be kept in the refrigerator for up to 5 days or frozen for up to 3 months.
How do I make whipped cream with aquafaba?
Simply drain the liquid from a can of chickpeas or white bean into a mixing bowl. There is usually about a ¾ cup of liquid in the standard can.
Use a mixer to beat the liquid until it gets foamy.

Add a ¼ teaspoon of

cream of tartar

to help it to hold its shape. Then continue to beat the liquid for 5 more minutes on high until it forms stiff peaks.
Add 1 tbsp of vanilla extract. This will turn your whip cream slightly brown. Don't worry, beat it for another minute or 2 and it will turn white again.
After you have whipped it for about 7 minutes, slowly add 2/3 cup of powdered sugar while continuing to beat the mixture for a total of 9-10 minutes.  (I've seen some recipes that call for granulated sugar and I have tested it out, but I have found that it stays lighter and fluffier with powdered sugar).
Turn off the mixer and add 2 tbsp of neutral oil like refined coconut or canola oil. Mix on low for about 5-10 seconds. Just enough to get the oil distributed through the whipped cream. (optional for a richer flavor).
Note:  If you over-mix once the oil has been added, it will lose its fluffiness. The oil gives it a rich flavor and mouth feel similar to real whipped cream.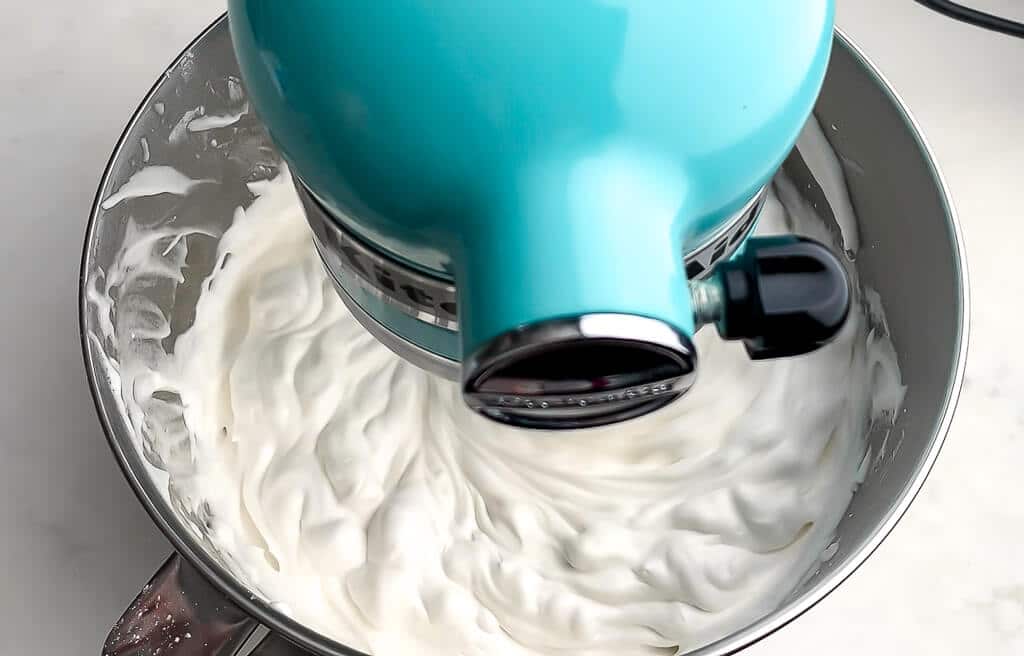 Can I make it fat-free?
Yes!  It still tastes great without the oil. It is a little lighter and fluffier without the oil, but a little less creamy too. So, if you don't want the fat and extra calories, leave it out!
How should I store it?
Serve immediately on berries, ice-cream or your favorite smoothie or keep it in the fridge for about 24 hours.  If you are not going to use it the first day, store in a sealed container in the freezer and use it like you would any frozen whipped topping like Cool Whip.  (Just take it out of the freezer and let it warm up for about 10 minutes before using).  If kept airtight, it will keep up to a month in the freezer.
Try some other amazing recipes using aquafaba…
Top your favorite smoothie with a dollop of this whipped cream and make it into a healthy dessert!  Check out this strawberry cheesecake smoothie!
What should I do with the can of chickpeas that I opened to make this recipe?
Make this easy vegan chickpea salad or a citrus salad with chickpeas.
Be sure to follow me on Instagram for daily vegan inspiration and recipe ideas!  Tag me at #thehiddenveggies!  I love to see what you made too!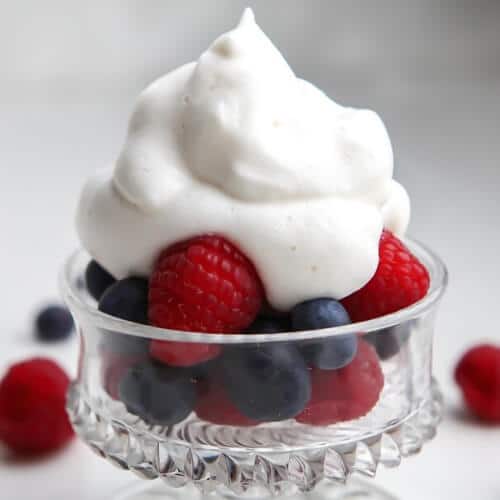 Aquafaba Whipped Cream - Vegan Whipped Cream
Vegan, gluten-free, soy-free whipped cream made with aquafaba.
Keyword:
aquafaba whipped cream, vegan cool whip, vegan whipped cream
Ingredients
3/4

cup

aquafaba

(liquid from canned unsalted chickpeas or white beans).

1/4

tsp

cream of tartar

or lemon juice

1

tbsp

vanilla extract

2/3

cup

powdered sugar

(most organic varieties are vegan)

2

tbsp

neutral-flavored oil

like canola or refined melted coconut oil
Instructions
Drain and save the liquid from a can of chickpeas or white beans.

Pour 3/4 cup of the liquid in a medium-sized mixing bowl.

Use a mixer and beat the liquid until it starts to get foamy.

Add 1/4 tsp cream of tartar and continue to mix for 5 minutes on high until it becomes very fluffy and forms stiff peaks.

Add 1 tbsp vanilla and continue to beat for another minute. (It will turn light brown for a minute, but then turn white again as it beats in).

Slowly add 2/3 cup powdered sugar while continuing to mix on high until all vanilla and sugar are mixed in and the mixture if very fluffy. Mix for a total of 9-10 minutes for whipped cream that will hold it's fluffiness the longest.

Turn off mixer and add choice of neutral oil. (Melted if using coconut oil). 

Turn on mixer to low and beat for 5 -10 seconds to get the oil distributed. (Do NOT over mix once the oil has been added or you will lose the fluffiness)!
Recipe Notes
Make sure to beat the aquafaba for the suggested time or longer before adding the oil or your whipped cream will separate and lose its form.
You can leave out the oil and make this whipped cream fat-free!
Any white bean liquid can be used.
Use unsalted or low salt beans for the best flavor.
Nutrition Facts
Aquafaba Whipped Cream - Vegan Whipped Cream
Amount Per Serving (0.25 cup)
Calories 40
Calories from Fat 9
% Daily Value*
Fat 1g2%
Potassium 7mg0%
Carbohydrates 5g2%
* Percent Daily Values are based on a 2000 calorie diet.
*This was originally posted on 2/9/2018.  It was updated on 2/17/20 to include new images and an instructional video showing how to make the aquafaba whipped cream.