This aquafaba ice cream is simply the best way to make ice cream without an ice cream maker.  It comes out light, fluffy, creamy and delicious every time. Easily make your favorite ice cream flavors by adding fruit, chocolate, peanut butter or caramel.  This no-churn ice cream is vegan, nut-free, and gluten-free too so everyone can enjoy it!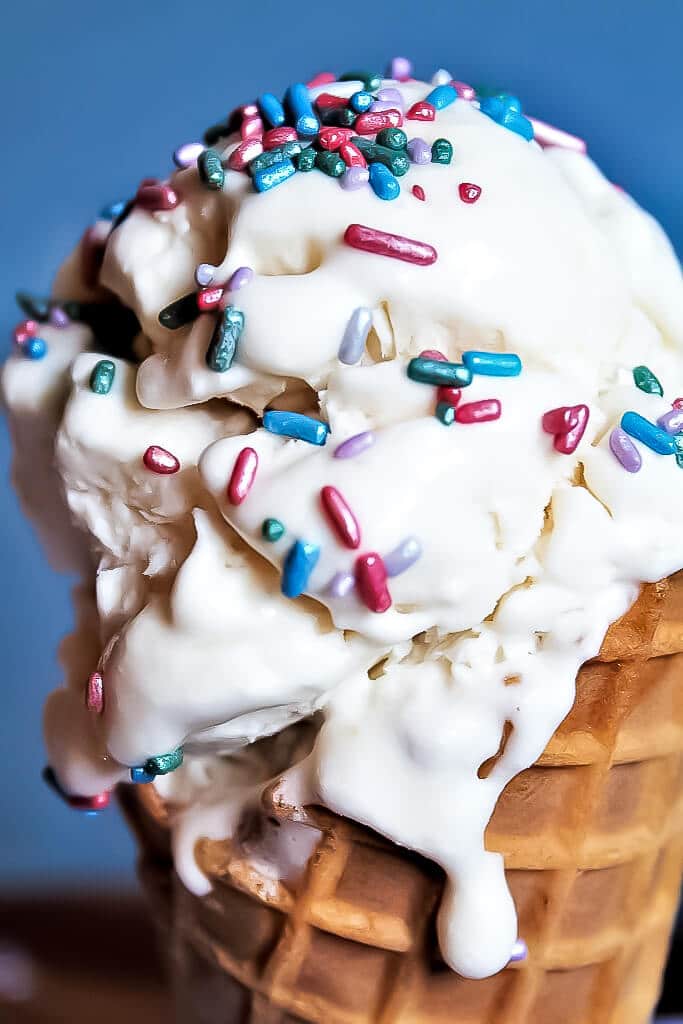 How can I make ice cream without an ice cream maker?
Make your ice cream from aquafaba for a light and fluffy ice cream that will stay soft enough to scoop when completely frozen.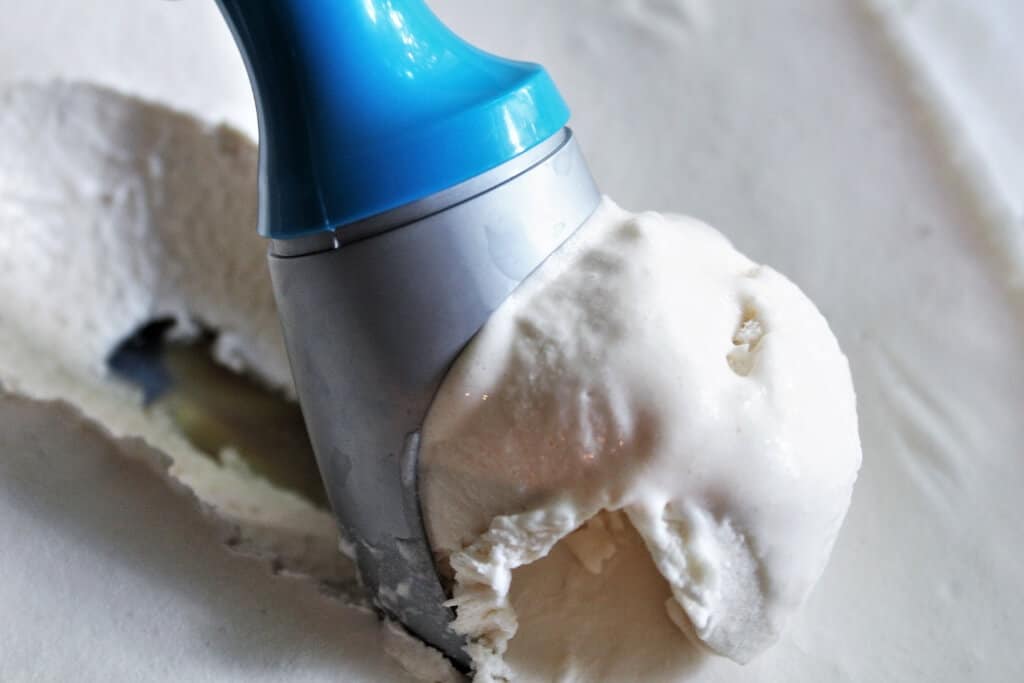 What is aquafaba?
Aquafaba means bean water in Latin. It is the liquid that you drain off a can of beans. This cooking water contains enough protein from the beans that it acts like egg whites in many ways, therefore, you can whip it into a meringue or whipped cream like substance.
What you need to make Aquafaba ice cream...
Ingredients: 
Aquafaba - the liquid from a can of garbanzo or white beans.  You can use red or black beans, but that will be the color of your ice cream too. 
Cream of Tartar - or lemon juice as an acid to break down the protein and make it form a fluffier meringue.
Sugar - to sweeten the ice cream.  I like to use powdered sugar since it doesn't weigh the aquafaba down as much and give you a light and fluffy result.  You can also use granulated sugar.
Plant-Based Milk - like soy, almond, oat, or cashew milk.  This gives the ice cream a creamy dairy flavor. 
Vanilla Extract - for flavor.
Oil - for a richness of ice cream.  Canola oil works best, but you can use any neutral flavored oil.  You can omit the oil, but it just won't be as rich and creamy.
Flavoring - you can add chocolate, pureed berries or fruit, caramel, or peanut butter for your flavor of choice. 
Tools:
Mixer - a stand mixer is nice to have so your arm doesn't get tired, but you can use any type of electric mixer.
Container - with a good seal to store the ice cream. 
How do I make aquafaba ice cream?
Simply whip the aquafaba from a can of chickpeas or white beans with a mixer. 
Then, add a little cream of tartar or lemon juice, this is an acid that helps break down the protein and fluff it up into a whipped cream texture.
Mix the aquafaba for 6 minutes and then add vanilla and mix for another minute.
Then slowly add powdered sugar while continuing to mix for 3 more minutes until it is all incorporated and it forms firm peaks.
Make sure to beat the aquafaba for at least 9 minutes total.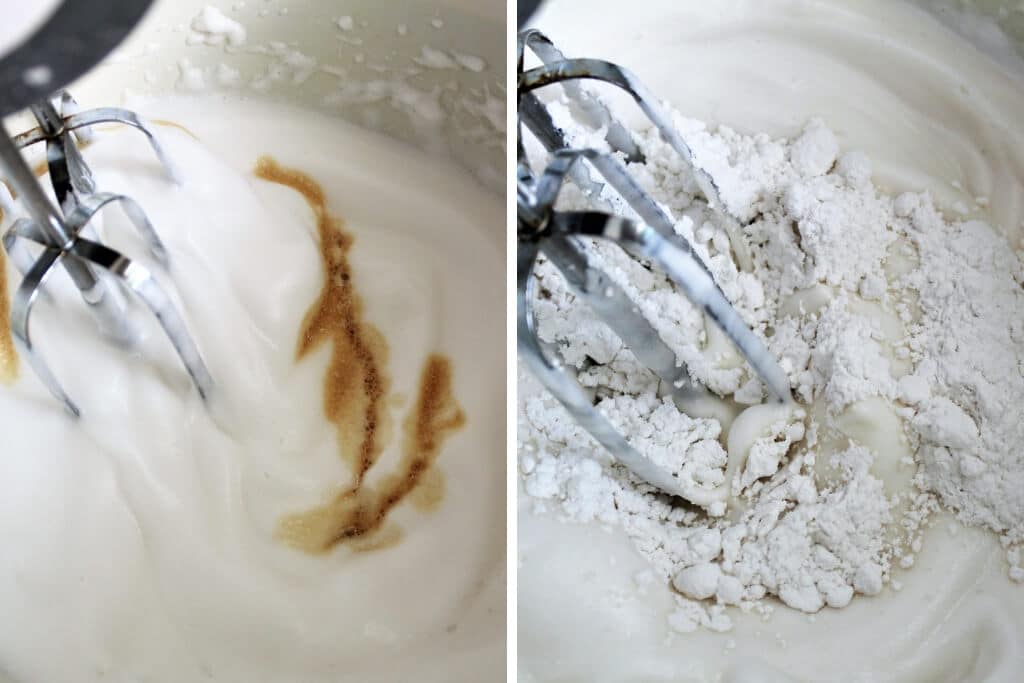 Time to make the flavor ice cream of your choice….
Combine your favorite plant milk, canola oil, and your ice cream flavor of choice in a blender.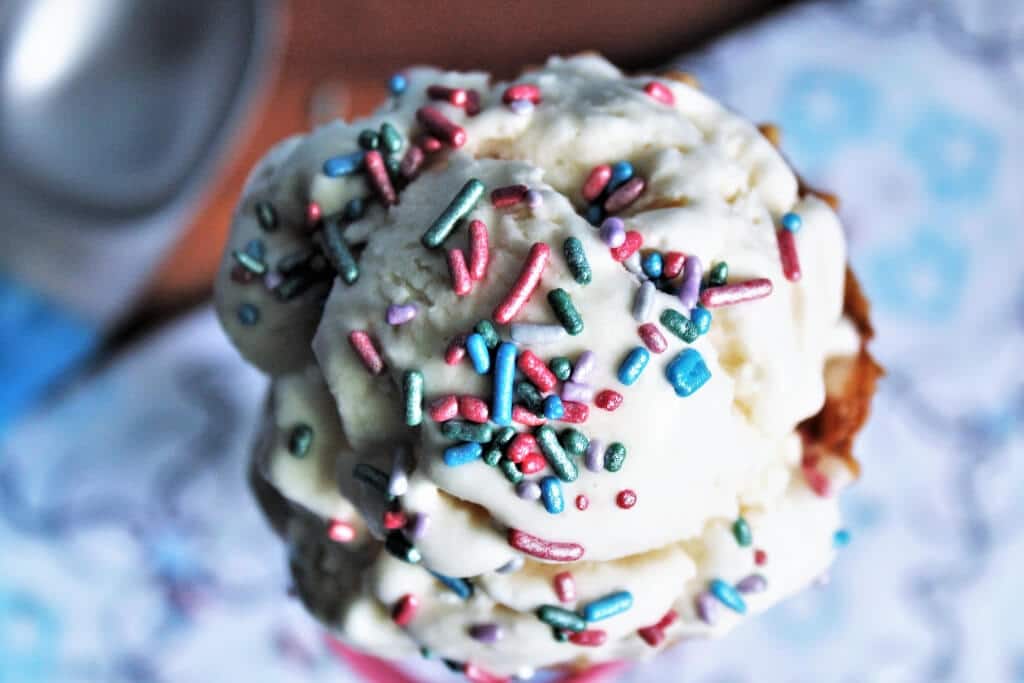 Vanilla: An additional teaspoon vanilla
Strawberry: Add a ½ cup of fresh strawberries
Chocolate: Add 1/4 cup cocoa powder
Peanut Butter: 1/3 cup peanut butter
Coffee: Add 1 tbsp. instant coffee
Blend your flavor mixture of choice with the vegan milk in a blender and then slowly add it to the Aquafaba. Turn the mixer to the lowest setting and beat for about 10 seconds, just long enough to incorporate the mixture.  (You can also simply fold the milk in with a spatula.  Just don't overbeat once the milk mixture has been added or it will collapse the aquafaba)!
Then simply pour your ice cream mixture into a dish (large enough to hold 6 cups of ice cream) and immediately freeze for at least 4 hours.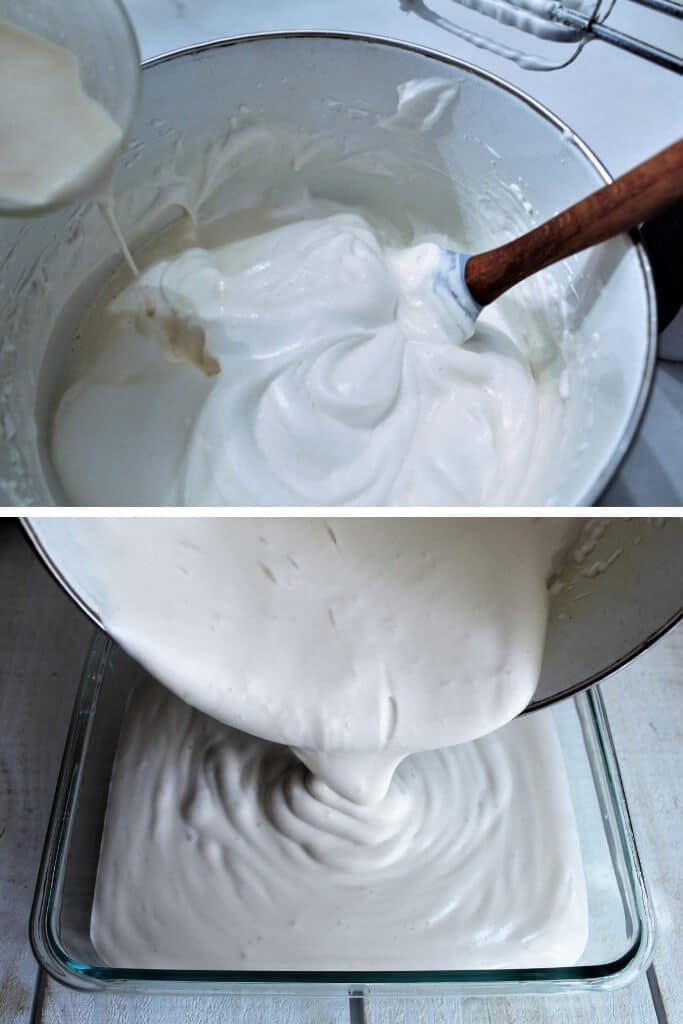 Your ice cream will set perfectly and easily scoop out of the pan even days later.
Tip:  I like to use these 6 cup sized Snapware containers because the batch fits perfectly and it has an airtight lid so your ice cream doesn't absorb the flavors of the freezer.  If you don't have a container like this, cover your ice cream with plastic wrap to seal in freshness.
What if I want to add other flavors to the ice cream?
To add swirls of flavor, make the vanilla ice cream and then fold in chocolate syrup, vegan salted caramel sauce, peanut butter or chocolate chips just before freezing it.  You may want to give it another stir about 1 hour after freezing if items look like they are sinking to the bottom.
Do you want to make a vegan ice cream Sunday?
Top your aquafaba ice-cream with vegan salted caramel sauce, berry compote, or vegan butterscotch sauce.
Don't forget to pin the aquafaba ice cream recipe for later!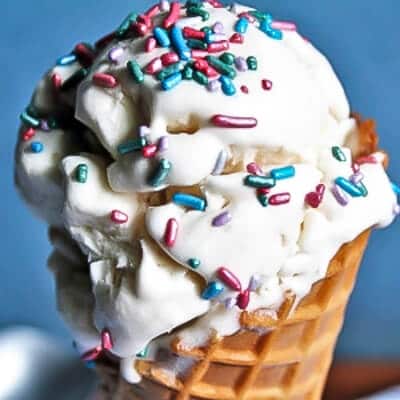 Print Recipe
Aquafaba Ice Cream - Vegan No Churn Ice Cream
A simple way to make vegan ice cream without an ice cream maker.  Free of dairy, gluten, and nuts.
Ingredients
For the Aquafaba Ice cream base:
3/4

cup

aquafaba

(the liquid from a can of chickpeas)

1/2

tsp

cream of tartar

or lemon juice

1

tbsp

vanilla extract

1

cup

powdered sugar
Blended Milk Mixture:
3/4

cup

plant-based milk of choice

(like soy milk)

1/4

cup

canola oil

or any other neutral flavored oil

1

tsp

vanilla extract

(additional for vanilla ice cream)
Or Pick One of the Additional Flavor Options:
1/2

cup

berries or fruit

1/4

cup

cocoa powder

1/3

cup

peanut butter

1

tbsp

instant coffee
Instructions
Drain a can of chickpeas into a medium sized mixing bowl and sprinkle with some cream of tartar. (This will be 3/4 cup of aquafaba liquid).

Beat on high speed with a mixer for 6 minutes until very fluffy.

Add a tbsp. of vanilla and beat again for about a minute.

Continue to beat the aquafaba while slowly adding the powdered sugar a few tablespoons at a time until it is well blended and very fluffy. (This should take about 2 more minutes). Make sure to beat the aquafaba for a total of 9 minutes from start to finish.
Blend the Milk Mixture and Flavor of Choice:
Put milk of choice, oil and any flavor of choice (Berries, chocolate, coffee, etc…)  into a blender and mix for about 30 seconds.

Pour the milk mixture into the fluffy aquafaba a little at a time, folding in. Don't over stir or your ice cream will lose its fluffiness.

Pour into a freezer safe container and immediately freeze for at least 4 hours to set completely.
Notes
Be sure not to overbeat once the milk mixture has been added.
Omit the oil to make it fat-free. (It's just not a rich and creamy without oil).
Use canned coconut milk instead of other plant-based milk.  (If using coconut milk, there is no need to add additional oil).
Nutrition
Serving:
1
cup
|
Calories:
182
kcal
|
Carbohydrates:
21
g
|
Fat:
9
g
|
Sodium:
17
mg
|
Potassium:
84
mg
|
Sugar:
20
g
|
Vitamin A:
120
IU
|
Vitamin C:
2.2
mg
|
Calcium:
43
mg
|
Iron:
0.1
mg