Chickpea flour (also known as garbanzo bean flour or Bengal gram flour) is an amazing ingredient that can transform your recipes!  Whether you are vegan, gluten-free, allergic to eggs, or simply like new and exciting foods, this is one ingredient that you need to start using in your cooking and baking!
You will LOVE chickpea flour because it's...
high in plant-based protein.

full of fiber, iron, magnesium, and B6.

inexpensive compared to other gluten-free flours.

delicious in both sweet and savory dishes!
Everything you need to know about Chickpea flour...
What is chickpea flour?
Chickpea flour is simply finely ground dried chickpeas (garbanzo beans).  It has been used for centuries in Indian, Middle Eastern, and Mediterranean dishes.
Uses for chickpea flour:
An egg substitute to make vegan omelets and quiches.

A high protein gluten-free bread replacement.

Mix with other gluten-free flour to increase the protein and help your baked goods bake up more similar to wheat products.

Use in sweet or savory baked goods.

Mix with equal parts water, it can be used as an egg replacer in your recipes. (1 1/2 tbsp chickpea flour mixed with 1 1/2 tbsp water = 1 egg).
Is chickpea flour good for you?
Yes, it's high in protein, iron, and fiber.  It's also low in fat, has no cholesterol, and can be used as egg substitutes that are free of gluten and soy.
What you need to know about chickpea flour before you start using it in your cooking or baking...
The raw chickpea flour tastes terrible!  I can't stress enough how bad any batter will taste when chickpea flour is in it!  It will magically turn delicious once it is cooked, but don't lick your fingers if you get some batter on them or you'll regret it. 
You also have to make sure that whatever you make with this flour is cooked through all the way!  If there is a little undercooked section in the middle, it will taste terrible and ruin your dish.
Can I use canned chickpeas instead of the chickpea flour in these recipes?
No, hydrated cooked chickpeas are different than chickpea flour and can not be interchanged in these recipes.  You need to use dried chickpea flour and then rehydrate it into a batter.
Where can I buy chickpea flour?
Although chickpea flour is not a traditional flour in the USA where I live, since gluten-free foods have become common, you can now find it in nearly every decent-sized traditional grocery store, healthy food, or natural grocery store. It's usually with the specialty flours or in the Bob's Red Mill section.  You can also easily order in on Amazon.
How do I store chickpea flour?
Store your chickpea flour in an airtight container in the pantry for up to 6 months.  It will stay good longer if kept in the refrigerator or freezer.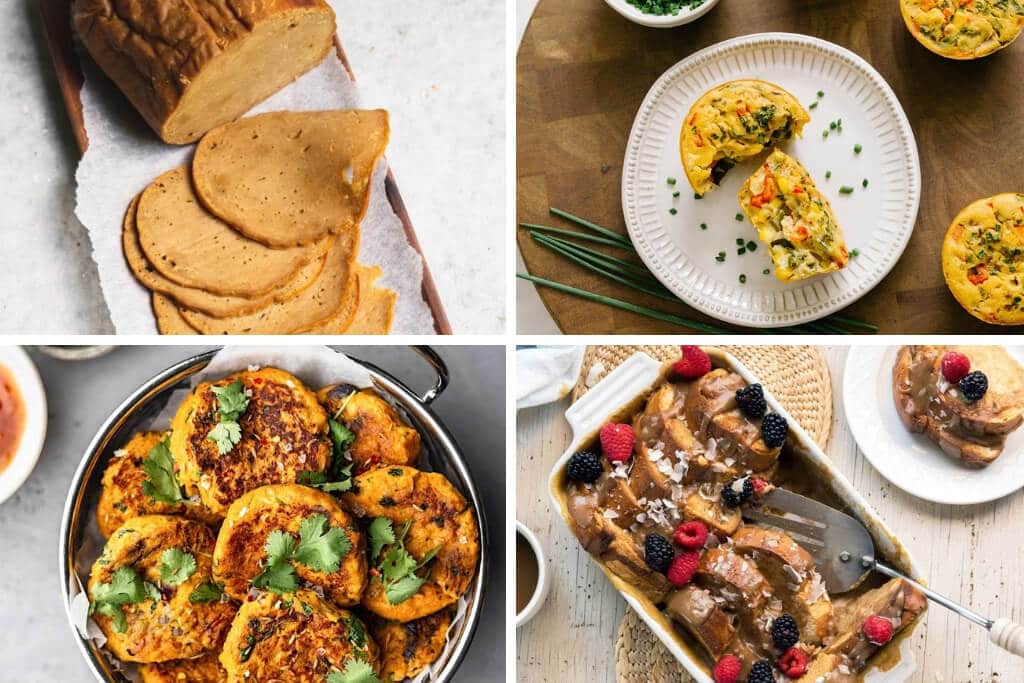 Now let's get to all of the awesome recipes that you can make with chickpea flour...
Sweet Chickpea Flour Recipes:
Chickpea flour bakes up delicious in desserts like these:
You can also make breakfast treats like:
Savory Chickpea Flour Recipes:
Chickpea flour can also be fried or baked to simulate eggs in omelets and quiches.
Chickpea flour is also delicious when baked into bread in these recipes...
Chickpea flour can also be used as a thinker in creamy sauces or in place of eggs like in these recipes...
You can also use chickpea flour as a replacement for eggs in fritters and other recipes that use egg as a binder...  
Make delicious appetizers from chickpea flour with these recipes...
Use chickpea flour to add protein and density to vegan meat substitutes with these recipes...
Make your own homemade gluten-free cracker using these chickpea flour recipes...
Whatever you choose to make with chickpea flour, I'm sure it will be delicious!  I hope that you break out of your old routine and give it a try!  I know that you'll love it!
Don't forget to follow me on Pinterest and/or Instagram for daily recipe inspiration!