This homemade gluten-free vegan sausage recipe makes it easy to make your own vegan beer brats, vegan breakfast sausage, and vegan Italian sausages.  Use the same base recipe and season it one of 3 ways to make any type of vegan sausage.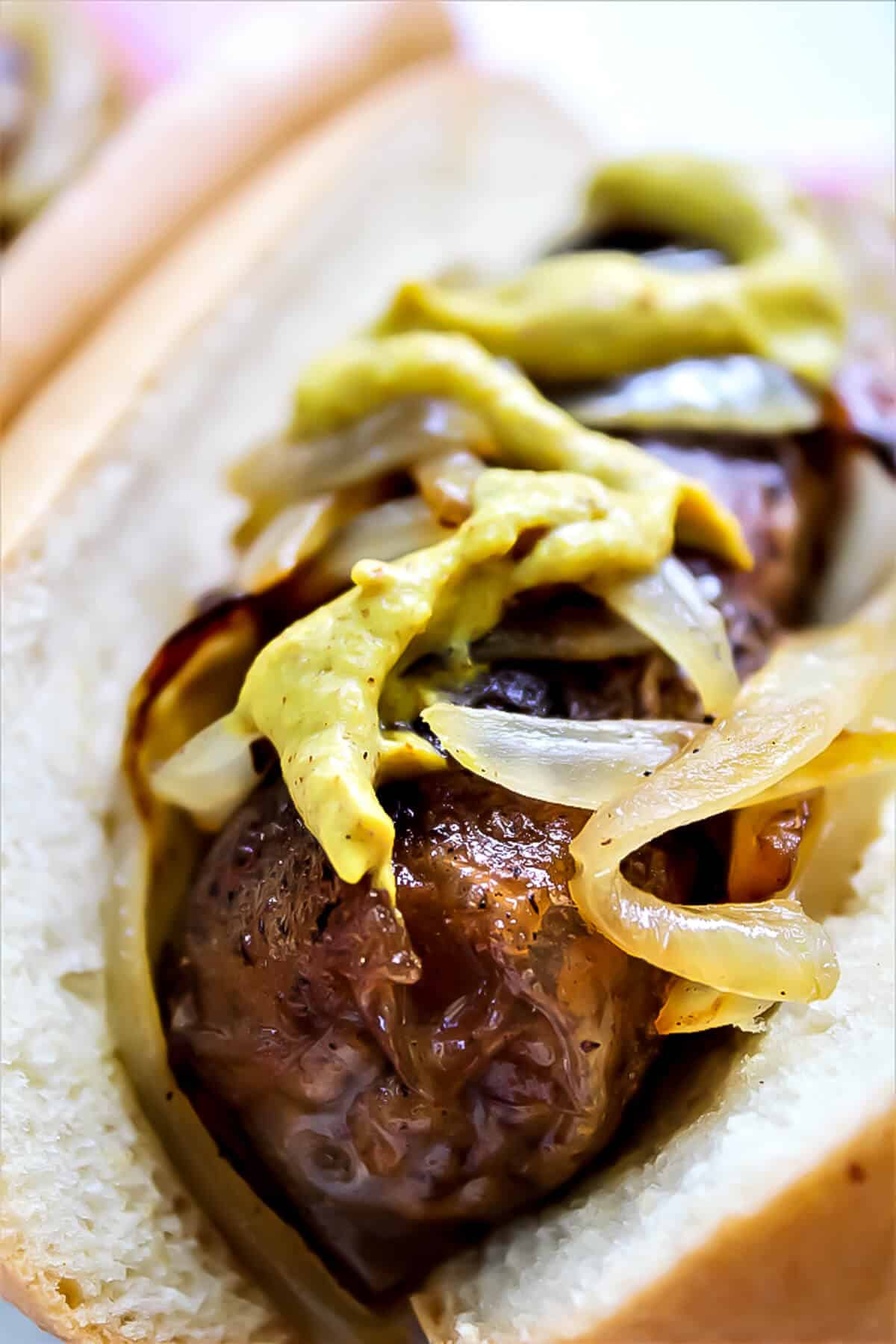 Jump to:
Packed with protein, and free of gluten, eggs, and dairy, you'll never need to buy vegan sausage again. Roll the filling in rice paper to make a casing for sausage links or simply form it into patties. However you choose to make it, it's delicious!
Why should I make my own sausage?
During the time that I was vegan and not yet gluten-free, I enjoyed the store-bought vegan sausages, but still only purchased them occasionally due to the expense. I was sad when I had to give them up completely because they contained gluten and surprised to find that almost none of the brands were gluten-free.
Determined to make a vegan and gluten-free sausage that was also budget-friendly, I tried many different methods until I finally perfected the flavor and texture.
I'm excited to share this recipe with all of you now!
Is all veggie sausage vegan?
No, not all veggie sausages that you find at the grocery store are vegan. Many contain eggs, and some have dairy as well, so if you are buying vegan sausage, be sure to read the label.
Are vegan sausages gluten-free?
Most vegan sausages are not gluten-free. Actually, wheat gluten will be the first ingredient in most vegan sausages that you find at your local grocery store. Beyond Brand and Impossible Brand are both vegan and gluten-free, but tend to be very expensive, so I prefer to make my own.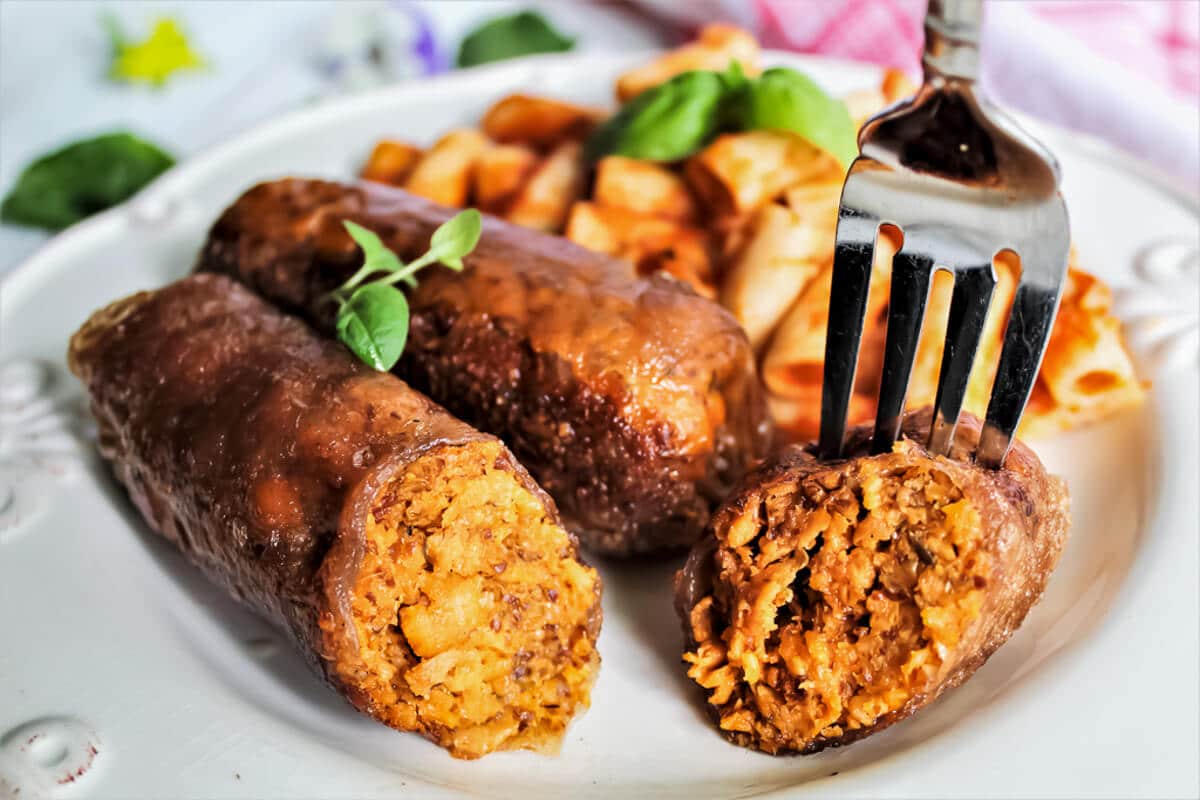 What is a vegan sausage?
A vegan sausage may not seem possible, but these vegan sausages are made from TVP (textured vegetable protein), oats, flax, and spices and wrapped in a rice paper casing to hold it all together.
How to make vegan sausages?
Step 1 - First, boil some water, Bragg's, liquid smoke, salt, and oil in a saucepan and make a broth.  Then add the spices of your choice to flavor your "meat" according to the type of sausage that you want to make.
Step 2 - Then, add the TVP and allow it to soak up the flavor.
Step 3 - After the TVP has rehydrated, add oats, and flax meal and cook until it becomes firm.  (Put the oats in a blender or food processor for a few seconds to chop it up into an oat flour before adding it)
Step 4 - Allow the sausage mixture to cool a bit and then form it into a sausage shape
Step 5 - Put it on a tray in the fridge for about 20 minutes until it cools completely.  Then roll it in the casing.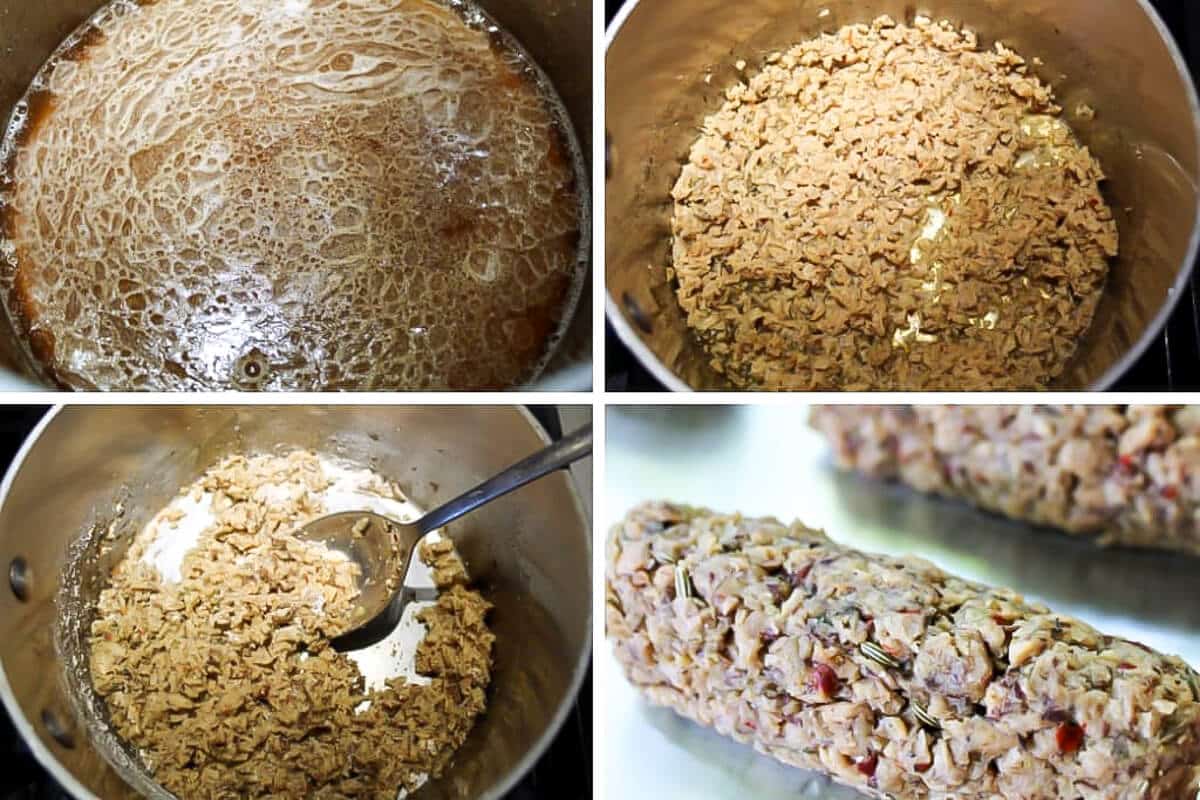 What are vegetarian sausage casings made of?
The casings of these sausages are made of rice paper wrappers. This is the same thing that you would use to make a summer roll.  (The brown spring roll wrappers work best, but the white will work as well). If you've never used them before, don't worry, it's very easy.
Step 1 - Simply fill a large plate with water and Bragg's Liquid Aminos and submerge the firm rice paper in the liquid.
Step 2 - Let it soak for about 30 seconds until it is just barely soft
Step 3 - Once the rice paper is soft, place the preformed sausage in the center of the rice paper and fold in both sides.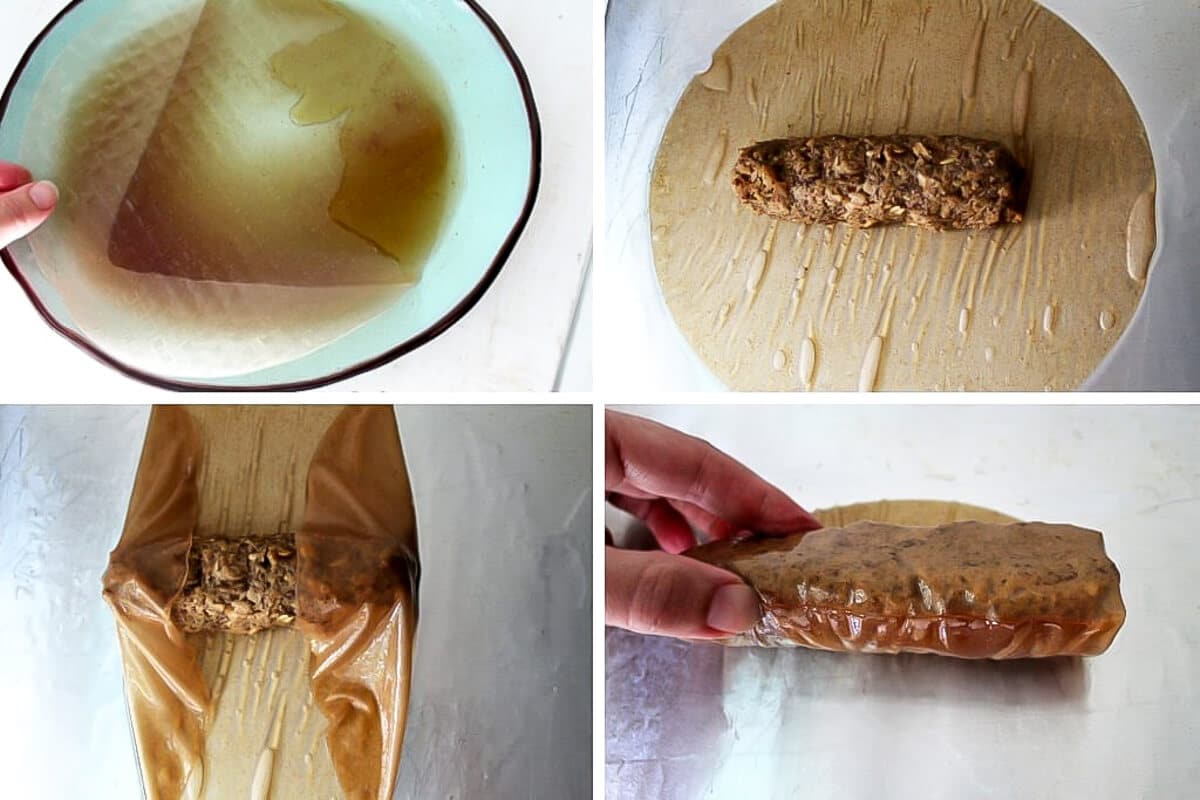 Step 4 - Pull the bottom flap up, and then roll it up tight.
Step 5 - Finally, coat it with some oil to avoid sticking to the pan and the other sausages, and it's ready to cook!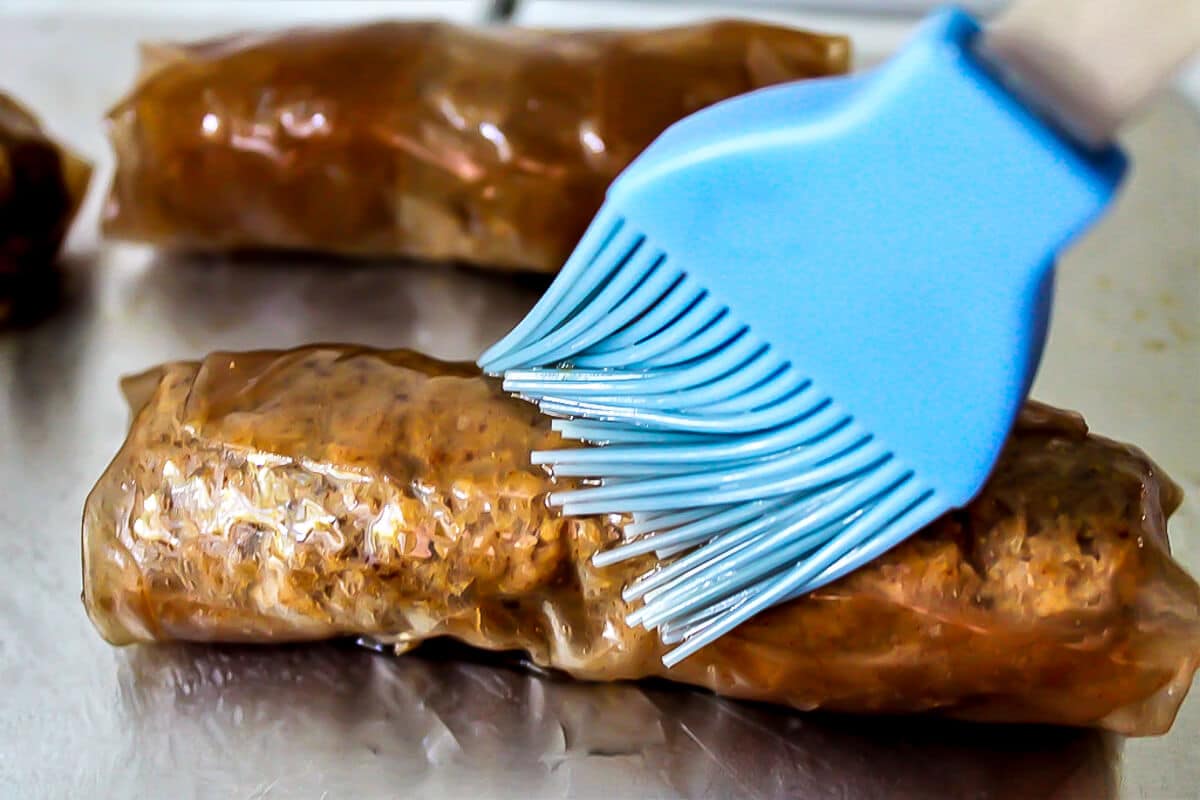 How should I cook these sausages?
You can either fry or grill these sausages.  Either way, just be sure that they are well coated in oil, so they don't stick to the pan or the grill.  Heat on medium-low for about 7-10 minutes until they are heated through and slightly crispy on the outside.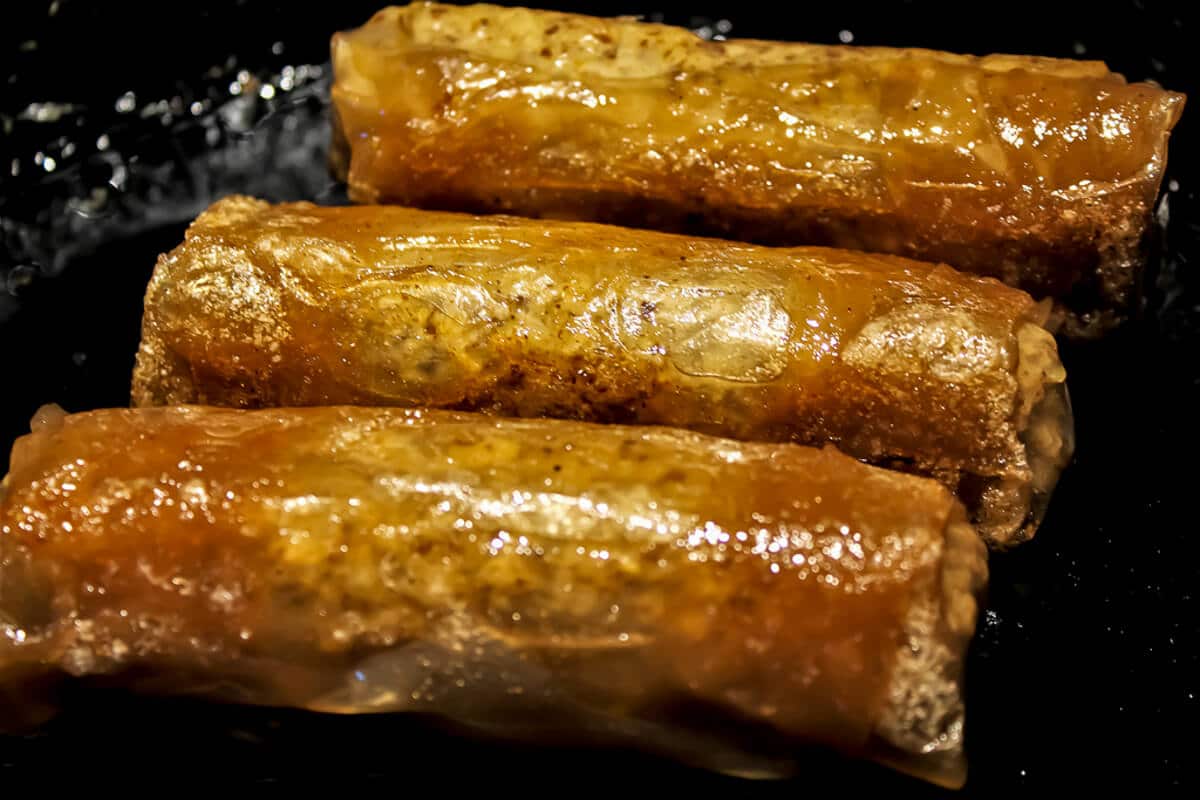 Can I grill these vegan sausages?
Yes! These sausages work great on the grill! Just make sure to coat them in oil before grilling to make sure that they don't stick to the grate. Grill them over medium-low heat for about 7-10 minutes depending on the heat of the grill.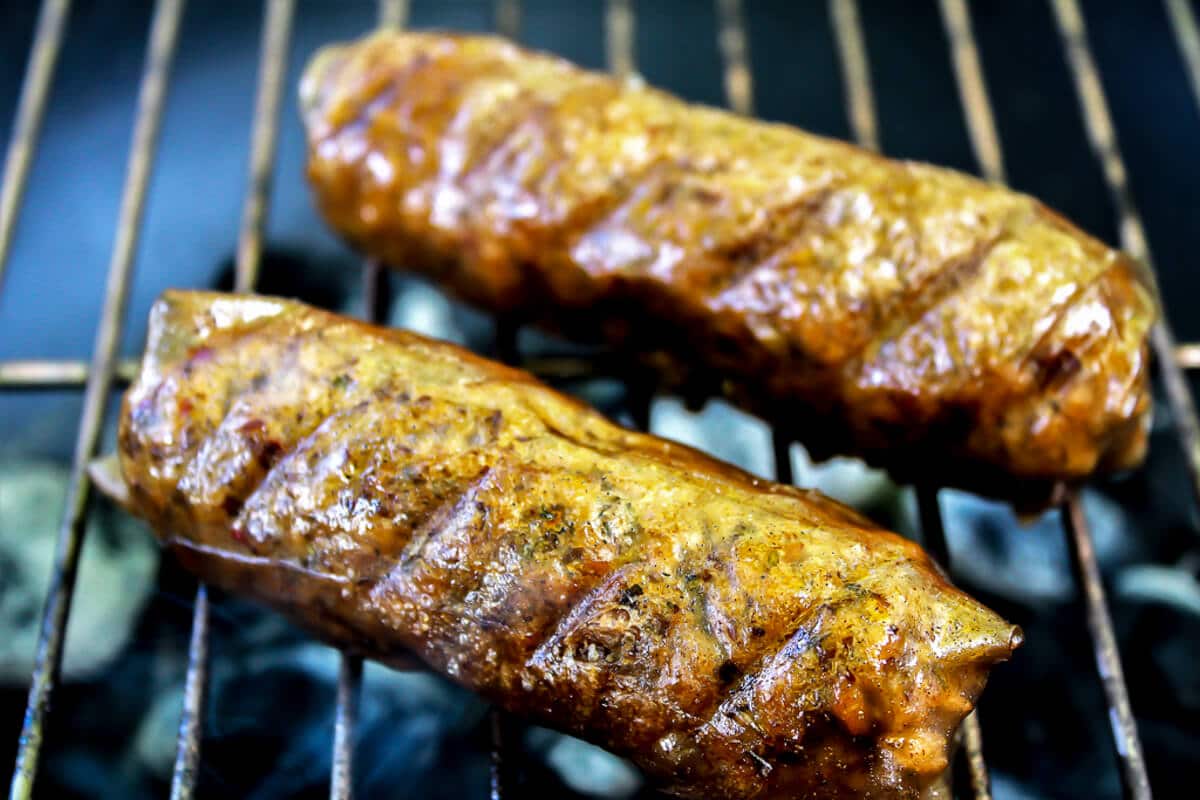 Pro Tips
Measure carefully. The recipe provided will make the right consistency for a "meaty" sausage.

Soak the rice paper wrapper just long enough to get them soft and allow excess water to drip off.  Don't oversoak or it will become too sticky and not cook up as well.

Make the sausage links about 3/4 inch in diameter and about 4 1/2 -5 inches long to fit well in the wrapper and cook evenly.

Cook over medium-low heat. If the pan or grill is too hot, the casing will stick.

Turn them slowly when cooking and carefully to not rip the casing.
How to make them soy-free
These sausages also work well with beans. They have a great flavor made this way, however, they just aren't quite as "meaty" tasting.
To make them soy-free, simply reduce the liquid by 1/2 (so only use 1/2 cup of water instead of a full cup) and use a can of washed and well-drained white beans instead of the TVP. (TVP is made of soy protein). Mash up the beans with a fork while they are cooking in the broth and follow the rest of the recipe the same way.
Sausage flavors
Use the same basic recipe for the sausage filling and simply change the seasonings to make a variety of different vegan sausages.
Spicy Vegan Italian Sausage
Serve with your favorite pasta dish! Like this oven-roasted tomato sauce, roasted red pepper sauce, vegan baked ziti, or stuffed peppers.
Vegan Beer Brats
Serve with fried onions and mustard.  (Fry 2 large onions in 1 tbsp. of oil and a sprinkle of salt in an iron skillet on low for 20 minutes stirring occasionally until translucent and slightly browned).  Add to the hot dog roll with the beer brat and top with mustard.  For a gluten-free bun, I use Schar hot dog rolls.
Sweet Vegan Breakfast Sausage
Serve with your favorite vegan breakfast, like my easy vegan scrambled eggs, vegan French toast, or a chickpea omelet.  These breakfast sausages are always delicious dipped in some maple syrup!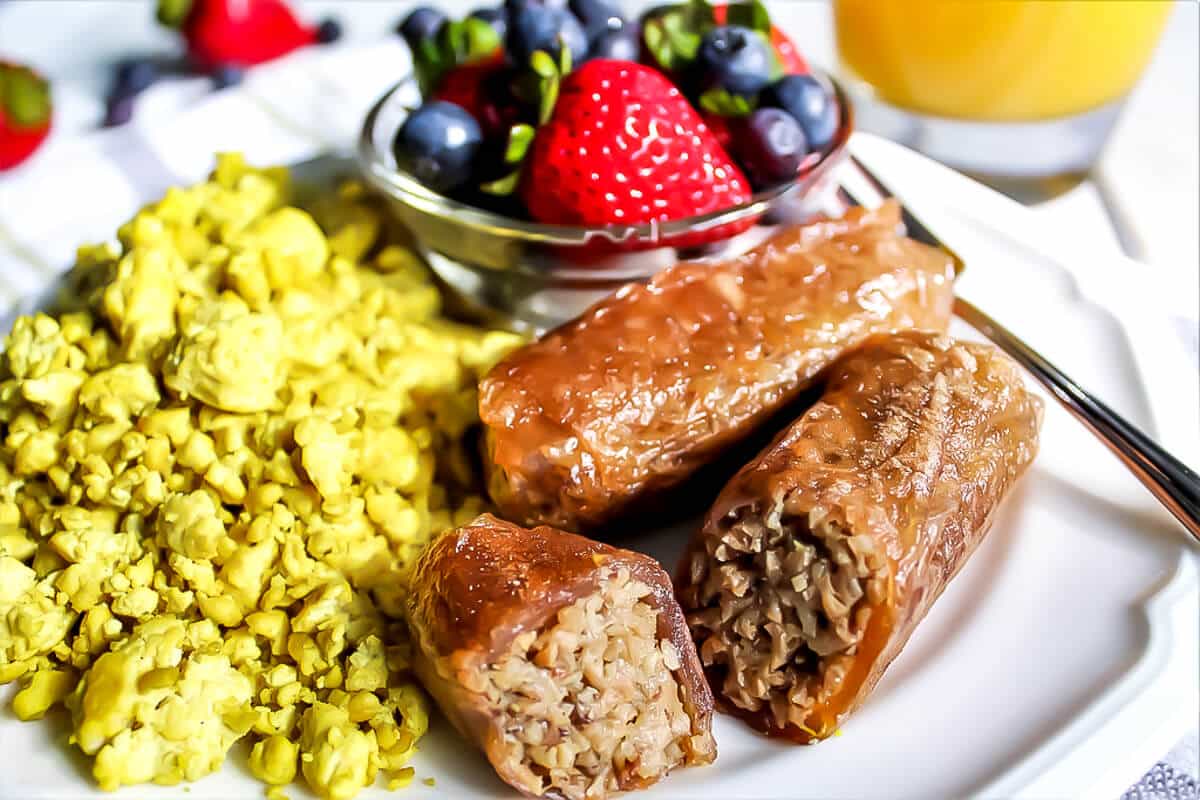 Note: If you want sausage crumbles for pizza, lasagna, pizza rolls, or sausage rolls, or to add to spaghetti sauce, use my recipe for vegan sausage crumble for vegan sausage pizza.  This recipe is similar, yet doesn't contain the oat flour to bind the sausage together into links and patties. 
More meaty vegan recipes
📌 Be sure to follow me on Pinterest for new vegan recipes!
Gluten-free vegan sausage recipe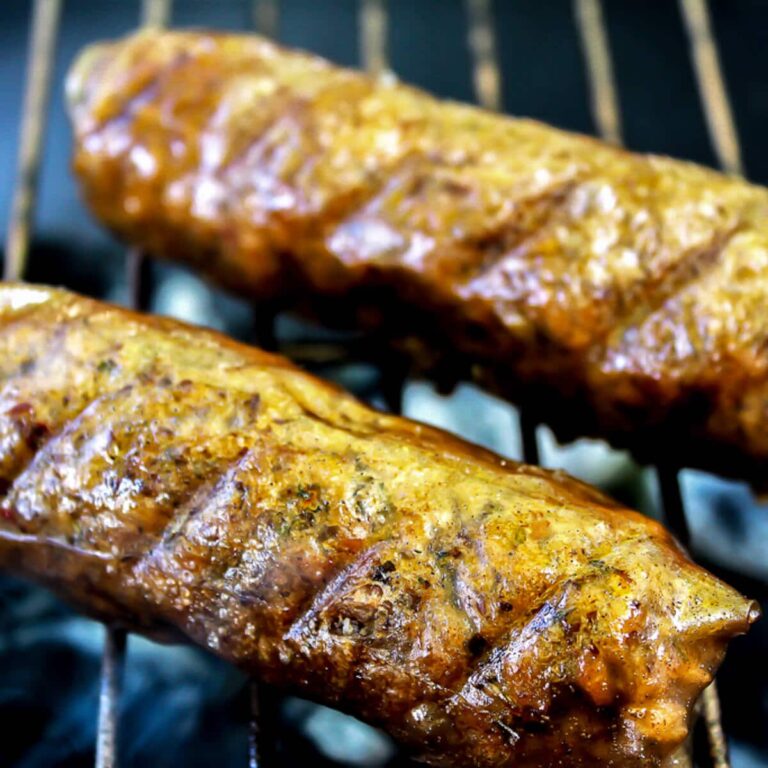 Print Recipe
Gluten-Free Vegan Sausage (Italian Sausage, Breakfast Sausage, Beer Brats)
Gluten-free and vegan sausage recipe for Italian sausage, breakfast sausage, and beer brats.
Ingredients
Instructions
Make the Filling
Put the ingredients for basic broth mixture into a medium-sized saucepan and add the seasoning of the type of sausage that you want to make. Heat it until it comes to a slow boil. (Reduce water by 1/4 cup if using beer in the beer brat).

Turn down the heat to low and add the TVP allowing it to soak up the broth for about 2 minutes.

Put 1/3 cups of oats in a blender or food processor and pulse a few times until the oats turn to a chunky oat flour texture.

Add the flax meal and oat flour and stir well while continuing to cook over low heat for about 3 more minutes until it becomes thick and all of the liquid has been absorbed.

Allow it to cool enough to handle and then scoop out 1/4 cup of the sausage filling. Form it into a sausage shape with your hands.

Place the formed sausages on a tray and put into the refrigerator for about 15 minutes until they are fully cool.
Wrap the Sausage in the Casing
Place 3/4 cup of warm water plus 1 tbsp Braggs and 1 tsp liquid smoke in a shallow bowl or on a plate with high sides.

Add 1 piece of the rice paper spring roll wrapper to the liquid allowing it to rehydrate and become soft. (Soak for about 30 seconds until it's soft, but not soggy and let the excess water drip off).

Lay the rehydrated rice paper on a flat surface and place the formed sausage in the middle. Fold in the sides and then roll it up until the sausage is encased in the spring roll wrapper.

Coat with oil and cook or refrigerate in an airtight container until ready to cook.
Cook the Sausages
Fry the sausages in a frying pan on medium-low turning frequently. Cook for 7-10 minutes until heated through and the "skin" is crispy. (Turn slowly and carefully to avoid ripping the casing).

Or you can grill the sausages over low heat for 7-10 minutes. (Make sure to coat the sausage well with oil before placing on the grill and turn slowly to avoid ripping the casing.
Notes
Use the basic sausage recipe and change the spices for a variety of vegan sausages.
Make soy free sausages by reducing the water to 1/2 cup and replacing the TVP with a can of rinsed and drained white beans.  Mash up the beans with a fork while they are cooking and follow the same recipe way.
Coat the sausages in oil so they don't stick and keep in an airtight container in the fridge for up to 3 days until ready to cook.
When cooking, make sure to heat on medium-low and use enough oil so they do not stick to the pan or grill.  
You can use either brown or white rice paper wrappers.  The brown rice ones are slightly thicker and hold together a little bit better. 
The brown rice wrappers need to soak slightly longer than traditional white spring roll wrappers.
Replace 1/4 cup of the water with beer when making beer brats if desired.  It makes a more authentic flavor, but they taste good with or without the beer.
Nutrition
Serving:
1
link
|
Calories:
186
kcal
|
Carbohydrates:
12
g
|
Protein:
11
g
|
Fat:
9
g
|
Sodium:
505
mg
|
Potassium:
69
mg
|
Fiber:
4
g
|
Sugar:
2
g
|
Vitamin A:
75
IU
|
Calcium:
81
mg
|
Iron:
2.7
mg
*This recipe was originally published on June 30, 2018, and was updated on May 18th, 2023 to include more detailed instructions.
⭐⭐⭐⭐⭐ Click the stars above or leave a comment! I'd love to hear from you!