Vegan soy yogurt that's thick, creamy, and delicious! Free of sugar and gluten and made with your favorite probiotic! It's so easy to make your own you may never need to buy vegan yogurt again!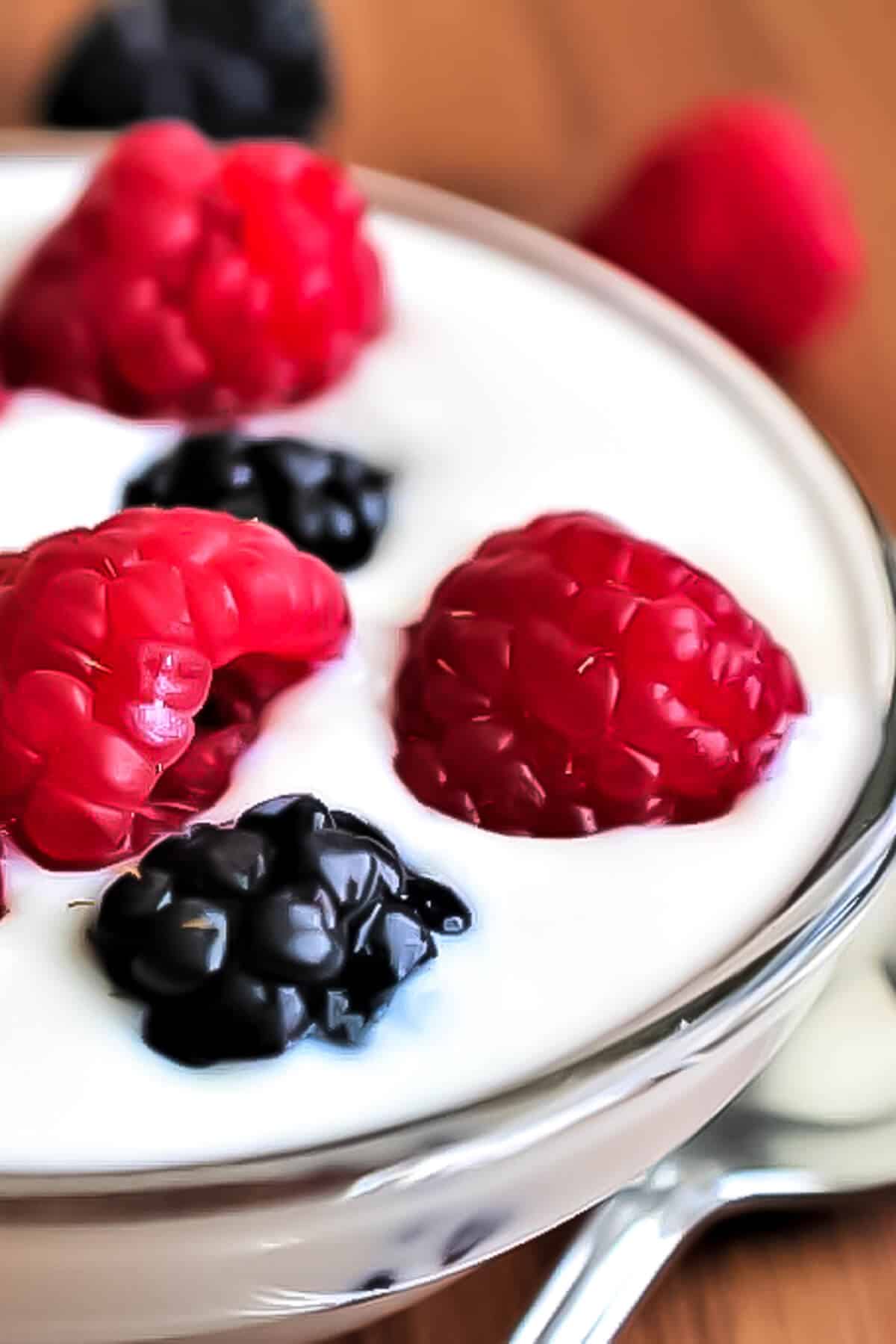 Living without dairy for the past 18 years, I have made many attempts to make my own vegan soy yogurt. Years ago, the Silk brand sold large containers of plain and vanilla yogurt.  These were great and my family loved them.
Over the years the containers got smaller, they got more expensive, and they changed from organic to non-organic soy. I tried many other brands and varieties including coconut and almond yogurt, but my family hated them, and they just wanted soy yogurt again.
Jump to:
When my son got sick with PANDAS, an autoimmune disorder associated with strep infections, I realized that he did not tolerate the streptococcus thermophilus probiotic found in most yogurt, so I had to make my own using probiotics that did not contain this strain of probiotic.
Homemade soy yogurt is a tricky thing!
I like the challenge of making things vegan, so I took on the yogurt challenge with a smile. That is… until I failed about 20 times. It would come out occasionally, but it never really tasted as good as the vegan soy yogurt that I used to buy.
What method should I use to make soy yogurt?
I used many methods over the years. I made it in a slow cooker, in the oven with the light on, and even borrowed a friend's yogurt maker. The yogurt maker had the most consistent temperature, so it did work the best, but it only made very small batches. It would take ½ a day to make it and 15 minutes for my family to eat it all.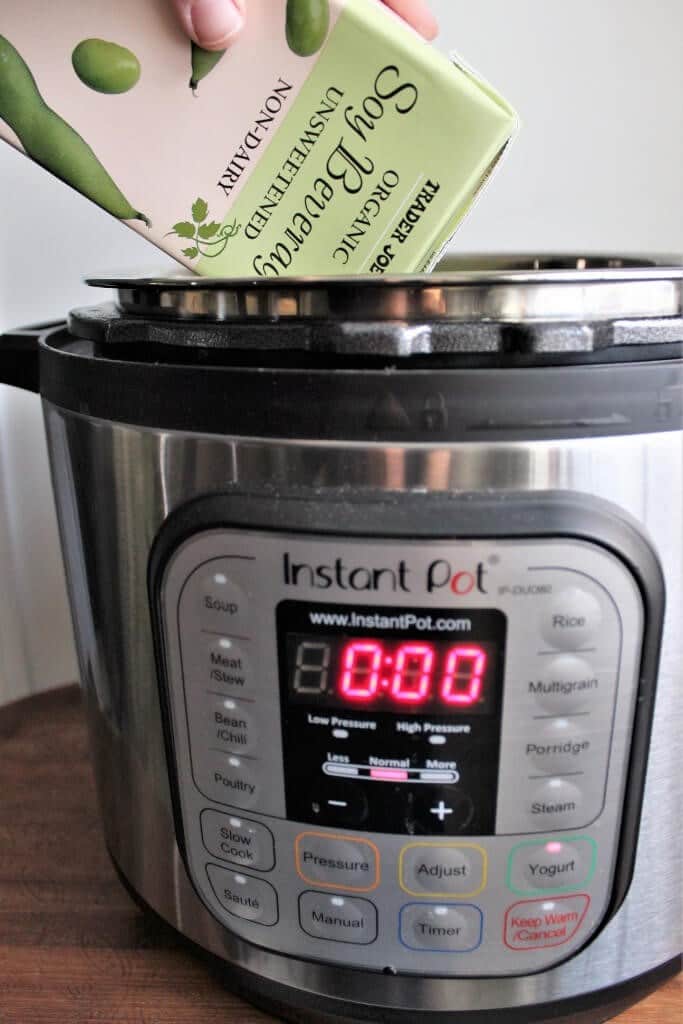 Is an Instant Pot really worth it?
Yes! I finally splurged and bought an Instant Pot with a yogurt setting! It makes it so much easier, and it's totally worth it if you plan on making yogurt regularly! Instead of pouring milk into little jars, you can just pour the milk directly into the instant pot and you're ready to go!
I frequently double the recipe and make 8 cups of yogurt at a time.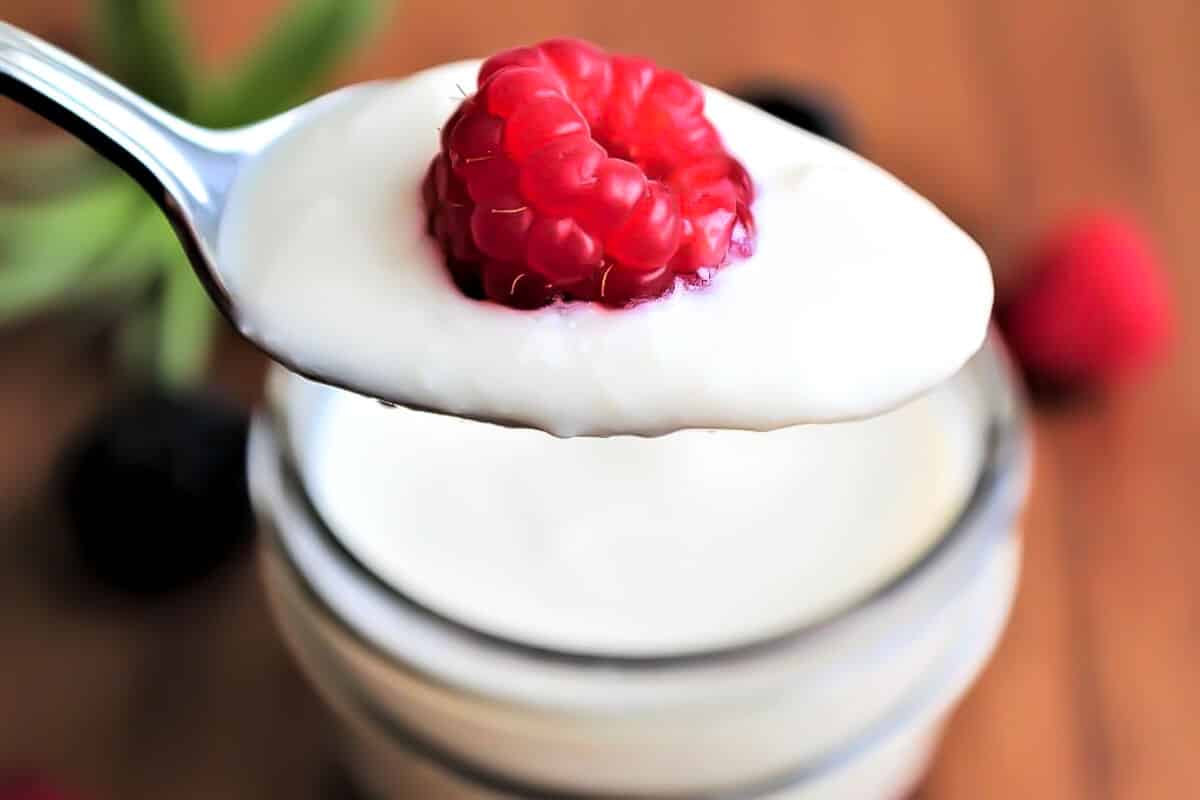 Making this vegan soy yogurt with an instant pot is so easy, that my 9-year-old has actually claimed it as his job.
How to make vegan soy yogurt
Simply pour a 32 oz container of soy milk into your Instant Pot.
Add the starter (or probiotic for the first batch).
Give it a little stir.
Press "yogurt" on the Instant Pot.
Come back 15 hours later to find beautiful thick, creamy, vegan soy yogurt!
Note: (It will start to look like yogurt after 8 to 12 hours, but I always give it 15 hours to allow more beneficial bacteria to grow and give it more of a yogurt tang).
What type of soy milk is best for soy yogurt?
There are only a few ways that you can mess up this yogurt, the main way is to use the wrong soy milk. There are so many kinds out there it will make your head spin. However, there are only a few that actually work to make vegan soy yogurt. You must use the ones that only have soybeans and water, any added sugar or vanilla will ruin your yogurt! I like Trader Joe's brand, but Westsoy also makes a plain variety that works well too.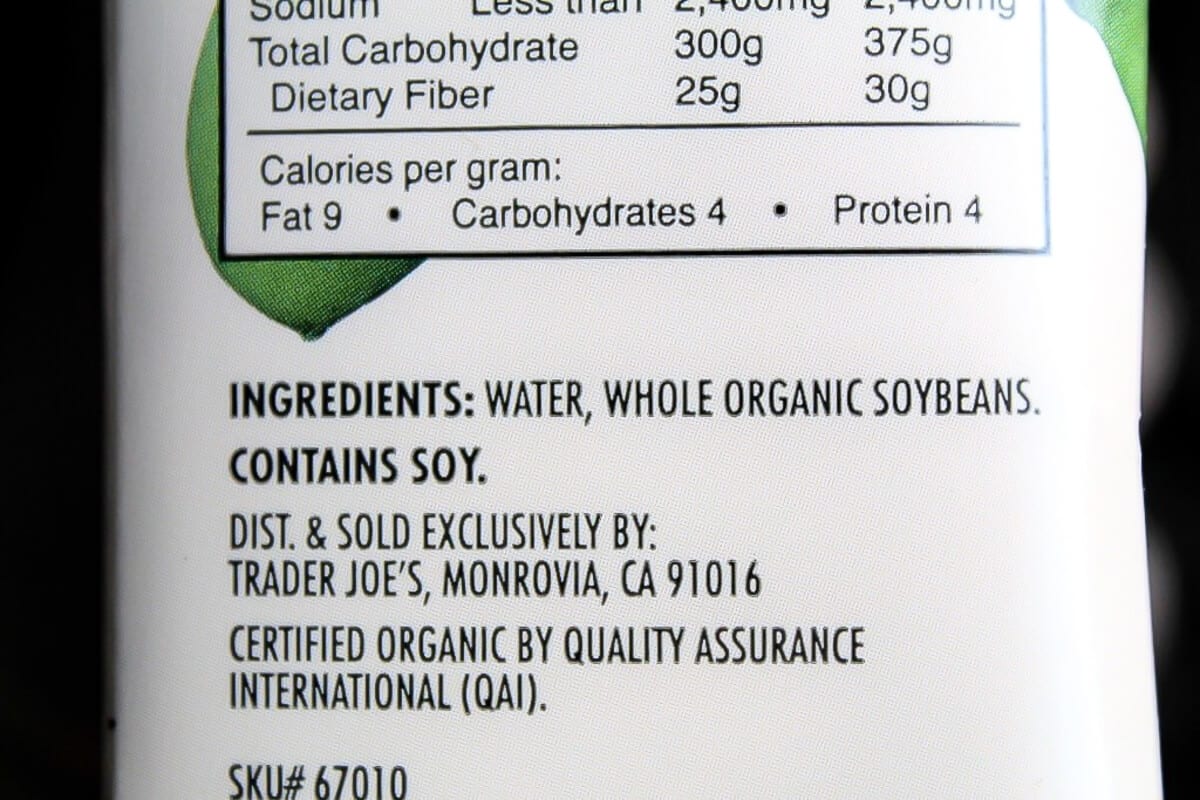 What is the best starter for soy yogurt?
At first, I was intimidated by the yogurt starter, but it turns out that you don't need anything fancy. You can just use any probiotic that comes in a capsule that pulls apart to sprinkle the contents into the soy milk. (I use a general acidophilus probiotic with 2.4 billion CFUs per serving that comes in a vegan gel cap).
Pro Tips
Make sure to use a whisk and stir well after adding each capsule until you can't see any powder.
Only 5 of these capsules are needed to put in 4 cups of soy milk the first time you make your yogurt, then save a ½ cup of yogurt to use as your starter and you won't need the probiotic again unless your starter stops working. (Starter typically lasts a few months. Don't use it if it changes color or starts to smell funny).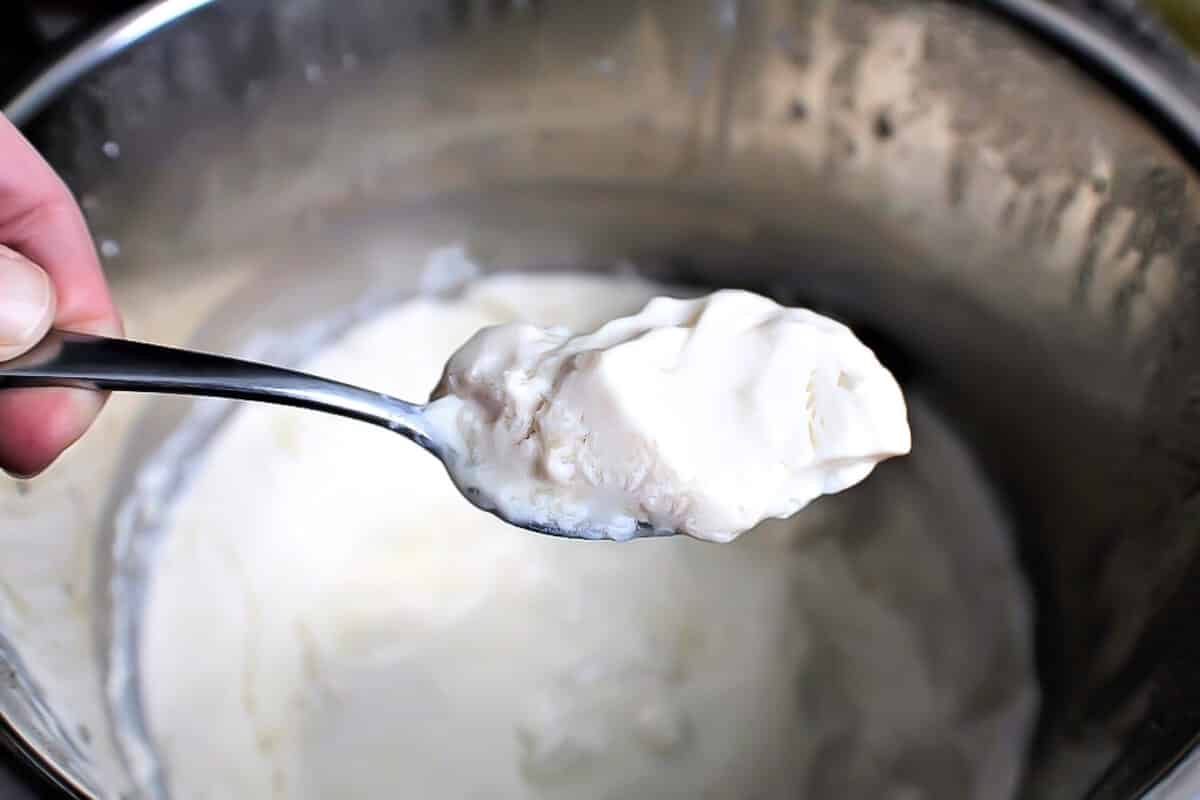 Your first batch of yogurt will come out okay, but not great. Don't worry, this is normal. It is only after you save your starter and make another batch or two, that your yogurt will start to taste amazing! I have been using the same starter for months now and it just keeps getting firmer and tasting better with each batch.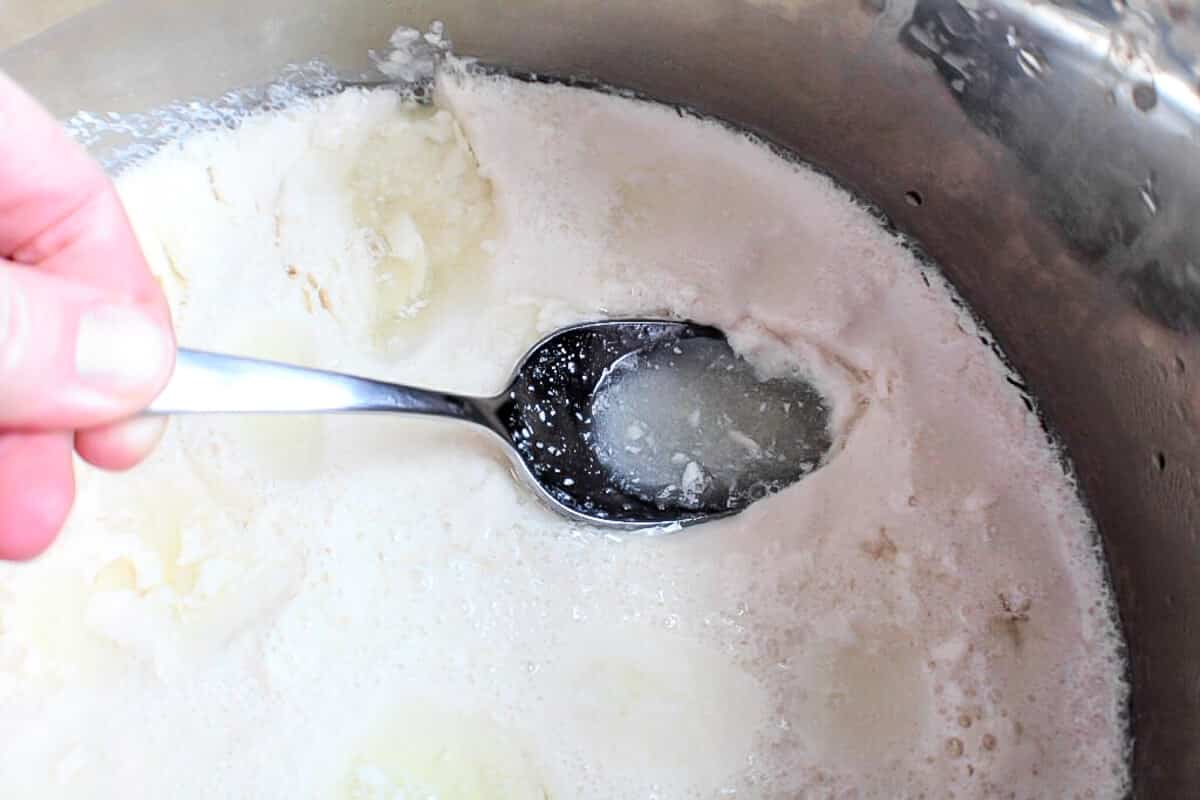 After your yogurt has finished, allow it to cool to room temperature and use a large flat spoon to remove any liquid that has formed at the top, then transfer it to containers with a good seal.
How should I store the starter?
It's hard to remember not to eat up the last ½ cup of yogurt, especially if you have other people in your house that may unknowingly gobble it down.
I store my yogurt in glass containers that have snap-on sealed lids to keep it airtight. Use the size that holds 4 cups to store the yogurt for the family to eat, and then store ½ cup of starter in the smallest container and write starter across the top, so that no one touches it.
How long is the starter good for?
Use the starter again within 10 days to make a fresh batch of soy yogurt.  (Make sure your starter is stored in a clean and sealed container)!
How to make vanilla soy yogurt?
Plain yogurt has a sour tang to it and you may want to add a sweetener. You can keep it plain and let people add berries, sweeteners, or vanilla extract. If you know your family will want vanilla, add 1 tsp of vanilla extract and 2-3 tablespoons of sweetener of choice to 4 cups of yogurt for vanilla yogurt.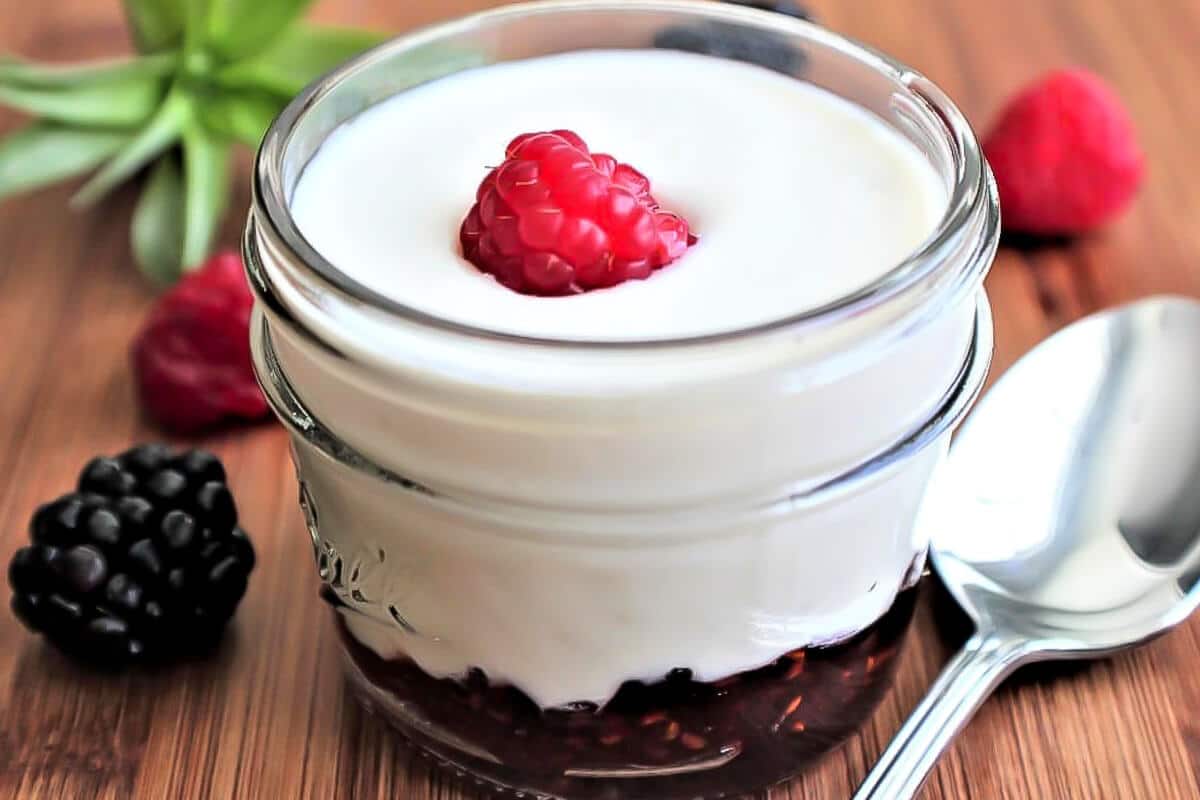 Another great trick that I love is to add 100% fruit preserves or jam to the bottom of a jar and layer the top with yogurt. One batch will make about 10 of these fruit on the bottom jars ready to grab and go! You can also make the yogurt in these jars! Check out this post from Little Blue Plates to see how.
How to make perfect vegan yogurt
You must use unsweetened plain soy milk with the only indigents being soybeans and water. If there are any other ingredients in it, it will NOT come out!
You don't need to preheat the milk if you are making it from a new sealed container. If you make a smaller batch from milk that you already have open, you will need to heat it to 180 F first to kill any bacteria that may have formed.
Open the lid of the Instant Pot and flip it over quickly to capture any condensation at the top of the lid.
Drain off any liquid that has formed at the top of your yogurt.
Use a large flat spoon to carefully remove the liquid at the top of the yogurt.
Let it cool in the Instant Pot before transferring it to another container or stirring.
Once you have made your first batch, don't throw away your starter! It gets better with each batch!
If not using an Instant Pot, make sure you have a way to keep your yogurt at a consistent temperature of about 112 degrees F for 12- 15 hours.
Make sure to time the start of your yogurt at a time when you will be home 15 hours later to refrigerate it.
Don't stir your yogurt after you have mixed in your starter.
Make it a least 3 times from the starter to get the best quality taste.
Don't make it from a probiotic and expect it to taste like store-bought yogurt after the first batch.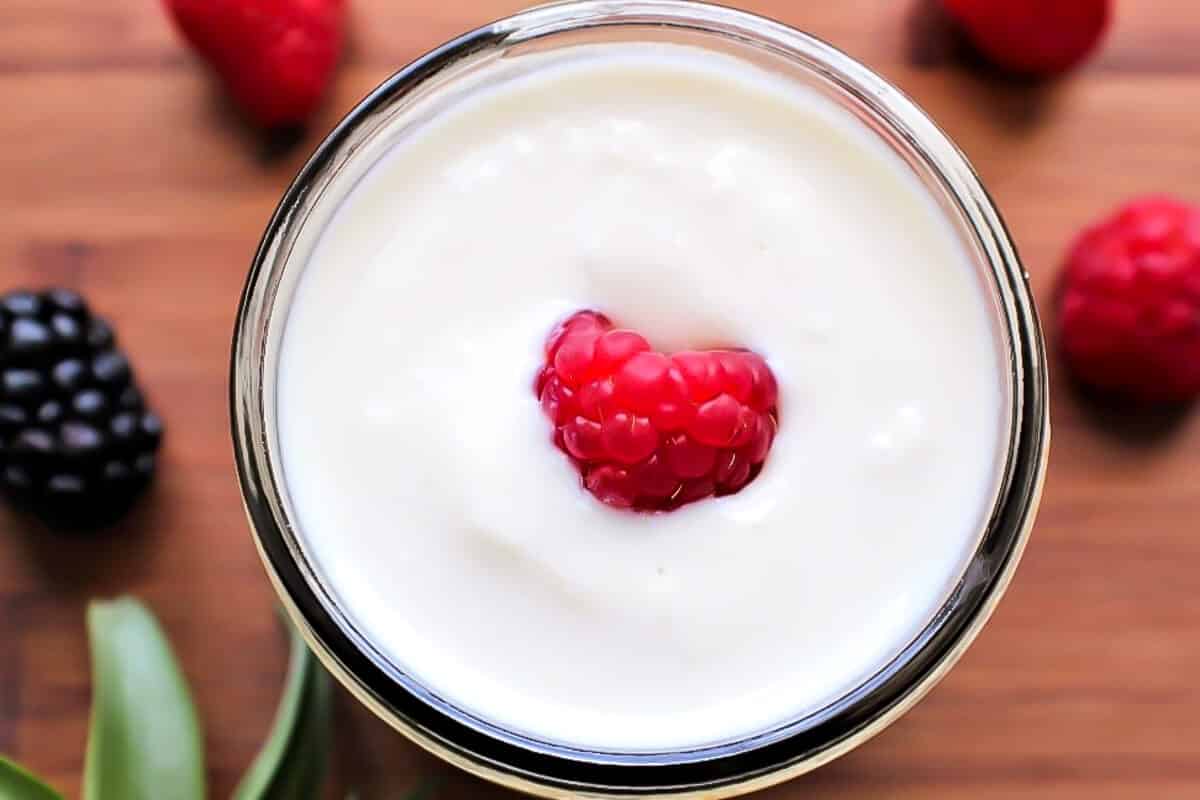 Why make your own yogurt?
It has more beneficial bacteria! Many brands are pasteurized, killing most of the probiotics.
You can control how long you ferment it to grow more beneficial bacteria and control the taste.
You can store it in glass containers to avoid the BPA leaching into your yogurt.
You can pick the probiotics that you like best to use as a starter.
Soy yogurt is free of refined sugar and you can control the type and amount of sugar in your yogurt.
The Instant pot makes it easy!
It's fun! (It kind of freaked me out at first, but now I love it! It's like magic to see your soy milk change to thick creamy yogurt, and I'm protective of my little starter army that makes this magic happen)!
More homemade vegan staples
Learn more about how to make more homemade vegan staples like vegan butter, mayo, cream cheese, and caramel sauce in my cookbook The Ultimate Guide to Vegan Staples!
📌 Be sure to follow me on Pinterest for new vegan recipes!
Vegan Yogurt Recipe
Print Recipe
Soy Yogurt- The Best Vegan Yogurt
The easiest way to make thick and creamy soy yogurt that comes out better and better with each batch!
Ingredients
1

32 oz.

container of unsweetened plain soy milk

water and soybeans as the only ingredients

5

probiotic capsules with 2.4 billion CFUs

or any number of capsules totaling 12 billion CFU (first batch only). For all subsequent batches, use ½ cup of plain yogurt from your last batch as a starter.
Instructions
Add the contents of a new factory-sealed container of soy milk directly into a clean instant pot.

Add the probiotic (or starter from your previous batch).

Stir well with a whisk until completely blended.

Push the yogurt button on the Instant pot and use the + sign to change the time to 15 hours.

Place the lid on top and make sure the valve is turned to vent to allow humidity to escape.

Wait 15 hours and come back when the yogurt timer beeps.

Use a spoon to drain off any water that formed at the top of the yogurt.

 Let it cool to room temperature and transfer to sealed containers.

Save ½ cup of yogurt with nothing added for your next batch.
Notes
The yogurt will taste more like store-bought soy yogurt once the culture matures and you make the yogurt from the starter.
Reduce cook time by an hour or two for less tangy yogurt.
Increase cook time by an hour or two for more tangy yogurt.
Nutrition
Serving:
1
cup
|
Calories:
90
kcal
|
Carbohydrates:
4
g
|
Protein:
9
g
|
Fat:
4.5
g
|
Saturated Fat:
0.5
g
|
Sodium:
85
mg
|
Sugar:
2
g
|
Vitamin A:
100
IU
|
Calcium:
20
mg
|
Iron:
1.4
mg
⭐⭐⭐⭐⭐ Click the stars above or leave a comment! I'd love to hear from you!