Cornbread is a comforting and nostalgic addition to your favorite chilis, stews, and soups and a holiday staple! While you can make it from scratch, it is often convenient to opt for store-bought mixes, especially when preparing for a crowd. The most well-known brand is Jiffy Cornbread, however, their classic cornbread mix is not vegan.
Look for the Jiffy Vegetarian Cornbread mix for a vegan version.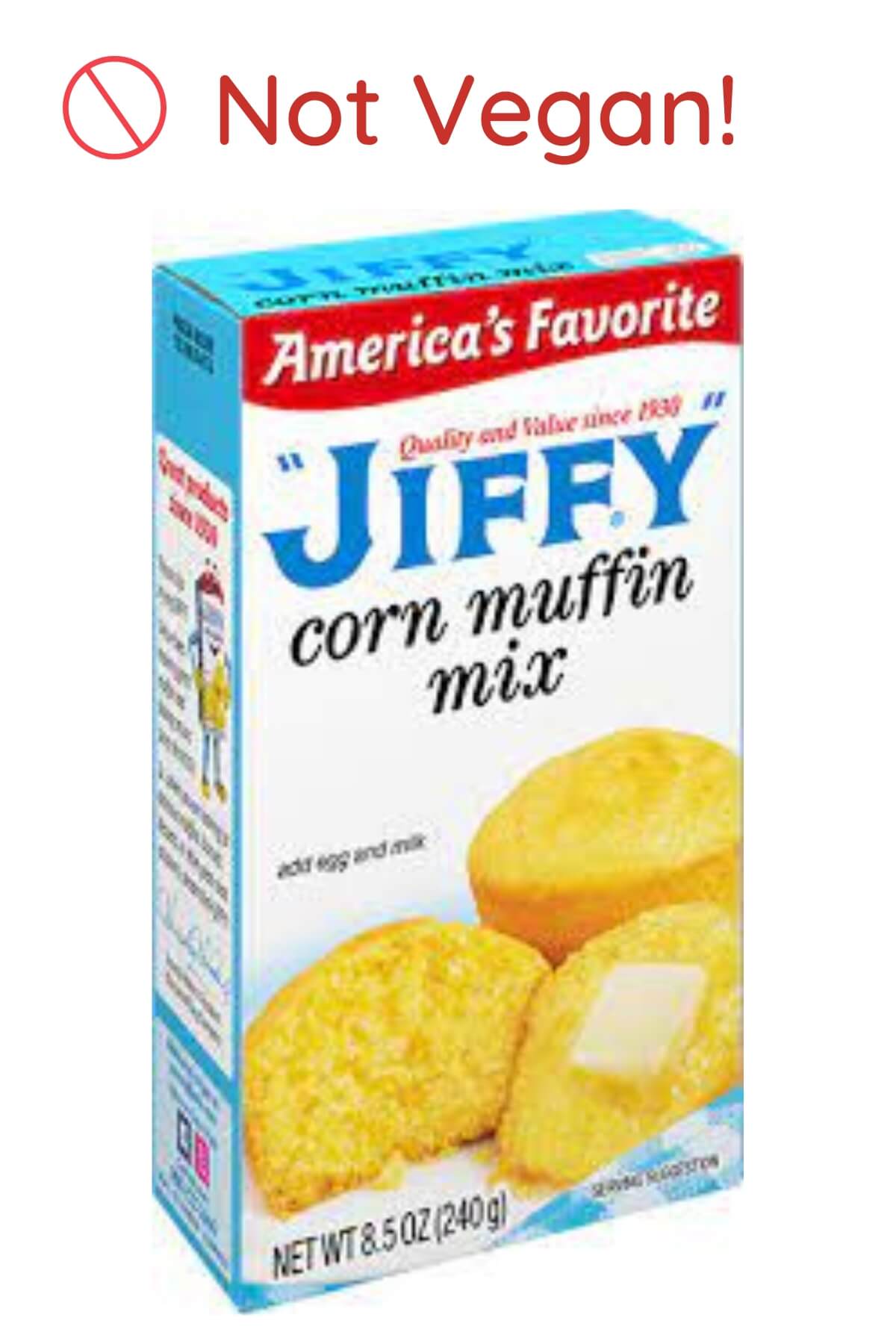 Jump to:
How to make vegan cornbread from Jiffy box mix?
Step 1 - Buy the Jiffy cornbread mix with the green label on the top that says vegetarian.
Step 2 - Follow the instructions on the box except using plant-based milk like soy milk or oat milk instead of dairy milk. Also, swap one egg out of a vegan egg replacement like a chickpea flour egg or a flax egg instead, then bake as directed.
Tip - this cornbread mix works perfectly in my vegan corn casserole recipe.
Cornbread ingredients that are not vegan
Jiffy cornbread mix is not vegan because it contains lard, a clarified fat derived from the belly of a pig. Other brands may also contain honey, honey powder, and/or butter, egg or milk products so it is important to check the ingredients list before purchasing.
Cornbread ingredients that are vegan
Cornmeal
Flour
Sugar
Baking Soda
Baking Powder
Salt
Plant-based Milk
Oil
Is cornbread gluten-free?
Store-bought cornbread mixes and homemade cornbread typically include wheat flour and are therefore not gluten-free. If making cornbread at home, however, you can typically substitute gluten-free flour blends for the flour in recipes. I have found that blends with sorghum flour give bake-up with a slightly chewier texture so I try to avoid those. Instead, I opt for blends with xanthan gum in the mix or add a teaspoon to the batter. This assures that the cornbread holds together better. Do not use nut-based flour like almond flour for homemade cornbread.
Vegan cornbread mix guide
There are also some other brands that make vegan cornbread mixes or you can easily make your own homemade vegan cornbread.
These are some brands, commonly found in the US, that make vegan cornbread. If you do not see a brand on this list, be sure to check the ingredients label on products before purchasing.
Bob's Red Mill, Gluten-Free Cornbread Mix
This mix by Bob's Red Mill is totally vegan, and also gluten-free! The recipe for preparing the mix does call for eggs, however, so you will need to substitute in a vegan egg replacement, like flax egg.
365 Cornbread mix by Whole Foods
This cornbread mix is easy to find online or at Whole Foods Market and is totally vegan.
King Arthur Flour Gluten Free Cornbread Mix
This is another vegan-friendly cornbread mix option that is also gluten-free!
Trader Joe's Cornbread Mix
The cornbread mix that Trader Joe's carries is vegan, but also calls for eggs in the instructions so you will need to use a vegan substitute.
Vegetarian Jiffy Corn Muffin Mix
If you're still looking to enjoy the classic Jiffy cornbread, you can check out the brand's vegetarian version. Instead of lard, this boxed mix contains vegetable shortening so it is vegan.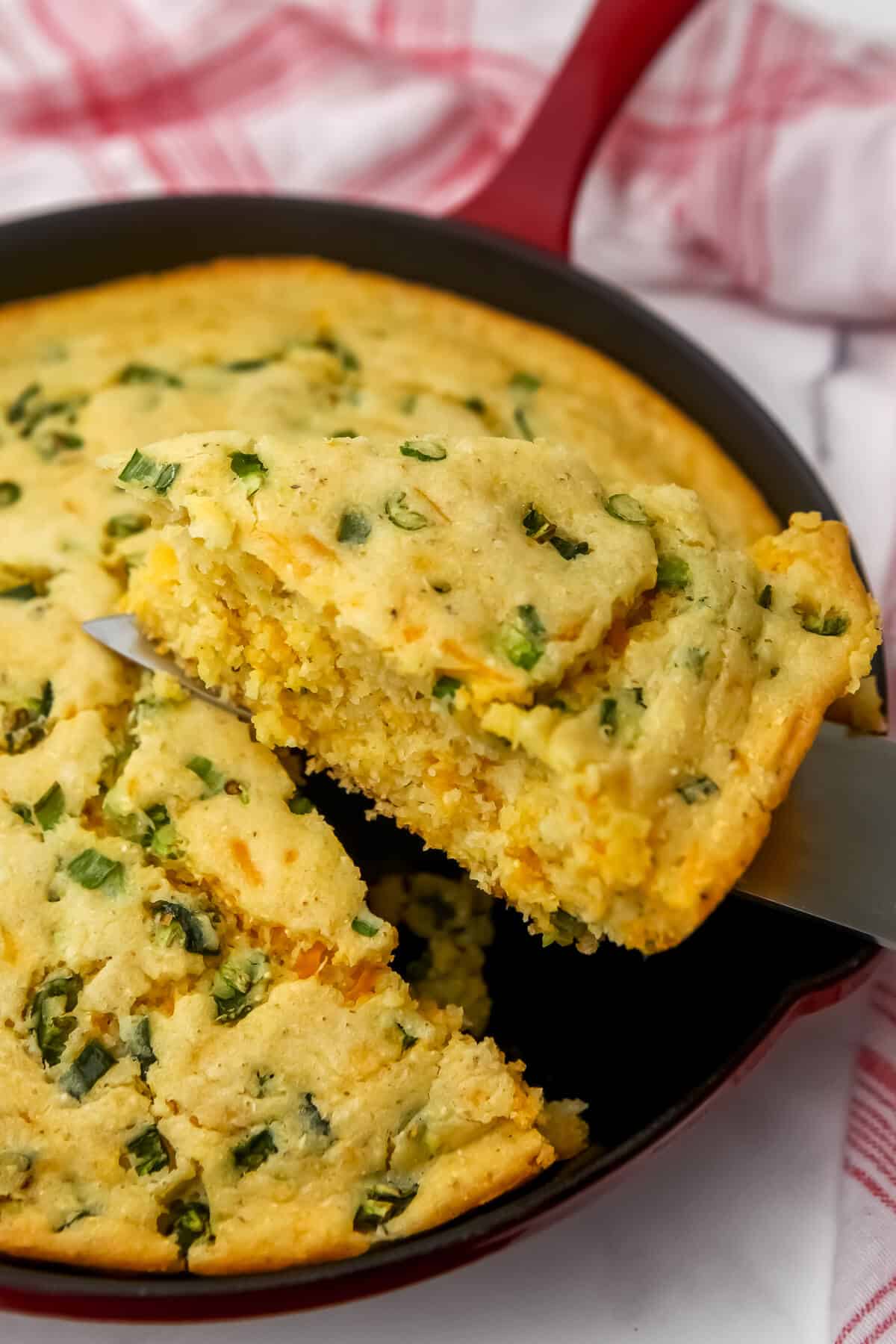 How to make homemade vegan cornbread
Cornbread pairs well with so many recipes, and making your own at home is surprisingly easy. Follow my cornbread recipes for the best vegan cornbread, vegan jalapeno cornbread, or this vegan cornbread casserole and you won't be disappointed!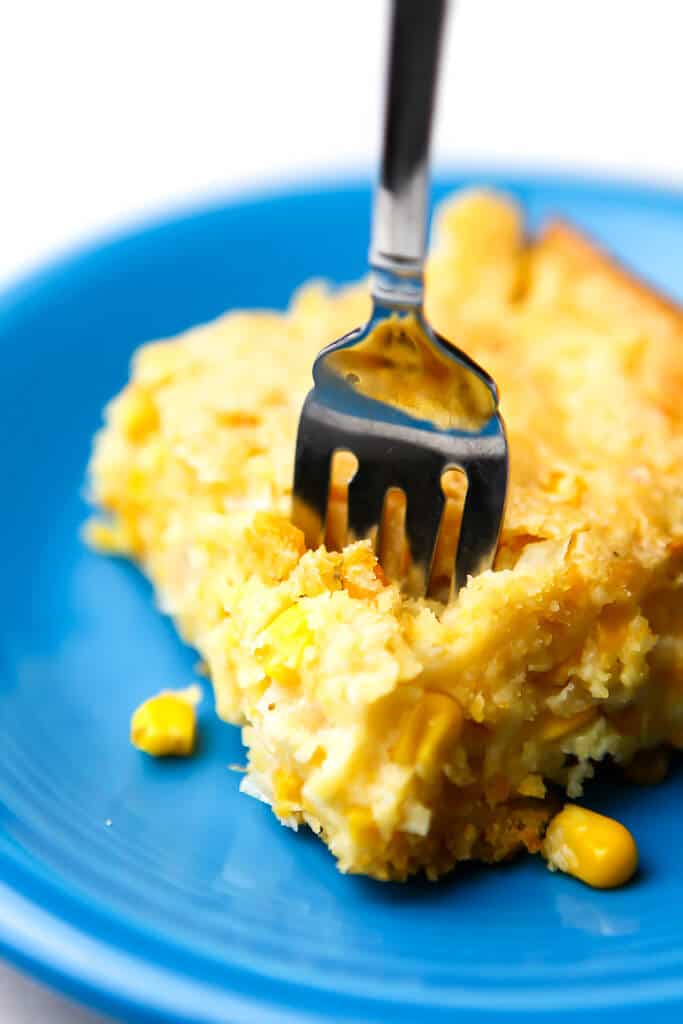 How to serve vegan cornbread
Vegan cornbread makes a great addition to tons of comforting meals and is a staple holiday side. Try pairing your vegan cornbread with some of these recipes!
📌 Be sure to follow me on Pinterest for new vegan recipes!