This creamy vegan bean soup is hearty and delicious. It's full of protein and vitamins and it is naturally gluten-free, dairy-free, and soy-free so it's perfect for everyone. This soup is one of those dishes that you can make for a party or to serve a crowd and everyone loves it!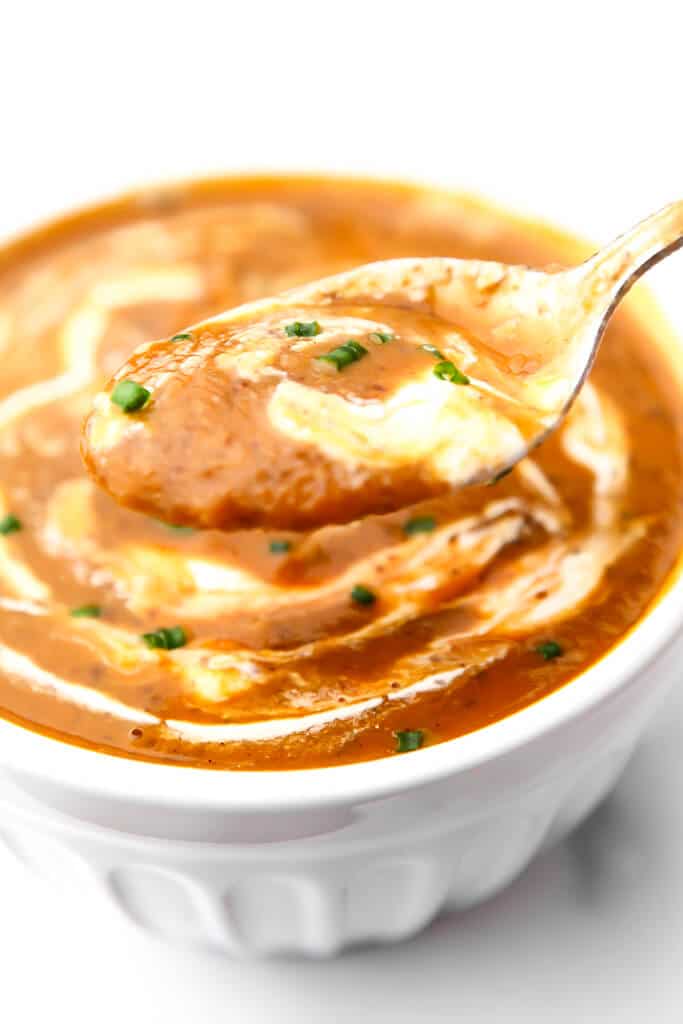 Jump to:
❤️ You'll love this vegan soup because
Children and adults, carnivores and vegans, all love it! (Even my Omni friends and family ask me for the recipe every time I make it.)
It's so simple to make but tastes as if you fussed over it all day.
It's one of those meals that I always keep the ingredients on hand in the pantry, and it can be whipped up quickly.
Most of the ingredients are canned goods, so this is a great choice on those days when fresh produce is running low.
🧾 Ingredients and substitutions
Onion - for flavor.
Garlic - for flavor.
Oil - any neutral-flavored oil will work to saute the onions in. You can use a little extra vegetable broth instead to make it oil-free if you would like
Beans - any type that you have will work. I usually use 2 cans of black, pinto, or white beans or about 3 cups of cooked beans.
Canned Tomato - for acidity and flavor. You can use crushed, diced, or even whole tomatoes. They will be pureed in the end so it doesn't matter how they are chopped. Tip: Fire roasted tomatoes will give your soup a little bit of smoky flavor if you like that.
Canned Pumpkin - to add creaminess, flavor, and tons of healthy vitamin A.
Vegetable Broth - for liquid and flavor. If you don't have broth, water will work.
Cumin - for flavor.
Cinnamon - for flavor.
Salt - for flavor. You will need to add more if you make the soup with water instead of broth.
Vegan Sour Cream - to swirl in and make it creamier and prettier. (optional) You can easily make your own vegan sour cream or swirl in some vegan heavy cream.
🥄 How to make vegan pumpkin bean soup
Step 1 - Simply saute the onions and garlic in a large pot on the stove top with a little olive oil over low heat for about 5 minutes until they are translucent.
Step 2 - Then add the rest of the ingredients to the pot, bring to a boil at medium-high heat, then simmer for 20 minutes.
Step 3 - Puree the soup with an immersion blender (or transfer small amounts to a blender then back into the soup pot).
Step 4 - Simmer on low for an additional 20 minutes to allow all of the flavors to come together.
Step 5 - Serve with a dollop of vegan sour cream.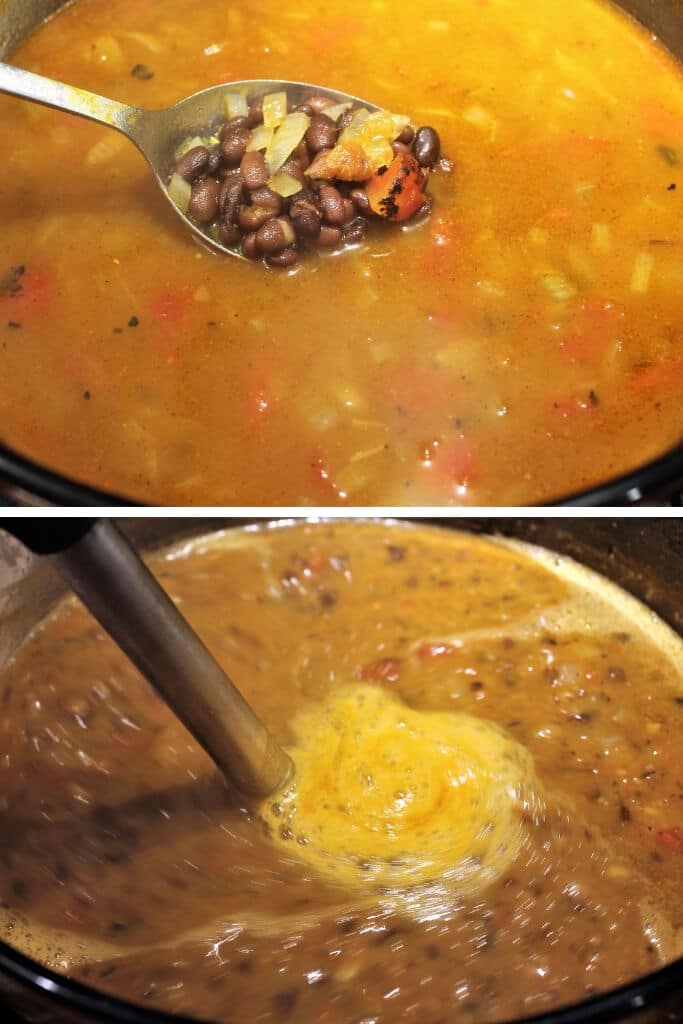 If using a traditional blender: Puree in small batches! Be very careful to only blend 2 cups at a time so it doesn't overflow and burn you! Trust me - I've done this, it hurts and it's a mess! I make this soup so much that I bought my immersion blender for the main purpose of making this soup easier. I love a medal immersion blender so I don't have to worry about putting plastic into the hot liquid.
👩🏻‍🍳 Pro tips
You can use water and add a little more salt if you don't have any vegetable broth.
If you don't have black beans, any other type of beans will work.
Four cups of liquid usually make a good consistency.
You can adjust the liquid to make the soup thicker or thinner.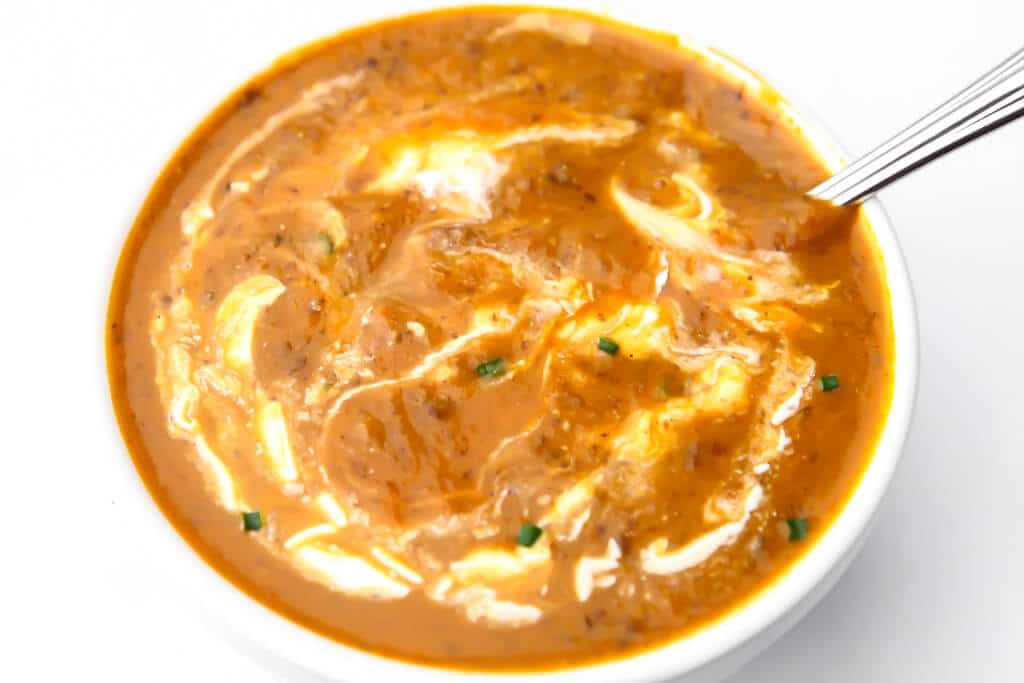 📖 How to make pumpkin bean soup in a crockpot?
Pumpkin bean soup works great in a slow cooker!
Just dump all of the ingredients in the crock pot in the morning. (I usually add an extra 3/4 cup of water if I make it in the crock-pot so it doesn't get too thick).
Set to low and let it cook for 6-8 hours.
Puree before serving.
❔ What if I want my soup to have texture?
You can eat this pumpkin bean soup without pureeing it. If you eat it this way, it is like a bean stew with chunks of tomatoes. The pumpkin broth has a nice rich flavor and the bean soup is delicious this way too.
🌟 Feeding picky eaters?
This soup is perfect for picky eaters! Even though I can't get my eldest son to eat even a piece of tomato, he will eat bowl after bowl of this soup never noticing that there is a full can of tomatoes in it! This vegan cream of broccoli soup and vegan chicken noodle soup recipes are always a hit too!
🥣Make this soup creamier
A dollop of sour cream is the perfect way to top off this soup. You can find vegan sour cream in most big grocery stores or natural foods markets, but I like to save money and use my own homemade vegan sour cream recipe.
Serve this soup with my delicious vegan cheddar bay biscuits or vegan drop biscuits for a full meal!
📌 Be sure to follow me on Pinterest for new vegan recipes!
📋 Creamy vegan pumpkin bean soup recipe
Print Recipe
Creamy Vegan Pumpkin Bean Soup
An easy vegan and gluten-free soup made with pumpkin, beans and veggies pureed into a creamy healthy soup.  
Ingredients
2

tablespoons

olive oil

1

medium

onion

chopped

2

cloves

minced garlic

1

tablespoon

cumin

1

teaspoon

salt

1

teaspoon

cinnamon

4

cups

vegetable broth or water

2

15.5 oz

cans of beans rinsed and drained

black, white, or kidney beans work well

1

16 oz

can of pumpkin

1

15.5oz

can of diced tomatoes

1

tablespoon

vegan sour cream
Instructions
In a soup pot, sauté 1 medium and 2 cloves of minced garlic in 2 tbsp olive oil.

Add 1 tbsp cumin, 1 tsp salt and 1 tsp cinnamon. Cook on low for about 5 minutes until the onions are translucent.

Add 4 cups of vegetable broth, 2 cans of beans, 1 can of pumpkin, and 1 can of tomatoes.

Blend with an immersion blender until smooth.

Simmer on low for 20 more minutes to let the flavors blend.
Notes
This soup works great in the crockpot.  Just put in all the ingredients plus an extra 3/4 cup water in the crockpot and cook on low for about 6 hours.
I usually use black beans, but any cooked beans will work.
This soup is also good chunky if you don't want to puree it.
It's delicious with vegan sour cream on top!
Nutrition
Serving:
1
cup
|
Calories:
129
kcal
|
Carbohydrates:
17
g
|
Protein:
5
g
|
Fat:
4
g
|
Sodium:
820
mg
|
Potassium:
235
mg
|
Fiber:
5
g
|
Sugar:
1
g
|
Vitamin A:
280
IU
|
Vitamin C:
0.2
mg
|
Calcium:
28
mg
|
Iron:
1.8
mg
⭐⭐⭐⭐⭐ Click the stars above or leave a comment! I'd love to hear from you!
* This recipe was originally posted on 2/16/17. It was updated on 3/23/20 to include new pictures and more detailed information.