Vegan Green Chile Stew is the ultimate comfort food for any vegan who loves New Mexican green chile!
What is Vegan Green Chile Stew?
When most people hear chile, they think of Texas chile which is a thick bean stew with beans, meat, and chile powder.
New Mexican chile is a totally different thing.
For Green chile stew, I'm talking about
roasted green chile peppers from Hatch NM
. These are Anaheim peppers that are grown in the Hatch Valley along the Rio Grande near Hatch NM. (The climate in this specific region give the peppers their unique flavor).
If you have ever been in New Mexico in the fall, you have smelled the
green chiles roasting
from seemingly every street corner. It kind of smells like someone burnt their peppers while smoking a joint. The smell used to make me gag when I first moved to NM, but now it reminds me of the magical taste of green chile stew!

What is the difference between red and green chiles?
If they don't roast the chiles, they string them up into ristras. The chiles turn red as they dry out in the sun. One may think that they are nothing more than an iconic New Mexican decoration, but the ristras are functional to dry out the peppers to be used to make their equally popular red chile dishes.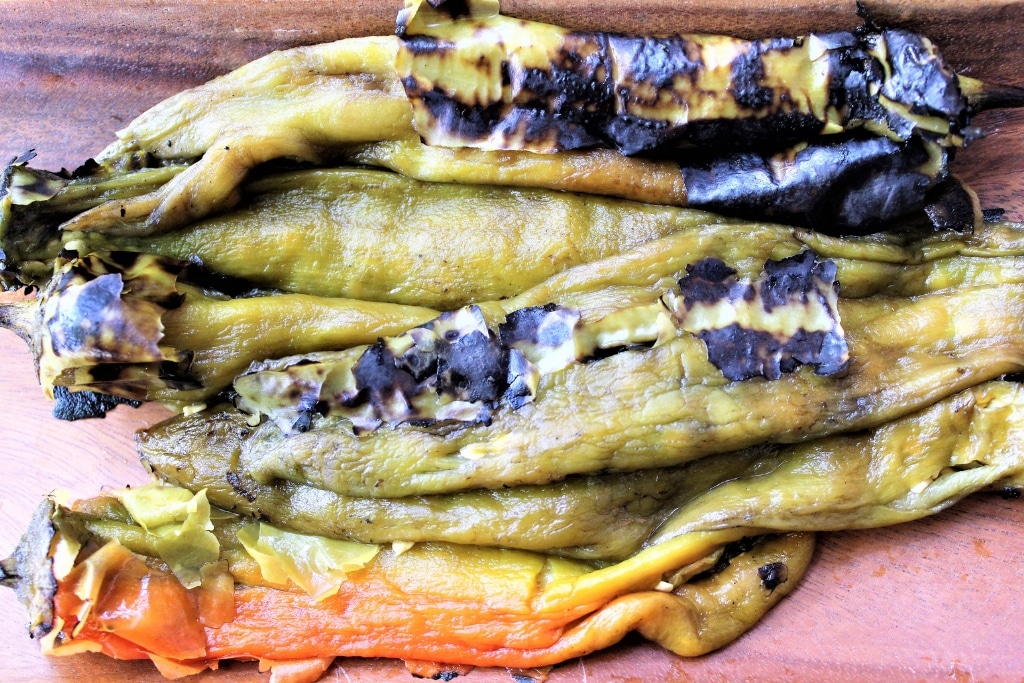 How can I find green chiles?
I went to the University of New Mexico and then lived in Albuquerque, NM for 10 years. I loved every minute of it, but we moved to Pittsburgh, Pennsylvania when my first child was born to be closer to family. I thought that I may never smell those chiles roasting or eat fresh roasted green chiles again. That is, until 5 years ago when a local farm sent box truck to Hatch NM and returned with a truck full of Hatch green chiles to host a chile festival!  That beautiful smell was in the air again, and I got to enjoy seeing my children  eating the chiles fresh out of the roaster!

I raced home and used our fresh roasted green chiles for my vegan green chile stew, but if you don't have that luxury,  you can also use green chiles from a can or a jar.  The peppers range greatly in spiciness, so you want to adjust the amount of chile peppers to control the amount of heat in your stew.  I like to use about 1 cup of medium level spice chopped peppers.  If you use extra hot, it overwhelms the roasted chile flavor in my opinion.
How do I make vegan green chile "Chicken" stew?
Start by sautéing onion and then add some other veggies that we like, usually zucchini and mushrooms. (Chop the zucchini up super small and your picky eater won't even know it's there).
Then add a vegan "chicken" flavored broth.
Next, I chop up the chiles and add them to the stew.
Let your broth simmer to infuse the green chile taste throughout.
If you want green chile "chicken" stew, add a vegan chicken product like chicken flavored seitan, chick'n strips, or

Butler Soy Curls.

 (I used Butler Soy curls because they are gluten free and have a great texture and flavor. They can be poured directly into the broth and will soak up the delicious flavor).
Cube potatoes and boil them separately until just barely cooked. Drain the potatoes and then add them to the pot.
Stir in your PLAIN dairy free milk.
Thicken your stew by making a roux with oil and flour or use corn or potato starch devolved in cold water.
Let the stew simmer on low for a little bit longer to allow the stew to thicken and all the flavors to mix.
Pro Tips: 
Since traditional Green Chile Stew has chicken in it, I use a vegan

Not-Chick'n Cubes

bullion to give it a chicken flavor.
For fat-free option: just add all veggies to water with bullion and green chile and simmer for 20 minutes, then continue the recipe according to directions and use the starch method to thicken.
If you are using freshly roasted chiles, you will need to peel most of the tough skin off the chiles and remove the stem and most of the seeds. The seeds of the peppers are the hottest part, so if you want a super spicy stew, you can leave them attached. (However, they have a tough texture, you don't want too many).
You can use a traditional roux, or if you want it gluten-free or fat-free, simply use corn or potato starch and water. The traditional roux will give you a heartier stew, but both ways are delicious!
Be careful not to touch your eyes when handling chiles, they will burn and irritate your skin.
It is one of those meals that tastes even better the next day after all of the flavors have mixed together!
Love spicy soups?  Try this delicious vegan Tom Yum!
Did you make this green chile stew?  Leave a comment and let me know how it went.
VEGAN GREEN CHILE STEW
A creamy authentic New Mexican green chile "chicken" stew! A hearty dairy free and gluten free soup.
Course:
Main Course, Soup
Cuisine:
gluten free, New Mexican, vegan
Keyword:
vegan green chile chicken stew, vegan green chile stew
Ingredients
1

tbsp

oil

any mild flavored oil will work

1

onion

peeled and diced

1

cup

mushrooms

sliced

1

small

zucchini

cubed

2

tsp

salt

8

cups

water

2

Not Chick'n bullion cubes

or replace water with vegetable broth

1

cup

roasted green chiles

chopped (medium heat)

4

medium potatoes

peeled and diced into bite sized cubes

3

cups

PLAIN soy milk

or other plant based milk of choice

2

cups

Butler Soy Curls

or any imitation chicken strips
To thicken the stew:
1/3

cup

canola oil

½

cup

white flour

or 1/3 cup GF flour without sorghum or garbanzo beans
Or for gluten free/ fat free:
½

cup

corn starch (or potato starch) mixed in 1 cup of water
Instructions
Sauté onion in 1 TBS of oil for about 3 minutes (for oil free option, just add all veggies to water with bullion and green chile and simmer for 20 minutes).

Add zucchini and mushrooms and sprinkle with salt

Sauté for about 5 more minutes until they start to release their juices.

Add water, Not Chick'n bouillon cubes, and chopped green chiles and simmer on medium low. (reduce water by 1 cup if not using Soy Curls)

Peel and cube potatoes and boil them separately until just tender throughout. Drain, rinse and add to the soup pot.

Heat soup boil then turn down heat to low.

Add Butler soy curls or other chicken strip product of choice.

Simmer for about 5 more minutes, then add the soy milk.
To thicken the stew with a roux:
Mix the oil and flour in the bottom of another soup pot.

Heat over medium heat until oil and flour mixture bubbles.

Scoop out liquid from the soup with a ladle and add it to the roux one at a time stirring well between each scoop. (It will be very thick at first).

Stir until the stew just begins to bubble and then turn off heat.
To thicken with corn starch:
To thicken with corn starch and water mixture. Mix water and corn starch and pour it into the hot soup, and stir well.

Stir until the stew just begins to bubble and then turn off heat.
Recipe Notes
Green chiles vary greatly in levels of spiciness.  Add 1/2 and then taste test to see how spicy they are.  Remember, once you add the milk and thickener, your soup will lose some spice.  
To make this oil free, omit sauteing vegetables and use the cornstarch method. 
If using fresh roasted green chiles:
Remove the stems and peel off any hard or burnt skin.  (You wan the meaty inside of the chile).
Once all hard parts of the chile has been removed, chop it into small pieces.
Be careful not to touch your eyes when handling chiles, they will burn and irritate your skin.
Nutrition Facts
VEGAN GREEN CHILE STEW
Amount Per Serving (1 cup)
Calories 208
Calories from Fat 72
% Daily Value*
Total Fat 8g 12%
Sodium 583mg 24%
Potassium 436mg 12%
Total Carbohydrates 20g 7%
Protein 12g 24%
* Percent Daily Values are based on a 2000 calorie diet.