Swap out the chicken for these vegan chicken substitutes to turn your favorite recipes into meatless meals that everyone will love! These plant-based chicken alternatives will replace chicken in just about any recipe.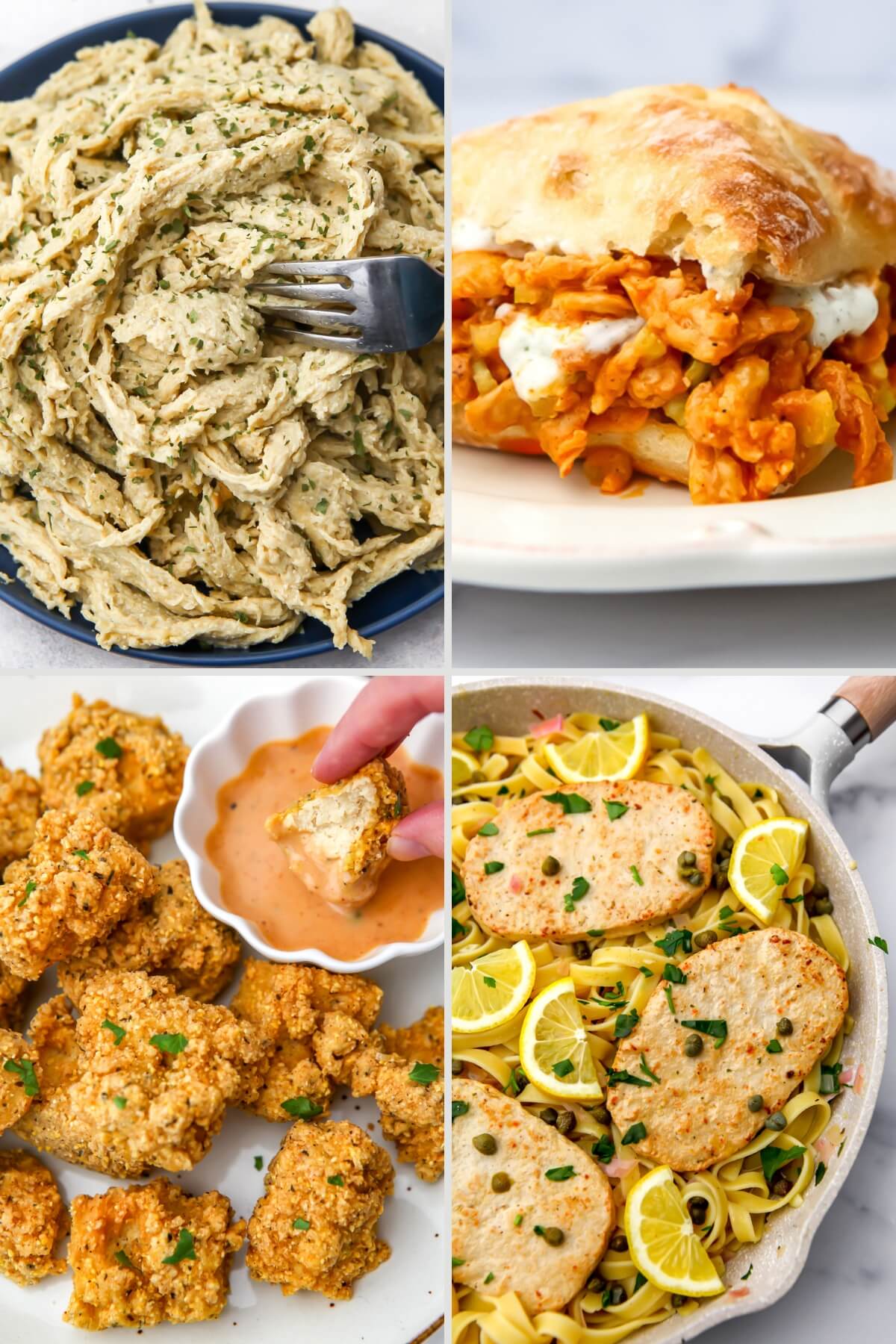 Jump to:
When I first went vegan in 2000, there were very few vegan chicken alternatives. I had to use homemade chicken seitan, chickpeas, or TVP. Over the years more and more faux chicken alternatives have come on the market to suit a variety of dietary needs.
Here are some great vegan chicken substitutes. These faux chicken alternatives "meats" can be used in soup, casseroles, or pasta dishes and will swap out equally for chicken in nearly any recipe.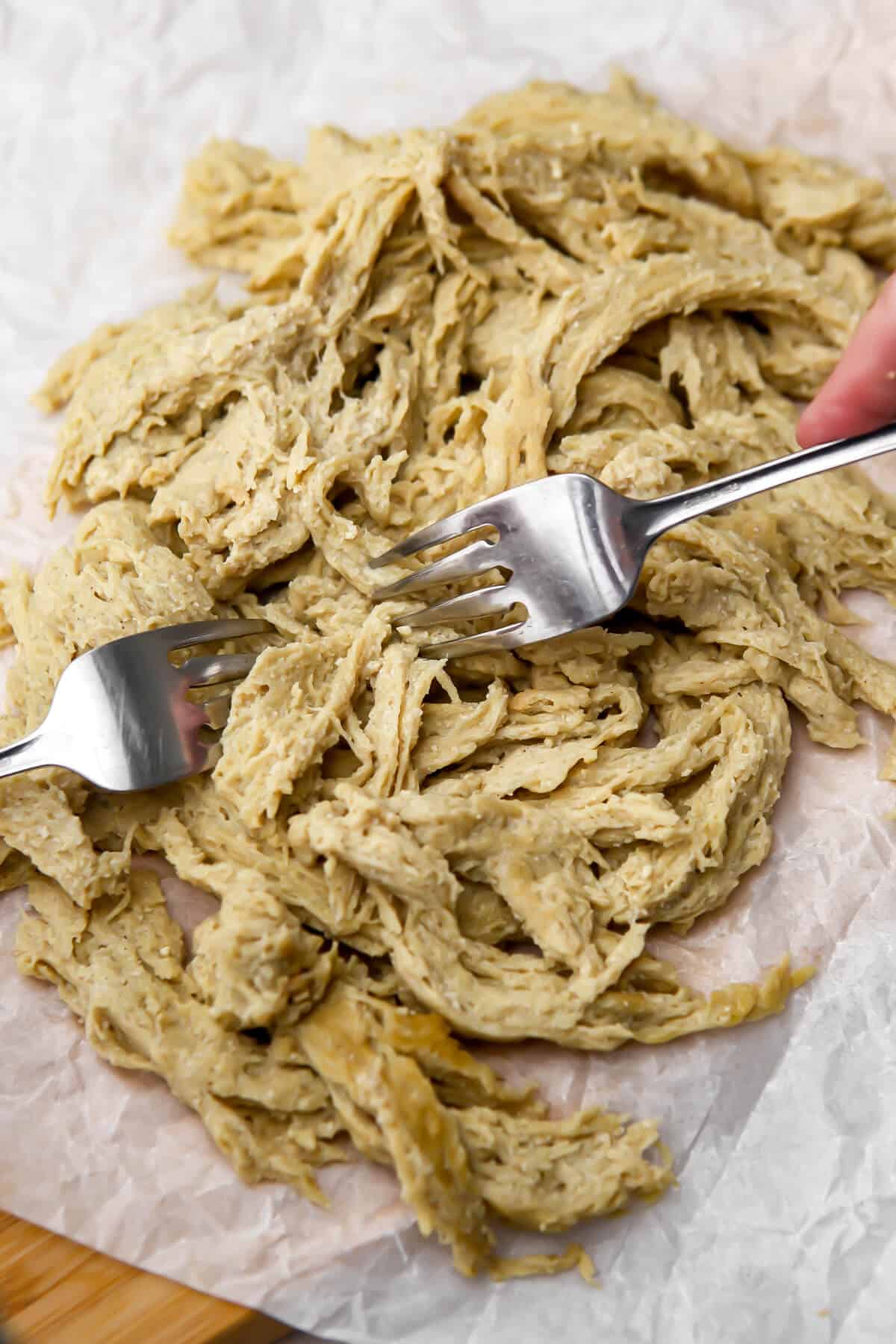 Seitan
You can buy chicken-style seitan in most major grocery stores, or you can easily make it yourself with my vegan chicken shreds, vegan chicken breasts, vegan chicken nuggets, vegan chicken patties, or my quick and easy seitan recipes.
If you are using my easy seitan recipe in soups, you can toss in the raw seitan dough and cook it with the soup. Just be sure that it simmers for at least 30 minutes before serving. (Raw seitan needs to simmer for at least 30 minutes to fully cook.)
I love to use seitan in vegan chicken pot pie, vegan chicken and dumplings, seitan gyros, seitan kebabs, and vegan rasta pasta just to name a few.
Note - (Seitan is also known as wheat meat. It's made from wheat gluten and obviously not gluten-free. If you need a gluten-free option, Butler soy curls, TVP, chickpea, and Tofu are all good options.)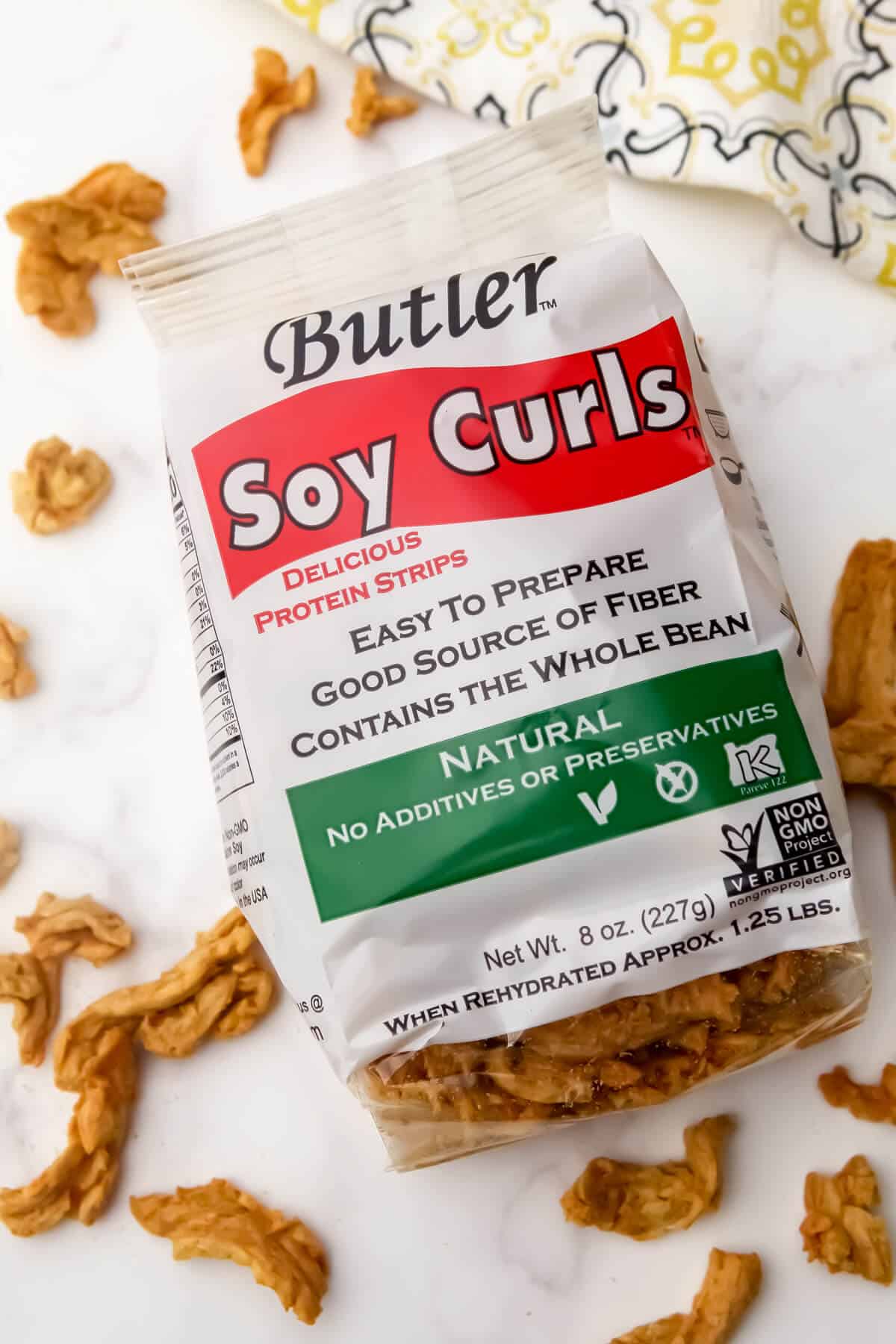 Butler Soy Curls
One of my favorite vegan chicken replacements is Butler Soy Curls! (They are dehydrated soy protein that has a taste and texture that is unbelievably close to chicken when they are re-hydrated in a vegan chicken-style broth).
Soy Curls are super easy and gluten-free. Soy curls have a great flavor and texture, but they're also great because they're shelf-stable. I love to have them in my pantry to add protein to soups or stir-fries as needed. If using soy curls in soups, note that they are dehydrated, and when added dry, they will absorb about 1 cup of broth.
I love to use soy curls to replace chicken in vegan fajitas, vegan chicken noodle soup, vegan jerky, vegan popcorn chicken, and vegan buffalo chicken sandwiches.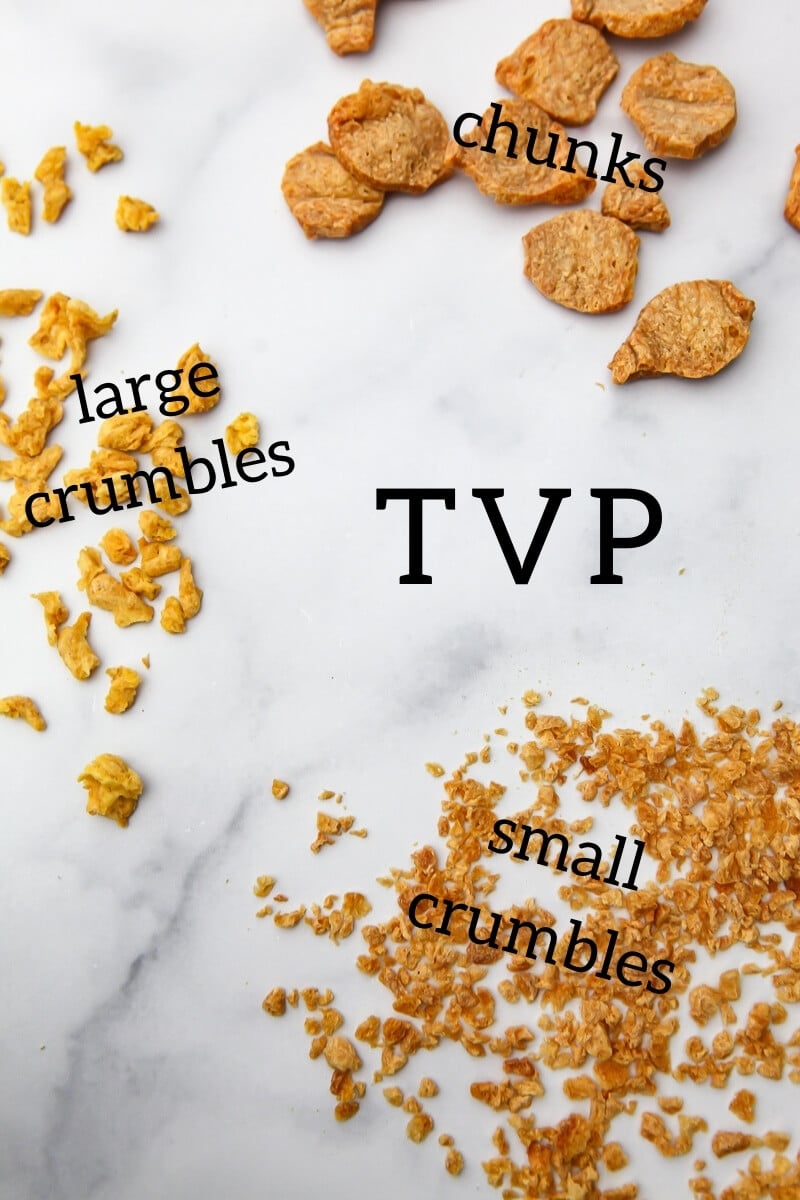 TVP
TVP is similar to Butler soy curls as it is made from dehydrated soy protein and it will absorb the flavor of the broth that it is rehydrated in. It is easier to find at local supermarkets than soy curls. However, it usually comes in small pieces that resemble ground beef and not chicken, but it has a great flavor. It does however come in larger chunks which work well to replace chicken pieces.
Store-bought vegan chicken
If you are looking for a gluten-free and soy-free vegan chicken alternative, Beyond Meat Chicken Strips is a great option. I also love the gluten-free Gardein brand Chick'n Scallopini which you can cook in place of a chicken breast or cut into small pieces. (It's great for tons of recipes, I especially like to use these in my vegan chicken piccata recipe.)
There are also many other brands like Light Life, Impossible, Daring, Boca, and more. (Even stores like Aldi carry their own store-brand vegan chicken substitutes.) I encourage you to try out different bands and see which one you prefer.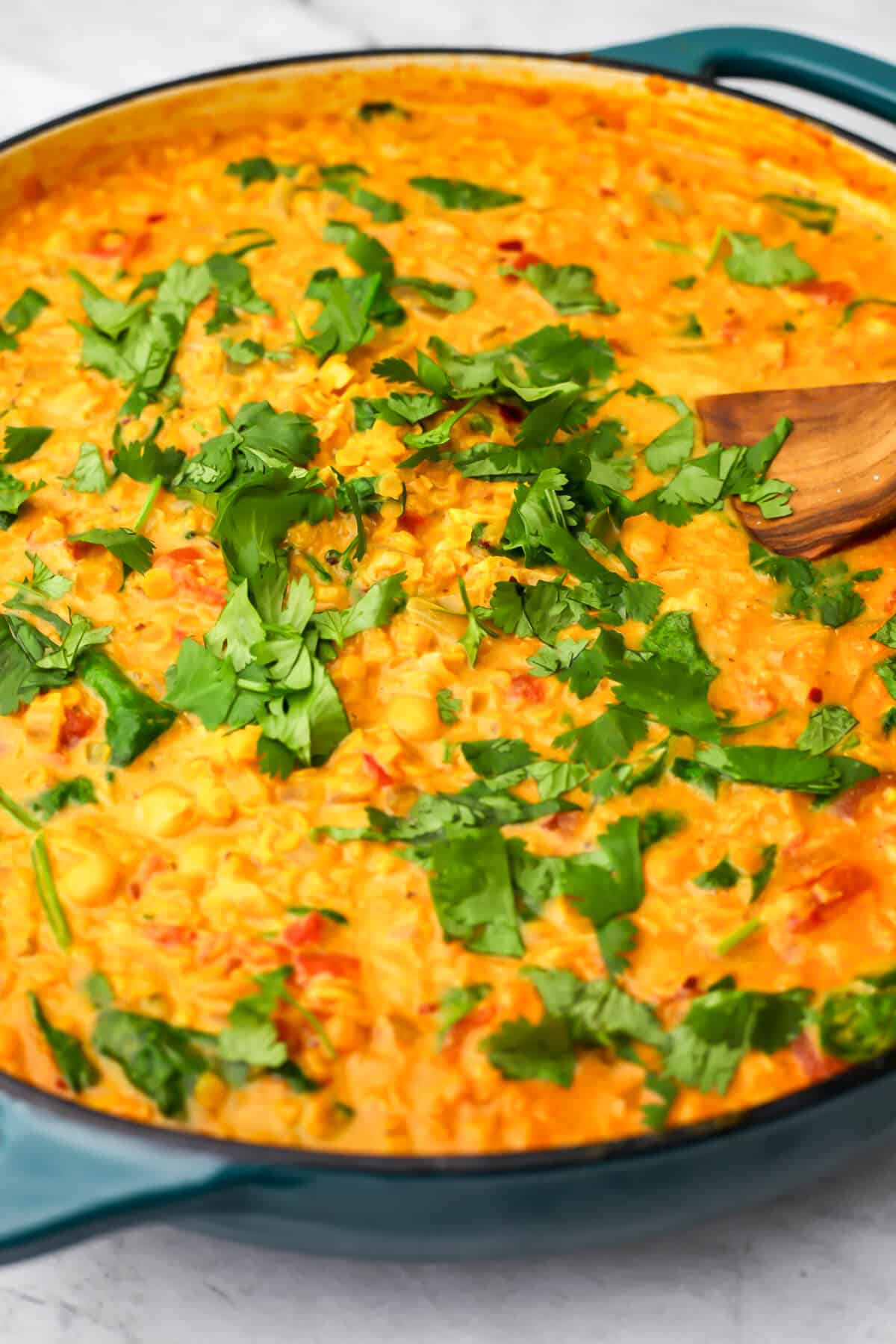 Chickpeas
If you want a more natural alternative to chicken, you can simply use a can of drained and rinsed chickpeas instead of chicken. This works great in recipes like red lentil curry or chickpea salad sandwiches.
Tofu
You can also swap out tofu for chicken in many recipes. I love the way you can make mock chicken nuggets by simply using tofu instead of chicken.