This easy vegan jerky is gluten-free, full of flavor, and packed with plant protein! It works great to pack in school lunches or carry along in your bag for a quick and filling snack.
Perfect for hiking and backpacking too!  (Wow!  I would have loved to have these when I was backpacking the Appalachian Trail 18 years ago!  Instead, I had a few packs of dehydrated tofu, which was not nearly as tasty as this stuff).
Is this jerky expensive?
No, not compared to store-bought vegan jerky.  My family loves the store-bought vegan jerky, but it gets expensive to buy it regularly.  You can make this recipe for a fraction of the cost of store-bought vegan jerky!
What are they made from?
Vegan jerky is simple to make with Butler Soy Curls.  Soy Curls are made from dehydrated soy much like textured vegetable protein, except for they come in large pieces about the size of chicken strips. When re-hydrated, they have the texture of meat.
When I first started using Butler Soy Curls, I knew that there had to be a way to make them into jerky. I tested out a bunch of different flavor combinations until my family finally agreed that the recipe was perfect!
How can I make my own vegan Jerky?
It couldn't be much easier to make this jerky! Simply make a marinade with spices and boiling water.
Then pour in the soy curls into the marinade and give it a stir.
Allow the soy curls to soak up the flavor for about 5 minutes -giving them a stir every minute or 2 making sure they have soaked up as much marinade as possible.
Once the soy curls are re-hydrated, put them on a cookie sheet and place them in the oven at 225° F for about an hour until they become chewy and the texture of jerky.
You can dehydrate them a little more or a little less depending on your taste. I like them slightly dry and crispy, my kids like them soft and chewy.
Pro Tip:  They will continue to dehydrate slightly once you take them out of the oven while they are cooling, so take them out when they are still a little softer than you want your final product to be.
What can I use them for?
I make a large batch of them at least once or twice a week.  My kids love them in their school lunch!  Once they cool, I store them in a sealed jar or put them in snack sized bags, so they are ready to grab and go snacks. They are also great as car food on long trips or just to take along anywhere that it is hard to find a good source of vegan protein.  Don't forget to bring along a bag on your next camping or backpacking trip too!
How do I store them?
Since they are still slightly moist, I store them in the fridge to make sure that they stay fresh long term. They are fine to leave out of refrigeration for a day or 2 to take camping or on a trip.  I am not exactly sure how long that they stay good for since my family always eats them all in the first few days.
Where can I find Butler Soy Curls?
I can find them at my local natural foods store, but I go through so many soy curls now we had to start buying them by the 12-pound box! If they don't sell them at your local stores, you can find them on Amazon or order them directly from the Butler Foods website.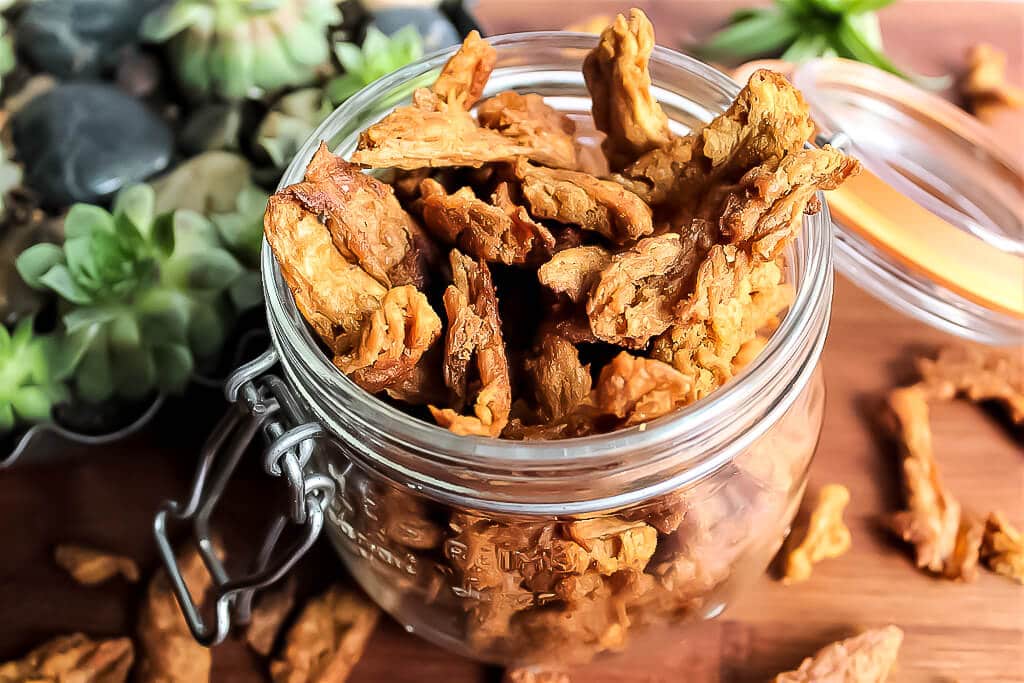 Want another meal idea using Butler Soy Curls?
Don't forget to pin the Easy Vegan Jerky recipe for later
Print Recipe
Easy Vegan Jerky
Vegan jerky that is simple to make and tastes like store bought, for a fraction of the price.
Ingredients
1

tablespoon

Bragg's Liquid Aminos

or tamari

1

tablespoon

black strap molasses

1

tablespoon

liquid smoke

(hickory flavored)

1

teaspoon

salt

½

teaspoon

onion powder

½

teaspoon

garlic powder

¼

teaspoon

cayenne

more or less to taste

¼

cup

canola

or other neutral tasting oil

1

cup

boiling water

4

cups

Butler Soy Curls

(dry)
Instructions
Preheat the oven to 225°F (110°C).

Put all the ingredients except the water and soy curls into a bowl.

Add boiling water and then stir well.

Immediately add the soy curls stirring them to coat with the marinade.

Let sit for about a minute before stirring them again.

Continue to do this for about 4-5 minutes until most of the liquid is absorbed and soy curls are soft.

Drain off any remaining liquid and spread soy curls onto a cookie sheet.

Bake at 225°F (110°C) for 1 hour flipping every 15 minutes.
Notes
Bake for 10 minutes less for chewier jerky or 10 minutes more for crunchier jerky.
Variations in oven temperature and humidity will change bake time slightly. 
Watch jerky closely at the end of the cooking time as to not over dry or burn.
Store in an airtight container in the fridge. 
Nutrition
Serving:
0.5
cup
|
Calories:
220
kcal
|
Carbohydrates:
15
g
|
Protein:
22
g
|
Fat:
7
g
|
Sodium:
421
mg
|
Potassium:
36
mg
|
Fiber:
7
g
|
Sugar:
7
g
|
Vitamin A:
25
IU
|
Calcium:
154
mg
|
Iron:
5.1
mg