This vegan buffalo chicken will amaze you! It is gluten-free and vegan but bursting with flavor! It's a "meaty" protein-packed meal that will satisfy even the biggest of appetites! Use this vegan buffalo chicken to make filling tortilla wraps, sandwiches, or lettuce wraps.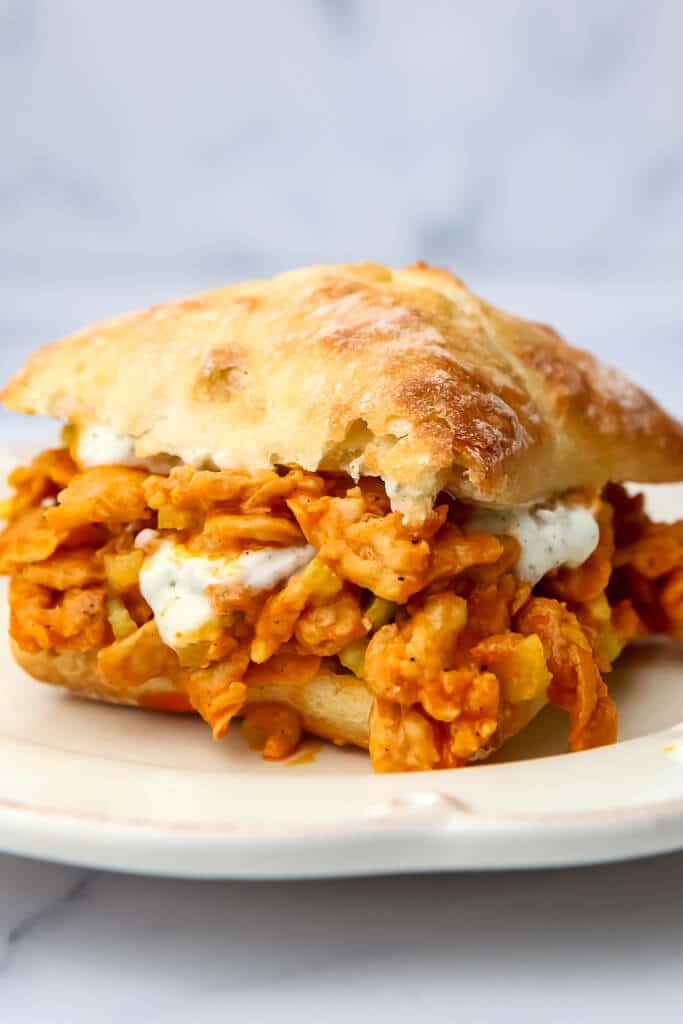 Jump to:
🌟 Chicken alternatives
You can use any chicken-like vegan chicken strips that you want for this recipe.  You can find these at most major stores in the refrigerated or frozen vegetarian "meats" section. You can also make your own vegan chicken seitan or washed flour seitan and use it for the buffalo chicken.
I like to use Butler Soy Curls. These are dehydrated soy protein strips that you can rehydrate in a vegan chicken flavored broth to make your own gluten-free and vegan "chicken strips."
I love that these soy curls are gluten-free, can be stored out of refrigeration when dry, and are relatively inexpensive, so they are my preferred choice.
🥗 Vegan buffalo chicken salad
If you are using the soy curls, start by rehydrating them in a vegan chicken flavored broth like Not Chick'n Broth. (If you are not using soy curls, skip to the next step).
Once the soy curls have been rehydrated in the broth, fry them in a small amount of oil in a skillet. This cooks them and dries them out again, so they soak up more flavor from the buffalo sauce.
After the soy curls are heated through and any excess broth has evaporated, mix up some vegan buffalo sauce and pour it over the soy curls and mix well.
Then add a ½ cup of chopped celery to the soy curls. This gives it a fresh crunch, so it doesn't become too rich and heavy tasting.
🍽️ Serving suggestions
Serve warm or refrigerate until you are ready to use as a filling for a wrap or sandwich. (My oldest son just likes to eat it by the bowlful too).
It makes an incredible sandwich served on a roll and drizzled with vegan ranch! If you need it to be gluten-free, these Schar brand hamburger buns work great!
If you are looking for something a little lighter, this vegan buffalo chicken makes a delicious lettuce wrap!
However you eat it, this buffalo "chicken" is delicious with some homemade ranch dressing drizzled on top!
👩🏻‍🍳 Pro tips
This works great to make up ahead of time and keep in the fridge. The flavor soaks in even more if it sits for a few hours.
If you are not using soy curls, make sure to omit the broth and re-hydrating process. (There is no need for this).
No matter which vegan "chicken" strip you use, pan fry it in a little oil to improve the flavor and texture before coating with the buffalo sauce.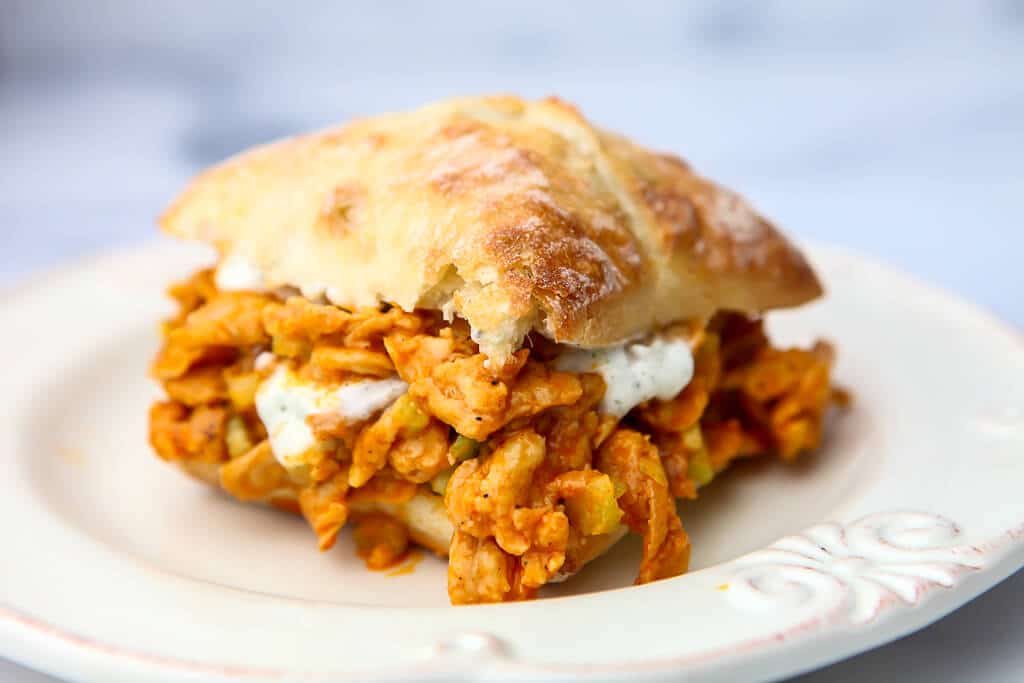 🌟 More meaty vegan recipes
📌 Be sure to follow me on Pinterest for new vegan recipes!
Vegan Buffalo Chicken Salad for Sandwiches and Wraps
This vegan buffalo chicken salad recipe uses soy curls or other vegan chicken products to make amazing sandwiches and wraps!
Cuisine:
gluten free, vegan
Keyword:
vegan buffalo chicken, vegan buffalo chicken sandwich
Instructions
Heat 1 cup of water to a boil and add 1 Not Chick'n broth cube (or other equivalent vegan chicken broth base to the water) and stir until dissolved.

Let the soy curls soak up the broth. Stir about every minute until the broth is soaked up.

Pan-fry the soy curls in 1 tbsp oil for about 5 minutes on medium heat until they are slightly brown and have dried out a little.

Add 1/2 cup chopped celery and toss until the "chicken" is well coated.

Serve on either sandwich buns, Romaine lettuce leaves, or wrap in a tortilla.
Recipe Notes
Serve this either warm or cold. 
To make this soy-free as well, use the vegan chicken strips from beyond meat instead of the soy curls and omit the broth and rehydrating process. 
To make gluten-free sandwiches, I use Schar brand hamburger buns.
Nutrition facts calculated for lettuce wraps.  See nutrition facts on the bread of choice and add if making into sandwiches.
Nutrition Facts
Vegan Buffalo Chicken Salad for Sandwiches and Wraps
Amount Per Serving (0.5 cup)
Calories 148
Calories from Fat 18
% Daily Value*
Fat 2g3%
Sodium 1045mg45%
Potassium 21mg1%
Carbohydrates 11g4%
Protein 18g36%
Vitamin A 40IU1%
Vitamin C 0.2mg0%
Calcium 127mg13%
Iron 4.2mg23%
* Percent Daily Values are based on a 2000 calorie diet.
Originally posted on April 23. 2018, updated on April 9, 2020 to include new images.