Vegan Smoked Gouda made with coconut milk may be the all-time best dairy-free cheese! It has a rich creamy texture with a subtle smoky flavor.  This is a cheese that you just have to try to believe how good it really is.
What is vegan Smoked Gouda made from?
Coconut Milk:  There are many different methods of making vegan cheeses, but I have found the richest and creamiest vegan cheese is made from a can of full-fat coconut milk. You could use other plant-based milk instead or even cashew cream, but I find that the coconut milk gives it the rich creamy texture that I crave in cheese.
Water: for the correct moisture content.
Nutritional Yeast:  To give it the cheesy flavor.
Salt: for flavor.
Liquid Smoke:  For that smokey goodness of smoked Gouda.
Agar-agar:  A vegan gelatin to make the cheese firm.  (This is absolutely necessary and can not be substituted).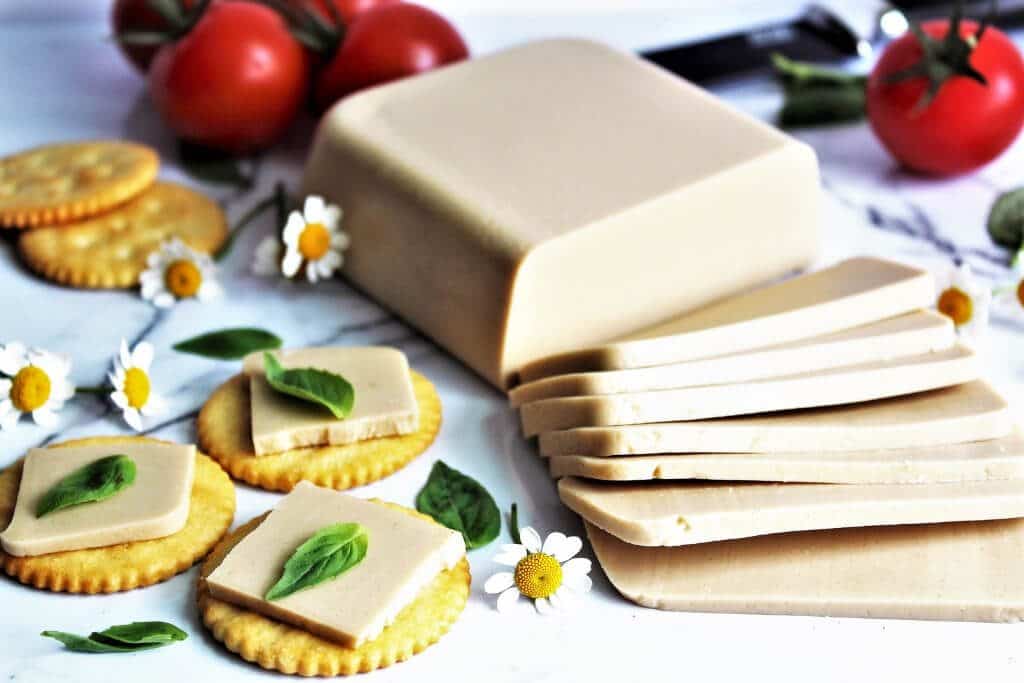 What is agar agar?
Agar agar is a white powder made from seaweed. It's essentially a vegan gelatin. (It comes in flakes or powder but be sure to use the powder if you can. It is less expensive, you need less of it, and it blends easier and smoother than the flakes). You can find great prices on it at most Asian markets or you can buy it on Amazon as well.
How do you make the vegan smoked Gouda?
To make this smoked Gouda, you will need to cook the cheese in a pan on the stove top.
Pour all the ingredients into a saucepan.
Bring to a slow boil while stirring constantly for 6 minutes allowing the agar agar to melt completely and get very smooth.
Pour the cheese into an oiled

glass container

and let it sit uncovered for about 15 minutes until it cools slightly, then put the cheese into the refrigerator to cool for at least 2 hours.
It will set up firm enough to be sliced or shredded. If you are making the melting style vegan cheese, it will set up softer than the variety with less tapioca starch.
Make this vegan smoked Gouda into a smoked Gouda grilled cheese!  Delicious with caramelized onions too!
Can't get enough garlic and herbs? Check out my vegan cheese with garlic and herbs!
Looking for a classic vegan provolone recipe?  Learn how to make vegan cheese – provolone style.
Want a sharp vegan cheddar?  Try my homemade vegan cheddar cheese recipe.
Be sure to

follow me on Instagram

for all of my latest homemade dairy-free recipes! 
Vegan Smoked Gouda
Vegan smoked gouda cheese made with coconut milk. Free of gluten, dairy, soy, and nuts!
Cuisine:
cheese, gluten free, soy free, vegan
Keyword:
how to make vegan cheese, vegan coconut milk cheese, vegan smoked gouda
Instructions
Prepare cheese molds by spraying a glass bowl or container with spray oil or rub any neutral flavored oil on the molds to prevent sticking. (Recipe will make about 2 cups of cheese).

Pour the can of coconut milk into a saucepan.

Put 1/2 cup of hot water into the empty coconut milk can to melt all the remaining coconut milk and add the water to the pan.

Add all remaining ingredients to the saucepan and stir with a whisk.

Turn heat on to medium and stir frequently until it boils.

Turn down the heat until the cheese sauce is just barely boiling and stir constantly for 6 minutes until it is very smooth.

Immediately pour into the prepared cheese molds.

Let it cool with the lid off for about 15 minutes at room temperature, then transfer to the refrigerator for at least 2 hours to firmly set.

Once the cheese is cooled completely cover and store in the refrigerator in a sealed container for up to a week.
Recipe Notes
To make this cheese meltable and better for use on pizza or grilled cheese, add 2 additional tablespoons of tapioca starch.
For a firmer cheese, leave out the tapioca starch from the recipe. 
For a smoker cheese, add an additional tbsp of liquid smoke.
Delicious on pizza or grilled cheese especially with caramelized onions!
Nutrition Facts
Vegan Smoked Gouda
Amount Per Serving (0.25 cup)
Calories 102
Calories from Fat 90
% Daily Value*
Fat 10g15%
Sodium 307mg13%
Potassium 137mg4%
Carbohydrates 3g1%
Protein 1g2%
Vitamin C 0.6mg1%
Calcium 16mg2%
Iron 1.9mg11%
* Percent Daily Values are based on a 2000 calorie diet.