Are you craving a vegan grilled cheese sandwich made with cheese that melts?  Use my melty cheese recipe to make the best toasted cheese you have had since giving up dairy!  The secret to a great vegan grilled cheese is using a cheese that melts and stretches! I've spent the last few years playing around with vegan cheese recipes to get the perfect melty cheese to use in grilled cheese sandwiches and I've finally perfected it!
What type of plant-based milk is best for making vegan cheese?
I use full-fat canned coconut milk to make my vegan cheese recipes. It has a fat content and creaminess similar to real cheese. I've tried it with soy milk, cashew cream, and almond milk, but the coconut cheese always comes out the richest and creamiest.
How do I make vegan cheese that melts and stretches?
The secret to making vegan cheese that melts and stretches is tapioca starch. It gives the cheese a very stretchy texture.  Make sure to use the exact amount of tapioca starch when making this recipe.  If you use too much your cheese won't set and you won't be able to slice or shred it.  If you use too little, the cheese will be too hard and not melt until it reaches high temperatures.
What makes vegan cheese set?
Agar agar is a key ingredient to make vegan cheese set.  Without it, your cheese will be a great tasting cheese sauce, but you will not be able to shed or slice it.  Agar agar is a clear powder made from seaweed and it works like gelatin.  It must be cooked for at least 6 minutes to fully melt and bind with your cheese and it will then become firm once it cools.
Note:  Agar Agar can be hard to find and expensive at health food or specialty stores.  You will find the best price at your local Asian market or on Amazon.
How do I make the perfect cheese to make a vegan grilled cheese sandwich?
Simply put all the ingredients into a saucepan and stir with a whisk.
Heat to a slow boil stirring constantly for 6 minutes. This allows the agar-agar to melt completely and set properly. (It may seem ready after 3-4 minutes but keep it at a low boil for 6 minutes to make sure that it is completely smooth).
Then pour the cheese into an oiled glass container. (One batch makes almost 2 cups of cheese). I like to use these Snapware containers because they are made of glass and won't affect the flavor and have a lid with a good airtight lid to keep the cheese fresh longer.
How can I flavor the cheese to make other varieties?
My favorite variety of this vegan cheese vegan smoked gouda! It's amazing on a grilled cheese sandwich or used on smoked gouda pizza!
How do I make a perfect vegan grilled cheese?
Use vegan margarine (

or my vegan butter recipe

) to spread on a slice of bread.
Turn your frying pan or skillet to low heat and set the bread butter side down.
Then layer with slices of cheese and add any other favorites like sliced tomatoes, artichoke spread or

vegan pesto

!
Heat on low for about 5 minutes on each side until browned.   It's important to heat it slowly on the skillet so it doesn't burn and so the cheese in the middle has time to melt.
Tip: If you have time, let the cheese warm up to room temperature before heating the sandwich on the skillet or heat in the microwave for about 20 seconds to warm up the cheese.
What bread is vegan and gluten-free?
If you are vegan and need to be gluten-free as well, there are not many types of bread to choose from.  Most of the major brands of gluten-free bread contain egg, so make sure to read the packaging.  Some smaller local bakeries make gluten-free vegan bread, so it will vary depending on where you live.
Our favorite bread and the one in the pictures is a millet bread from Sami's Bakery. (No gluten ingredients, but not a gluten-free facility).  Aldi also occasionally has a seeded bread that is gluten-free and vegan.  Aldi also carries our favorite gluten-free/ vegan tortillas that you can use to make quesadillas if you can't find a bread that you like.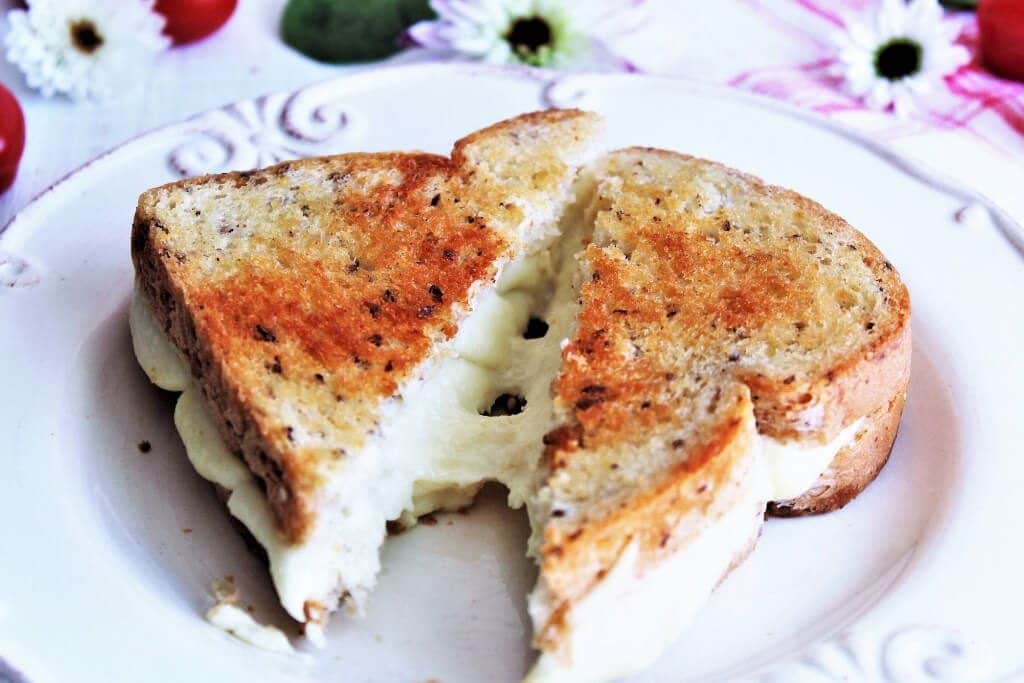 Want a cheese that is great for slicing and eating cold?
Check out my sliceable vegan smoked gouda and vegan garlic herb cheeses!
Don't forget to pin the vegan grilled cheese for later!
VEGAN GRILLED CHEESE WITH CHEESE THAT MELTS
Recipe for making vegan cheese that will melt on a vegan grilled cheese sandwich.
Cuisine:
cheese, gluten free, soy free, vegan
Keyword:
vegan cheese that melts, vegan grilled cheese
Ingredients
For vegan cheese that melts:
1

can

coconut milk

full fat

1/2

cup

hot water

1

tsp

salt

1

tbsp

nutritional yeast

2

tbsp

agar agar

powder

2

tbsp + 1 tsp

tapioca flour

(tapioca starch)

1/2

tsp

lemon juice

1

spray

oil

on the glass container
Instructions
For the cheese:
Prepare cheese molds by spraying a glass bowl or container with spray oil or rub any neutral-flavored oil on the molds to prevent sticking. (Recipe will make about 2 cups of cheese).

Pour the can of coconut milk into a saucepan.

Put 1/2 cup of hot water into the empty coconut milk can to melt all the remaining coconut milk that may be stuck to the sides, then add the water to the pan.

Add all remaining ingredients to the saucepan and stir with a whisk.

Turn heat on to medium and stir frequently until it boils.

Turn down the heat until the cheese sauce is just barely boiling and stir constantly for 6 minutes until it is very smooth.

Immediately pour into the prepared cheese molds.

Let it cool with the lid off for about 15 minutes at room temperature, then transfer to the refrigerator for at least 2 hours to firmly set.

Once the cheese is cooled completely cover and store in the refrigerator in a sealed for up to a week.
For the vegan grilled cheese sandwich:
Butter 1 side of 2 slices of bread. Place one slice butter side down on the skillet and add sliced cheese and the other slice of bread on top.

Grill over a low heat for about 5 minutes on each side until golden brown and cheese are melted.
Recipe Notes
Make sure to cook the grilled cheese sandwich on a low heat to give the cheese time to melt.
You can also heat the sandwich in the microwave for 20 -30 seconds to melt the cheese before grilling to save time and melt thoroughly. 
Delicious with sliced tomatoes and

vegan pesto!
Nutrition Facts
VEGAN GRILLED CHEESE WITH CHEESE THAT MELTS
Amount Per Serving (1 sandwich)
Calories 275
Calories from Fat 117
% Daily Value*
Fat 13g20%
Sodium 600mg26%
Potassium 239mg7%
Carbohydrates 33g11%
Protein 7g14%
Vitamin A 65IU1%
Vitamin C 0.7mg1%
Calcium 94mg9%
Iron 3.9mg22%
* Percent Daily Values are based on a 2000 calorie diet.