Are you craving a perfect vegan grilled cheese sandwich made with cheese that melts?  Use my melty cheese recipe to make the best-toasted cheese you'll have since giving up dairy!  The secret to a great vegan grilled cheese is using a cheese that melts and stretches!  Grill your sandwich to perfection and enjoy a melty grilled cheese like the ones you remember.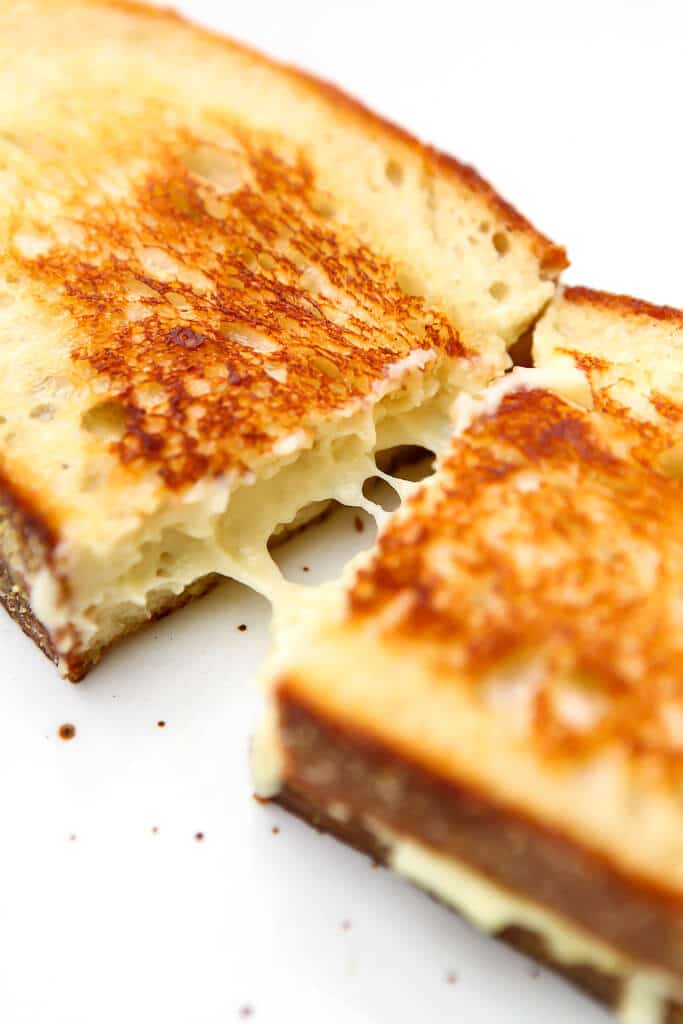 Jump to:
I've spent the last few years playing around with vegan cheese recipes to get the perfect melty cheese to use in grilled cheese sandwiches and I've finally perfected it! I'm so excited to share it with you!
🧾 Ingredients and substitutions
For the cheese:
Vegan Cheese - that melts well.  I love my vegan mozzarella cheese for this.  It's easy to make, rich and creamy, and melts beautifully. You can also use your favorite store-bought cheese if you would like. 

To make your own cheese you will need: 

Coconut Milk – a 13.5 oz can of coconut milk or coconut cream works best.  (This is not the coconut milk that comes in cartons in the refrigerated section of the store).  This will be the base of your cheese.  (Full-fat canned coconut milk will give you the richest and creamiest texture).
If you don't want to use coconut milk:

I highly recommend canned coconut milk, but if you need to use something else you can also use the following instead:

Cashews – you will need 1/3 cup cashews soaked and drained then blended with 1 3/4 cup water).
Other Plant-Based Milk – like soy, rice, almond, or hemp you will need 1 3/4 cup milk plus 1/3 cup any neutral-flavored oil.

Water – to give the right moisture content.
Nutritional yeast – to give it the cheesy umami flavor.
Agar-agar – to make it firm so you can slice and grate it.  Agar agar is a white powder made from seaweed, and it acts like a vegan gelatin making the cheese firm. (It comes in flakes or powder but be sure to use the powder if you can.  It is less expensive, you need less of it, and it blends easier and smoother. You can find great prices on it at most Asian markets or you can buy it on Amazon as well).
Tapioca flour – to give the cheese a little stretch when it melts.  (Nothing else works like tapioca for this.  Without it you will not get the same melt and stretch).
Salt – for flavor
Garlic Powder – for flavor.
For the sandwich:
Bread - to make the sandwich.  Make sure it's vegan. Here is a list of 20 vegan bread brands.
Vegan Butter or Oil - I like to use my homemade vegan butter to spread on the outside of the sandwich, but you can use any vegan margarine or coconut oil.
Extras - Here are some things you can add to change up your grilled cheese.sliced tomatoes
marinated artichokes
sauteed mushrooms 
mustard - (That's how I always ate them as a kid)
🥄 Instructions
Use vegan margarine

(or my vegan butter recipe)

to spread on a slice of bread.

Turn your frying pan or skillet to low heat and set the bread butter side down.

Then, layer with slices or shreds of cheese and add any other favorites like the ones listed above.

Heat on low for about 5 minutes on each side until browned.   It's important to heat it slowly on the skillet so it doesn't burn and so the cheese in the middle has time to melt.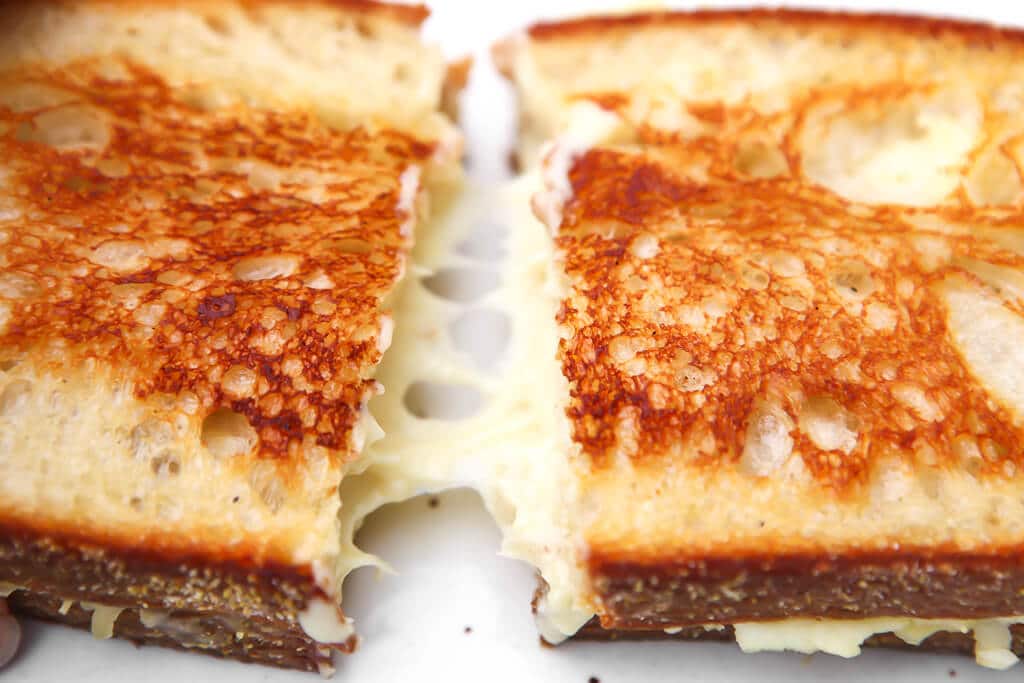 👩🏻‍🍳 Pro tips for melty cheese
If you have time, let the cheese warm up to room temperature before heating the sandwich on the skillet.
You can also heat the sandwich in the microwave for about 20 seconds to warm up the cheese before grilling.
Put a lid on your frying pan for a few minutes to trap the heat inside and more evenly melt your cheese.
📖

Variations
My favorite flavor in a grilled cheese sandwich is vegan smoked gouda! It's amazing with some sauteed mushrooms or caramelized onions. My vegan pepper jack, vegan cheddar cheese, and vegan garlic herb cheeses are also delicious in a grilled cheese!  Just be sure to add tapioca starch to make the meltable versions.
🍞

Vegan gluten-free bread
If you are vegan and need to be gluten-free as well, there are not many types of bread to choose from. Most of the major brands of gluten-free bread contain eggs, so make sure to read the packaging. Some smaller local bakeries make gluten-free vegan bread, so it will vary depending on where you live.
Our favorite gluten-free bread is a millet bread from Sami's Bakery. (No gluten ingredients, but not a gluten-free facility).  Aldi also occasionally has a seeded bread that is gluten-free and vegan.  Aldi also carries our favorite gluten-free/ vegan tortillas that you can use to make quesadillas if you can't find a bread that you like.
Serve this grilled cheese with a side of your favorite vegan soup like Vegan Minestrone Soup or Vegan Cream of Broccoli for a full meal. 
If you're a fan of cheese meals and snacks you have to check out these vegan cheez its, and this super easy vegan mac and cheese!
*Learn more about how to make more homemade vegan staples like vegan butter, oat milk, cream cheese, and chocolate fudge sauce in my cookbook The Ultimate Guide to Vegan Staples!
📌 Be sure to follow me on Pinterest for new vegan recipes!
Vegan Grilled Cheese Sandwich with Cheese That Melts
Recipe for making a perfect vegan cheese sandwich with cheese that melts and stretches.
Cuisine:
gluten free, soy free, vegan
Keyword:
vegan cheese that melts, vegan grilled cheese
Ingredients
For vegan cheese that melts:
1

can

coconut milk

full fat

1/4

cup

warm water

1 1/4

tsp

salt

2

tbsp

nutritional yeast

4

tsp

agar agar

powder

1/4

cup

cold water

to mix with tapioca starch

7

tsp

tapioca flour (tapioca starch)

this is the same as 2 tbsp + 1 tsp
For the sandwich:
1

tsp

vegan butter

for spreading on the bread for grilling

2

slices

bread

of choice
Instructions
For the cheese:
Prepare cheese molds by spraying a glass bowl or container with spray oil or rub any neutral-flavored oil on the molds to prevent sticking. (Recipe will make about 2 cups of cheese).

Add a 13.5 oz can of coconut milk (or another cheese base), 1/4 cup of warm water, 2 tbsp of nutritional yeast, 4 tsp agar agar,  1/2 tsp garlic, and 1 1/4 tsp salt.

Heat the cheese sauce over medium heat until it begins to boil.

Turn down the heat until it is just barely bubbling and allow to boil for 5 minutes while stirring frequently.

Add 2 tbsp plus 1 tsp (or 7 tsp.) tapioca starch to 1/4 cup of cold water and stir until it dissolves.

Add the starch and water mixture to the boiling cheese sauce and stir it in with a whisk and cook for an additional 1 minute.  (Your cheese will become very thick and stretchy).

(You can put this hot cheese sauce in your sandwich immediately or let it cool and set and then slice or shred it in your sandwich).

Pour into a glass container and allow to cool uncovered in the refrigerator for at least 3 hours before shredding or slicing. Keep refrigerated for up to 5 days.
For the vegan grilled cheese sandwich:
Butter 1 side of 2 slices of bread.  Place one slice butter side down on the skillet and add sliced or grated cheese (and any other add-ins) then top it with the other slice of bread.

Grill over a low heat for about 5 minutes on each side until golden brown and cheese is melted. Serve immediately.
Recipe Notes
Pro Tips:
Make sure to cook the grilled cheese sandwich on a low heat to give the cheese time to melt.  (Low and slow makes the best grilled sandwiches)!
You can also heat the sandwich in the microwave for 20 -30 seconds to melt the cheese before grilling to save time and melt thoroughly. 
Put a lid on your frying pan for a few minutes to trap the heat inside and melt your cheese evenly.
Nutrition Facts
Vegan Grilled Cheese Sandwich with Cheese That Melts
Amount Per Serving (1 sandwich)
Calories 275
Calories from Fat 117
% Daily Value*
Fat 13g20%
Sodium 600mg26%
Potassium 239mg7%
Carbohydrates 33g11%
Protein 7g14%
Vitamin A 65IU1%
Vitamin C 0.7mg1%
Calcium 94mg9%
Iron 3.9mg22%
* Percent Daily Values are based on a 2000 calorie diet.
⭐⭐⭐⭐⭐ Leave a comment and stared review! I would love to hear from you!
* This recipe was updated on 1/28/20 from the original that was posted 5/4/18 to include more concise directions, new pictures, and a video of the cheese-making process.