Need a great all-purpose gluten-free flour recipe that you can use in place of wheat flour in all your recipes? This vegan and gluten-free flour mix is the absolute best 1:1 flour replacement that I have found for my gluten-free baking needs.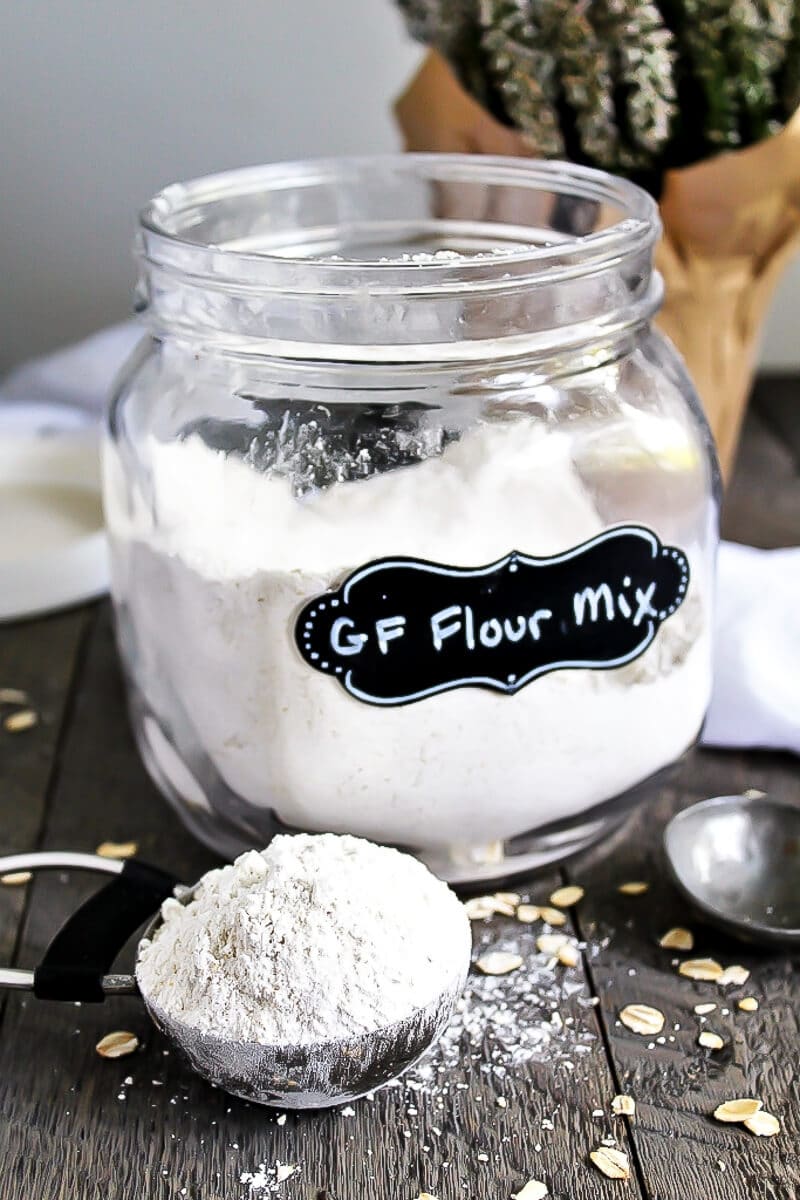 This homemade flour mix is quick and easy to make and best of all, it's a convenient and inexpensive way to always have gluten-free flour on hand.
Jump to:
❤️ Why you'll love this mix
It works as a replacement for wheat flour in almost any recipe.
It's made from whole-grain oats.
You can easily grind your own oat flour in seconds with your blender.
Fresh-ground flours have more nutrients than store-bought. Read more about it here.
This gluten-free flour recipe will save you a ton of money compared to buying store-bought mixes.
It's easy, fun, and kids love to help sift the oat flour!
🧾 Ingredients and substitutions
Oats – Whole oats that you can easily grind yourself in any basic blender.
Tapioca flour – helps the flour bind together. With only oat flour, it gets very crumbly.
Xanthan gum – Works as an extra binder to hold your baked goods together.
🔪 Helpful tools
🥄 How to make oat flour
Step 1 - Put gluten-free whole oats into a blender.
Step 2 - Blend for about 1 minute until the oats have turned into flour.
Step 3 - Pour into a wire mesh strainer or a flour sifter and sift over a large bowl until all the fine flour has fallen through and throw away the large bran that is left in the strainer.
Step 4 - Add tapioca flour (aka tapioca starch) and xanthan gum to the bowl of oat flour and mix with a whisk or fork.
❔ Why oat flour works best
Oats have a similar protein content to that of wheat flour, so it bakes up like wheat flour in most recipes.
It's inexpensive and easy to find.  (Trader Joe's has a 32 oz bag of gluten-free oats for $3.99)
You can grind oats fresh, so they will maintain more nutrients than pre-milled packaged flour.
It's healthier than many other gluten-free flour choices.
It uses the whole grain unlike white rice flour or other mixes.
You can choose not to sift it and have a whole wheat-style texture.
🥄 How to measure the flour
Since this flour is made fresh and sifted, it tends to be fluffy and has to be measured differently to get the same results as wheat flour.
When you measure it by volume, tap the measuring cup on the countertop a few times to settle the flour, and then add more until the measuring cup is full to the top.
Your measurement will be most accurate by weight. One cup of wheat flour weighs 4.5 oz or 120 grams, so make sure your gluten-free flour weighs the same as wheat flour when swapping it out in a recipe.
If you buy oat flour instead of grinding and sifting it yourself, it tends to weigh the same as wheat flour and can be swapped out 1:1.
🌾 Whole-wheat style flour
If you like the taste and texture of whole wheat flour in your baking, simply omit the sifting step when making this flour, leaving the bran in. It will leave more texture and a slightly nuttier taste similar to whole wheat.
Note:  If the baked good calls for an egg or an egg substitute, I have found that using a flax egg also gives it more of a whole wheat taste and texture.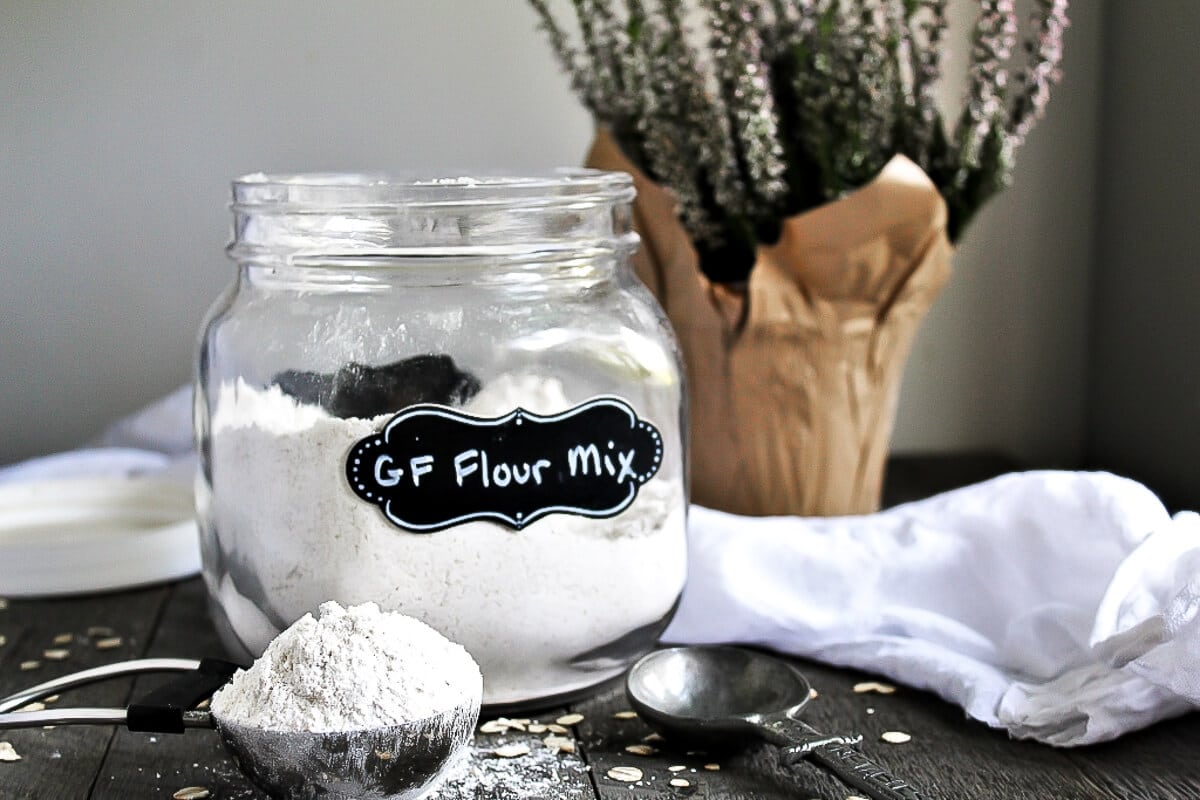 🥡 Storage
Store your flour mix in a sealed container at room temperature for up to 1 month or in the freezer for up to 3 months. Allow it to come to room temperature before use.
🌟 What to make with this mix
Make any of your favorite recipes with this gluten-free flour mix swapped out 1 for 1 or try some of my family's favorites.
📌 Be sure to follow me on Pinterest for new vegan recipes!
Print Recipe
Gluten-Free Flour Mix
An all-purpose gluten-free flour mix that you can use 1:1 instead of wheat flour in all of your baking.
Instructions
Put 1 3/4 cups of oats in your blender and turn it on until the oats grind down to the texture of flour. (This will take about 1 minute depending on the power of your blender).

Pour the oat flour into a wire mesh strainer or a flour sifter and sift over a large bowl to take out the large pieces of bran. (Discard the large pieces of bran or use in another recipe).

Measure out 1 1/2 cup of oat flour and put it into a bowl. (This should be what you have left after sifting out about 1/4 cup of bran).

Add the tapioca flour and xanthan gum to the oat flour and stir well until it is well mixed.

Store in an airtight container in the fridge until you are ready to use it in any baked goods.
Notes
You want to make sure to measure out exactly 1 1/2 cups of oat flour for the mix.
Starting with 1 3/4 cups of whole oats, it should yield 1 1/2 cups of oat flour once it is ground and sifted.
Xanthan gum is optional, but it will help your baked goods hold together a little better and not crumble.  
Make sure to tap the measuring cup a few times to settle the flour when measuring or measure the flour by weight. 
Nutrition
Serving:
0.5
cup
|
Calories:
167
kcal
|
Carbohydrates:
34
g
|
Protein:
3
g
|
Fat:
1
g
|
Sodium:
23
mg
|
Potassium:
109
mg
|
Fiber:
3
g
|
Calcium:
16
mg
|
Iron:
1.5
mg
⭐⭐⭐⭐⭐ Click the stars above or leave a comment! I'd love to hear from you!