Do you know how to make crispy fried tofu?  It took me a long time after I went vegan to perfect my tofu making skills.  I wanted that perfect crispy tofu like the type I would get at an Asian restaurant!  After many years, I have figured out some tricks to make tofu perfectly crispy, and I'm excited to share my secrets with you!  This tofu is quick and easy to make, gluten-free, perfectly seasoned, and is crispy on the outside and moist in the middle!
What you will need to make crispy Fried Tofu:
Firm Tofu – firm or extra firm tofu works best.  See below for more details on different types of tofu.
Corn Starch – to make a light crispy coating on the tofu when you fry it.  You can also use potato starch, but I find cornstarch makes it the crispiest.
Salt – for flavor.  You can also use spice mixes like taco seasoning or creole seasoning with salt and spices to flavor it more. 
Oil – for frying.  Any neutral-flavored oil works well.
Marinades – optional for additional flavor.  Check out my guide to tofu marinades.
What type of tofu should I use for fried tofu?
There are so many types of tofu out there, it can make your head spin.  For making crispy fried tofu, you want to use very firm tofu.
Extra-firm or high protein tofu work the best. The high protein tofu comes vacuum sealed instead of in the plastic tubs.  It is very dense and firm.
Regular firm tofu will also work.  It's the type that comes in a container with a hard plastic bottom and is sealed in water.
You do not want to use silken tofu.  This is the type that comes in little cardboard boxes.  Even the extra firm variety of silken tofu will fall apart when you try to cook it.  The silken tofu is great in things like my 

vegan sour cream recipe

when you want a very soft smooth tofu for pureeing, but not for this one.
Do I have to press tofu?
Yes!  You have to get out as much excess liquid as you can.  You can use an official tofu press, or simply use two cutting boards with something heavy on top, or even just your hands, but you NEED to press the liquid out of it!
Should I marinate the tofu before frying?
You don't have to marinate the tofu, but if you want it to have more flavor, then you should marinate it after pressing the liquid out.  You can simply sprinkle some soy sauce on it for some more flavor, or you can use one of my tofu marinade recipes to make it in flavors like teriyaki, balsamic, sweet Asian, or cilantro lime.
Allow the tofu to soak in the marinade for at least 15 minutes, then drain well before tossing in the corn starch coating.
What makes the tofu crispy?
There are 2 things that you must do to get your tofu cooked perfectly crispy…
Coat it in cornstarch!  This is a key component to making a crispy outer layer over your tofu.  You can also add any spices or seasoning to the cornstarch to flavor it.
Fry your tofu! Frying your tofu in oil at the correct temperature (370° F) will make a delicious crispy coating that's not sticky or greasy.  If you fry your tofu at too low of a temperature, it will soak up more oil and get soggy. 
How do I coat the tofu before frying?
Cut tofu into small, even cubes and place in a large bowl filled with a mixture of cornstarch and salt.
Shake the bowl to toss the tofu until it is covered with the cornstarch mixture. (Don't stir it or you will break up the tofu and it will no longer be in nice neat cubes).
How to fry tofu…
Using a deep fryer: 
Set the temperature gauge to 370° F and wait for the oil to reach that temperature.

Place the coated tofu in the frying basket and set it down in the hot oil.

Cook for about 2 minutes then shake the basket to break up any pieces that are stuck together.

Place back in the oil and cook for about 2 more minutes until the pieces float in the oil.  (This will equal about 4 minutes total cook time).
Using a Pan:
Pour about 1/4 cup of oil in the bottom of a large skillet.  (I prefer an

 

iron skillet

for an even heat)

Heat oil over medium-high heat for about 3-4 minutes until it reaches 360° F – 375° F before adding the tofu.

Add 1/2 of the coated tofu to make sure that each piece is touching the bottom of the pan and that there is room to flip the tofu pieces.

Fry each side of the tofu flipping frequently.
What does freezing do to tofu?
The freezing process makes the tofu spongier; this way you can squeeze out more liquid.  The tofu that has been frozen also soaks up more flavors when you cook it.  Freezing your tofu does give it a different texture.  Some people love it and others do not.  You just need to give it a try and see if you like what the freezing process does to it.
Do I have to fry it?  This sounds like too much fat!
If you want it to taste like the tofu that you love from restaurants, then, yes, you have to fry it!  You can bake your tofu, but it will not have the same taste or texture as the fried tofu.  Check out my complete guide for how to make baked tofu.
Should I deep fry or pan fry it?
If you have a deep fryer, it is a little easier since you don't have to flip the tofu, it keeps the oil at the correct temperature and cooks it very evenly on all sides. 
If you don't have one, you can get a very similar effect by pan-frying it in a generous amount of oil.  (Remember, just because you use that much oil in the pan, you are not eating all that oil.  Most of it is still left in the pan when you are done frying). 
*Making sure your oil it at 370 degrees F before adding the tofu will make it crispy.  If you cook it at a lower temperature, it will soak up oil and can be soggy.
Note:  If you chose to pan fry it, be sure to wear long sleeves and use a long-handled spatula to flip the tofu.  It will spatter when it cooks.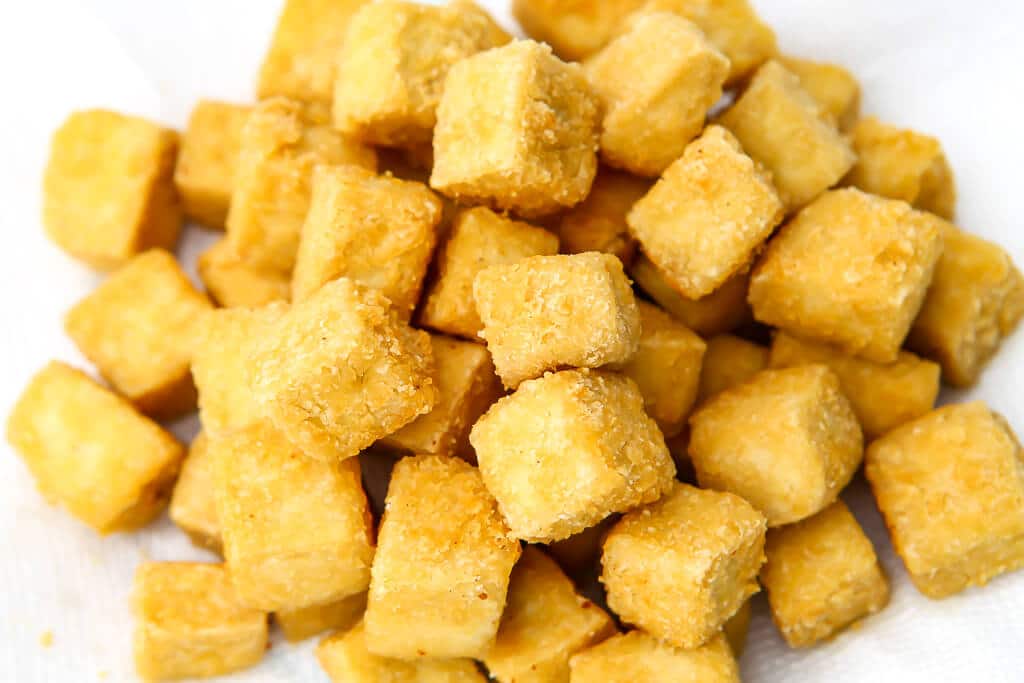 Whichever way you choose to fry your tofu, put it on a paper towel after frying to soak up any excess oil so it's not greasy!
Can I air fry tofu?
Yes, you can cook crispy tofu in an Airfryer.  It is definitely healthier, but it will come out more dry then traditionally fried tofu.
How to Airfry tofu…
Follow the recipe the same as above, then spray the coated tofu with cooking oil and place it in the Airfryer at 370° F.

Cook for 10 minutes, sake the tofu, then cook for another 10 minutes for a total of 20 minutes cooking time. 
Tips for how to make crispy tofu:
If you have time, freeze the tofu for a few days before making it.  Then thaw completely and squeeze out all the excess water.
Press your tofu.  Use a tofu press, two cutting boards with something heavy on top, or just your hands, but you NEED to press the water out of it.
Coating your tofu with a mixture of cornstarch and salt will give it a crunchy coating with great flavor.  You can also use potato starch, regular flour, or even gluten-free flour instead of the cornstarch, but the cornstarch crisps up the best.
You can bake, pan fry or deep fry your tofu.  All methods work well, but if you want it truly crispy like the kind you may get at your favorite Asian restaurant, you need to deep fry it or at least use a lot of oil while pan-frying.  (I'm not claiming that this is health food here.  Just being honest about how you need to cook it to give it that taste and crunch).
Add some crispy tofu to these dishes for extra protein and a filling meal:
Need other ideas for cooking tofu? 
Make sure to check out my posts on How to Make Baked Tofu, Breaded Tofu, and Grilled Tofu!
Be sure to follow me on Instagram for daily vegan inspiration and recipe ideas!  Tag me at #thehiddenveggies!  I love to see what you made too! Connect with me on Facebook and Pinterest too!
How to Make Crispy Fried Tofu
Perfect crispy tofu like you get in restaurants with a light coating made with cornstarch.
Course:
Appetizer, Main Course
Keyword:
crispy fried tofu, crispy tofu, fried tofu
Ingredients
For the tofu:
1

container

firm tofu

1/3

cup

cornstarch

(potato starch will also work)

3/4

tsp

salt

1/4

cup

oil for frying

(neutral-flavored)
Instructions
For the crispy tofu:
Press the tofu (fresh or pre-frozen then thawed) squeezing out as much liquid as possible.

Mix together cornstarch and salt in a large bowl.

Cut tofu into even 1/2 inch sized cubes and place in the bowl of the cornstarch mixture. bowl.  

Shake the bowl with the tofu until all of the tofu is covered with the cornstarch mixture. (Do not stir or the tofu cubes will break).

Heat oil to 370°F (190°C) in a deep fryer or on medium-high in a large frying pan, and add coated tofu once the oil is hot.
If pan-frying:
Add the coated tofu to the pan in small batches so they have room between pieces and don't stick together. 

Shake the pan every minute or two until the tofu begins to move freely, then use a spatula to flip the tofu to the other side.  Continue to do this until all sides of the tofu are golden and crispy. 
If you are using a deep fryer:
Add the coated tofu to the wire frying basket.

Cook until they float to the top and get slightly golden. (This will take about 3-4 minutes). You can shake the basket after 2 minutes of cooking to make sure they are not stuck together).

Place the cooked tofu on a paper towel to soak up the excess oil and then serve immediately. 
Recipe Notes
If pan-frying - Be careful to wear long sleeves and use a long-handled spatula.  The oil will spatter.
Cook the tofu in 2-3 small batches to give more room in the pan or fryer so it doesn't clump and stick together. 
Nutrition Facts
How to Make Crispy Fried Tofu
Amount Per Serving (0.5 cup)
Calories 198
Calories from Fat 108
% Daily Value*
Fat 12g18%
Sodium 441mg19%
Carbohydrates 12g4%
Protein 10g20%
Calcium 142mg14%
Iron 1.4mg8%
* Percent Daily Values are based on a 2000 calorie diet.
*This was originally posted on May 10, 2018.  It was updated on March 10, 2020, to include new images and more detailed instructions.