Do you want to be prepared with vegan staples that you need in case of an emergency or mandatory quarantines? Well, you don't just have to live on beans and rice. Let me show you some easy ways that you can make things like butter, cheese, mayo, sour cream, yogurt, and vegan meats from self-stable items. You can stock up on these ingredients and easily make your own staples as needed.
Vegan Prepping
With the current world pandemic, the talk of prepping is everywhere. I was taking a walk with a friend a few days ago and we started talking about what food we should have on hand if quarantines are put in place. I realized that my family won't have to rely on only pasta and canned foods for weeks on end since I already make most of my own vegan staples like butter, cheese, yogurt, and vegan meats from shelf-stable ingredients.
Dairy items
I recently wrote a cookbook "The Ultimate Guide to Vegan Staples" which includes over 40 recipes for nearly every type of everyday dairy-free staples. Twenty years ago when I went vegan, there weren't many vegan items at the grocery stores, so I learned how to make my own at home. These recipes taste better and are significantly cheaper than store-bought vegan items, so I wrote the cookbook to share these recipes with people who were interested in that - never thinking that they would be useful for prepping too. Somehow it never occurred to me before, but nearly every recipe in the book can be made from shelf-stable ingredients! As long as I have those shelf-stable items, I can make anything my family needs from a few basic ingredients!
These recipes are great for people who live far away from stores or those who want to be prepared in case of a shortage or emergency.

*If you are interested in my Ultimate Guide to Vegan Staples cookbook (that contains all of my homemade vegan staples that can be made from shelf-stable ingredients), I will have the cookbook on sale from now until the coronavirus threat is over. The eBook will be sent to you immediately after purchase. If you want the printed copy, but are worried that it won't arrive in time for you to prepare, email me and I will send you an electronic version to get you through until your printed copy arrives.
Refrigerator staples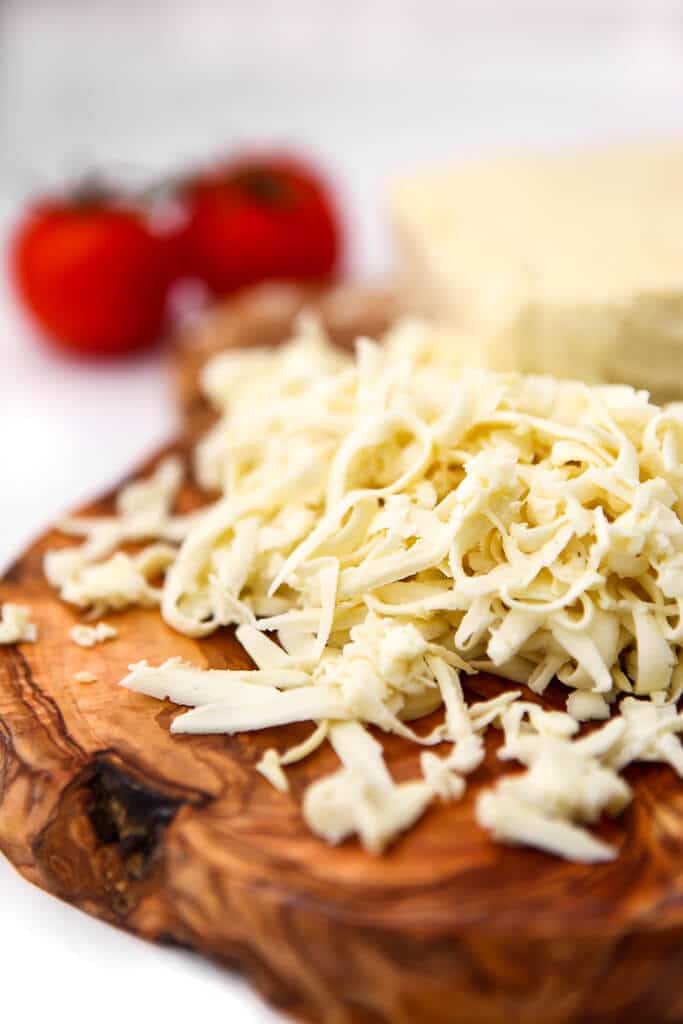 Key ingredients
Canned Coconut Milk - Full fat coconut milk or coconut cream that comes in cans can be used to make vegan cheese, cheese sauces like coconut alfredo, or even meals like my Coconut Curry Soup or Thai Coconut Rice.
Nutritional Yeast - Aka Nooch, is a yellow flaky powder that has a cheesy umami flavor.  You can use it to make vegan cheese, cheese sauces, or sprinkle it on popcorn.  You find it in most major grocery stores, health food stores, or you can easily order nutritional yeast.  Note: It is not the same as regular yeast or brewers yeast.  It must say nutritional yeast.
Tapioca Starch - This is a flour made from tapioca that is usually sold in most grocery stores near gluten-free flour.  It gives my vegan cheeses and sauces a stretchy melty consistency.
Agar-Agar Powder - This is powdered vegan gelatin made from seaweed.  This will firm up your cheese and make it set.  (Powder works better than agar agar flakes.)
Refined Coconut Oil - As a base to make my Vegan Butter.
Shelf Stable Soy Milk - This is the soymilk that they sell on the shelves of your grocery stores, not the type that is sold in the refrigerated section.  You can use this to make nearly everything that you would make with milk.  You can also use it to make Vegan Ranch Dressing, Vegan Ceasar Dressing, Vegan Mayonnaise, and Vegan Butter.
Lemon Juice - you can use bottles of shelf-stable lemon juice.
Probiotic - to make your own soy yogurt.
Meat substitutes
Chickpea Omelets - a high protein egg-like omelet made from chickpea flour.
Vegan Meatballs - made from TVP, oats, spices, and flax meal.
Sausage Links - made from TVP, spices, oats, and flax meal.
Vegan Taco Meat - made from TVP and taco seasoning.
Vegan Fried "Chicken"- made from Butler Soy Curls and chicken-flavored vegan broth. You can toss this in pasta dishes
Vegan Buffalo Chicken - made with Butler Soy Curls, chicken-flavored vegan broth, and vegan buffalo sauce.
Soy Chorizo - made from TVP and spices.
Vegan Pulled Pork -made with Butler Soy Curls, flavored vegan broth, and barbeque sauce.
Ingredients for meaty vegan recipes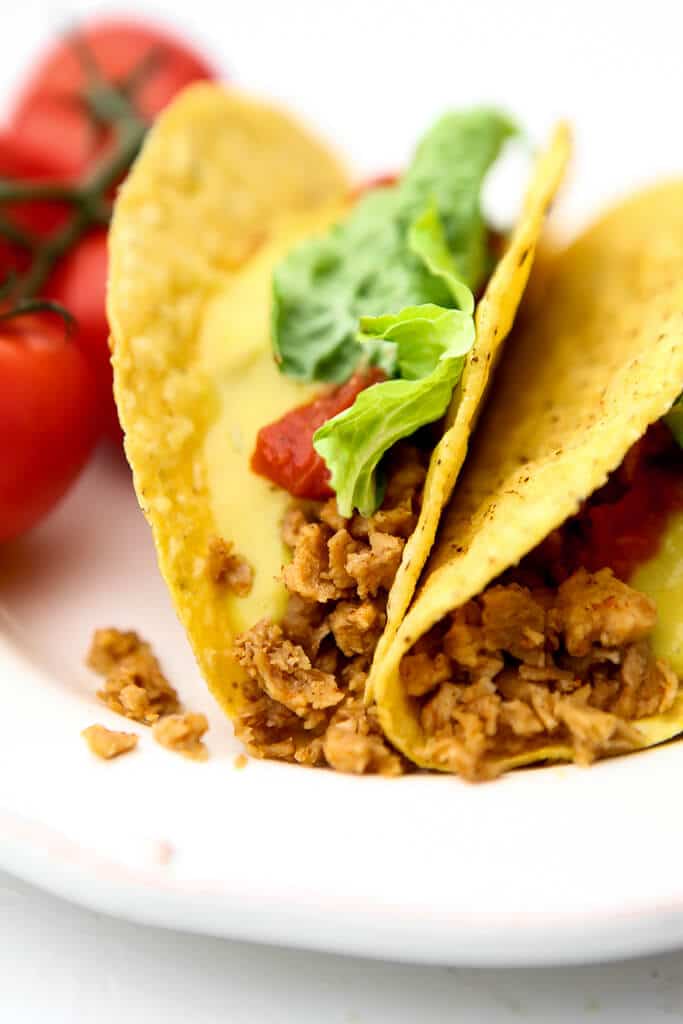 More ingredients to stock up on
Pasta/ Rice Noodles - a few different shapes and sizes for noodle dishes and soups.
Rice - white, brown, and arborio for rice dishes, adding to soups and adding to bean salads, and making risotto.
Beans - to add to rice, make bean salads, use in tacos or burritos, or add to soup.
Lentils - for lentil soups and lentil loaf
Bullion or Vegetable Broth - to make soups, flavor your rice, or rehydrate vegan meat substitutes.
Frozen Veggies - to add to rice, pasta dishes, and soups.
Tofu - to add protein to meals. It keeps for a long time in the fridge and keeps for 3 months in the freezer.
Flour - to make cookies, muffins, cakes, or other baked goods. (Gluten-free if necessary)
Oats- to make homemade oat milk (recipe in my cookbook) or grind into your own all-purpose gluten-free flour mix.
Flax Seed - to use as an egg replacer in baking.
Nuts - to snack on or make into cashew cheese spread or vegan pate.
Canned or frozen foods
I started thinking about what recipes I can make with foods that I have in the pantry or freezer. There are a lot of recipes that you can swap out some canned or frozen veggies and make a delicious complete meal.
These are some basic meals that I know I will be able to make with canned and frozen foods:
I'm happy to know that my family can easily have a variety of vegan foods on hand if stores close or become low on staple items. With just a little preparation and the right recipes, you can too.
I hope this gives you some ideas of what to buy and what you can make with these pantry items.  Stay safe and healthy!
📌 Be sure to follow me on Pinterest for new vegan recipes!