This easy vegan chickpea salad with garlic vinaigrette dressing is gluten free, dairy free, and soy free – yet bursting with flavor.  It is a fresh, crisp, and satisfying protein packed meal.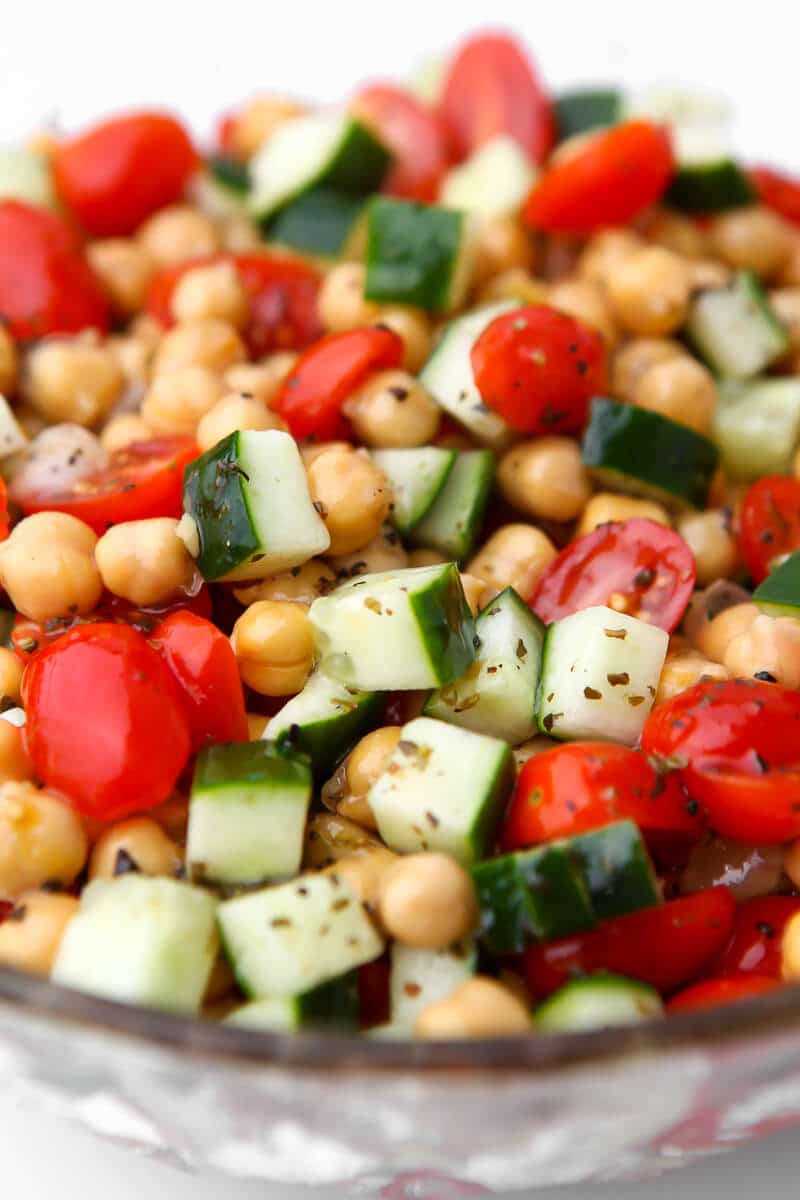 Can I make this ahead of time?
Yes! I actually think that it tastes better after it has been sitting for a day or 2 in the fridge. The cucumber turns to a pickle flavor after it marinates in the garlic vinaigrette for a while, so if you like the taste of fresh refridgerator pickles, you will love this salad.
 Great for pot lucks and meal prep!
This vegan chickpea salad is also a great quick and easy pot luck dish.  I can be whipped up in less than 10 minutes for a last-minute side dish or made a day or two ahead of time.  You could add or subtract any veggies that you like, however, cucumber has a nice flavor in this salad, and it just doesn't taste right to me without it. 
It's gluten free, soy free and there are no strange vegan ingredients in this, so it's great for people variety of dietary needs.
Will this chickpea salad work well in lunches?
Yes! I love having this made up in the fridge for a healthy snack or to put into thermoses for my kid's lunches.  It also makes a great side dish with dinner.  My boys love chickpeas and they will eat them in just about any form, but marinated in this garlic dressing is my favorite way to eat them!
Where do you find vegan garlic vinaigrette dressing?
For the Garlic Vinaigrette, I use Aldi's Specially Selected brand dressing for a quick easy salad that can be made in minutes.  (I have no affiliation with Aldi or Specially Selected brand- this is just what I use).  You could use any vinaigrette that you like.  I think the sweeter ones work the best in this recipe.  If you use one with no sugar, you may want to sprinkle a tiny bit of sugar in with the salad to subdue the vinegar flavor for the kids.
Want another great chickpea salad recipe?
Try this vegan citrus salad with chickpeas and veggie confetti!
Don't forget to save all of that liquid that you drain off of the chickpeas!
That liquid is called aquafaba, and it can make some amazing desserts! Just look what you can make!
Vegan chocolate mousse made with aquafaba!
Don't forget to pin this easy vegan chickpea salad recipe for later!
VEGAN CHICKPEA SALAD
An easy chickpea salad made with tomatoes, cucumbers and garlic vinaigrette dressing. Make ahead and keep ready to eat in the fridge!
Cuisine:
gluten free, vegan
Keyword:
chickpea salad, vegan chickpea salad
Ingredients
2

cans of chickpeas rinsed and drained

2

cups

cucumber

diced

1

cup

of cherry tomatoes cut in half

½

cup

garlic vinaigrette dressing

1/8

tsp

salt
Instructions
Drain and rinse chickpeas. (keep aquafaba for other recipes).

Cut cucumber into small cubes and cut cherry tomatoes in half.

Put chickpeas, cucumber, and tomatoes into a mixing bowl, drizzle with dressing, sprinkle with salt and mix.

Refrigerate until ready to eat. Keeps well for up to 3 days.
Recipe Notes
This salad is perfect for potlucks, picnics, and lunches.
It tastes better after it has had a least a few hours to marinate in the fridge. 
Nutrition Facts
VEGAN CHICKPEA SALAD
Amount Per Serving (1 cup)
Calories 104
Calories from Fat 90
% Daily Value*
Total Fat 10g 15%
Sodium 52mg 2%
Potassium 114mg 3%
Total Carbohydrates 2g 1%
* Percent Daily Values are based on a 2000 calorie diet.