This easy vegan chickpea salad with garlic vinaigrette dressing is gluten-free, dairy-free, and soy-free - yet bursting with flavor. It is a fresh, crisp, and satisfying protein-packed meal perfect for picnics, potlucks, or meal prep! Whip it up in minutes with just a few simple ingredients!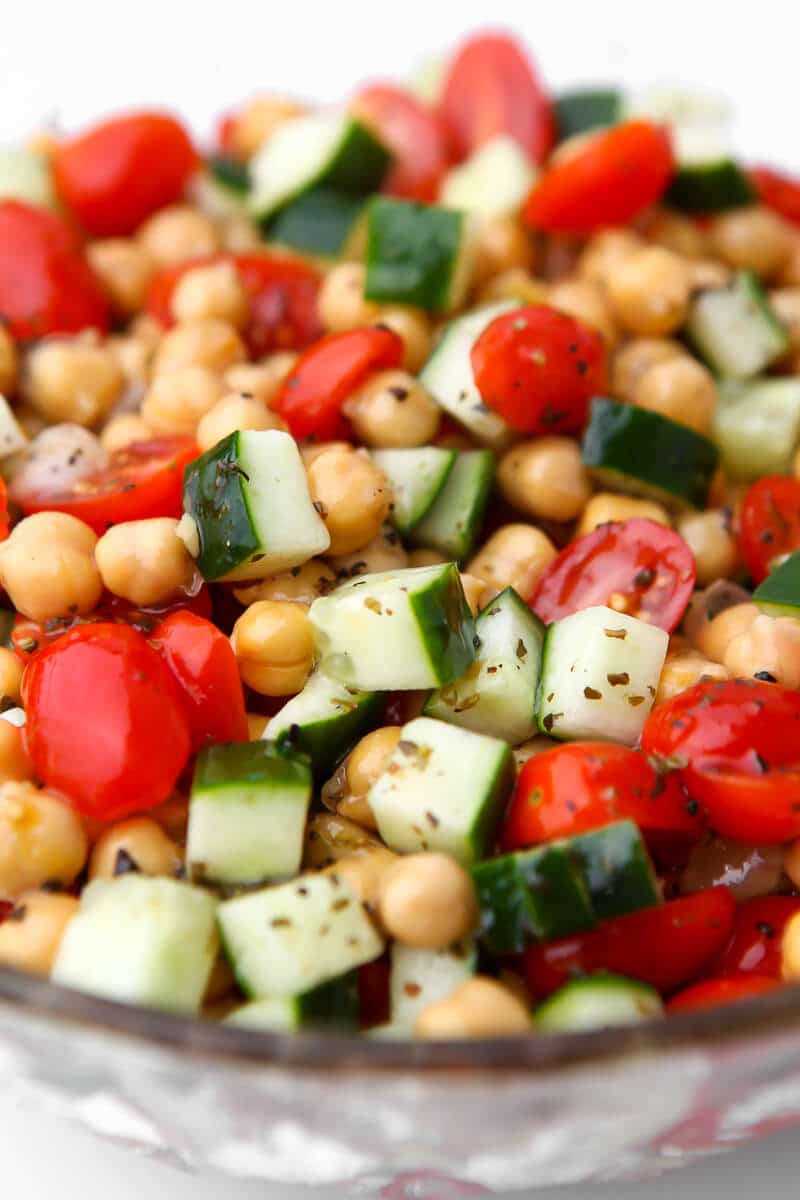 ❤️ Why you'll love this recipe
It's

easy to make in just a few minutes!

This salad is

perfect for meal-prepping lunches.

It's

a crowd-pleaser at every picnic or potluck.

This recipe is

vegan, gluten-free, soy-free, and allergy-friendly so everyone can enjoy it!
🧾 Ingredients and substitutions
Chickpeas - these can be from a can or made fresh.  You will need 1 full can or about 1 1/4 cups of cooked drained and rinsed chickpeas.
Cucumbers - you can use any type that you like, but I usually use seedless English cucumbers.
Cherry Tomatoes - or grape tomatoes work the best, but you could also dice up a whole fresh tomato.  Try to make sure it's a vine-ripened tomato for the best flavor.
Garlic Vinaigrette Dressing - you can easily make your own if you want (I give you a recipe in the recipe card).  If you don't want that extra step, you can buy any fairly sweet vinaigrette.  I like the garlic vinaigrette dressing from Aldi since it's inexpensive and easy.  (If you don't like garlic, the house vinaigrette by the same brand is very similar). 
Optional Add-Ins - You can also add any other veggies that you want to this salad. Red onion, chopped celery, and red bell pepper are all good choices. You can also toss in some fresh herbs like parsley or cilantro for more flavor.
🥗 Homemade dressing
White Vinegar - for acidity.
Sugar -for sweetness to cut the acidity. You can also use maple syrup or any sweetener that you want.
Oregano - for flavor
Salt -for flavor.
Pepper -for flavor. Fresh ground works best.
Garlic Cloves - for flavor.
Oil - any neutral-flavored oil will work.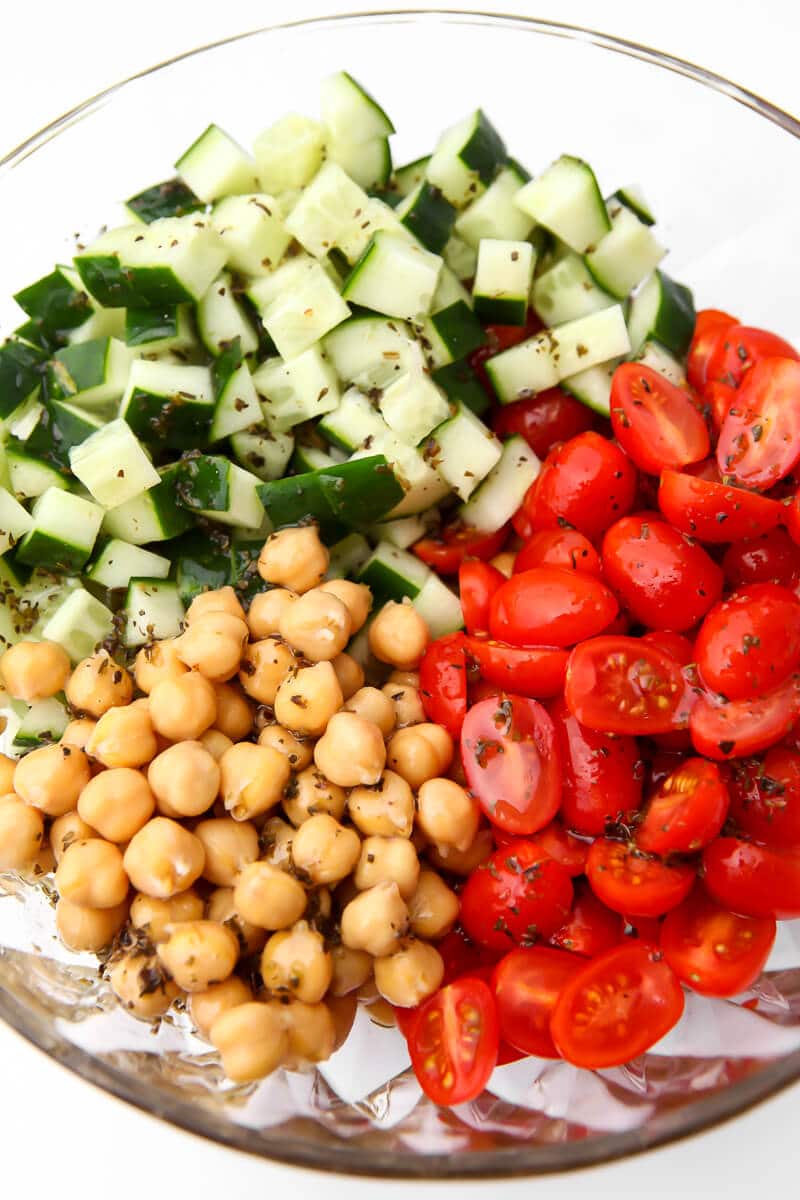 🥄 Instructions
Dice a large cucumber and toss it into a salad bowl.

Cut the cherry tomatoes in half and throw them in the bowl with the cucumber.

Drain and rinse the chickpeas and add them to the salad bowl.

Pour the garlic vinaigrette dressing over the chickpeas, cucumbers, and tomatoes, and toss well.

Store in the refrigerator until you are ready to serve. (It will have more flavor if you let it sit for a few hours).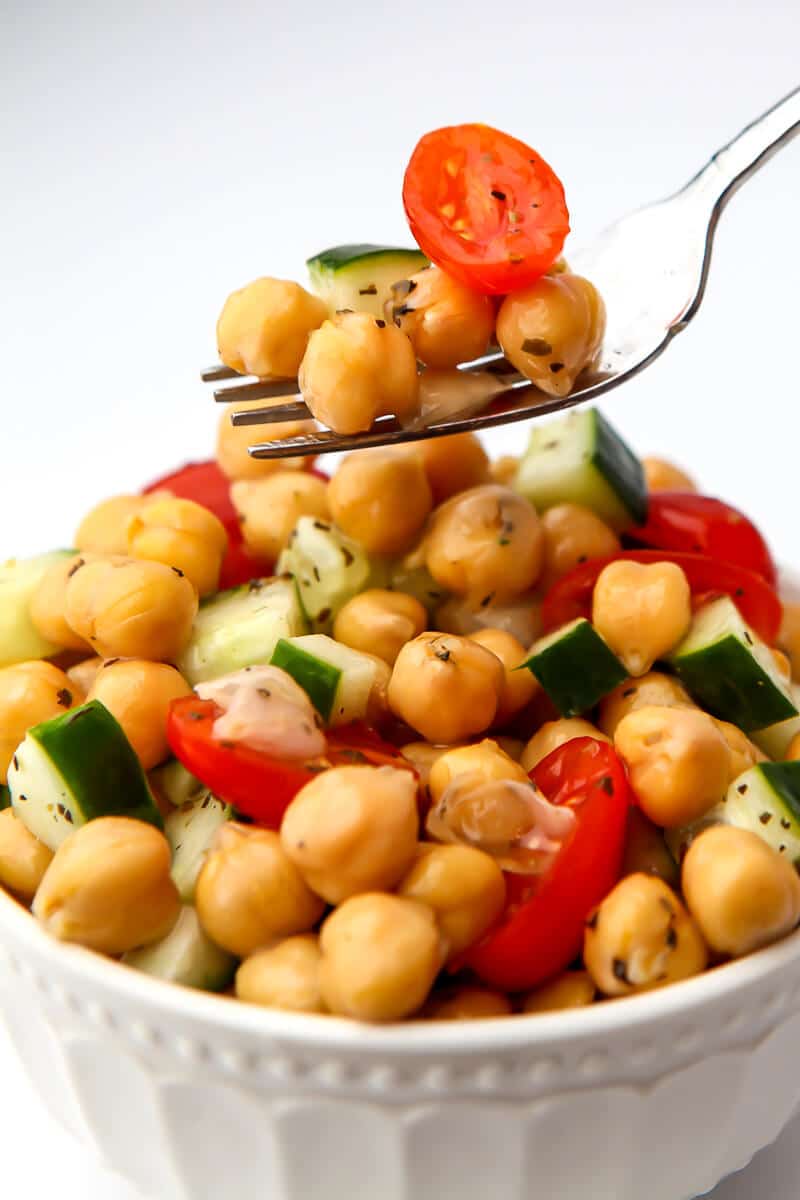 🍴
Make this ahead of time
I actually think that this salad tastes better after it has been sitting for a day or 2 in the fridge. The cucumber turns to a pickle flavor after it marinates in the garlic vinaigrette for a while, so if you like the taste of fresh refrigerator pickles, you will love this salad.
🍽️
Pot lucks and meal prep
This vegan chickpea salad is also a great quick and easy potluck dish. I can be whipped up in less than 10 minutes for a last-minute side dish or made a day or two ahead of time. You could add or subtract any veggies that you like, however, cucumber has a nice flavor in this salad, and it just doesn't taste right to me without it.
It's gluten-free and soy-free, plus there are no strange vegan ingredients in this, so it's great for people's variety of dietary needs.
🎒
Take this for lunch
I love having this made up in the fridge for a healthy snack or an easy lunch. I make up a double batch of this salad every week to have on hand for healthy snacks, and I put some of it in sealed containers for grab-and-go lunches for my husband too.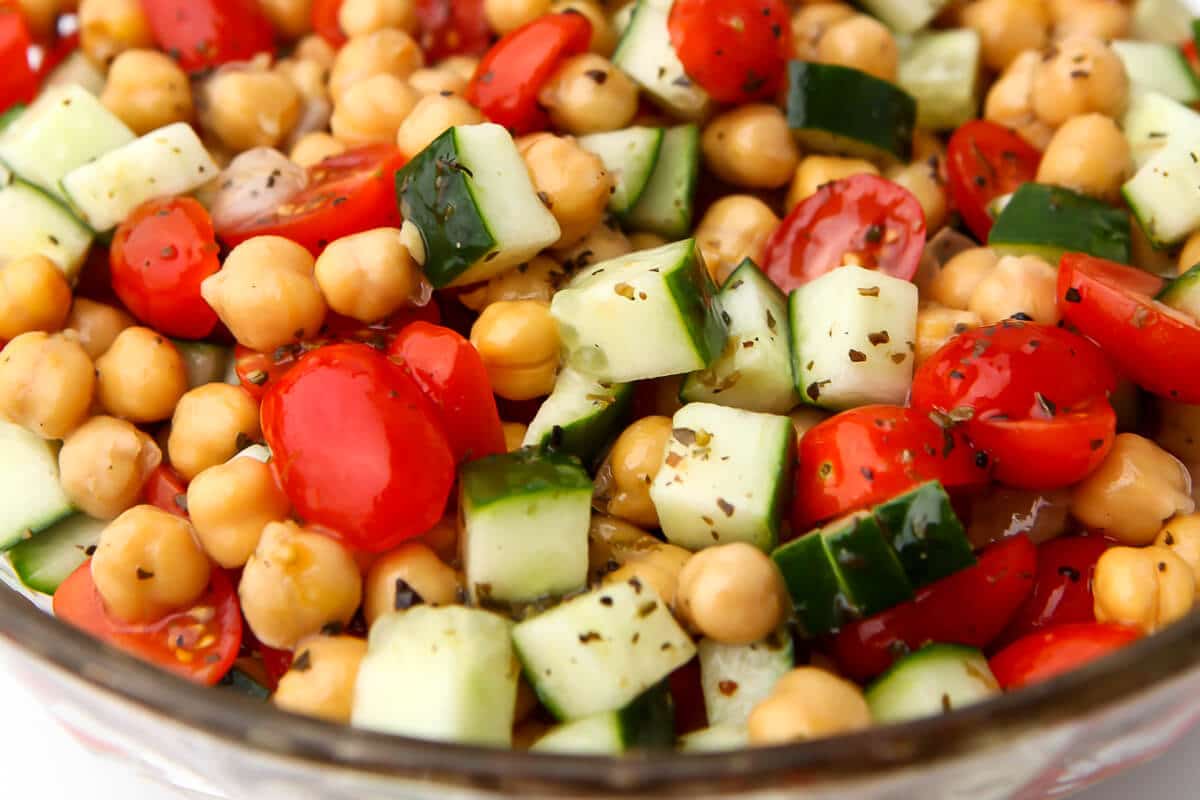 🥫 Uses for aquafaba
The liquid that you drain off a can of chickpeas is called aquafaba, and it can make some amazing desserts! Just look at what you can make!
📌 Be sure to follow me on Pinterest for new vegan recipes!
📋 Vegan chickpea salad recipe
Print Recipe
Vegan Chickpea Salad
An easy chickpea salad made with tomatoes, cucumbers, and garlic vinaigrette dressing. Make ahead and keep ready to eat in the fridge!
Ingredients
3

cups

chickpeas

(two 15.5 oz cans drained and rinsed)

2

cups

cucumbers

(diced)

1

cup

cherry tomatoes

cut in half

½

cup

garlic vinaigrette dressing

1/8

teaspoon

salt
Homemade Garlic Vinaigrette Dressing
1/2

cup

water

1/4

cup

vinegar

2

tablespoon

sugar

or maple syrup

1/2

teaspoon

salt

1/4

teaspoon

black pepper

1 1/2

teaspoon

oregano

or Italian seasoning

2

cloves

garlic

peeled and crushed slightly

1/3

cup

oil

light olive oil or canola work well
Instructions
Drain and rinse chickpeas (keep aquafaba for other recipes).

Cut the cucumber into small cubes and cut cherry tomatoes in half.

Put chickpeas, cucumber, and tomatoes into a mixing bowl, drizzle with dressing, sprinkle with salt, and mix.

Refrigerate until ready to eat. Keeps well for up to 3 days.
To Make Homemade Garlic Vinaigrette
Add the water, vinegar, sugar, salt, pepper, oregano, and garlic cloves to a saucepan and heat until it boils for 1 minute and all of the sugar is dissolved.

Add the oil and give it a good stir. (The oil and sugar will stay separated.)

Allow it to cool before putting it over your salad. Keep it in the refrigerator for up to 1 week.
Notes
This salad is perfect for potlucks, picnics, healthy meal prep, and lunches.
It tastes better after it has had a least a few hours to marinate in the fridge. 
Nutrition
Serving:
1
cup
|
Calories:
276
kcal
|
Carbohydrates:
22
g
|
Protein:
6
g
|
Fat:
19
g
|
Saturated Fat:
2
g
|
Polyunsaturated Fat:
7
g
|
Monounsaturated Fat:
9
g
|
Trans Fat:
1
g
|
Sodium:
190
mg
|
Potassium:
275
mg
|
Fiber:
5
g
|
Sugar:
7
g
|
Vitamin A:
138
IU
|
Vitamin C:
6
mg
|
Calcium:
46
mg
|
Iron:
2
mg
⭐⭐⭐⭐⭐ Click the stars above or leave a comment! I'd love to hear from you!
*This recipe was originally published on March 11, 2017. It was updated on May 22, 2020, to include new images and more detailed recipe instructions.