Gluten-free and vegan tostadas make the perfect snack or quick meal! There are so many ways to make tostadas, you are sure to find the perfect creation to fit your taste. Tostadas can probably be made in about 100 different ways, from traditional taco style to tostada pizza, but I'll show 5 of my family's favorites, to give you some ideas.
So, what is a Tostada?
If you have never heard of them before, they are just flat hard taco shells. It's essentially a taco and a big nacho chip combined.

Why use a tostada shell instead of a taco shell?
They are great because they don't fall apart when you bite them as much as a hard-shell taco, and they are easier for the kids to eat. Best of all, you can fit a lot more on top of them!  This means that you are eating a lot more healthy topping and less of the unhealthy taco shell. And… they are gluten free and vegan!
Where can I buy tostada shells?
You can find them in most grocery stores near the taco shells, I get a big bag of them from Aldi for about $2.00.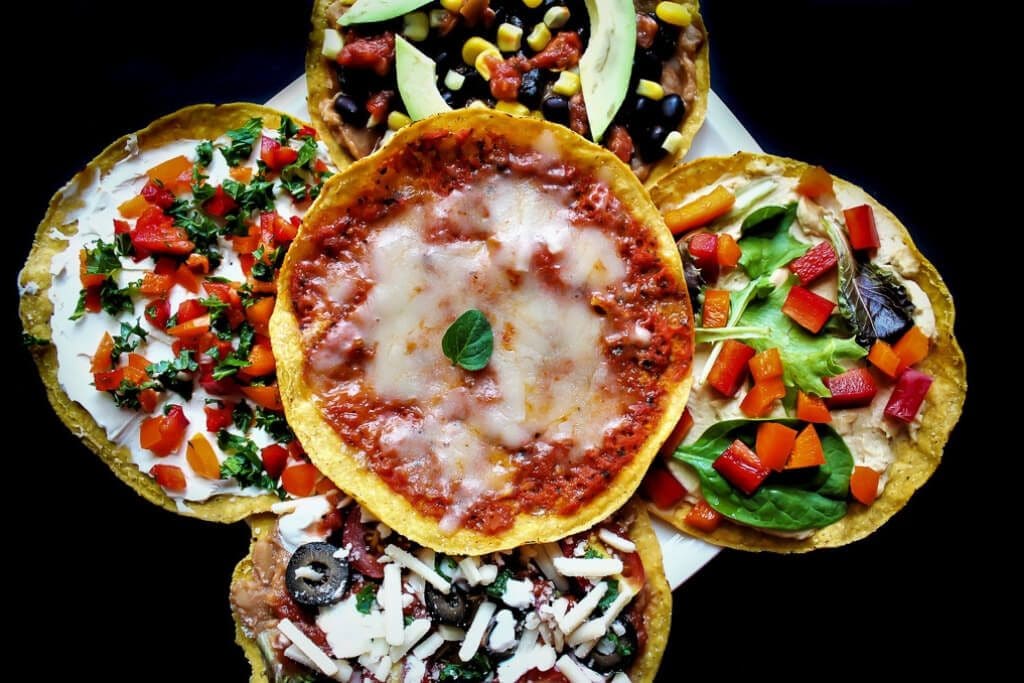 How do I make these vegan tostada snacks?
To make gluten-free tostadas, start with a layer of anything you want to use for a base.  Dips or spreads work great for this.  You want anything that toppings will stick to, like refried beans, hummus cream cheese, guacamole or any type of dip.
Then add small pieces or veggies or any other topping that sound good like cheese, olives, salsa, or sour cream.
Set up a topping bar and let your family build their own so that everyone is happy.
*This meal also works great when you have some non-vegans in the house because everyone can build their own and customize it to their own taste.
What are some ways that I can make vegan tostadas more interesting?
Here are 5 ways that my family likes tostadas...
Taco – This is pretty much just like you would make a re-fried bean taco, but flattened.  You can also top it with cheese and throw it in the microwave or toaster oven for a killer nacho supreme!

Vegan Cream Cheese and Fresh Veggie Pizza – This is like the appetizers that you see with cream cheese on a pizza crust and sprinkled with fresh finely chopped veggies.  Just put a layer of vegan cream cheese on the tostada, then sprinkle with your favorite chopped up veggies and some salt.  So simple, but surprisingly delicious!  (Broccoli is also delicious on this tostado!  Simply put all of the veggies you like in a food processor and pulse for a few times to chop and spoon them on top of the cream cheese pizza).
Cheese  Pizza – This is my kids favorite! Just use it as a pizza shell! Place a layer of pizza sauce on it and a layer of vegan cheese and pop it in the microwave for 30 seconds and you have gluten-free vegan tostada pizza! (A toaster oven also works great to make these).  I know that this may look a little boring, but my kids can't get enough!
Hummus and Veggies – Yup, the title pretty much sums it up. Just put down a layer of your favorite hummus and top it with your favorite veggies like bell peppers or cherry tomatoes. There are so many types of hummus, you could have it every day for a week and never eat your tostada the same way twice!

Southwest Style- Similar to the taco with a refried bean base, but with some more classic southwest flavors like black bean, corn, and avocado.
Make your own sour cream in less than 5 minutes!  Click here to see how easy it is!
The possibilities for these vegan tostadas are endless!
My husband likes to put another one on top and eat it like a sandwich. My youngest son likes to break them up and make mix it with all the toppings including lettuce and make "taco salad." You can also stick them in the oven and make them like a giant nacho supreme chip.
Have fun! Comment below and let me know what creations you have made or tag me on Instagram or Facebook! I would love to see your inventions!
Want daily inspiration?  Follow me on Instagram for fresh ideas and links to my recipes! 
Print Recipe
Vegan Tostadas
Vegan tostadas topped 5 ways!  Makes a great snack or quick vegan gluten-free meal!  A kid-favorite!
Ingredients
1

package

tostado shells

1

cup

Any type of dip or spread like refried bean

hummus, or vegan cream cheese

1

cup

fresh veggies

chopped small

1/2

cup

Beans

refried or whole

1/2

cup

Vegan cheese or sour cream

optional

1/2

cup

Any type of sauce- like salsa

hot sauce, guacamole.
Instructions
Put a layer of your favorite dip or spread onto the tostada. Like hummus, refried beans, pizza sauce or cream cheese. (This helps the topping stick).

Sprinkle on your choice of fresh veggies, vegan cheese, and toppings.

Put in the microwave for 30 seconds or in the toaster oven for about 3-5 minutes. (optional)
Notes
Set up a topping bar and let your family make their own.
Fun for a casual dinner or a kid's party.
Nutrition
Serving:
1
tostada
|
Calories:
78
kcal
|
Carbohydrates:
10
g
|
Protein:
1
g
|
Fat:
3
g
|
Saturated Fat:
1
g
|
Sodium:
108
mg
|
Potassium:
39
mg
|
Calcium:
13
mg
|
Iron:
0.3
mg