Tempeh bacon is a delicious vegan bacon alternative! Packed with protein and soaked in a salty smoky marinade for a true bacon flavor! You can eat it for breakfast, put it in a vegan BLT, a veggie burger, or crumble it on a salad! Most recipes that call for bacon can be swapped with this healthy, plant-based, tempeh bacon!
Jump to:
❤️ Why you'll love this recipe
It's

quick and easy to make.

This is

a satisfying vegan bacon alternative.

This recipe

contains healthy probiotics.

It's

easily made gluten-free.

Tempeh bacon is

simply delicious! 
❔

What is tempeh?
Tempeh is a soybean product originating in Indonesia hundreds of years ago.  The soybeans are fermented with a mold called rhizopus and then pressed into a dense, high protein block. It's similar to tofu in that it is made from soybeans, but it's less processed.  Tempeh has more protein and fiber than tofu plus beneficial probiotics. You can read more information and the health benefits of tempeh here.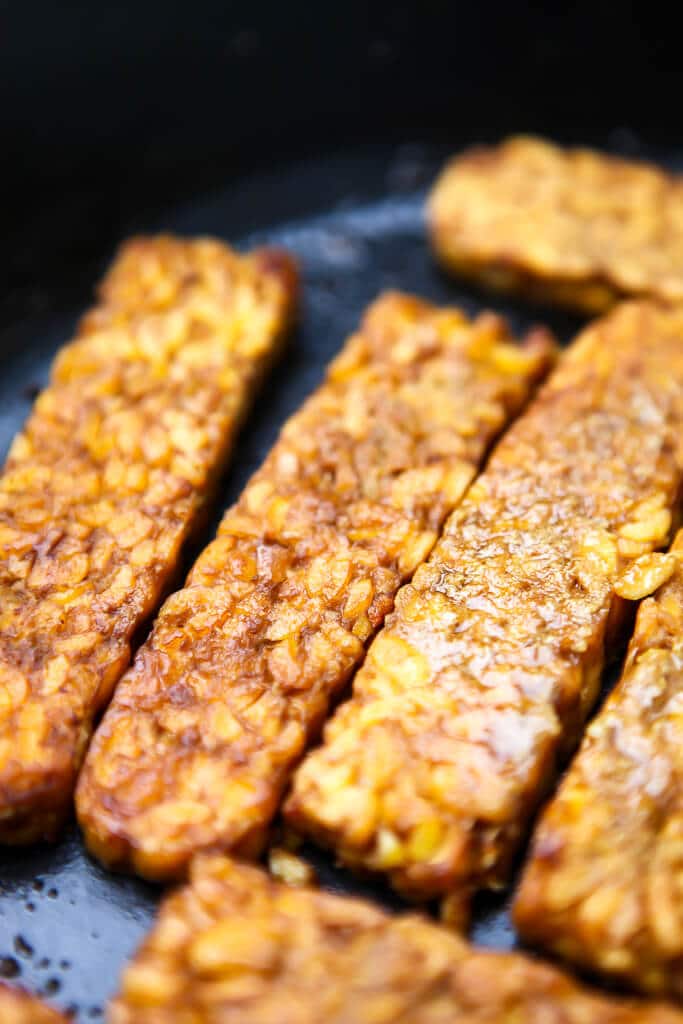 🧾 Ingredients

and substitutions

 
Tempeh - you can use any type of tempeh that you would like. (You can also use thinly sliced tofu or even rice paper instead of the tempeh to make different types of vegan bacon).
The Marinade:
Soy Sauce - any type of soy sauce, tamari, or Bragg's Liquid Amino will work. (I prefer the taste of Bragg's Liquid Aminos - and it's GF)
Liquid Smoke - to give it a smoky bacon taste. Be sure to use the hickory flavored liquid smoke! This is an important ingredient to give it an authentic bacon flavor. (You can find it near the marinades and dressings in most grocery stores).
Nutritional Yeast - for an added umami flavor. (optional)
Oil - for marinating and frying. Any neutral-flavored oil like canola, refined coconut, or light olive oil will work.
Maple Syrup - or any other sweetener of choice for a touch of sweetness. (optional).
✨ Types of tempeh 
There are many different varieties of tempeh like flax, whole grain, and veggie.  I prefer the plain variety because it tends to hold up better when slicing, marinating, and cooking, but any variety will work.  If you are gluten-free, be sure to make sure to select gluten-free tempeh, many varieties contain grains with gluten. If you are interested in making your own tempeh from scratch or just want to see a video of it being made, this is an excellent tutorial.
🥄 Instructions
Cut tempeh into slices about 1/4 inch thick.

Mix soy sauce, liquid smoke, oil, nutritional yeast, and sweetener (if desired) in a flat-bottomed dish and add the raw sliced tempeh.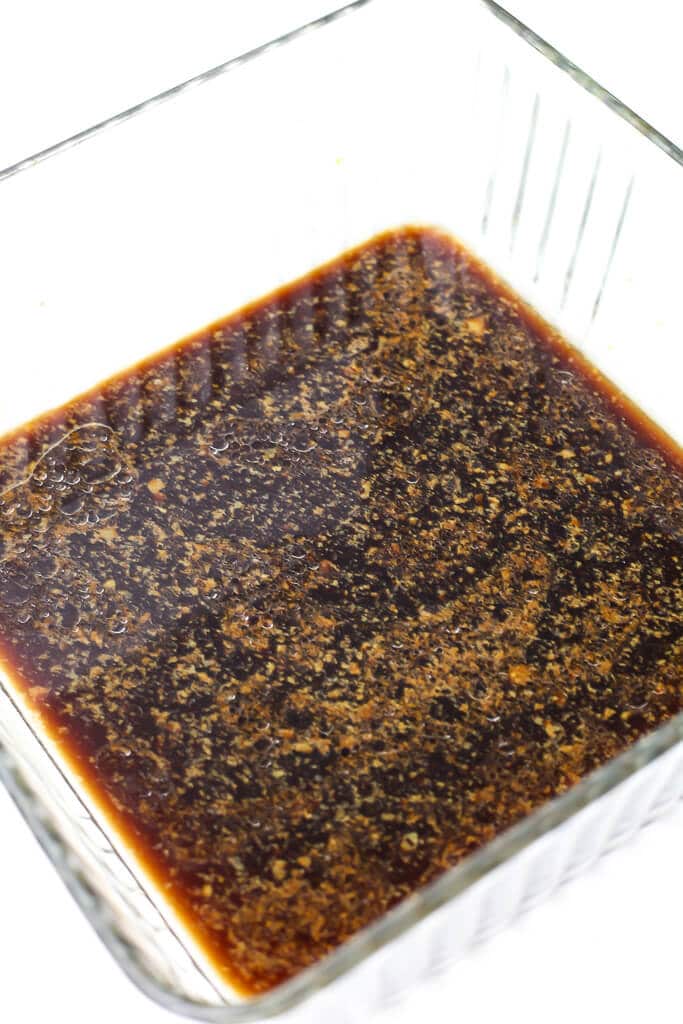 Let sit for at least 5 minutes flipping the slices after a few minutes to coat well in the marinaded (or marinate covered in the fridge for up to 5 days until ready to cook).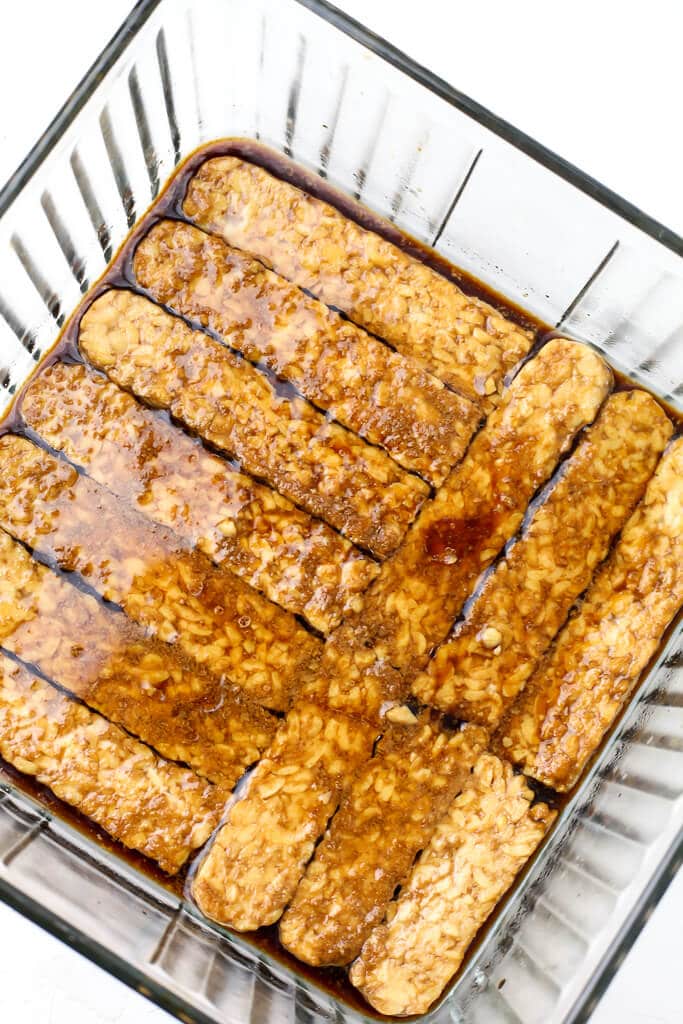 When you are ready to eat, fry the strips in a small amount of oil (I love my

iron skillet

for frying!  Nothing ever sticks to it and I don't have to worry about the chemicals in non-stick cookware).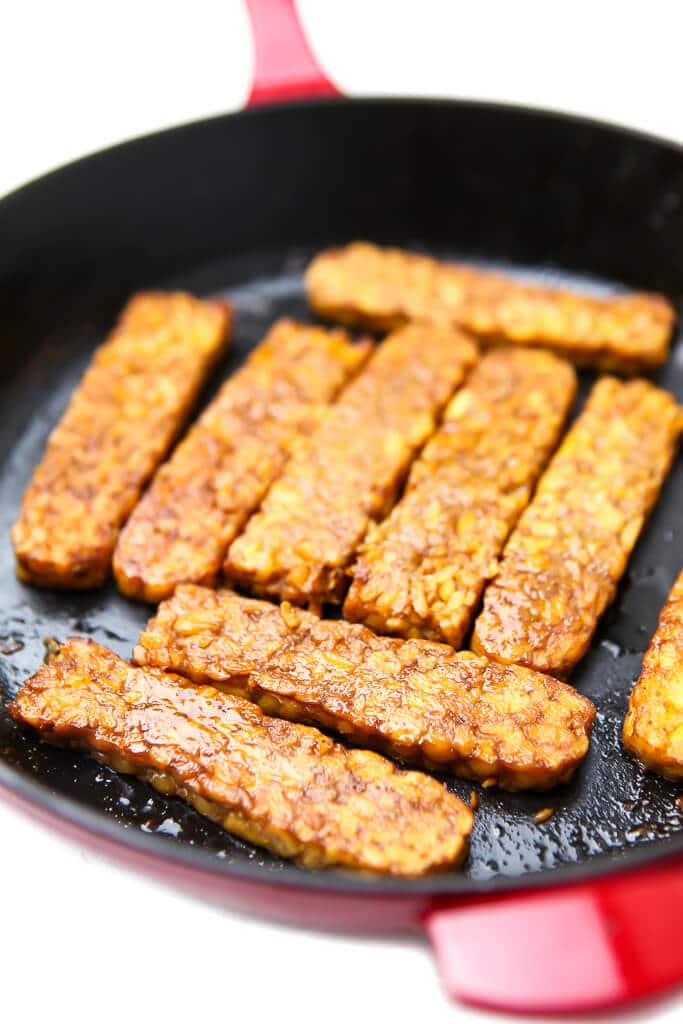 👩🏻‍🍳 Pro tips
Don't skim on the oil if you want crispy bacon.

Allow the tempeh to sit in the marinade for at least 5 -10 minutes before cooking. The longer it marinates the more flavorful it will be.
If you're organized, make the marinade up the night before, and let the tempeh sit in it overnight This way the flavors will soak deep into the tempeh. If you don't do this, no worries. You can let it just soak up the marinade for at least 5 minutes, it will still have a great bacony flavor.
🌟 How to make tempeh crispy
If you want crispy vegan bacon, you have to use oil in the cooking process to crisp up the edges. If you don't use oil, your bacon will be more dry than crispy.
🥘

Alternative cooking methods 
If you want to use less oil or if you want to double the batch and make a lot, baking the tempeh is a great option. Simply place the marinated tofu on an oiled baking sheet and bake at 375° F for 25 minutes, flipping after 15 minutes. If you want to make it oil-free, you can line the baking sheet with parchment paper and omit the oil.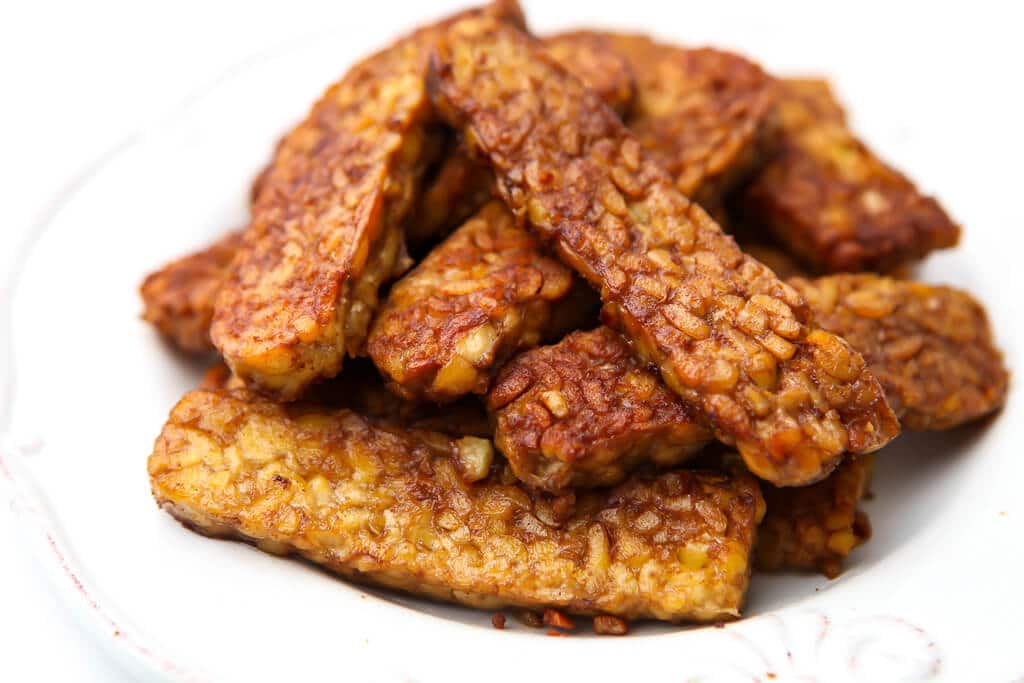 💰 Save money
The store-bought tempeh bacon is delicious, but a little pricey, so it was something that I only bought occasionally. It is usually about a dollar more for the bacon-flavored tempeh than the plain unflavored one, so with a few simple ingredients and about 5 minutes of your time, you can save $1.00 every time by making your own.
❔

What does tempeh bacon taste like?
Tempeh bacon has a salty, smokey, umami flavor that will remind you of real bacon.  However, it's not as thin and crispy as real bacon.  It's a great substitution for bacon, but it won't fool anyone into thinking it's the real thing.  If you want something that has a more similar taste and texture to real bacon, check out my vegan bacon recipe that is a combo between rice paper bacon and tofu bacon.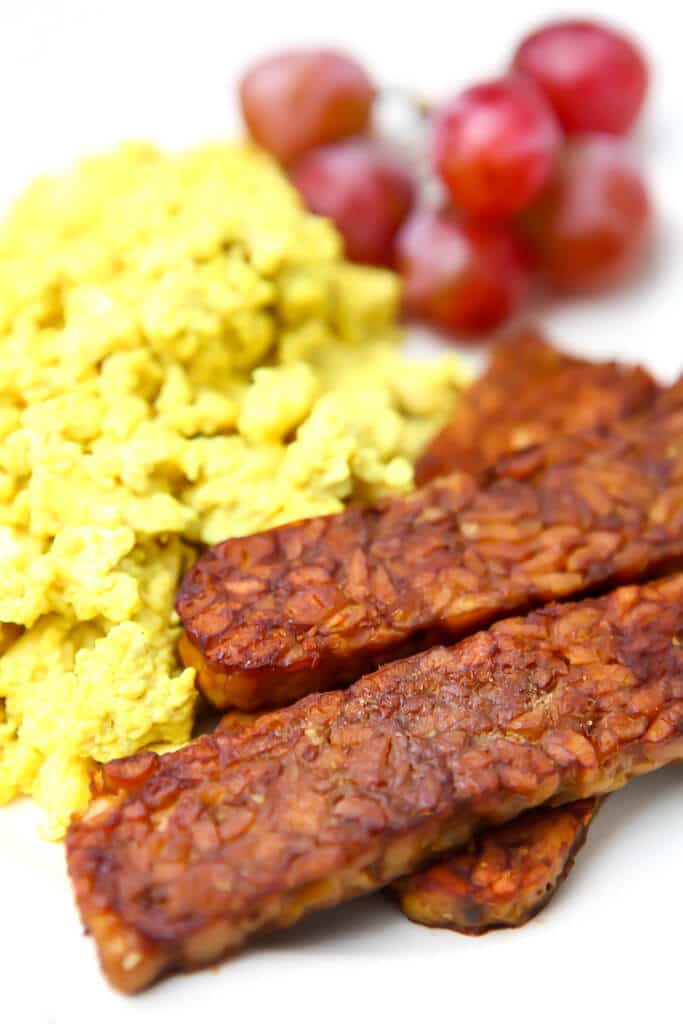 🍞 Make this gluten-free
The tempeh bacon that you can buy in the store is not gluten-free. You will have to make it yourself to get gluten-free tempeh bacon.
If you need this recipe to be gluten-free:
Make sure to use plain tempeh, some multi-grain versions contain gluten ingredients.

Also, be sure to use Bragg's Liquid Aminos or gluten-free soy sauce like Tamari in the marinade. (Regular soy sauce is not gluten-free).
🥓

Tempeh bacon bits
If you want to use these as bacon bits, simply crumble up the tempeh before putting it into the marinade.  Coat it in the marinade allowing it to soak up for a few minutes, then bake or fry it as you would the longer strips.  (They will only need to cook for about 1/2 the time though).  If you want traditional bacon bits, you can use my recipe for vegan bacon bits made with TVP instead of tempeh.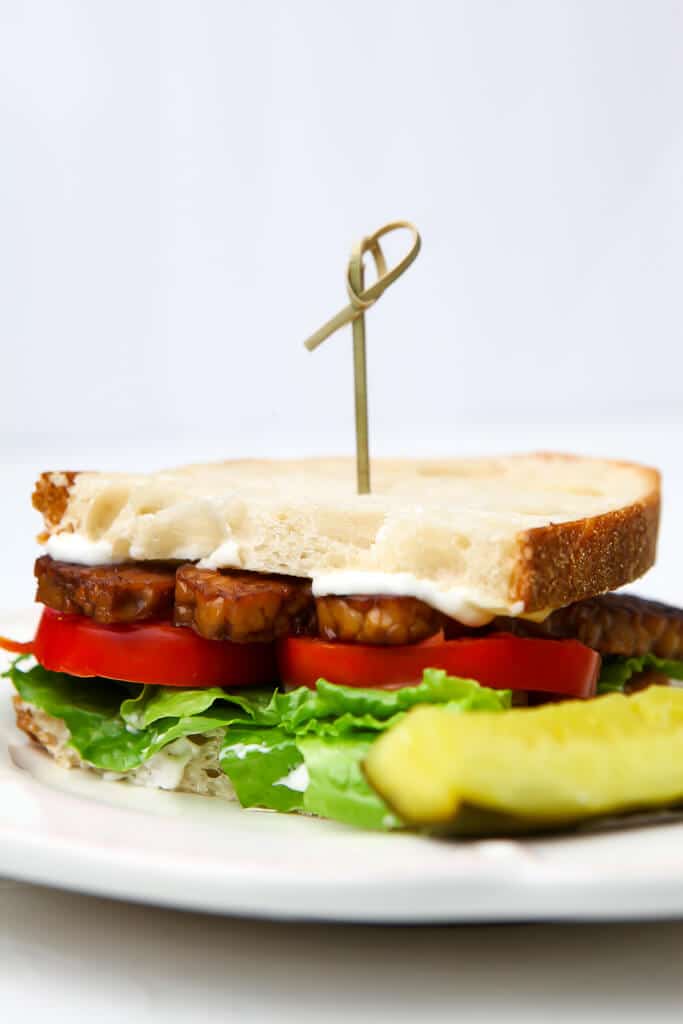 Serve for as you would bacon for breakfast or on a sandwich like a vegan BLT!  It's great as a side with a Pesto Tofu Scramble or my Vegan Scrambled Eggs!
🔪 More vegan mock meats
📌 Be sure to follow me on Pinterest for new vegan recipes!
Print Recipe
Tempeh Bacon - Vegan Bacon
Smokey vegan bacon made with tempeh.
Ingredients
Marinade:
3

tablespoons

Bragg's Liquid Aminos

tamari or soy sauce will also work

2

tablespoons

liquid smoke

(hickory flavored)

1

tablespoon

nutritional yeast

(optional)

1

tablespoon

neutral-flavored oil

optional - for a richer flavor

1

teaspoon

maple syrup

(optional)
Additional ingredients:
1

8 oz block

tempeh

1

tablespoon

neutral-flavored oil

for frying
Instructions
Mix 3 tbsp soy sauce of choice, 2 tbsp liquid smoke, 1 tbsp nutritional yeast, 1 tbsp oil, and 1 tsp maple syrup in a flat-bottomed container and stir with a fork.

Slice 8 oz of tempeh into ¼ inch thick slices and lay flat in the marinade.

Flip the slices over after a few minutes to coat both sides. Let them sit for at least 5 minutes to soak up the flavor or place back in the fridge to marinate until you are ready to cook.

Fry the marinated tempeh over medium heat in 1 tbsp of oil for about 3-4 minutes on each side until they darken and crisp up slightly.

Serve as you would bacon.
To Bake the Tempeh Bacon:
Heat oven to 375°F (190°C) and bake the tempeh on an oiled cookie sheet or on a parchment-lined cookie sheet. Bake for 15 minutes, flip and bake for 10 more minutes.
Notes
The tempeh bacon will still taste delicious even if you only have a short time to marinate it.
It fries up great in an iron skillet, but you can also use a nonstick pan.
To reduce the fat content, you may omit the oil from the marinade.
Nutrition
Serving:
4
slices
|
Calories:
164
kcal
|
Carbohydrates:
6
g
|
Protein:
12
g
|
Fat:
10
g
|
Saturated Fat:
1
g
|
Sodium:
861
mg
|
Potassium:
270
mg
|
Calcium:
63
mg
|
Iron:
1.6
mg
*Updated on 1/14/20 to include new images and more detailed instructions. Originally published Aug 30, 2017.
⭐⭐⭐⭐⭐ Click the stars above or leave a comment! I'd love to hear from you!