This creamy vegan coleslaw is a classic tasting coleslaw made with a few simple vegan ingredients.  It's gluten free, egg free and dairy free too, so everyone can enjoy this creamy comfort food.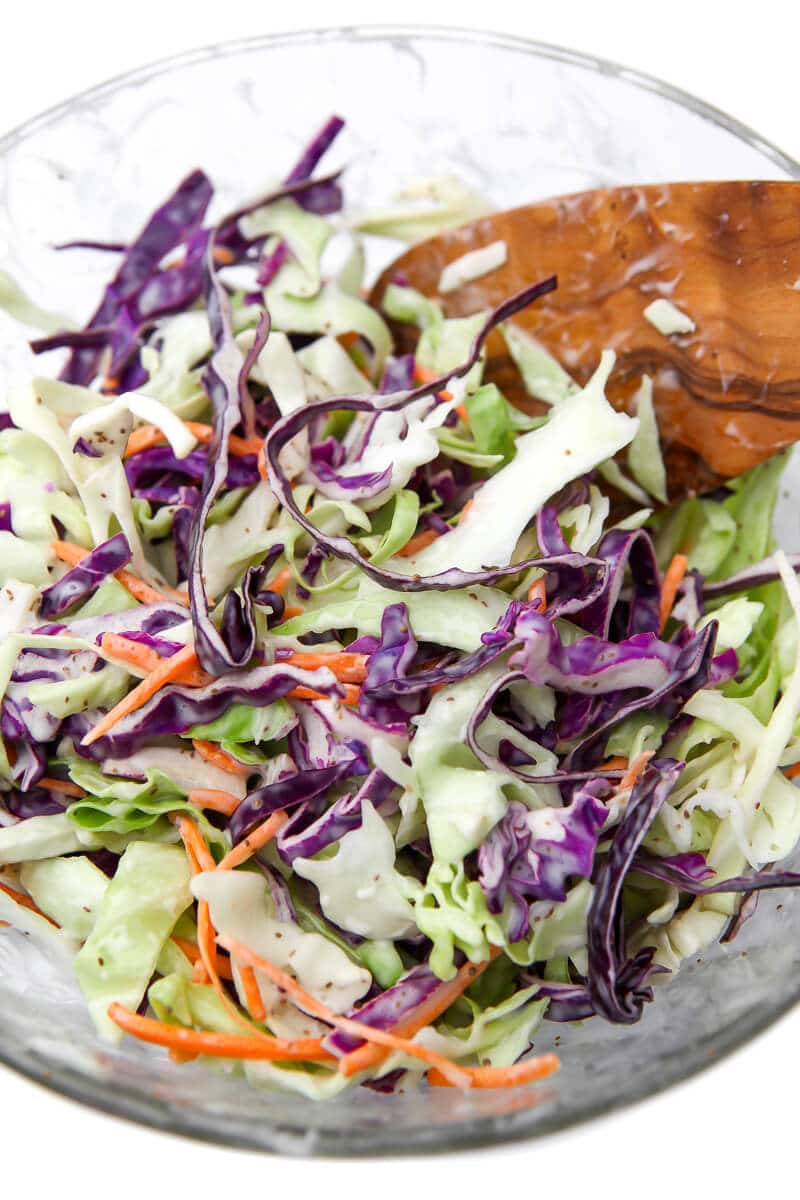 I must admit, I never even thought to make coleslaw until I started to make vegan pulled pork and needed a vegan coleslaw to top the sandwiches.  I always thought of it as a weird side dish that no one really ate, but my family couldn't get enough.
My husband devoured the whole thing and then said, "I used to love coleslaw as a kid and this is amazing!"  In the 18 years that I have been with him, he never once mentioned the word coleslaw, but it's nice to find an old favorite that I can create for him!
How do you flavor the vegan coleslaw?
I like to flavor my coleslaw with a little vegan sugar, vinegar, and celery seed.  You don't need to add the celery seed, but I love the flavor that it brings to the coleslaw.
How do you make coleslaw vegan?
There is not much that you have to do to veganize coleslaw other than to use vegan mayo instead of regular mayo.  For this, I like to use my homemade vegan mayo recipe.  You can use any vegan mayo that you choose, but I like the flavor of this one and I make it with olive oil to make it slightly better for you.  (But, let's admit mayo is not health food)!
To make the coleslaw:
Put the vegan mayo, sugar, salt, vinegar, and celery seed in the bottom of a mixing bowl and stir to make a creamy dressing.
Add a bag of shredded cabbage and mix well and you are done!
You can then serve it immediately or let it sit for about 1/2 hour in the fridge to absorb the flavors and get even creamer.
Don't forget to pin the vegan coleslaw recipe for later!
VEGAN COLESLAW
A classic creamy vegan coleslaw
Cuisine:
American, gluten free, vegan
Keyword:
classic vegan coleslaw, egg free coleslaw, vegan coleslaw
Ingredients
1/2

cup

vegan mayo

2

tbsp

white vinegar

1

tsp

celery seed

2

tsp

vegan sugar

or sweetener of choice

salt and pepper to taste

1

9 oz. bag

shredded cabbage

or about 3 cups of shredded cabbage
Instructions
Place all ingredients except for the shredded cabbage in a large mixing bowl and stir until creamy.

Add the shredded cabbage and mix well.

Serve immediately or let it sit in the fridge for about 1/2 hour to get creamier.
Recipe Notes
You can buy the bags of pre-shredded cabbage or you can shred your own.
You can use a mix of red and green cabbage and about 1/2 cup of shredded carrots to add color and make it a prettier salad.
Omit sugar to make it sugar-free.
Nutrition Facts
VEGAN COLESLAW
Amount Per Serving (0.75 cup)
Calories 191
Calories from Fat 162
% Daily Value*
Total Fat 18g 28%
Sodium 160mg 7%
Total Carbohydrates 4g 1%
* Percent Daily Values are based on a 2000 calorie diet.