This vegan pulled pork sandwich recipe is bathed in refined sugar-free barbecue sauce and topped with homemade vegan coleslaw!  It makes the perfect vegan sandwich for your next cookout!  Gluten free, dairy free, and bursting with flavor, everyone will enjoy this protein-packed sandwich!
I see tons of recipes out there for pulled jackfruit sandwiches and they are good, however, some people just don't like the texture or taste of jackfruit.  This pulled pork sandwich made with soy curls is packed with protein and is truly a filling and satisfying meal!
What are Soy Curls and where can I buy them?
Soy curls are a dehydrated soy protein made by Butler Foods.  When re-hydrated, they soak up the flavor of the broth and transform into a meaty texture.  I use them in soups like vegan chicken noodle or as chicken strips in easy vegan fajitas.  When you change the flavor of the broth, you change the flavor of the soy curl as well.  You can find them for sale at some natural foods store, on amazon, or even order them directly from the company.
How do I make soy curls taste like pulled pork?
You just need to re-hydrate them in a broth that has a pork like flavor and with spices that people would typically put on pork.  To do this I add Bragg's Liquid Aminos, Dijon mustard, and some spices to boiling water to make a broth and then re-hydrated the soy curls in it.  After they soak up all this flavor, simply sauté them with an onion and coat it all with barbecue sauce.
What barbecue sauce should I use for this vegan pulled pork?
Most barbecue sauces that they sell at the store are vegan, so you are probably safe using your favorite sauce.  These sauces do contain a ton of sugar though.  I wanted a vegan barbecue sauce that wasn't overwhelmingly sweet and didn't use refined sugar, so I came up with my own, refined sugar free barbecue sauce, sweetened only with maple syrup.  Even my kids prefer my homemade sauce to the store-bought versions and it only takes about 5 minutes to whip up.
How do I make vegan coleslaw?
Most coleslaw is made with regular mayo and therefore is not vegan.  However, it is incredibly simple to make your own vegan coleslaw in just a few minutes.  It's just vegan mayo, a few spices, and shredded cabbage.  You can buy a bag of pre-shredded cabbage to make it even easier.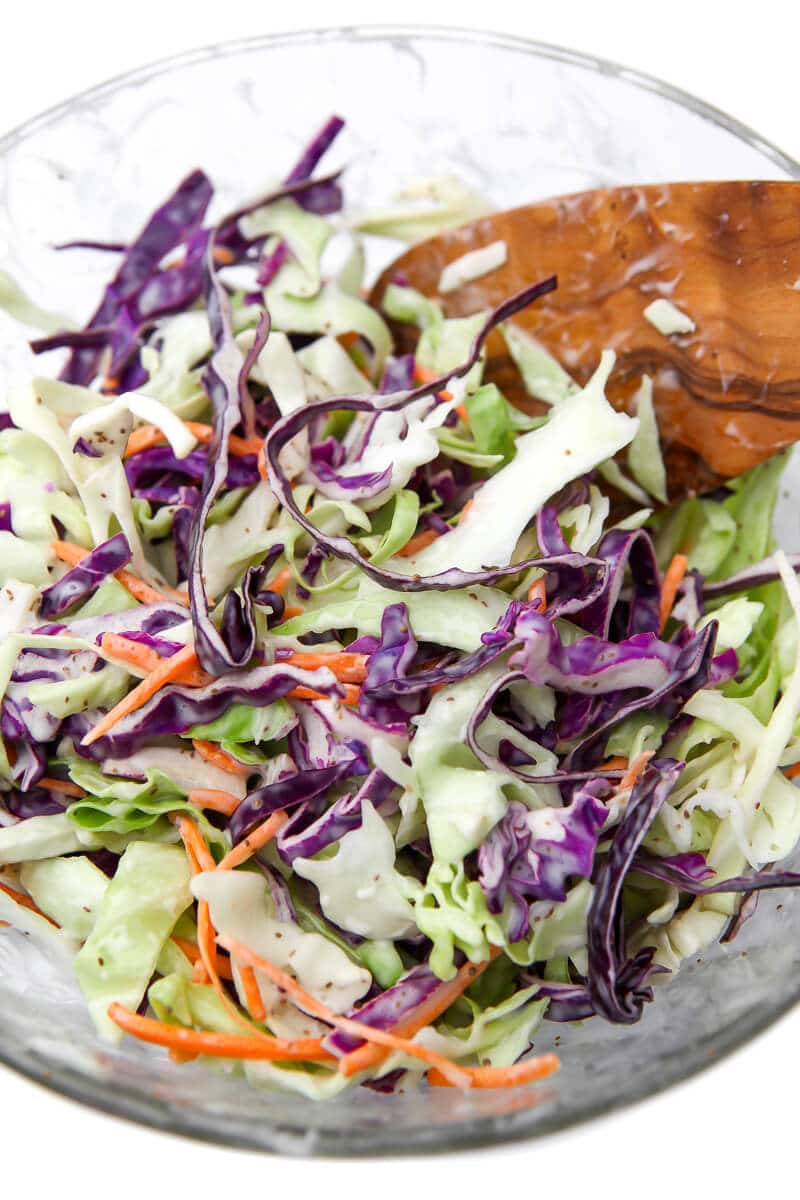 Is this good vegan picnic food?
Yes!  These sandwiches work great for all those summer picnics and parties!  Just make the coleslaw and "pulled pork" covered it in barbeque sauce ahead of time.  Keep them sealed in separate containers in the refrigerator or cooler until you are ready to eat.  Then assemble the sandwiches on a vegan bun or roll and you have an unbelievable vegan sandwich that will make your omni friends drool!
What if I need the sandwich to be gluten-free?
The only gluten in any part of this sandwich is the bread or bun that you put it on.  I used a Schar brand gluten-free hamburger bun for the one you see in the picture.
Want another protein packed sandwich made with soy curls?  This vegan buffalo chicken sandwich is fill and satisfying!
Don't forget to pin the vegan pulled pork recipe for later!
VEGAN PULLED PORK
A classic pulled pork sandwich made with soy curls and barbecue sauce and topped with vegan coleslaw.
Course:
lunch, Main Course
Cuisine:
American, gluten free, vegan
Keyword:
butler soy curls, vegan pulled pork, vegan pulled pork sandwich
Ingredients
For the broth to re-hydrate the soy curls:
1

cup

boiling water

2

tbsp

Bragg's liquid aminos

1

tbsp

whole grain Dijon mustard

1/2

tsp

fresh ground pepper

1/4

tsp

garlic powder
Instructions
In a large bowl combine all of the ingredients for the broth and stir.

Quickly add the soy curls and let them soak up the flavors of the broth. Stir occasionally to make sure the all the soy curls get re-hydrated in the broth.

While the soy curls are soaking, saute a diced onion in a 1 tbsp of oil in a large frying pan on low.

Sprinkle the onion with salt and cook for about 5 minutes until they are translucent.

Add the re-hydrated soy curls to the frying pan and turn up the heat to medium and saute for about 5 more minutes.

Pour the barbecue sauce of choice over the soy curls and coat well.

Assemble the pulled pork sandwiches by putting the cooked soy curls on a bun topped with vegan coleslaw.
Recipe Notes
You can use any mustard.  I like the flavor of the mustard with whole mustard seeds.  You could also add 1/2 tsp of whole mustard seed along with the mustard too.
You can omit the onions if desired, but still, cook the soy curls for about 5 minutes to help the flavors blend.
If the soy curls are still slightly hard after soaking, add a small amount of hot water until they are re-hydrated completely. 
If there is still some broth at the bottom of the bowl, add it to the frying pan with the soy curls.
Nutrition Facts
VEGAN PULLED PORK
Amount Per Serving (1 sandwich)
Calories 227
Calories from Fat 18
% Daily Value*
Total Fat 2g 3%
Sodium 889mg 37%
Potassium 137mg 4%
Total Carbohydrates 32g 11%
Protein 17g 34%
* Percent Daily Values are based on a 2000 calorie diet.