If you need the best vegan egg wash substitute for baking, the answer is simple, aquafaba! This is the liquid from a can of chickpeas or white beans. This thick gelatinous liquid mixed with a little corn syrup can be brushed onto your bread or pastries before baking to give an egg-wash shine.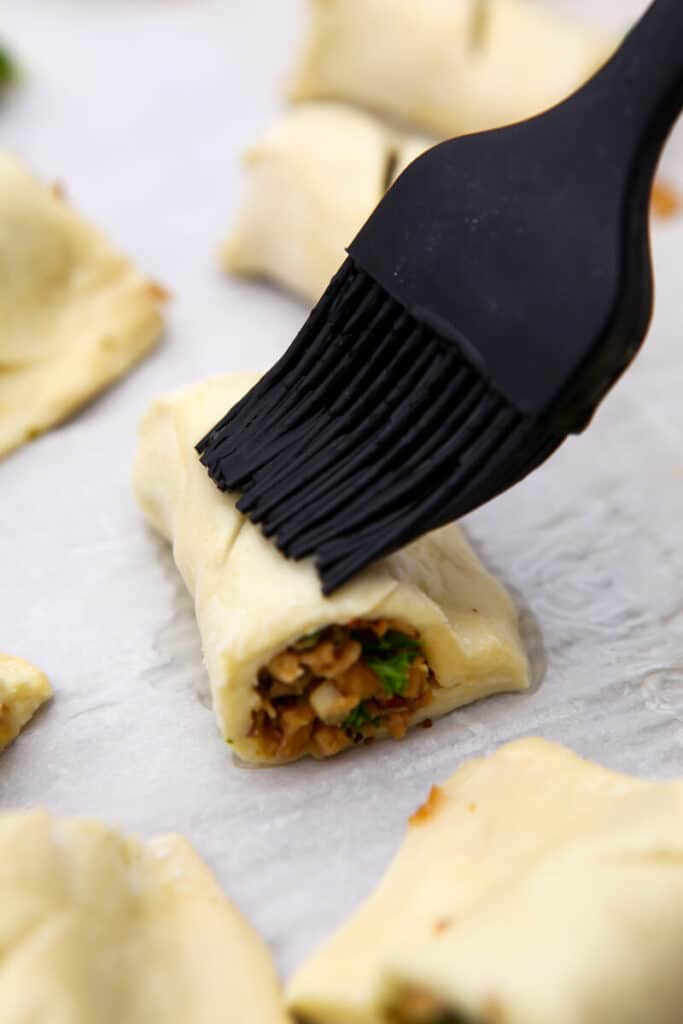 Jump to:
Egg substitutes for breading?
This simple aquafaba egg wash is the perfect egg wash substitute for most recipes including rolls, breading, and pastries! It works great in both sweet and savory recipes.
Why use an egg wash?
Substituting eggs is not as simple as just swapping out one thing. You have to figure out the purpose of the egg and what the egg substitute needs to achieve. Since you use an egg wash to give moisture and shine to your baking, seal pieces of pastry together, or help things like seeds or sprinkles stick to your baked goods. Aquafaba mixed with a little corn syrup or agave is all you need to achieve this when baking.
Vegan egg wash ingredients
Aquafaba - this is the liquid in a can of chickpeas or white beans.
Corn Syrup - you can also use agave syrup or maple syrup. The syrup gives the egg wash a little more shine when it's baked.
Alternative egg washes
If you don't have aquafaba, you can simply use almond milk, oat milk, or soy milk instead. You can also simply brush on melted coconut oil or vegan butter instead of using the vegan egg replacement recipe. However, the recipe provided will produce the best results.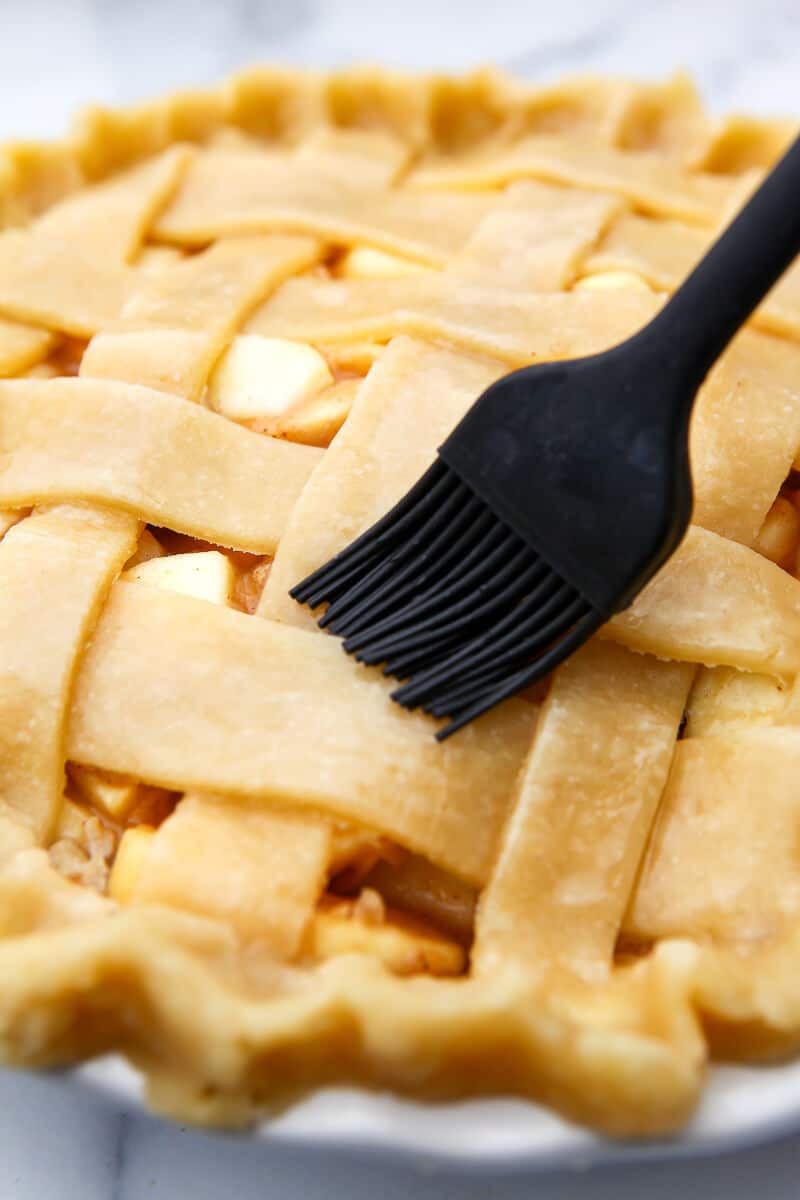 Does it taste sweet?
The corn syrup gives your baked goods a little more shine than aquafaba alone, but you can't really taste it. If you are sensitive to sugar, you may taste a slight sweetness.
Other ways to replace an egg
If you want to replace eggs for baking or as the main ingredient, see my guide to vegan egg substitutions for full lists and details.
How to use the vegan egg wash?
Brush the vegan egg wash mixture onto your dough before putting it in the oven for a beautiful browned crust and shine. The egg wash will give the following recipes a golden brown sheen.
📌 Be sure to follow me on Pinterest for new vegan recipes!
Vegan egg wash recipe
Print Recipe
Vegan Egg Wash
To use in place of eggs on pastries for an egg wash.
Ingredients
1/2

cup

aquababa

1

teaspoon

corn syrup

(or agave nectar)
Instructions
Mix the liquid from 1 can of chickpeas or white beans with 1 teaspoon corn syrup.

Brush onto pastries and use as you would an egg wash in any recipe.
Nutrition
Calories:
4
kcal
|
Carbohydrates:
1
g
|
Fat:
1
g
|
Sodium:
1
mg
|
Potassium:
1
mg
|
Sugar:
1
g
|
Calcium:
1
mg
⭐⭐⭐⭐⭐ Click the stars above or leave a comment! I'd love to hear from you!