Seitan is a vegan meat substitute made from wheat gluten. It's also sometimes referred to as wheat meat, flour and water chicken, wheat gluten, or gluten steaks.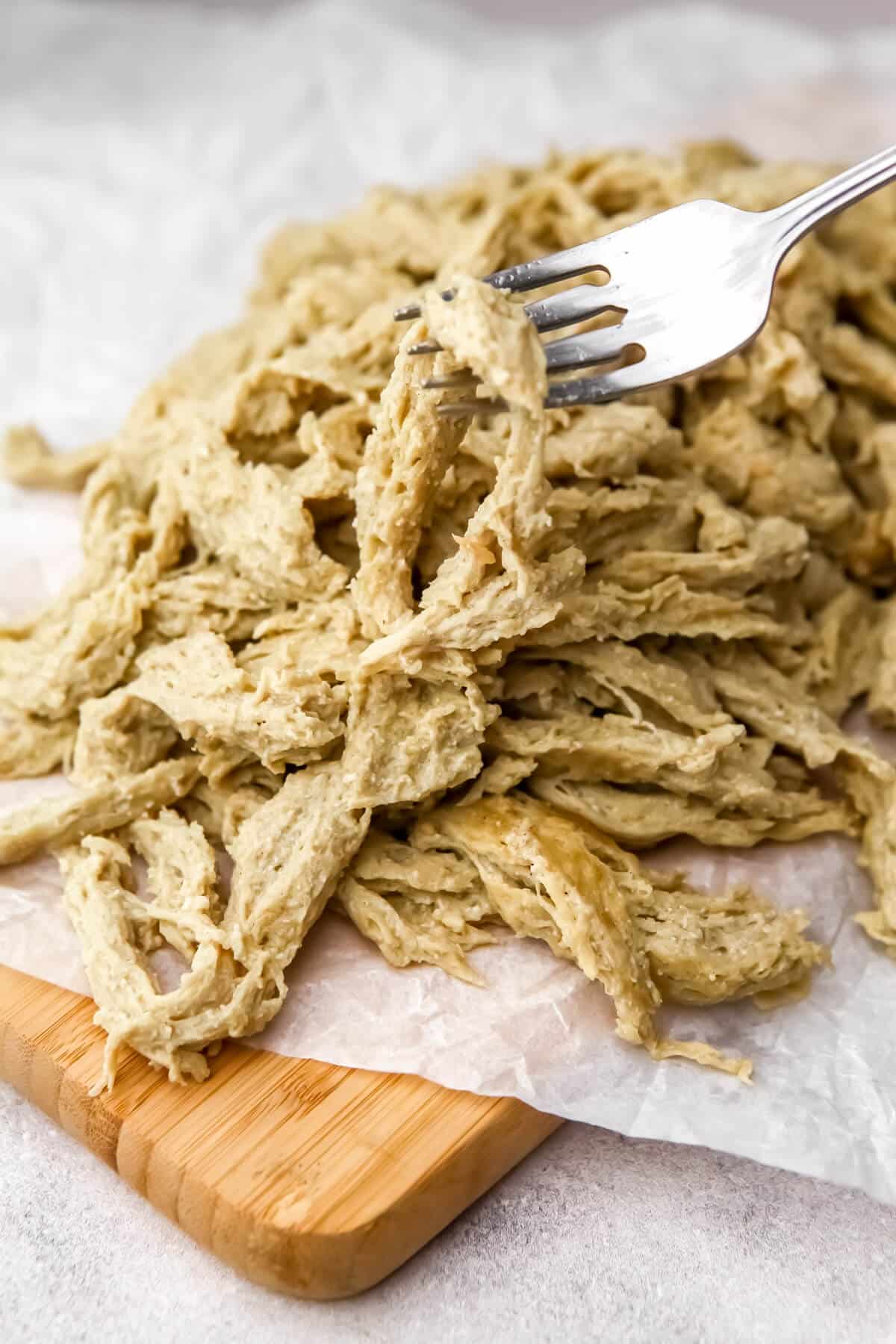 Whatever you call it, seitan is made from concentrated wheat gluten that is formed into a firm dough, seasoned, and cooked to taste like any meat that you want to imitate. It can taste like chicken, ham, or beef.
Jump to:
If you have ever eaten faux meat at a restaurant like a veggie burger or mock chicken sandwich, then you probably ate seitan. Most mock meats that they sell at the grocery store are made from seitan. It is sold refrigerated or frozen and it's great for savory dishes like stir-fries, soups, and sauces that would normally contain meat.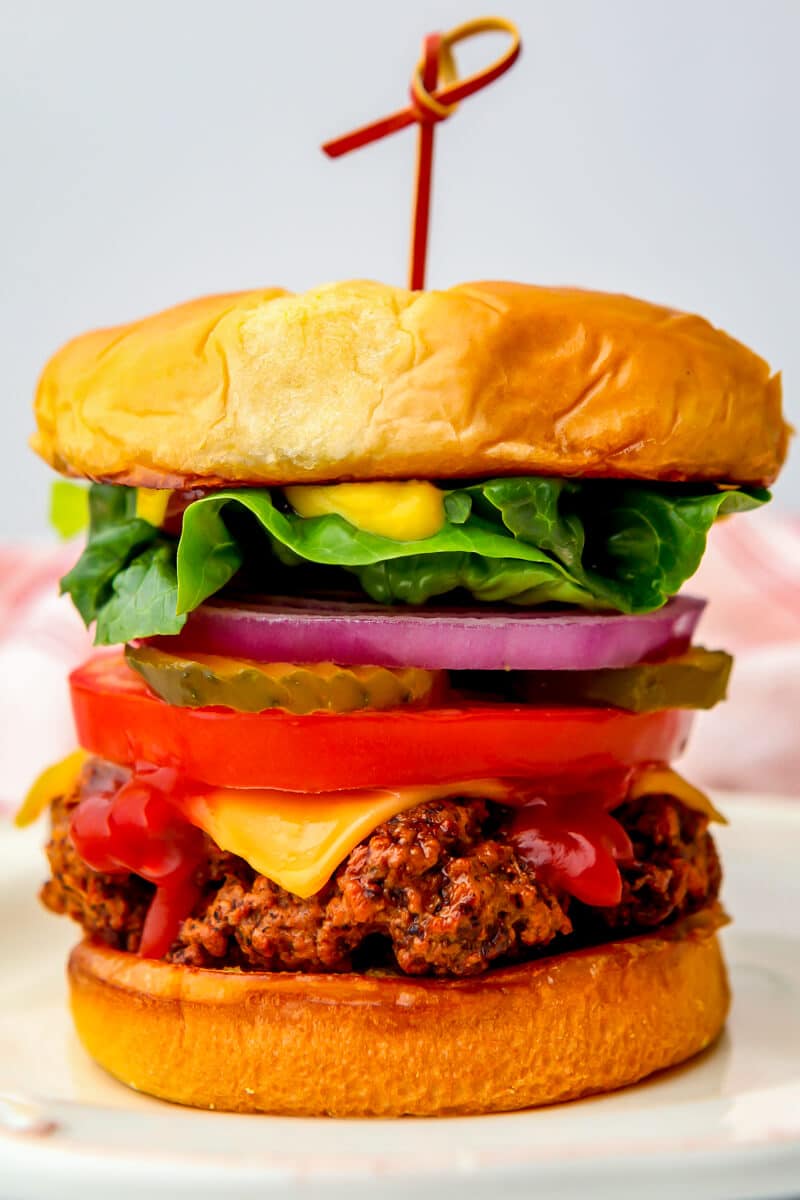 Is seitan plant-based?
Although it has a taste and texture similar to meat, seitan is made without the use of any animal products, so it is suitable for people on a plant-based diet.
Is seitan hard to make?
I started making seitan when I first went vegan over 23 years ago using a recipe from The New Farm Vegan Cookbook that was written at a vegan commune in the 1970s. This book had a recipe for a washed flour method of making seitan that was very labor-intensive. It takes at least an hour to prep this type of seitan, so it's not practical for weeknight meals.
I later discovered the method of making seitan from vital wheat gluten. This quick and easy method only takes about 10-15 minutes of prep time before cooking. This method is more practical for everyday meals.
I have even developed a super easy seitan recipe that takes very little effort to make. This version is not as pretty, but it is great for adding to soups or putting on skewers for seitan kebabs.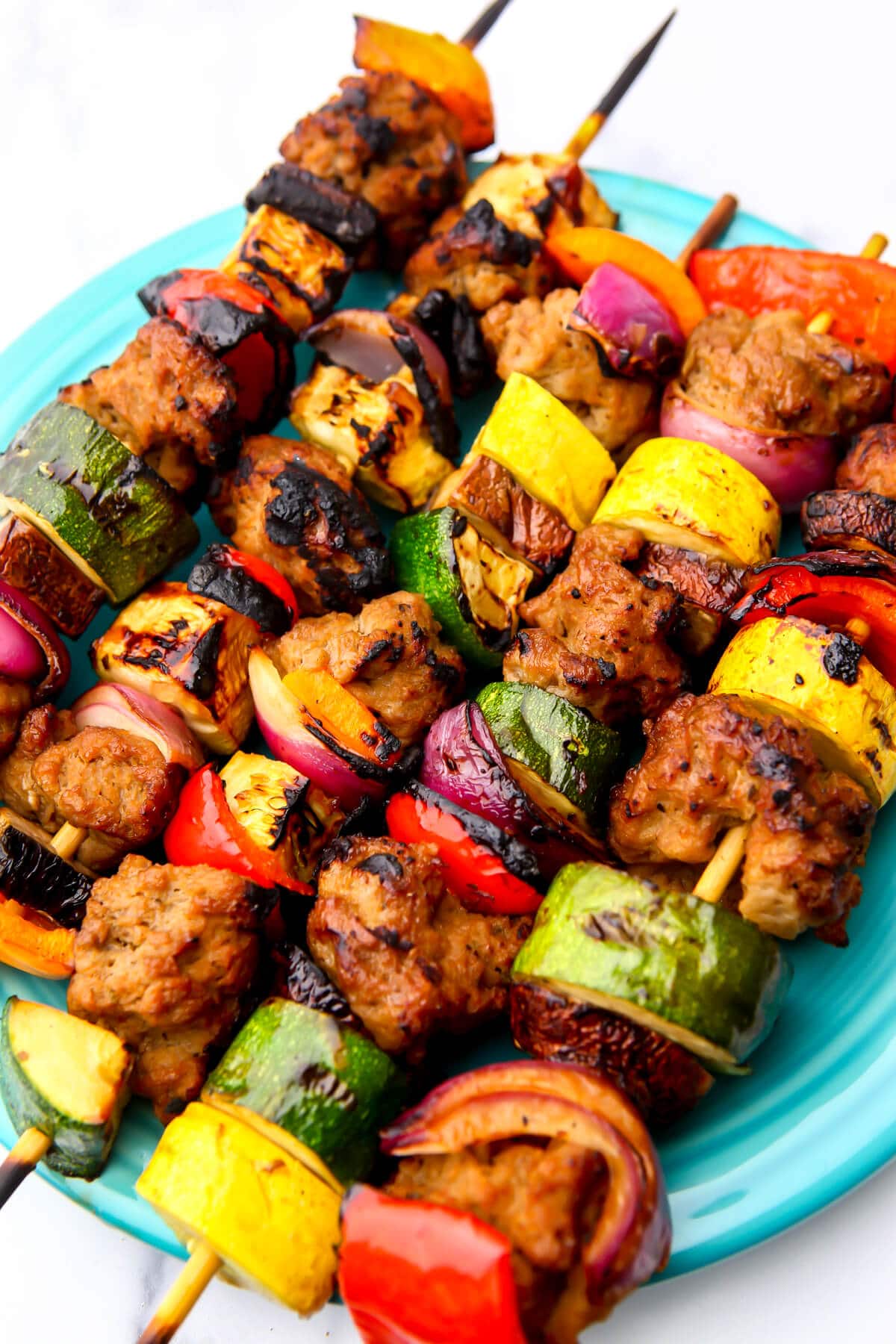 Is seitan healthy?
Seitan is low in fat and carbs and has no cholesterol. It is high in plant-based protein with 75 grams of protein per 100 grams. (100 grams of chicken only has 31 grams of protein.) It is made of concentrated wheat protein, so those with celiac disease or gluten sensitivity should not eat seitan.
Is seitan better than tofu?
It depends on what your definition of better is, but seitan has a more meat-like taste and texture than tofu or tempeh. If you avoid soy, then seitan is a great plant-based meat alternative that is usually soy free.
What is seitan made of?
Seitan is made from a few simple ingredients, but mostly gluten, the protein in wheat flour. There are two main methods that you can use to make seitan.
You can make it from regular all-purpose flour by kneading dough under water to wash out the starch and leave the protein behind. This is the washed flour method.
Or you can use a quicker method of buying high protein vital wheat gluten where the starch has already been removed and no washing is required.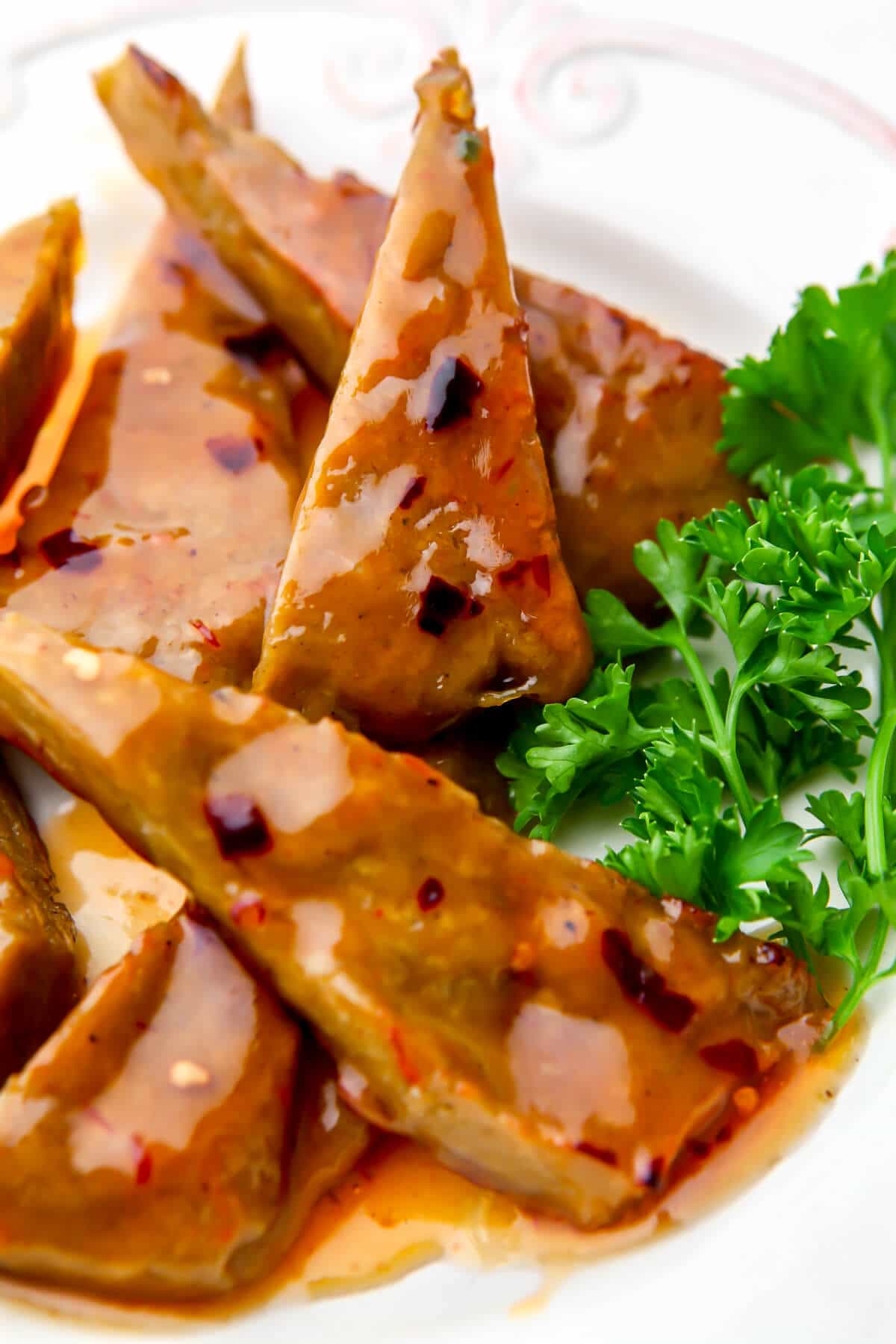 Where to buy vital wheat gluten?
Most major grocery stores sell vital wheat gluten in the flour section or specialty flour section of the store. You can also find it at natural food stores or co-ops. Since I make a lot of seitan, I like to buy a large bag of it on Amazon to get the best deal. When using this large bag, homemade seitan is about $0.33 per serving!
How to make seitan from vital wheat gluten?
When making seitan from vital wheat gluten, I usually mix the gluten with blended tofu or beans since vital wheat gluten is very dense and will produce a firmer denser faux meat. I use this method when making vegan ham, vegan turkey, and vegan chicken breasts.
If I want the mock meat to be dense like in vegan pepperoni, I don't blend it with other proteins, I simply season it and then steam it to make it very dense.
To give the seitan a more beefy flavor and firmer texture I mix the vital wheat gluten with sauteed mushrooms in my seitan steaks, vegan ribs, and seitan beef recipes.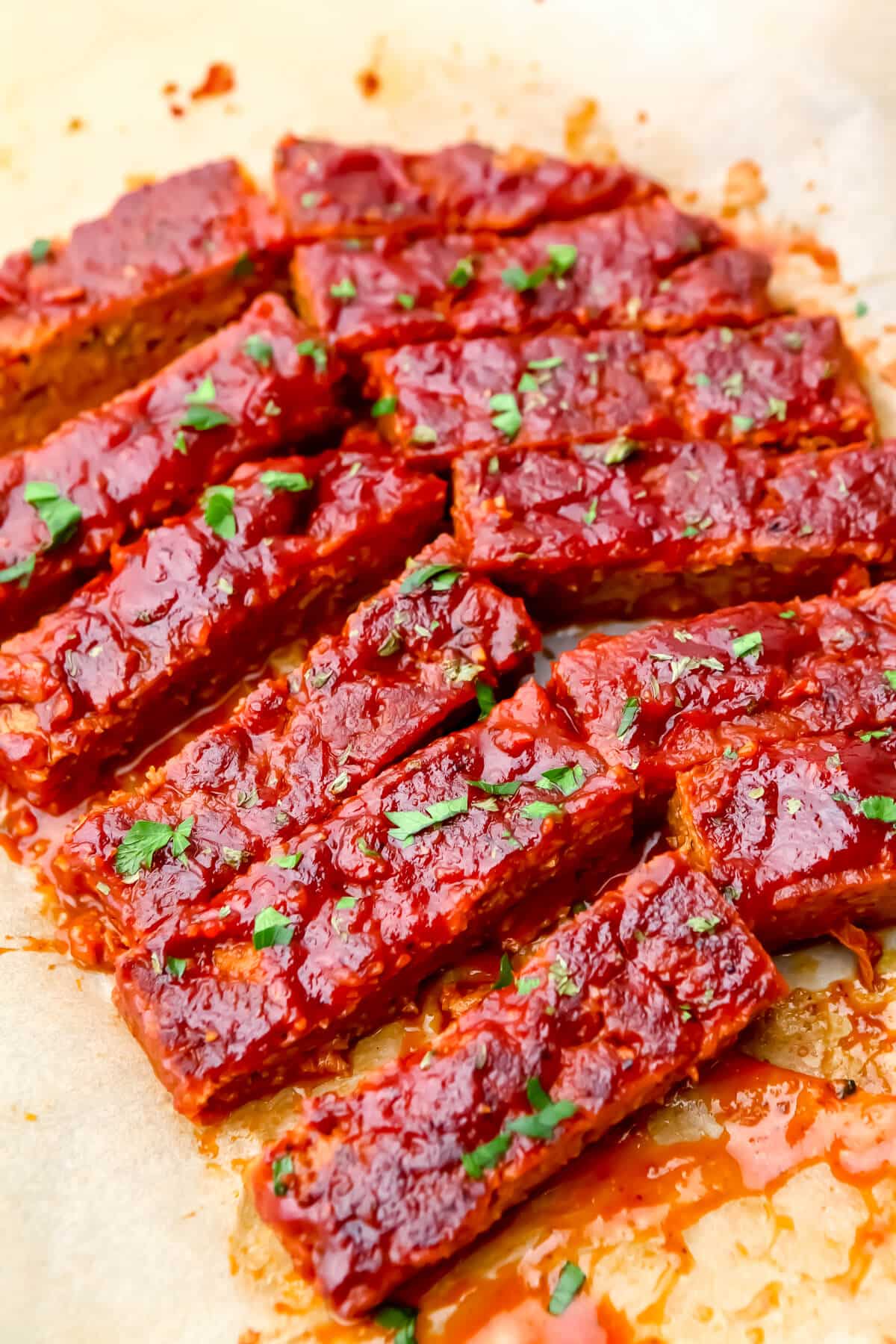 How to make washed flour seitan?
This is also sometimes called flour chicken, flour water chicken, or WTF (wash the flour) seitan.
To make washed flour seitan, you will simply need to wet all-purpose flour and form it into a dough, then allow it to rest. Then you will knead the dough ball in a large bowl filled with water.
The water will turn milky and white. You will then discard the milky liquid and fill the bowl with water again and repeat the process until the water is only slightly cloudy. You can also save this starchy water to make starch water bacon.
At this point, you can season and cook the seitan. See my washed flour seitan recipe for complete details and a video showing you how to make it.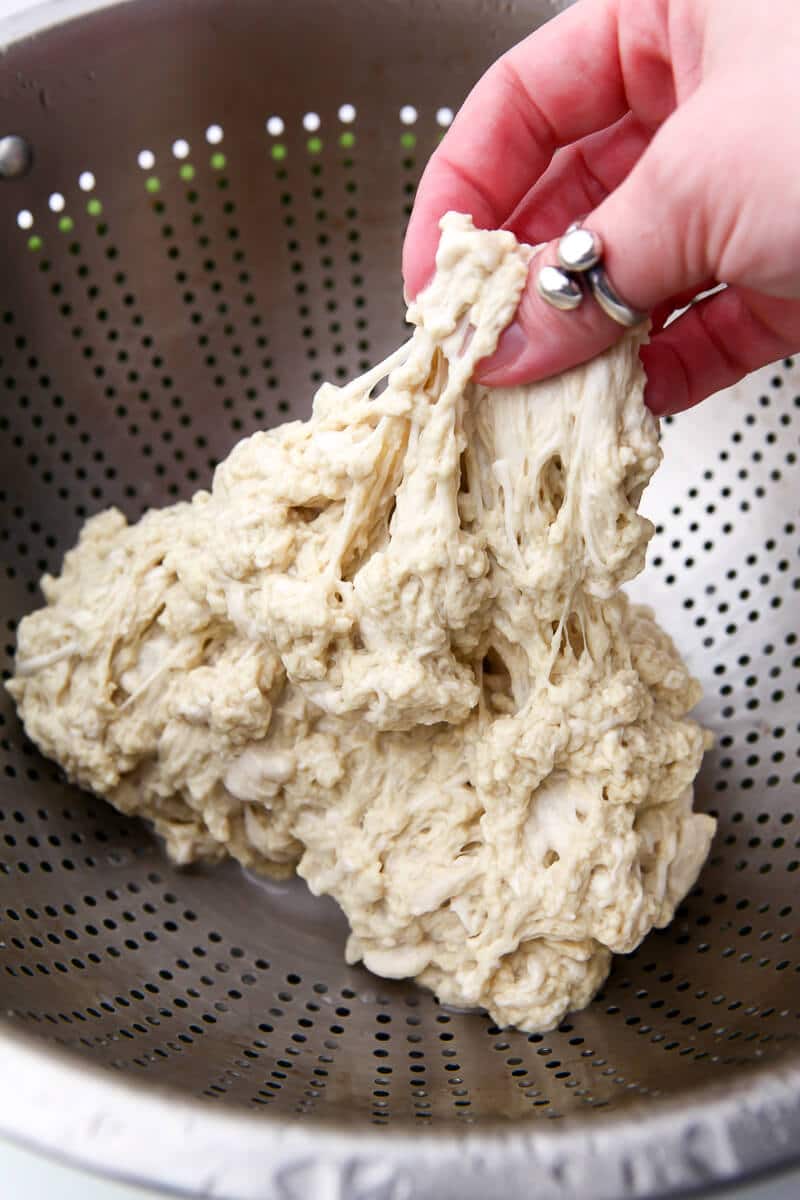 Does the seitan have to be cooked?
Yes, like raw flour, you have to cook the seitan dough before you can eat it. You can boil, steam, or bake the seitan dough, each cooking method will result in your mock meat having different textures.
Cooking methods
Boiling the seitan dough in vegetable broth allows it to soak up more liquid and flavor, but it also allows it to expand and gives it a lighter more tender texture.
Steaming the dough when wrapped in foil will stop the seitan from expanding and give you denser faux meat.
Baking the seitan allows it to expand, but keeps the meat dryer and doesn't allow it to soak up excess liquid like boiling.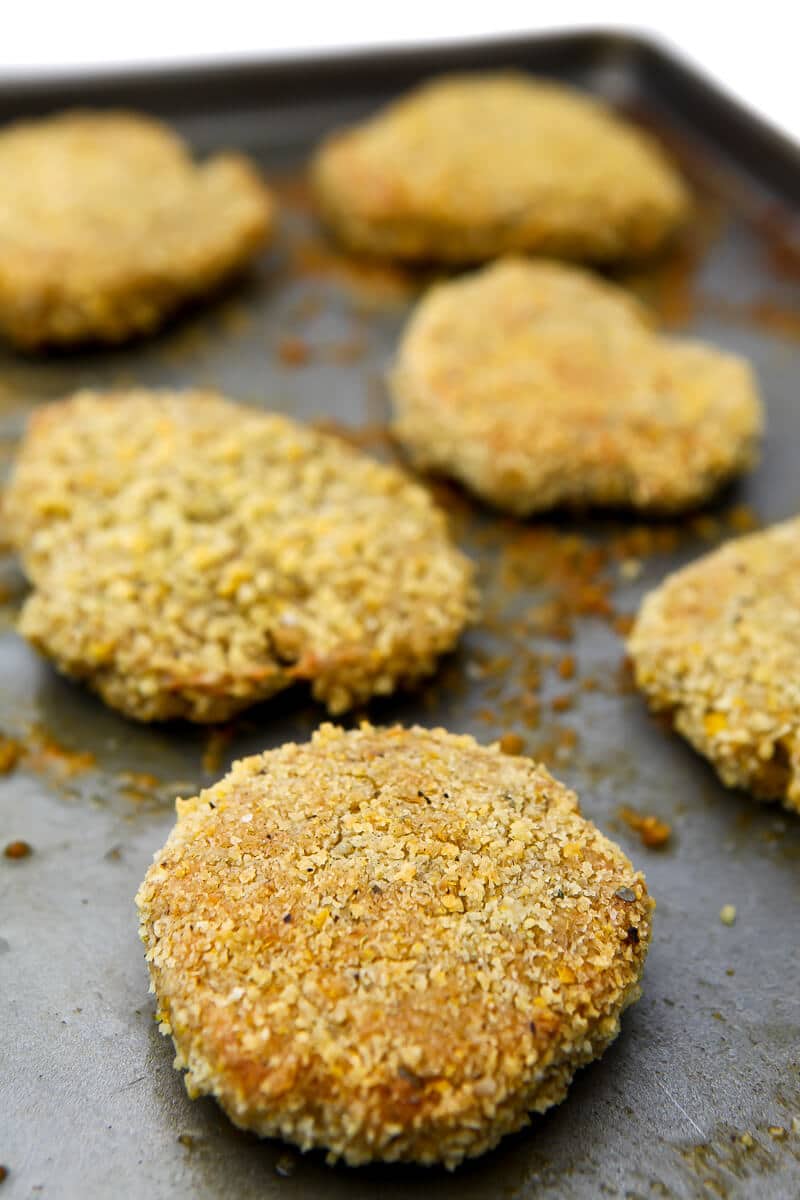 What to make with store-bought seitan?
Store-bought seitan usually comes in chunks or shreds of meat. You can use seitan in a variety of vegan recipes. Slice it into strips and use it in vegan fajitas, tacos, or stir-fries.
Toss it into things like vegan chicken noodle soup, vegan ramen, Thai red curry, or vegan pasta sauces.
You can also grill it, saute it in a skillet, or toss it into a vegan pot roast with some vegetables and bake it.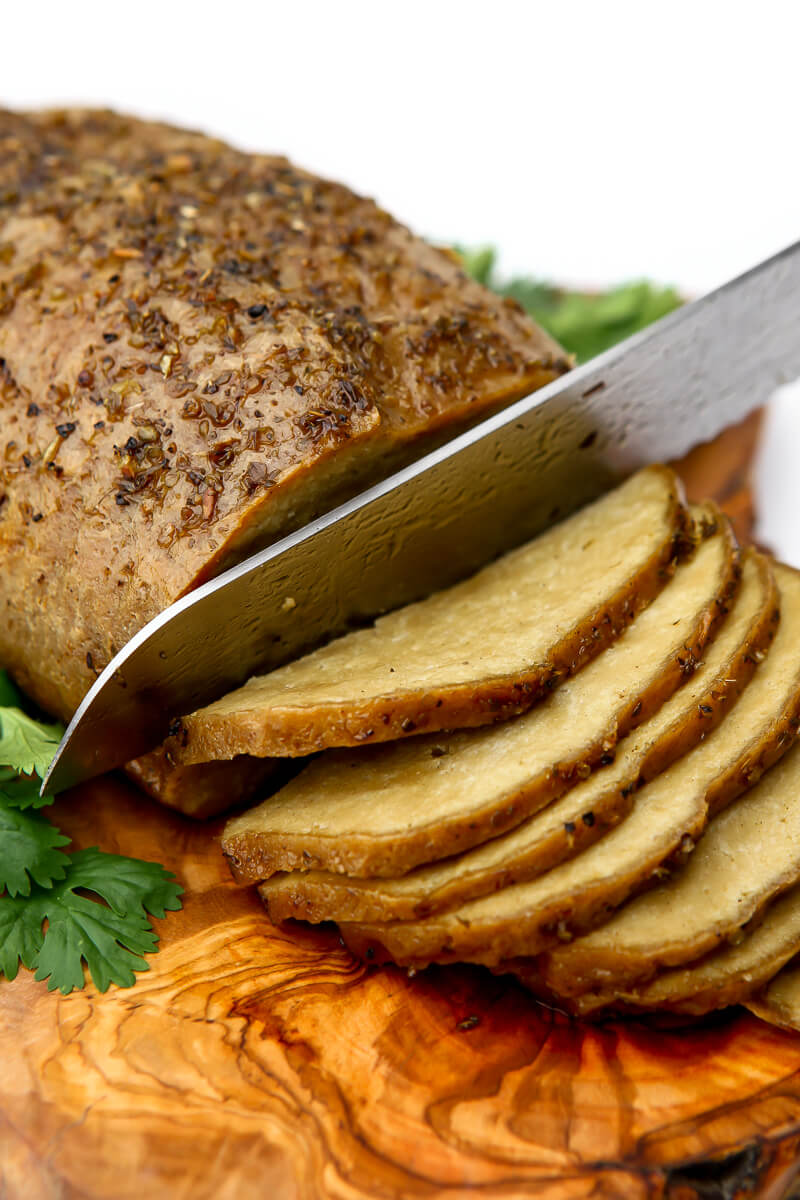 How to flavor seitan
You can flavor homemade seitan by putting soy sauce, nutritional yeast, garlic powder, onion powder, salt, herbs, and spices directly into the dough or simmering liquid as you cook it.
You can also season it after it has cooked as you would tofu or tempeh by soaking it in tamari, liquid aminos, or flavorful marinades. You can also top it with barbecue sauce, vegan buffalo sauce, teriyaki sauce, sweet and sour sauce, orange sauce, and more.
How to store seitan
Leftover seitan can be stored in an airtight container in the fridge for up to 5 days. Seitan freezes well too and can be stored for up to 3 months in the freezer.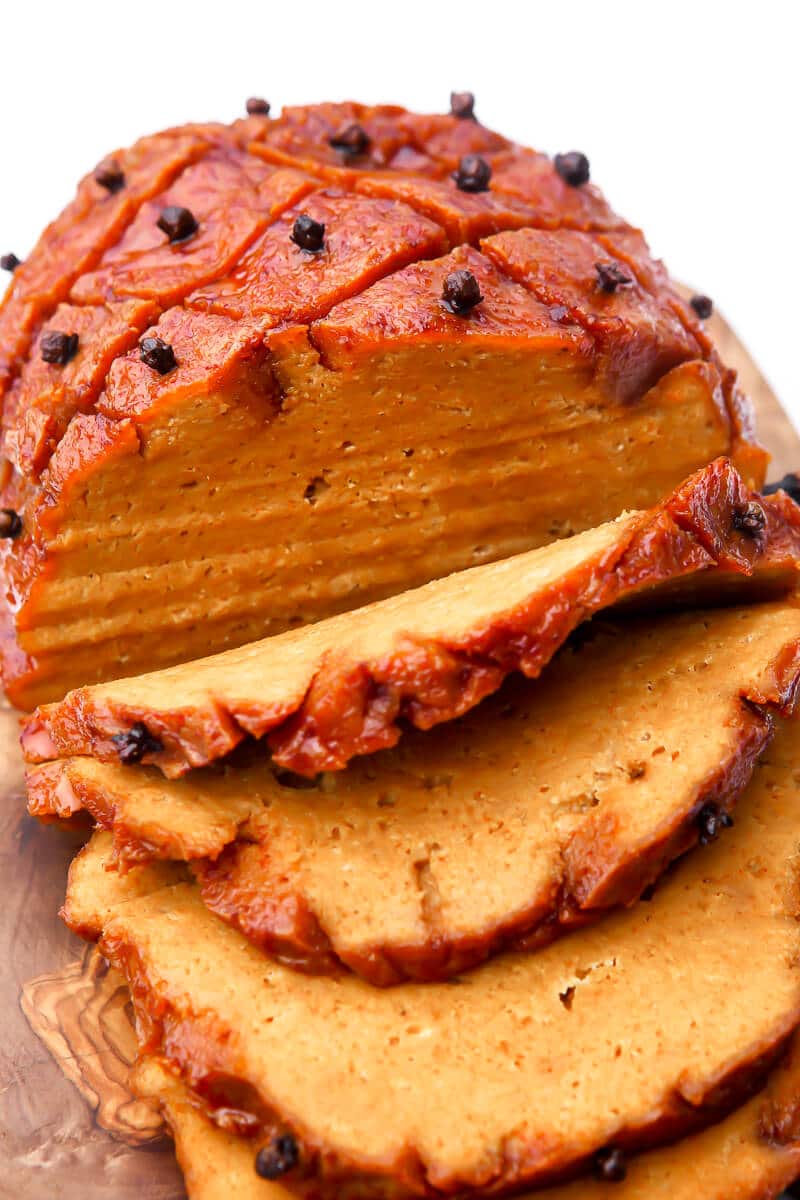 Seitan recipes
We love seitan in our house and make a ton of mock meats of every type. Be sure to check out all of my seitan recipes or my seitan-making cookbook where I share exclusive recipes!
Also, check out my post about what to look for to be sure your seitan is vegan when ordering it at a restaurant.
Seitan recipes on the blog
📌 Be sure to follow me on Pinterest for new vegan recipes!