This veggie brownies recipe is one of those that you must taste to believe. Packed with 2 cups of zucchini and 1 cup of beets, you may not think that they could taste very good. Not only do they taste like brownies, but they're also my favorite vegan brownie recipe! These hidden veggie brownies come out perfect with either gluten-free or wheat flour too.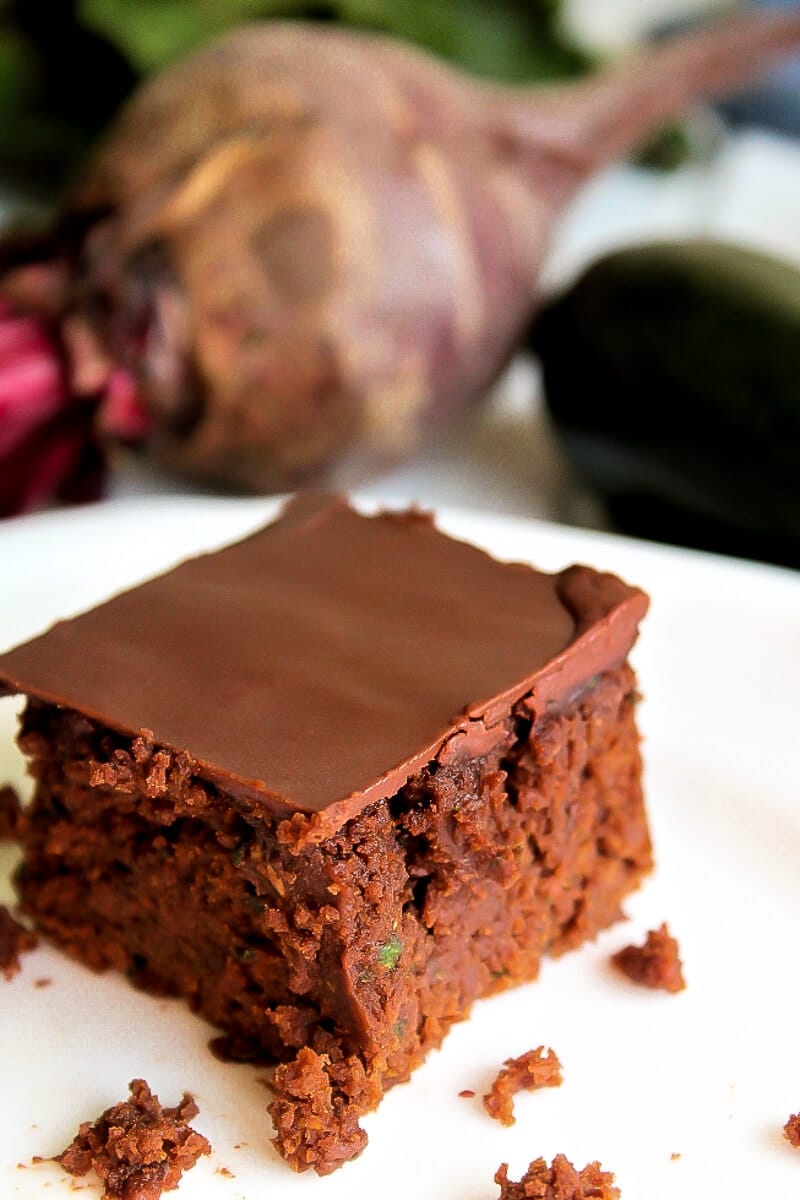 If you are looking for a sweet chocolaty treat without all the guilt, this veggie brownies recipe is just the thing you are looking for!
I got the idea for these brownies from my friend Rachel who makes the most delicious gluten-free brownies with zucchini in them.  I decided to try to make them a little healthier by reducing the sugar and oil a little and adding beets. 
To my surprise, they came out delicious!  Best of all, my zucchini and beet-hating son loves them!
Jump to:
🌟 Hidding the veggies
If you have picky eaters, make sure to chop the zucchini up very finely in a food processor.  This will help hide the little green flex.
There will be some little dots of zucchini at the top of the veggie brownies, so I make a chocolate fudge frosting to hide them and add another layer of deliciousness! This frosting is seriously amazing and I highly recommend using it!
🥄 How to make healthy brownies
Step 1 - Chop up 2 cups of zucchini into very fine pieces in your food processor. (This is usually about 8-10 inch long zucchini).
Step 2 - Then puree 1 cup of pre-cooked beets.  (An immersion blender works best for this).  I find pre-cooked beets that are ready to eat with the produce at Trader Joe's or other major grocery stores.  You can also use canned beets or steam and peel fresh beets.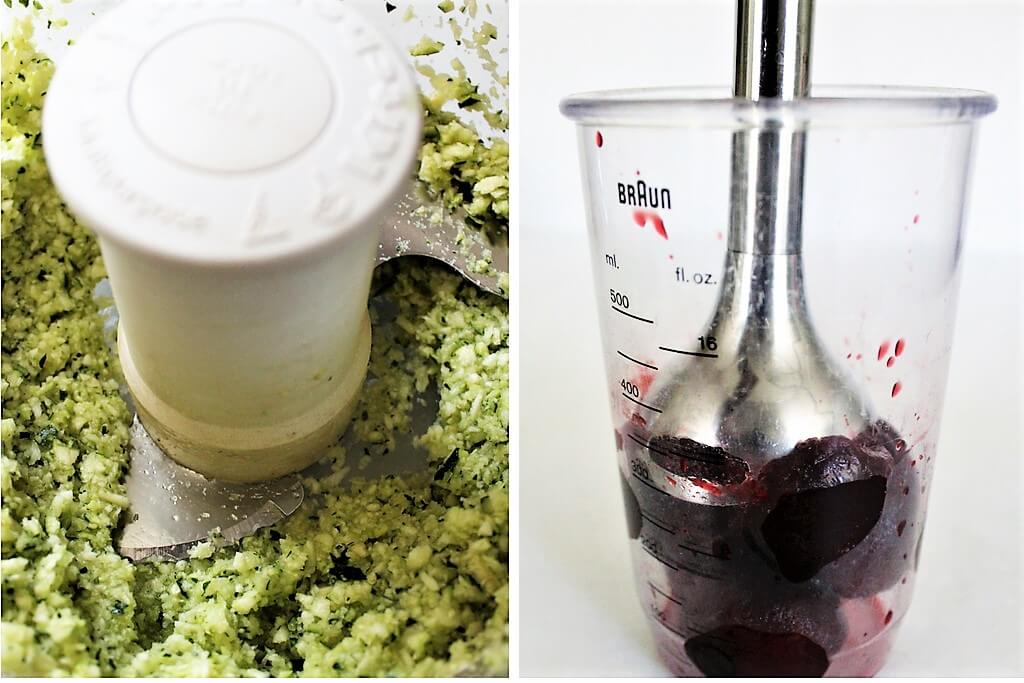 Step 3 - Mix the chopped zucchini and beet puree in a large mixing bowl, add the sugar, and mix.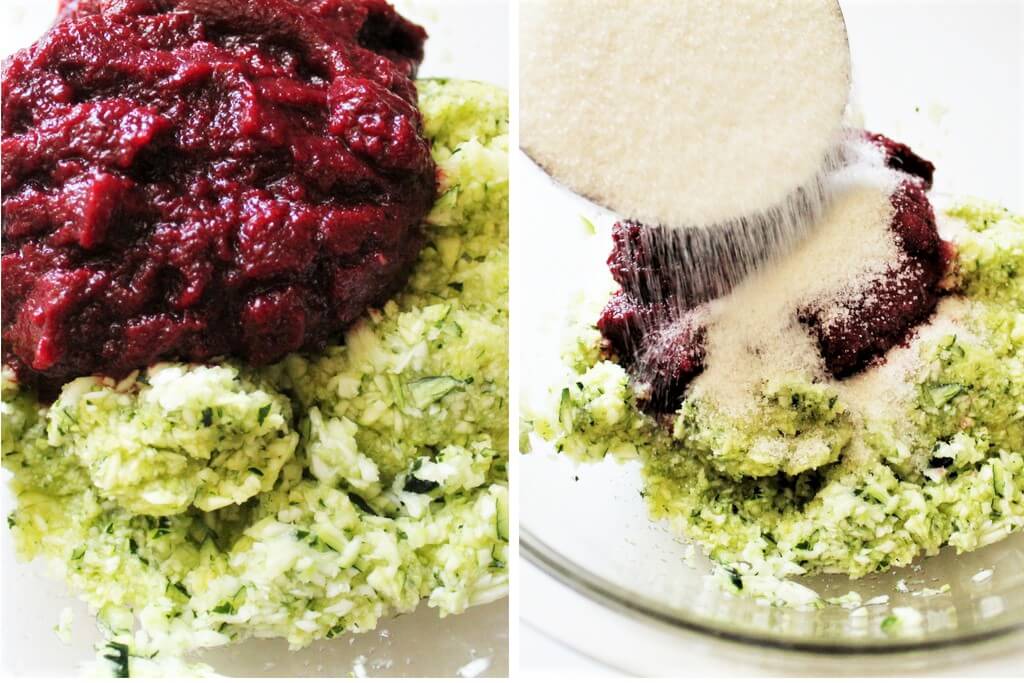 Step 4 - Then add the remaining ingredients and stir.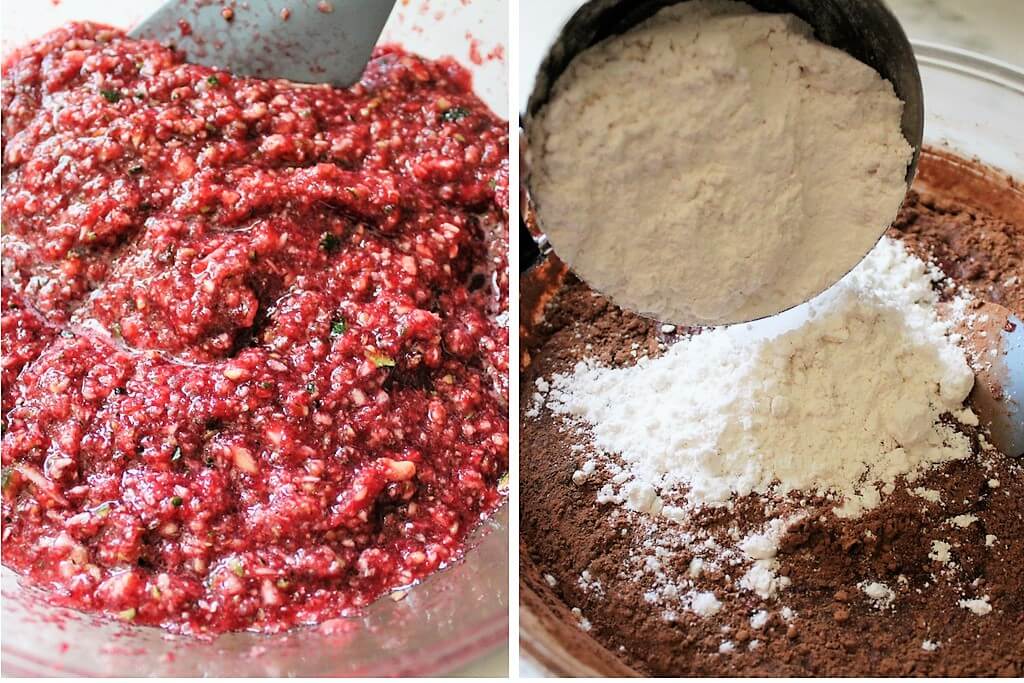 Step 5 - Pour into an oiled 8x11 baking pan and bake for 30 minutes.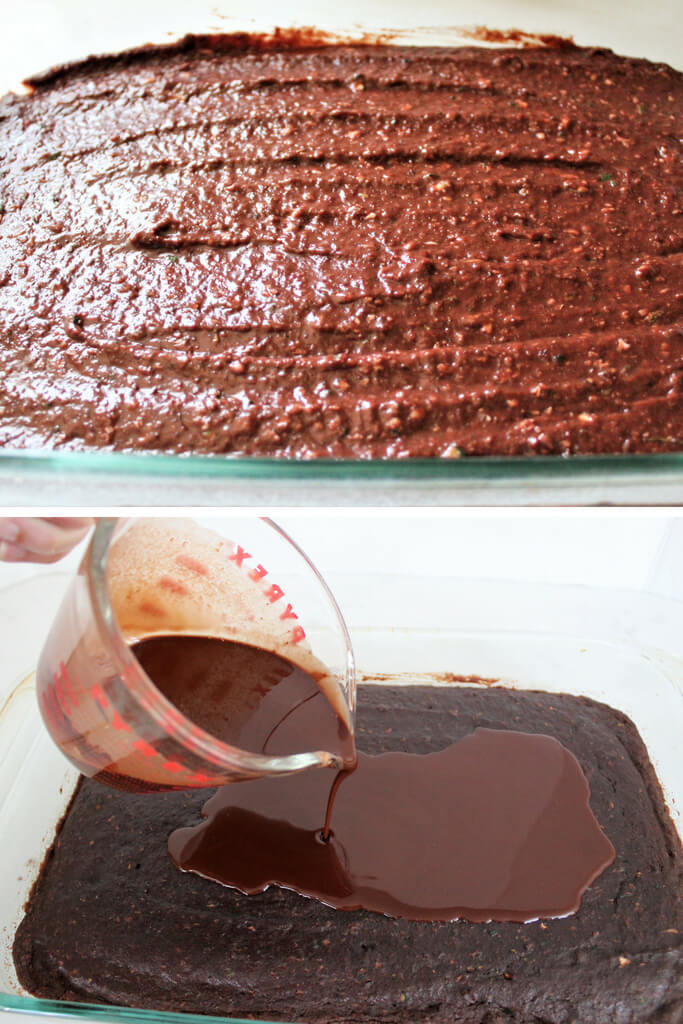 Step 6 - Let the brownies cool completely and then mix up the fudge frosting and pour it evenly over the top of the brownies. (optional)
Now watch your kids gobble up their veggies!
👩🏻‍🍳 Pro Tips
These brownies are in between cakey and fudgy. People have strong opinions about their favorite type of brownie, so to make yours perfect you may want to adjust slightly.
Cakey Brownies: You can increase the baking soda by 1/2 tsp.
Fudgy Brownies: Decrease the baking soda by 1/2 tsp for fudgy brownies.
If you want to make them gluten-free, my gluten-free flour recipe works great!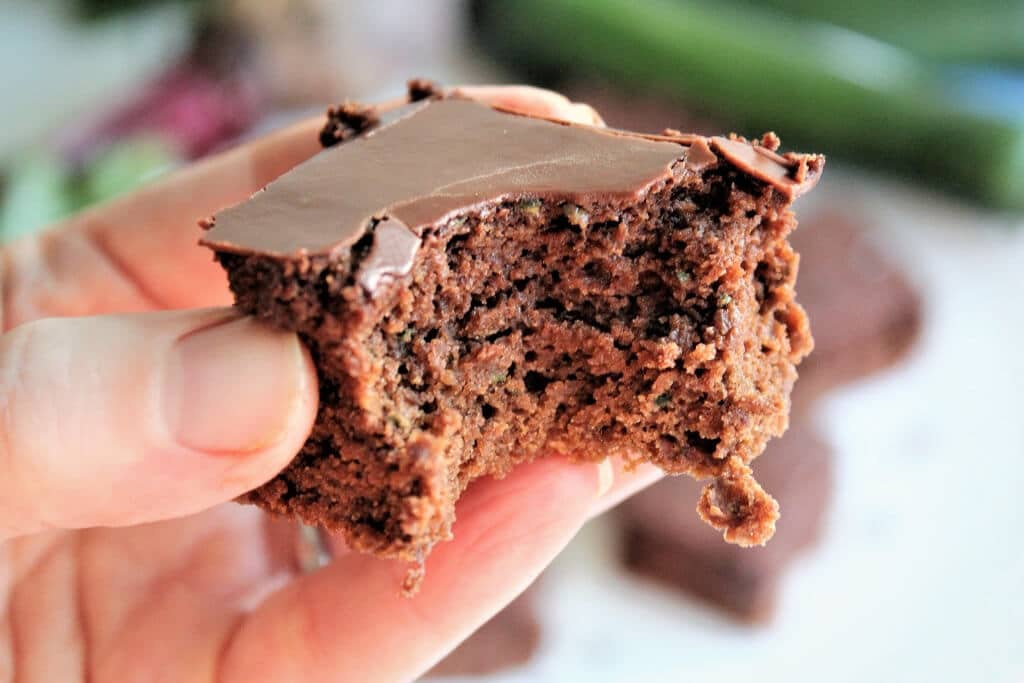 If you have picky eaters and want to sneak in more veggies where you can, try these healthy vegan recipes with hidden veggies.
🍫 More chocolaty vegan recipes
📌 Be sure to follow me on Pinterest for new vegan recipes!
📋 Veggie brownies recipe
Print Recipe
Veggie Brownies
Vegan and gluten-free brownies made with zucchini and beets.  Packed with veggies, but full of flavor!
Ingredients
For Veggie Brownies
2

cups

zucchini

finely chopped or grated

1

cup

cooked beets

pureed

1 1/4

cup

vegan sugar

1/4

cup

neutral flavored oil

like vegetable or canola (or swap with apple sauce for oil-free)

1

tablespoon

vanilla extract

1/2

cup

cocoa powder

2

cups

gluten-free flour mix

or regular wheat flour

1

teaspoons

baking soda

1

teaspoons

salt

1

spray

non-stick spray oil

or any neutral oil to rub on the baking pan.
Fudge Frosting
1/3

cup

refined coconut oil

3

tablespoons

cocoa powder

3

tablespoons

powdered sugar

(use a vegan variety)

1/8

teaspoons

salt

1/4

teaspoons

vanilla extract
Instructions
For Veggie Brownies:
Preheat oven to 350°F (177°C).

Chop zucchini in a food processor or by hand with a cheese grater and place in a large mixing bowl.

Puree cooked beets and add them to the zucchini.

Sprinkle sugar over veggies and stir with a spoon.

Add remaining ingredients and stir slowly until mix well and it creates a thick batter.

Spray oil on a 9x13 baking dish or rub with a coating of any neutral flavored oil.

Pour brownie batter in the oiled pan and bake at 350°F (177°C)for 30 minutes.
For Fudge Frosting
If topping with fudge frosting, let the brownies cool completely.

Melt coconut oil and add cocoa powder, powdered sugar, vanilla, and salt.

Mix well with a fork or small whisk to make sure all the clumps are out.

Pour evenly over the brownies. Pick up the pan and rock it back and forth to make an even layer of fudge over the brownies.

The fudge will harden as it cools. Put in the fridge to firm up faster.
Notes
To make brownies more fudge-like, reduce baking soda by 1/2 tsp.
To make brownies more cake-like, increase baking soda by 1/2 tsp. 
Chop the zucchini very small to hide it better in the brownies.
If topping with fudge frosting, cut into squares when the frosting is firm, but not too hard or it will crack.
This recipe will work with regular wheat flour and most gluten-free flour mixes.  (I have not tried this with almond flour). 
Nutrition
Serving:
1
brownie
|
Calories:
135
kcal
|
Carbohydrates:
21
g
|
Protein:
1
g
|
Fat:
5
g
|
Saturated Fat:
3
g
|
Sodium:
167
mg
|
Potassium:
82
mg
|
Fiber:
2
g
|
Sugar:
12
g
|
Vitamin A:
20
IU
|
Vitamin C:
2.1
mg
|
Calcium:
12
mg
|
Iron:
0.8
mg
⭐⭐⭐⭐⭐ Click the stars above or leave a comment! I'd love to hear from you!