You may already know how easy chia seed pudding can be, but I just figured out a way to make it even easier! Make vanilla, berry, peanut butter, and chocolate chia pudding in minutes and store them in little mason jars for grab-and-go breakfasts and snacks for the whole week!
Jump to:
🥣 What is chia pudding?
If you have never heard of chia pudding, it is simply chia seeds that have been soaked in milk until they expand and become the texture of pudding. No cooking needed!
✨ Make this even easier
Blend it! This little hack to make chia seed pudding even easier is great for grab and go snacks and kids love them!
Put the pudding in ½ cup size mason jars for the perfect little healthy snack! Sealed with a lid, they will keep in the fridge for up to 5 days!
❔Why use a blender?
I like to make my chia pudding in a blender because...
It chops up the chia seeds and gives it a creamier texture.
Blending makes the pudding set much faster. It is ready to eat in a few minutes instead of a few hours.
The seeds don't clump on the edge of the glass as they do with the stir-in method
You can simply stir chia seeds into any flavored milk of your choice too. However, this gives it a tapioca pudding texture that some people don't like. The seeds also clump up more and it takes a few hours to absorb the milk and become pudding.
📖 Flavor variations
Vanilla – 1 tsp vanilla extract
Chocolate – 1 tbsp cocoa powder
Berry – 3 tbsp berries of choice
Peanut butter – 2 tbsp peanut butter
Chocolate peanut butter – 1 tbsp cocoa powder and 1 tbsp peanut butter
🥄 Instructions
Decide what flavor of chia pudding that you want to make. Then, add your milk of choice to a blender with the flavoring, sweetener, and the chia seeds, and blend for about 20 seconds.
Let your chia pudding sit for about 3-5 minutes and then blend again for another 20 seconds.
Pour into small mason jars and refrigerate for grab and go snacks for up to 5 days.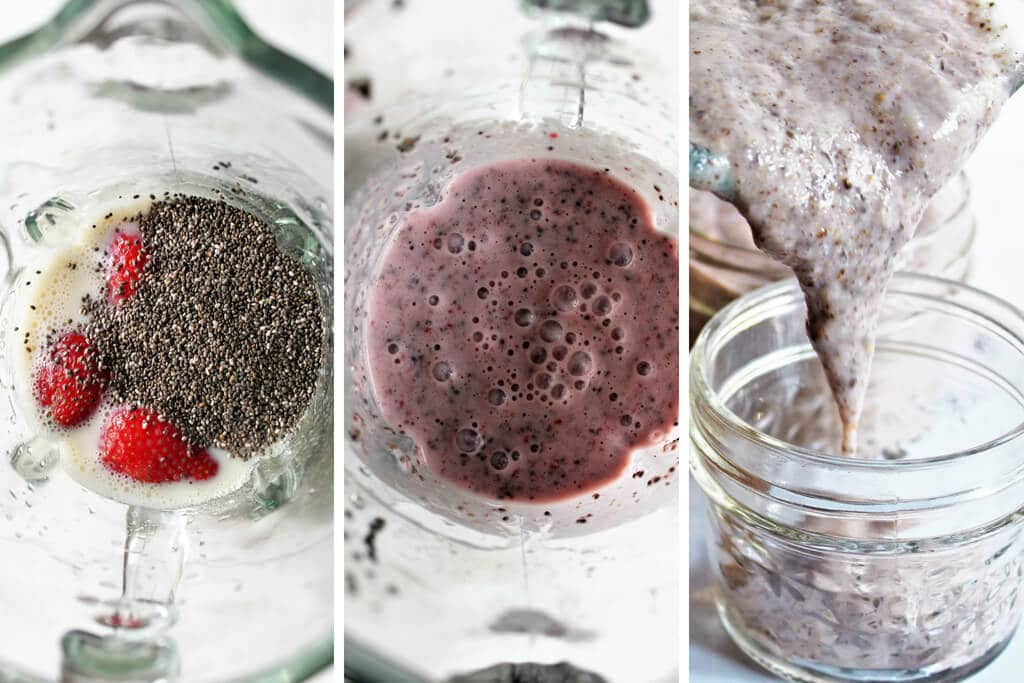 🥛 How much milk?
The ratio of chia to milk is commonly anywhere from 1:4 to 1:8. That is 1 part chia seeds to at least 4 parts milk of choice. If you use 2 tbsp of chia seeds to 1/2 cup of milk, it will be a firm pudding. (My kids actually prefer a 1:8 ratio using 1 tbsp to 1/2 cup of milk making it more of a thick smoothie texture, but less seedy). You may want fiddle around with the ratio to get the texture that you like.
🥡 Meal prep
I purchased a case of small ½ cup sized mason jars, so I have 12 little cups ready to fill.  (This is also about the amount that my family of 4 will eat in 5 days time).
My kids get bored with the same food quickly so I usually make 4 different flavors. Their favorite flavors are vanilla, chocolate, berry, peanut butter, and chocolate peanut butter.
To mass-produce the chia puddings, I simply triple the amount for 1 chia pudding. Put that amount in the blender and pour that into 3 mason jars. Then I give the blender a little rinse and do it again with the other flavors until I have 12 jars of chia pudding ready to go in the fridge.
🥞 More breakfast meal prep ideas
Check out my guide to Vegan Meal Prep Breakfast Ideas!
📌 Be sure to follow me on Pinterest for new vegan recipes!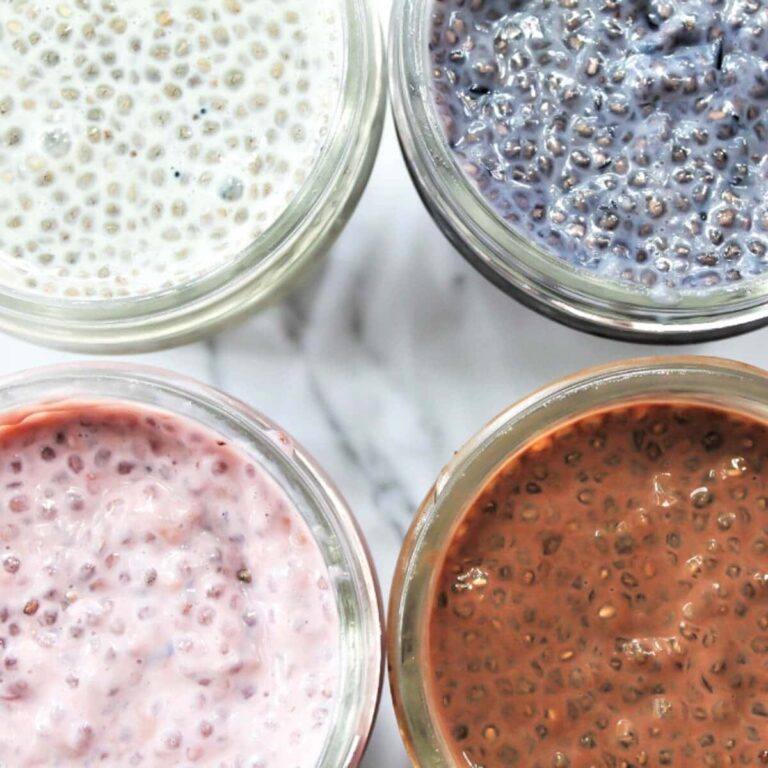 Easy Chia Seed Pudding
A quick and easy way to make chia seed pudding in a variety of flavors for snack or breakfast meal prep.
Cuisine:
gluten free, vegan
Keyword:
chia pudding, chocolate chia pudding, easy chia seed pudding
Ingredients
The base for 1 serving of chia pudding:
1/2

cup

soy milk

or any plant-based milk of choice

2

tbsp

chia seeds

1-2

tsp

sweetener of choice

like sugar, coconut sugar, agave nectar, or maple syrup
For the chocolate pudding:
1

tbsp

cocoa powder

1

tsp

extra sweetener

(to counteract the bitter chocolate)
For fruit or berry pudding:
3

tbsp

berries

or any fruit of choice fresh or frozen
For peanut butter pudding:
For chocolate peanut butter pudding:
1

tbsp

cocoa powder

1

tbsp

peanut butter

1

tsp

extra sweetener
Instructions
To make 1 chia pudding:
Add the milk, chia seeds, sweetener and flavor of choice to a blender and mix for about 20 seconds.

Let it sit for about 3-5 minutes and then come back and blend again for another 20 seconds.

Pour into small glass jars and seal with a lid. Keep in the fridge until ready to eat.  (up to 5 days).
To make a large batch:
Triple or quadruple recipe for 1 flavor and make the same as you would a single pudding.  Then pour into 3-4 small cups and store them in the fridge.

Rinse out the blender between each flavor and repeat until you have 12 cups of chia seed pudding ready to grab and go.
Recipe Notes
The amount of sweetener needed will depend on your taste and the sweetness of the plant-based milk that you use.
You may want to start with no sweetener and then taste the pudding and add sweetener at the end.
If you want pudding with whole chia seeds:
Blend all of the ingredients except for the chia and then add the chia seeds at the end and stir. 
Then stir again 5 minutes later and then again 15 minutes after that. 
Store in the fridge for 3-4 hours before eating. 
Nutrition Facts
Easy Chia Seed Pudding
Amount Per Serving (0.5 cup)
Calories 129
Calories from Fat 54
% Daily Value*
Fat 6g9%
Sodium 62mg3%
Potassium 220mg6%
Carbohydrates 13g4%
Protein 5g10%
Vitamin A 480IU10%
Vitamin C 8.7mg11%
Calcium 246mg25%
Iron 1.5mg8%
* Percent Daily Values are based on a 2000 calorie diet.
⭐⭐⭐⭐⭐ Leave a comment and starred review! I would love to hear from you!