These vegan meal prep ideas will change the way you do breakfast and will completely save your sanity in the morning! Quick and easy vegan meals that you can make ahead and eat for days. Let me show you how my vegan/gluten-free family preps for those rushed mornings before work and school with grab-and-go meals that are filling, high in protein, and most importantly, convenient!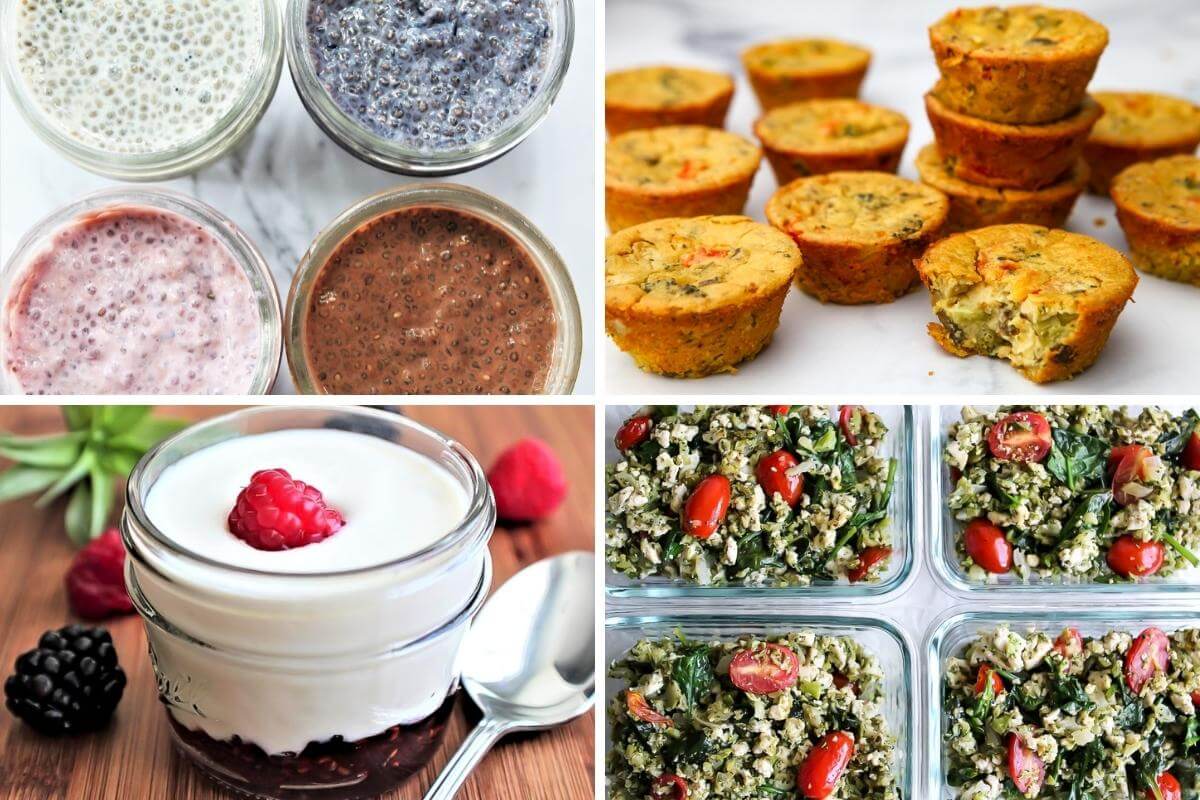 Jump to:
If you're anything like me, you can barely handle making coffee in the morning, let alone making a healthy meal for your family in the morning. I need to prep things ahead of time, or everyone is searching around complaining that there's nothing to eat.
Unfortunately, my family doesn't like any convenient foods like cereal, and they needed to be gluten-free, so toast, English muffins, and bagels were out too. So, I had no choice but to meal prep.
I thought that you may find it helpful to see how I meal prep vegan breakfast!
Savory high protein low carb breakfast ideas
Tofu meal prep options
Veggie Packed Vegan Tofu Scramble with Pesto – Make a tofu scramble filled with your favorite veggies for a healthy low-carb, high-protein meal. Then pack it in glass Snapware containers so it's ready to pop in the microwave in the morning for a hot breakfast!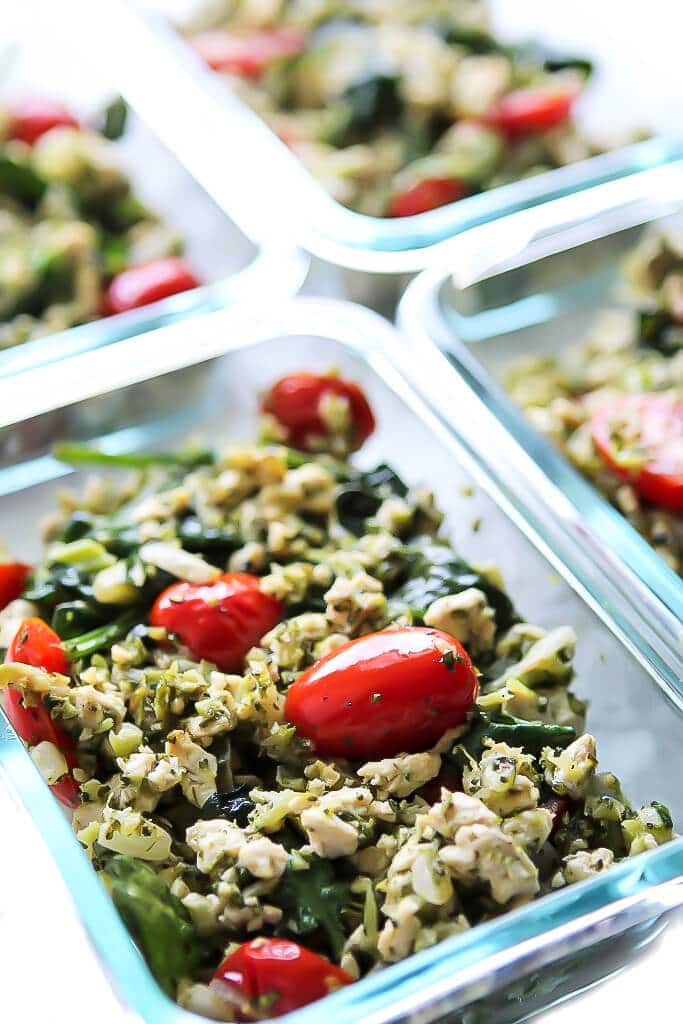 Easy Vegan Scrambled "Eggs"- These scrambled eggs will amaze you! If you miss eggs for breakfast, then this recipe is for you! You can make up a batch and keep it in the fridge until you are ready to fry it up or you can cook it all and put it into individual containers to reheat when you're ready to eat.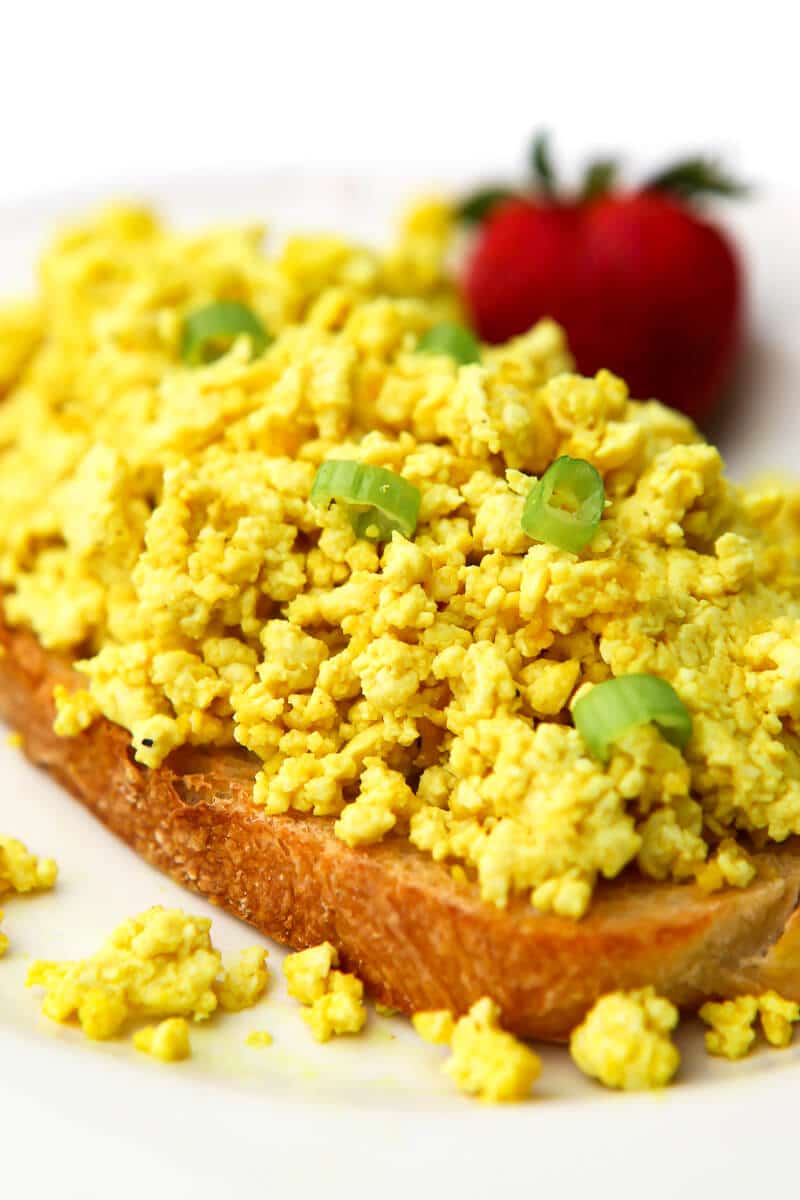 Savory Vegan Muffins - These delicious little muffin-sized quiches are like a hand-held tofu scramble.  They're good cold or you can pop them in the microwave for about 30 seconds and have a portable, hot, high protein, vegan breakfast on the go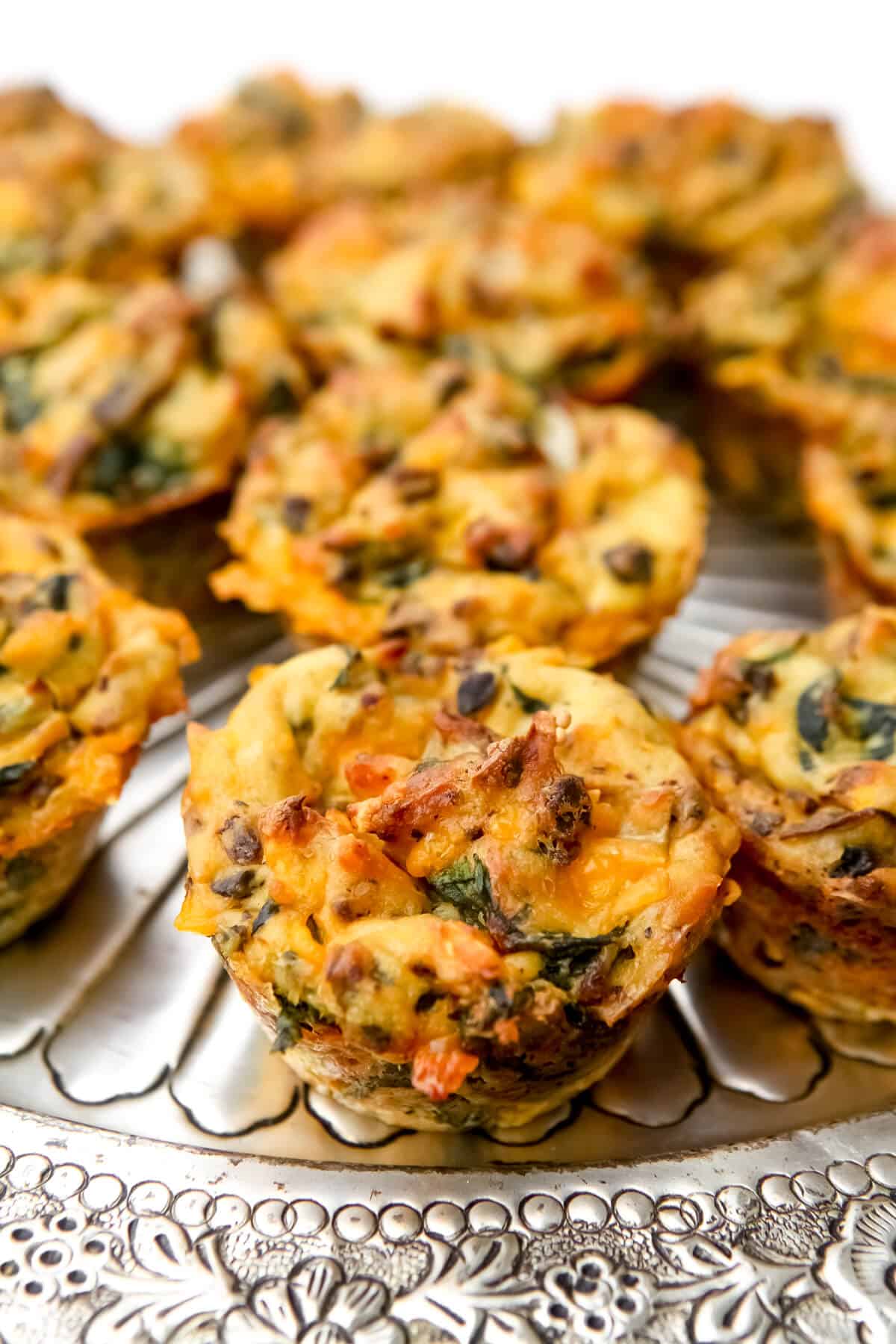 My make-ahead Vegan Breakfast Burritos or Freezer Friendly Tofu Burritos from Gwen at Delightful Adventures are also a great vegan meal prep solution!  Make up a batch over the weekend, wrap them up, and keep them in your freezer until you are ready to heat and go!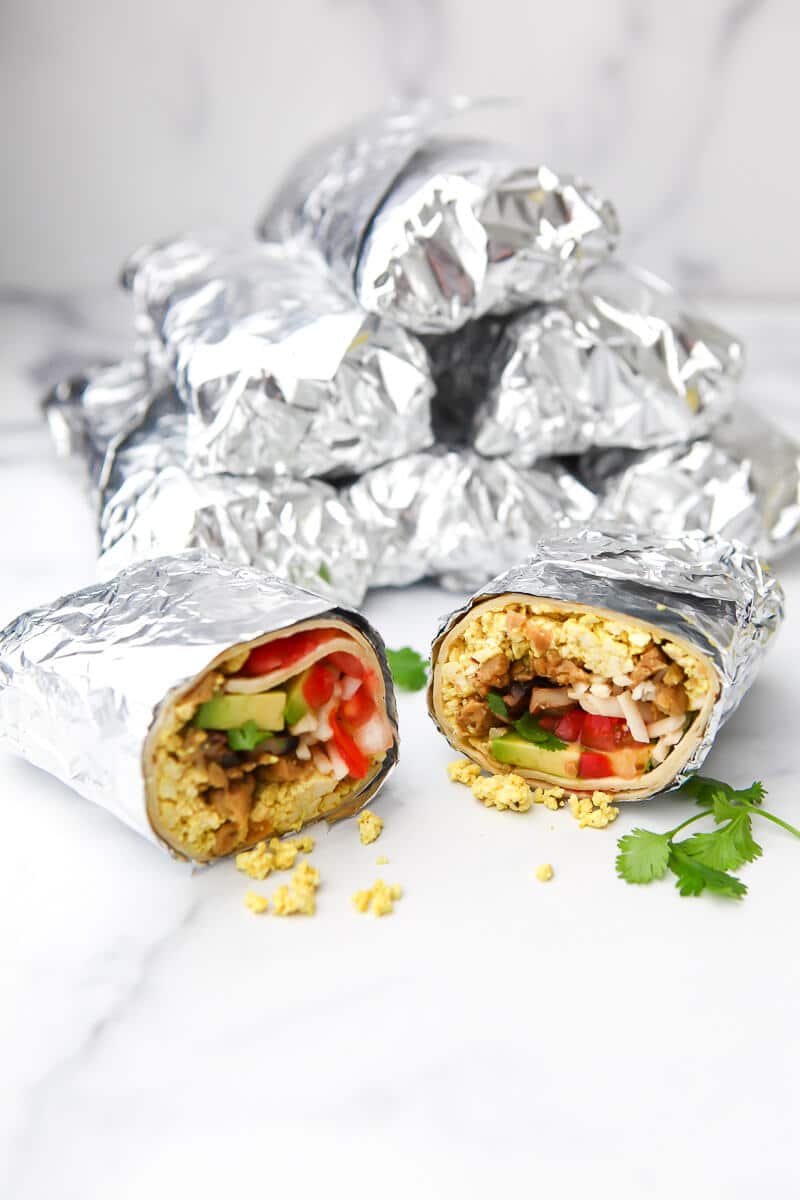 Vegan Egg Mc Muffins - These vegan breakfast sandwiches are made with tofu "egg" and a delicious savory sauce on an English muffin. Add vegan cheese and a vegan sausage patty, tempeh bacon, or vegan bacon for a more filling meal. Make up a bunch, wrap them in parchment paper, and store them in a freezer bag until ready to pop in the microwave and heat.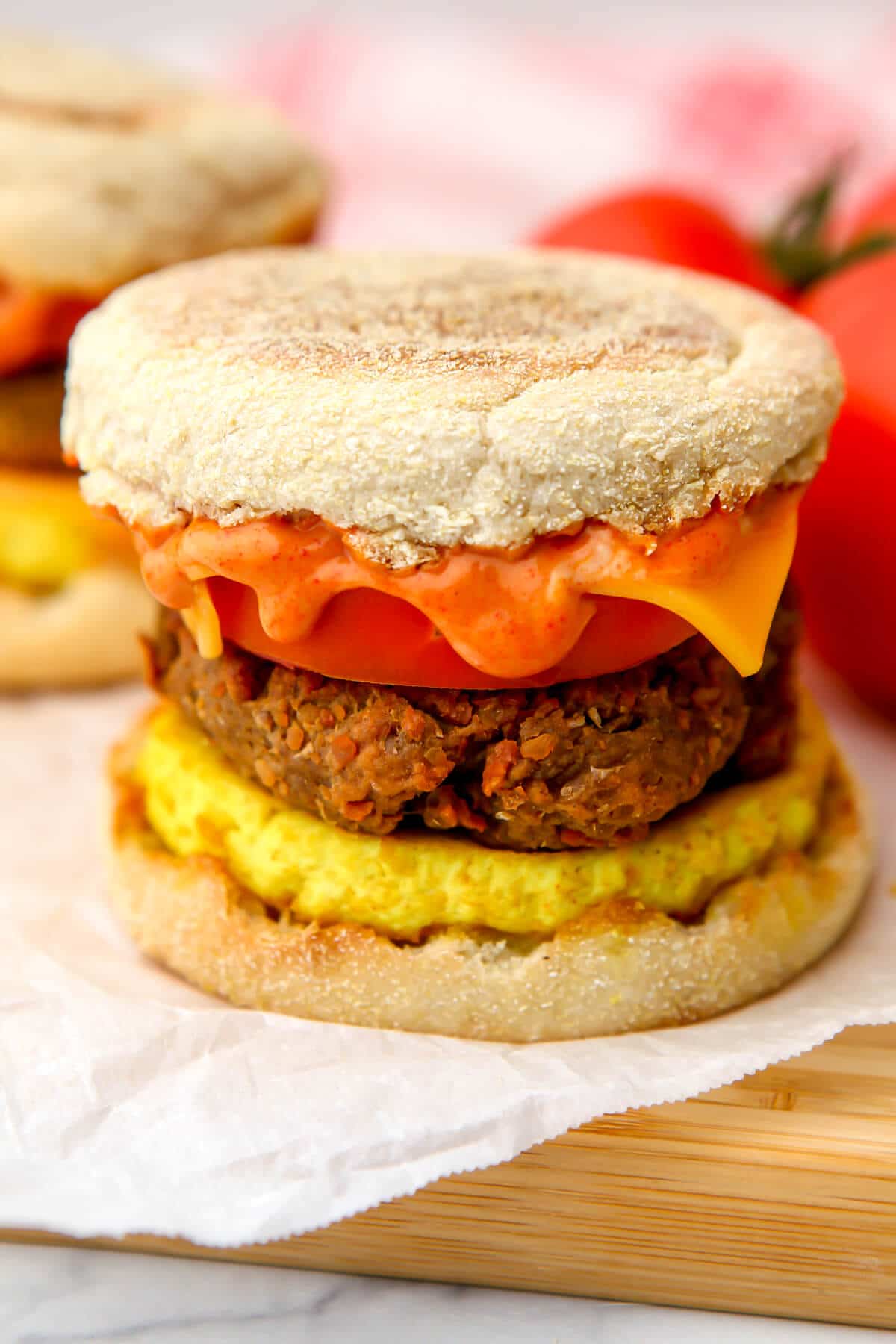 Vegan Breakfast Casserole - a tofu-based breakfast casserole is packed with veggies, vegan sausage, and vegan cheese then topped with tater tots and baked to perfection. Easily made gluten-free and it's always a crowd-pleaser!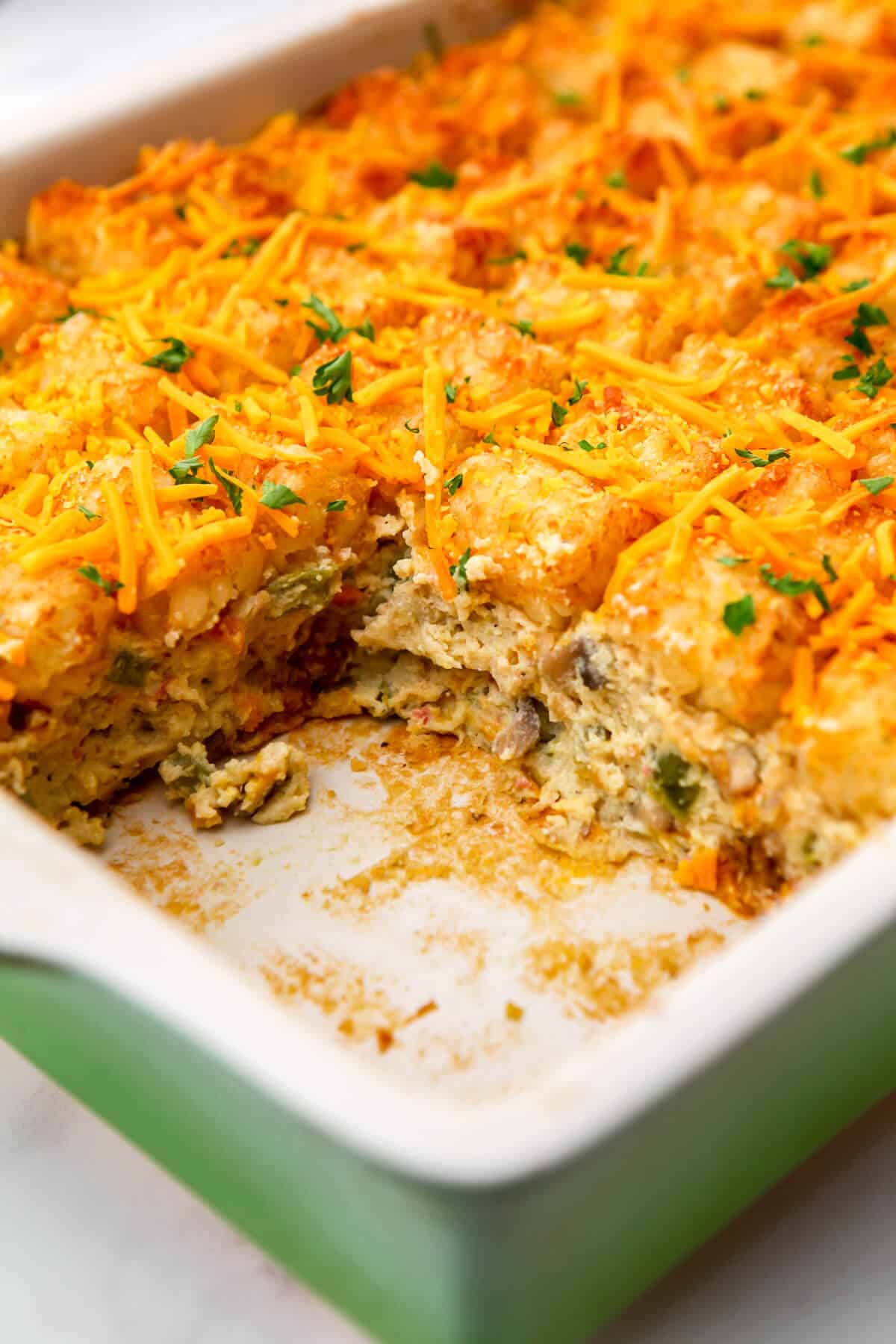 Soy-free chickpea-based breakfast prep options
Chickpea Omeletts - If you haven't used chickpea flour yet, now is the time! Chickpea flour omelets are absolutely amazing! Full of protein, and you can pack them with your favorite veggies and they're hot and satisfying! You can make up a batch of the powder ahead of time and just add water when you're ready to cook them! They work great for camping and backpacking too!
Chickpea Bread Made 5 Ways - This bread is another chickpea flour wonder! It's packed with protein and you can add any herbs, spices, or veggies that you like to make the bread in a variety of flavors. It's kind of like a cross between quiche and cornbread. Slice it up and it's ready to grab and go for days!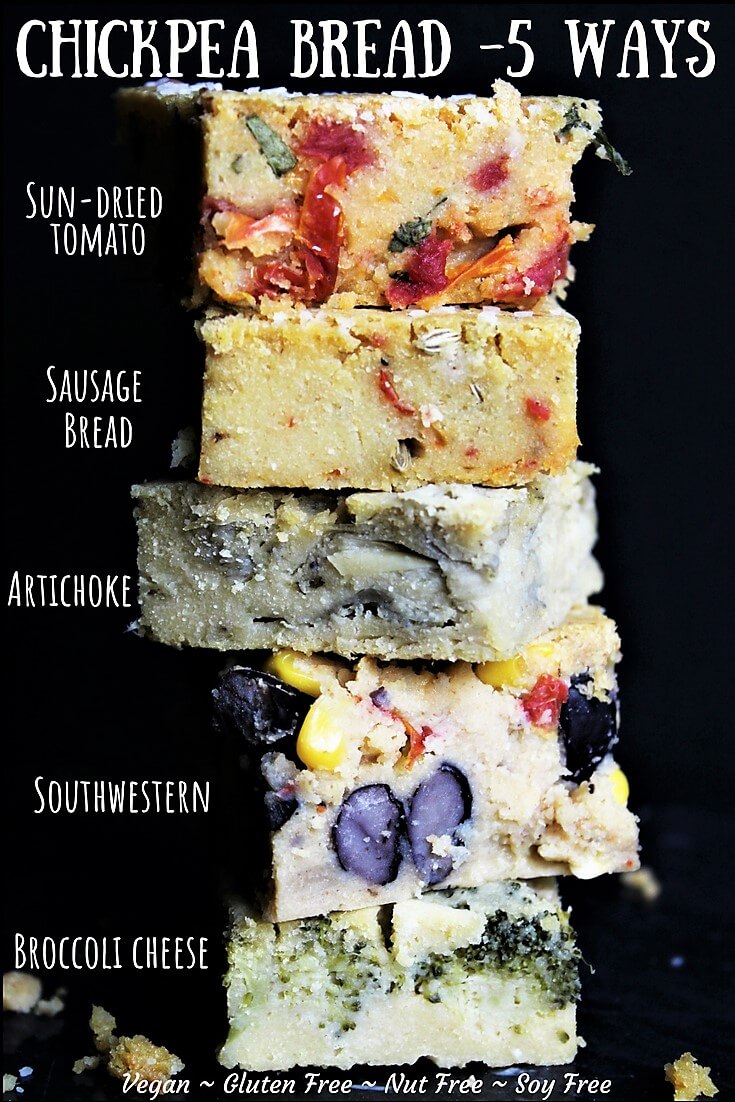 Vegan Egg Muffins - These vegan egg muffins are all of the goodness of a vegan omelet baked into a cute little muffin tin for an easy grab-and-go vegan breakfast. Made with high-protein chickpea flour, these little muffins will fill you up.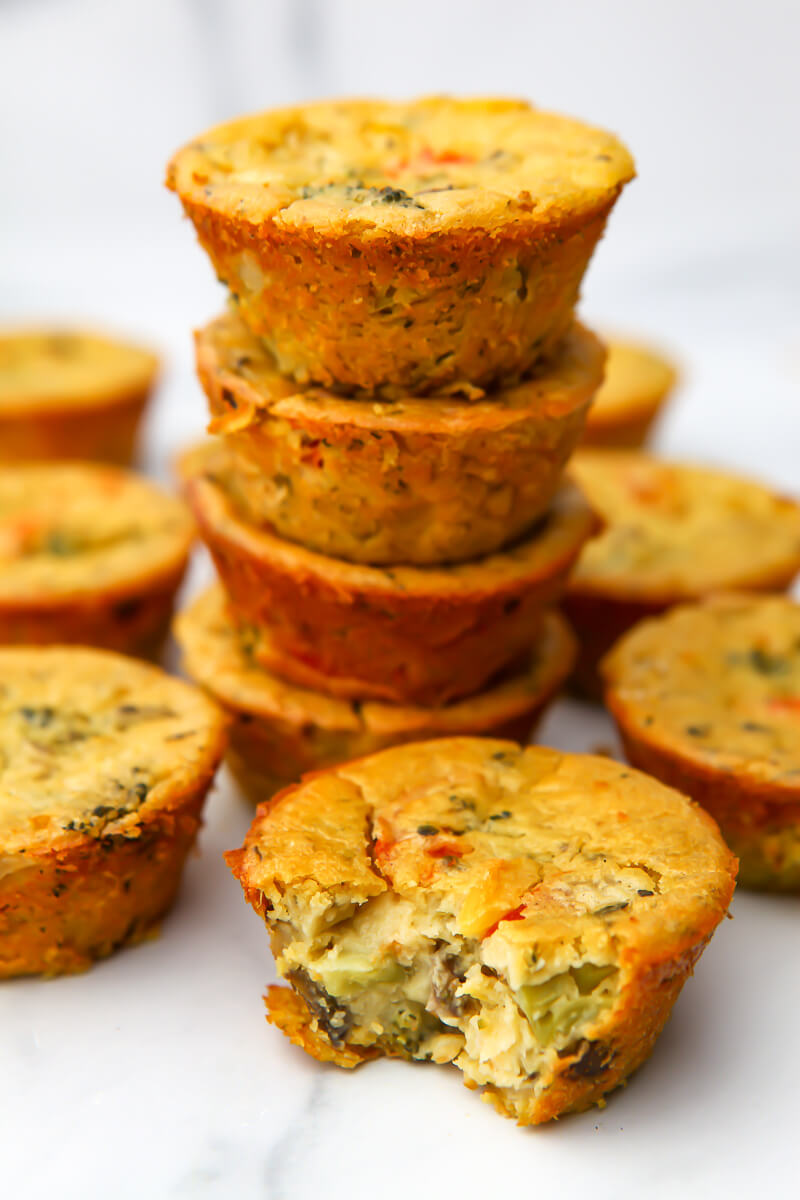 Healthy sweet vegan meal prep breakfasts
Healthy Almond Butter Freezer Fudge - You may not think of fudge as a breakfast food, but this is fudge is made from only almond butter, some maple syrup, and cocoa powder. You simply mix the ingredients into a batter and freeze it until firm. You then have bite-sized chocolate-flavored almond butter bites.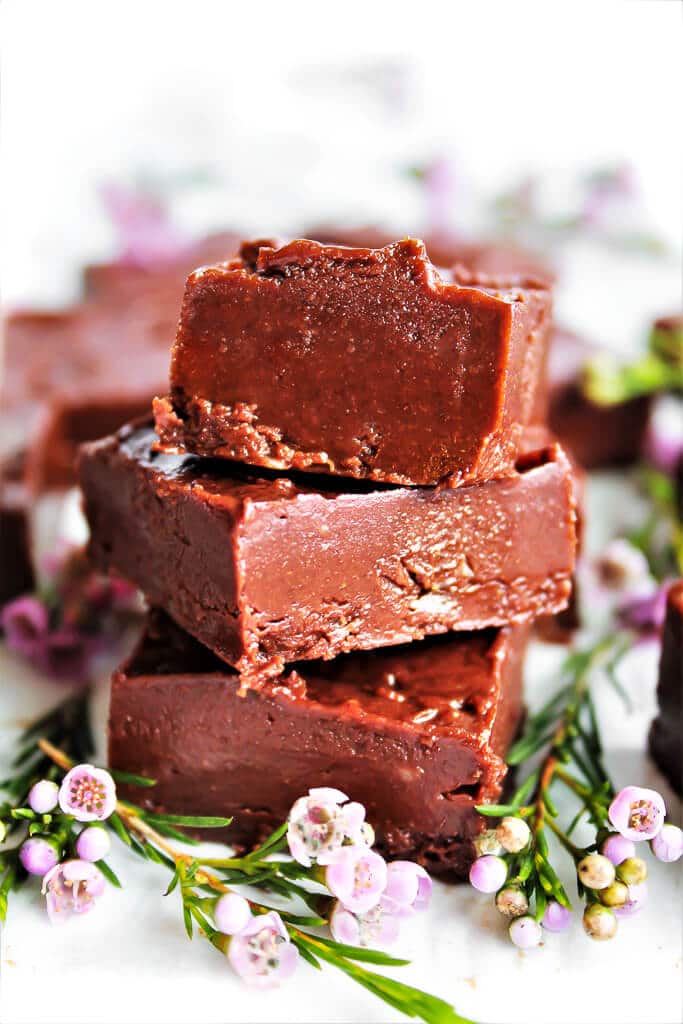 Vegan baked goods for meal prep
Healthy Vegan Muffins with Hidden Veggies - These muffins are packed with zucchini, carrots, flax, applesauce, and oats yet they taste as good as a cupcake! My kids eat muffin after muffin, not knowing how much nutrients are packed into each one.
Mint Chocolate Chip Spinach Muffins - These healthy spinach muffins are a delicious kid-friendly treat, yet they're packed with bananas and tons of spinach, and taste delicious. Even your picky eaters will love these muffins!
Any muffins work great for meal prep as long as your family doesn't eat the whole batch as soon as it comes out of the oven! (This can be an issue in my house.) Some of our favorites are...
Vegan meal prep with your blender
Easy Chia Pudding - The easiest way to make healthy chia seed pudding! Put it into little 4 oz. mason jars perfectly sized for kids to grab for breakfast or a healthy snack! I usually make up 12 at a time in a few different flavors like chocolate, vanilla, strawberry, and peanut butter. The kids love them, and they can even fit in your purse bag for a snack on the go.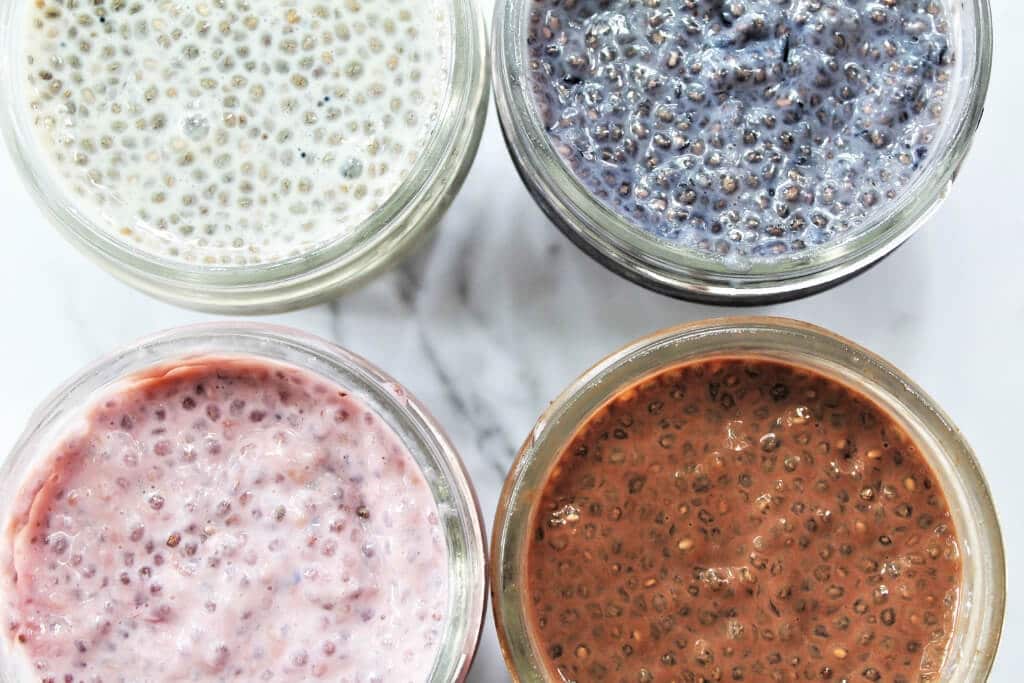 Soy Yogurt - You can buy many varieties or make your own vegan soy yogurt and top it with berries. To have your yogurt prepped and ready to eat, put a little jam at the bottom of a 4 or 6-oz sized mason jar and fill the rest of the way with my homemade yogurt. This way you have ready-to-eat, flavored, portable, and perfectly sized fruit on the bottom yogurt!
Make-Ahead Smoothies - These make-ahead smoothies have changed my life! I'm not being dramatic when I say this. My husband is gluten-free, vegan, and hates most breakfast food. He searched the kitchen every morning in a panic that he had nothing to eat for breakfast. That is until I started to make up these smoothies and had them ready to go in the freezer. He just adds soy milk and blends it right in the mason jar. He can then just put the lid back on and drink it on his way to work!
The kids love them too! When they say that they want a snack, I can just direct them to the freezer to pick out a flavor smoothie.
*Make sure to follow the safety instructions on your blender or get a blender designed to blend in Mason jars.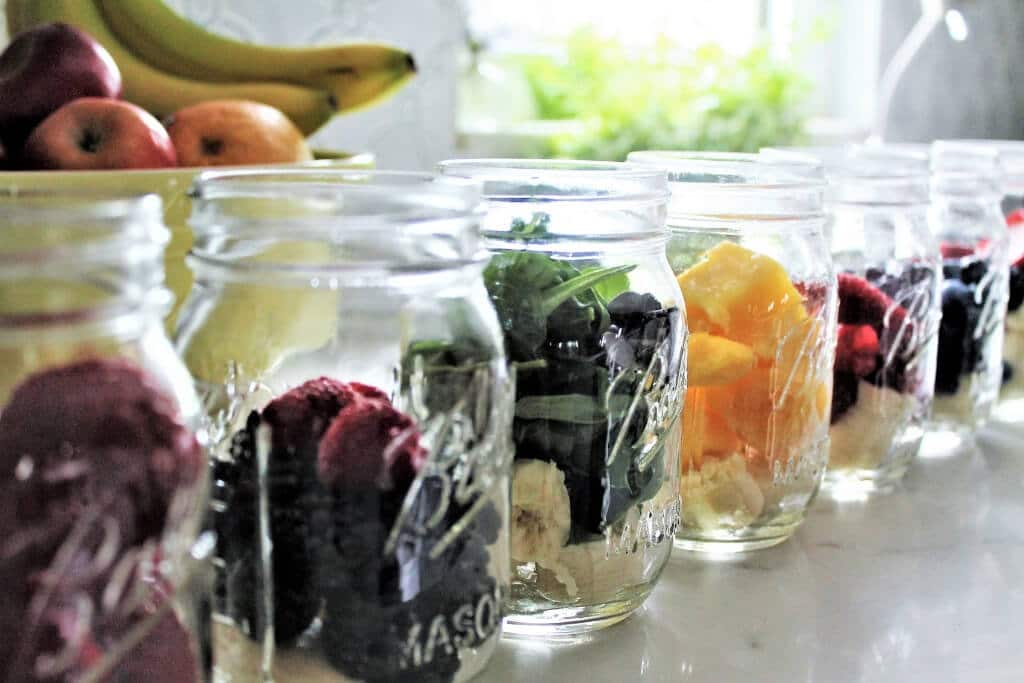 More vegan breakfast ideas
Oatmeal – Instant oatmeal for a quick and easy hot cereal. Or you can use my oatmeal mug muffin recipe and have a fresh hot muffin in 2 minutes!
Grits – These are delicious with a little vegan butter or some vegan cheese sprinkled in!
Cereal – Just add some plant-based milk and you're ready to eat.
Hash browns – These are not the healthiest, but filling and convenient on those busy mornings. 
Toast – Top with vegan butter, jam, avocados, baked beans, or hummus.
Bagels – Top with peanut butter, jam, or vegan cream cheese.
Fruit - Let's face it, an apple or banana is the healthiest grab-and-go breakfast you can eat!
Vegan Muffins - Some of our favorites are raspberry muffins, blueberry muffins, healthy veggie muffins, spinach muffins, banana chocolate chip muffins, and double chocolate chip muffins.
I hope these make-ahead vegan breakfast prep ideas help you and your family to have some more breakfast and grab-and-go snack options! Leave a comment and let me know which ones you like the best or let us know if you have more ideas that work for you!
📌 Be sure to follow me on Pinterest for new vegan recipes!
*This was originally posted on 2/5/19. It was updated on 1/7/22 to include more make-ahead breakfast ideas.