This easy no-bake vegan cheesecake tastes just like authentic cheesecake, but it's completely nut-free, dairy-free, and can be made gluten-free too! You can whip it up in minutes with a few simple ingredients and let it chill until you are ready to serve it!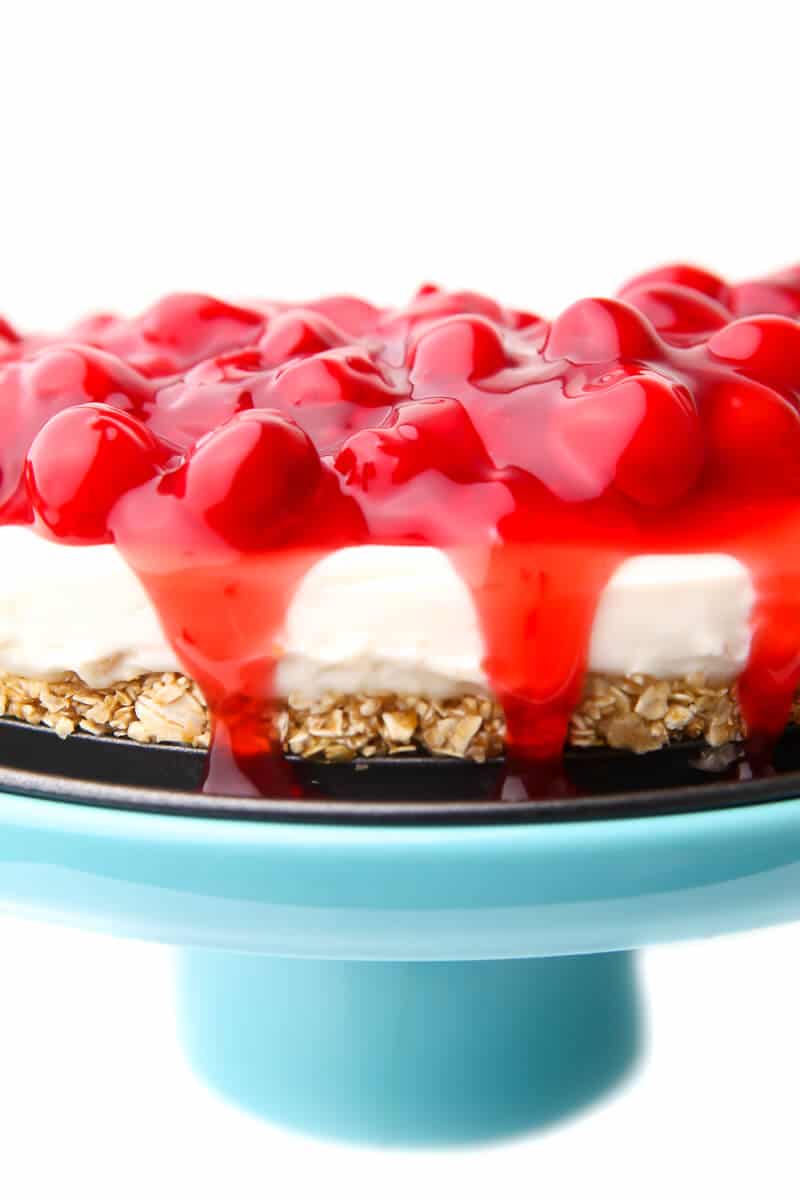 What people are saying about this recipe ...
I just made this! OMG - The best cheesecake that I have had since going vegan! Thank you for the recipe! ~ Rachel
Jump to:
Use this basic vegan cheesecake recipe to make any flavor combo that you wish. Top it with fresh fruit, use cherry pie filling for an easy cherry cheesecake, or drizzle it with caramel for a vegan caramel cheesecake. However you top it, it will be delicious!
I know that there are a ton of delicious cheesecake recipes out there that use cashews as the main filling, however, my husband won't eat a nut to save his life, so I had to create another method for the creamy cheesecake taste that we were craving. (Yes, my husband is a vegan who won't eat nuts! - He likes to give me a challenge)!
🧾 Ingredients and substitutions
Ingredients to make the filling
Vegan Cream Cheese (Tofutti or Trader Joe's brands are my favorites) If you can't find vegan cream cheese you can use my vegan cream cheese to make your own out of tofu, however, the store-bought varieties give a smoother texture.
Refined Coconut Oil - you must use coconut oil to help it set up and get firm. Other oils that are liquid at room temperature will not work. I use refined coconut oil, so it doesn't have the coconut flavor, however, if you like that flavor, you can use regular coconut oil or vegan butter.
Vegan Sugar - a white or near-white sugar will give you the whitest cheesecake filling. Look for organic sugar to be sure it's vegan
Lemon Juice - to cut the sweetness of the cheesecake and give it a depth of flavor. The acidity also helps the cheesecake set.
Homemade graham cracker crust
Gluten-Free Oats - to be chopped up into flour that has a similar consistency to graham crackers. This is the base of the crust.
Coconut Sugar - to give it a natural molasses flavor that you find in traditional graham crackers. You can also use Sucanat or brown sugar, but coconut sugar has the most similar flavor to graham crackers.
Coconut Oil - to hold it all together. You can also use vegan butter if you don't have coconut oil.
Salt - just a dash for flavor.
🔪 Helpful tools
A blender, mixer, or immersion blender to mix it all up!
A springform pan or a pie dish.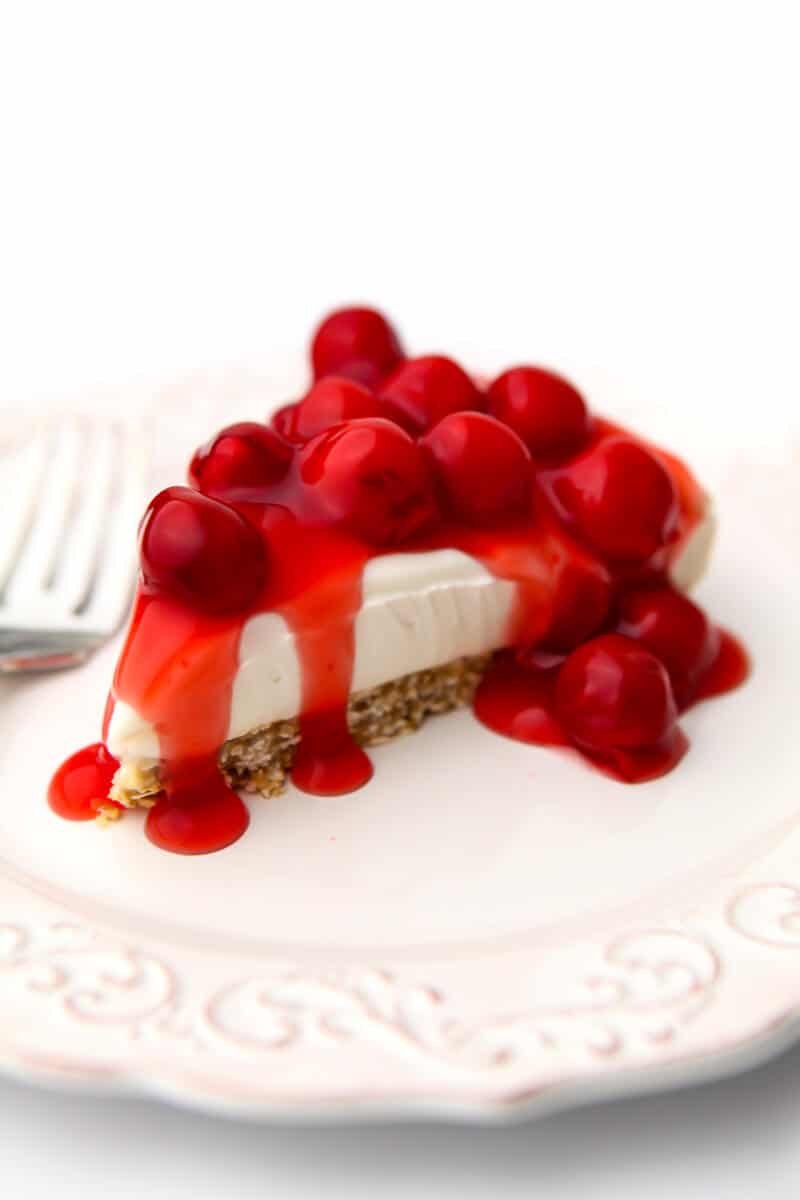 🥧 Choosing your crumb crust
You can use your favorite graham cracker crust recipe or buy a pre-made one and just pour in your filling. To find vegan graham crackers that are made without honey, look for the red box of Nabisco brand graham crackers and crush them yourself.
You can also make a crust out of any crushed-up vegan cookies like Oreos as I do in my vegan Oreo cheesecake recipe or Lotus Biscoff cookies like in Biscoff cheesecake.
I like to make my own gluten-free graham cracker crust. It's very simple to make with oats and can be whipped up in minutes with a food processor.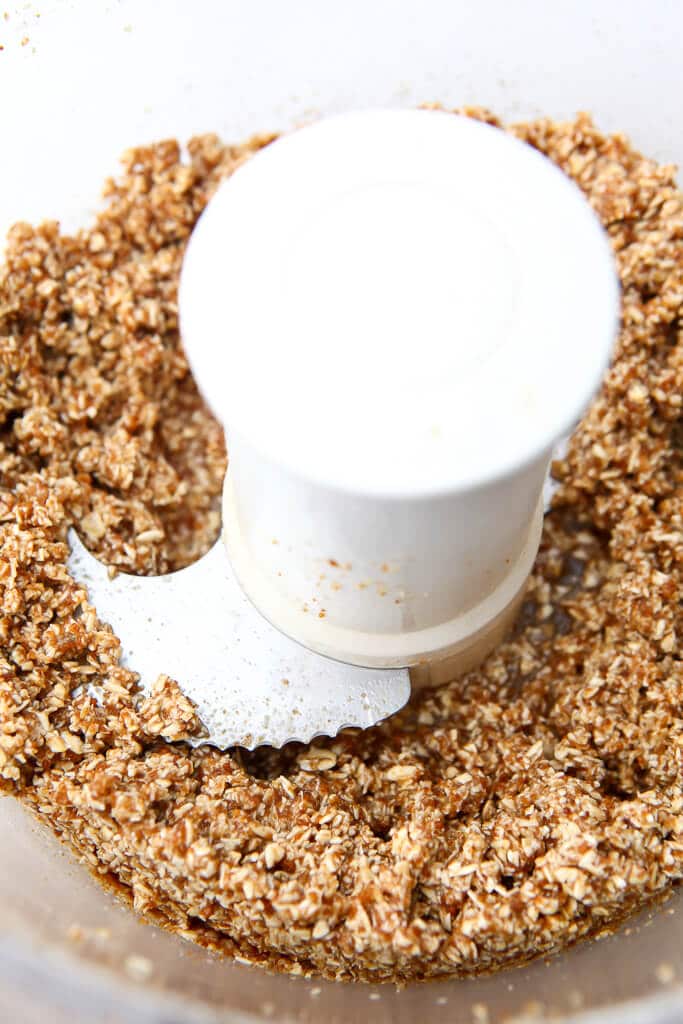 🥄 How to make a no-bake vegan cheesecake
A full printable version of this recipe with ingredient measurements is available at the bottom of this post.
Step 1 - Make your chosen vegan cheesecake crust. (choices above)
Step 2 - Simply add the cream cheese, melted coconut oil, sugar, and lemon juice, into a blender.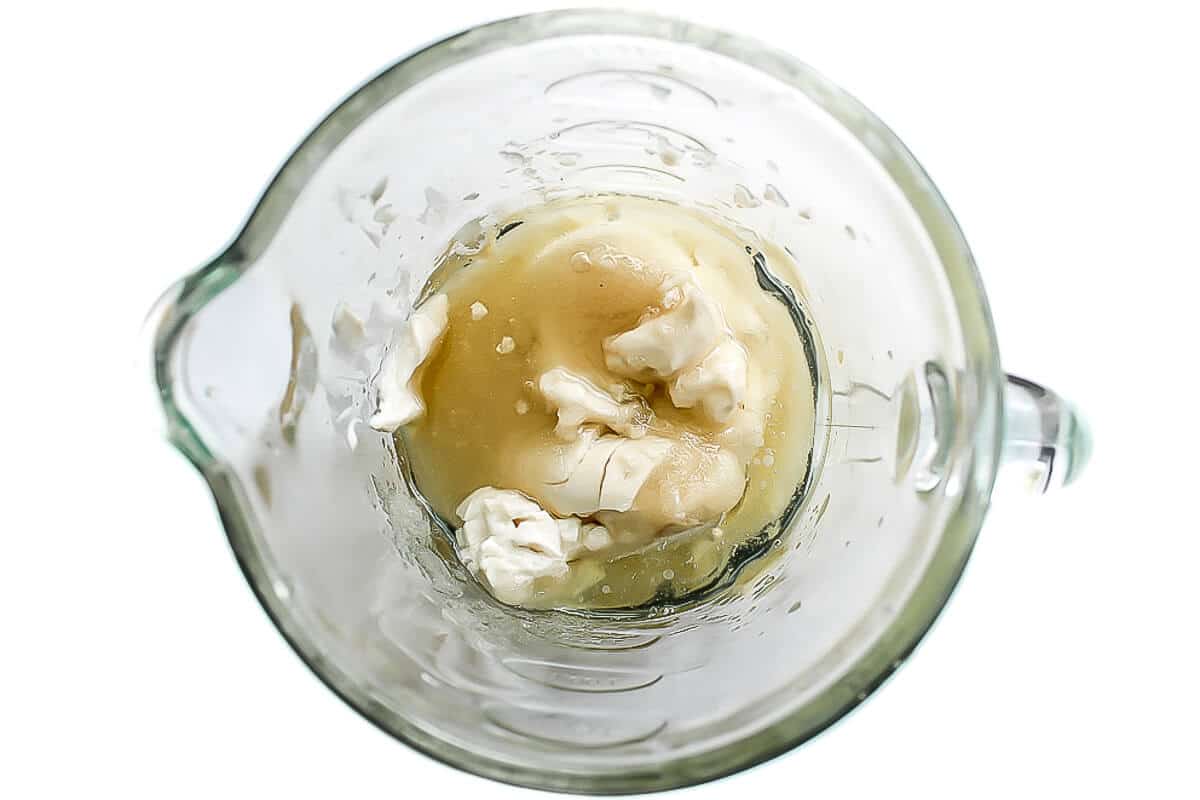 Step 3- Blend until smooth and creamy. (You may have to stop and scrape the edges a few times.)
Step 4 - Then pour the filling into a crust of your choice and chill in the fridge. A few hours later, you will have a deliciously creamy treat!
🌟
Cheesecake pans
When making a large cheesecake, I use a springform pan. This way you can take off the edges and get the slices out in a nice neat piece. (I use a 9-inch pan, but if you want your slices thicker, you can use a 7 or 8-inch size or simply double the batch of filling).
🍒 Vegan cheesecake t
oppings
You can use berries like fresh raspberries, blackberries, and blueberries on top. Add mint leaves to make a beautifully decorated cheesecake.
You can also make a berry sauce, also known as a berry compote, to drizzle on top. A berry compote is surprisingly easy and will only take you about 5 minutes. You can also just use any canned fruit filling from the store if you want to make it very easy on yourself.
You can also use vegan salted caramel, peanut butter caramel, or vegan butterscotch sauce on top.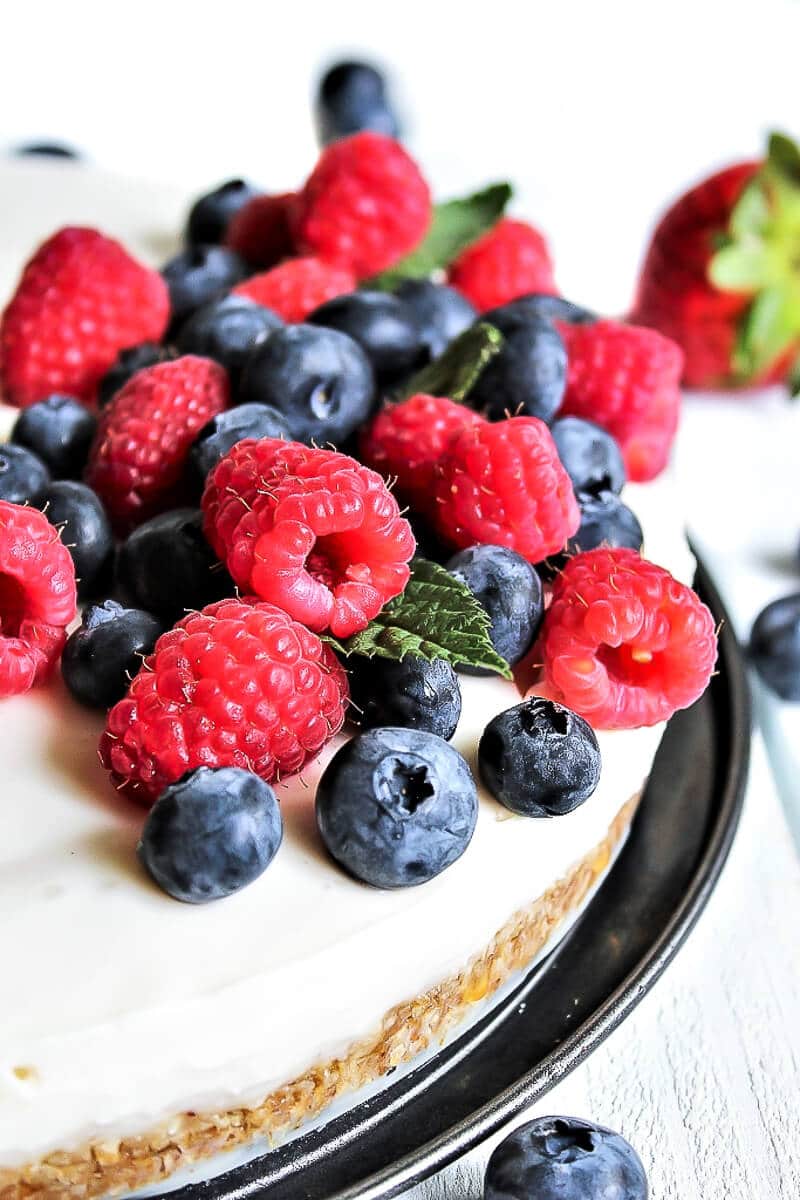 ❄️
Chilling

the cheesecake

Let your cheesecake chill for at least 4 hours to allow it to set before cutting. It will continue to firm up and set firmer over the next 24 hours, so it is best to plan ahead and make it the day before or in the morning if you plan on serving it for dessert that evening.
👩🏻‍🍳 Pro Tips
Let the cream cheese warm up to room temperature before blending. This will ensure that the coconut oil doesn't cool too fast. This will make it smoother and creamier.

Only heat the coconut oil until it melts. Don't use very hot coconut oil or it will take much longer to cool completely and set.

If you use a regular pie dish and not a springform pan, let the cheesecake warm up for about 5-10 minutes after taking it out of the fridge so it releases from the pan easier.

Don't forget to top it with something delicious like some berry compote, vegan salted caramel, vegan whipped cream, or vegan butterscotch sauce

to drizzle on top or swirl into your vegan cheesecake!
🌟
Cheesecake bites instructions
You can easily turn this recipe into vegan cheesecake bites! They're perfect for parties and kids love them!
Use a muffin tin and line each section with 2 strips of parchment paper making an X at the bottom of each muffin tin. The strips need to be long enough to fit inside a muffin tin with tabs sticking up enough to grab onto. (about 1 inch wide and 6 inches long).
Then put about 1 tablespoon of graham cracker crust mix on top of each piece of parchment.
Pack it down firmly with the back of a spoon or your fingers.
Then fill with the cheesecake filling.
Put your cheesecake bites into the refrigerator to set for at least 3 hours. They will set firmer if left overnight.
When the cheesecake is firm and done setting, you can pull on the parchment tabs and pop it out of the molds. If they are stuck to the side, go around the edges with a sharp knife to release them from the molds.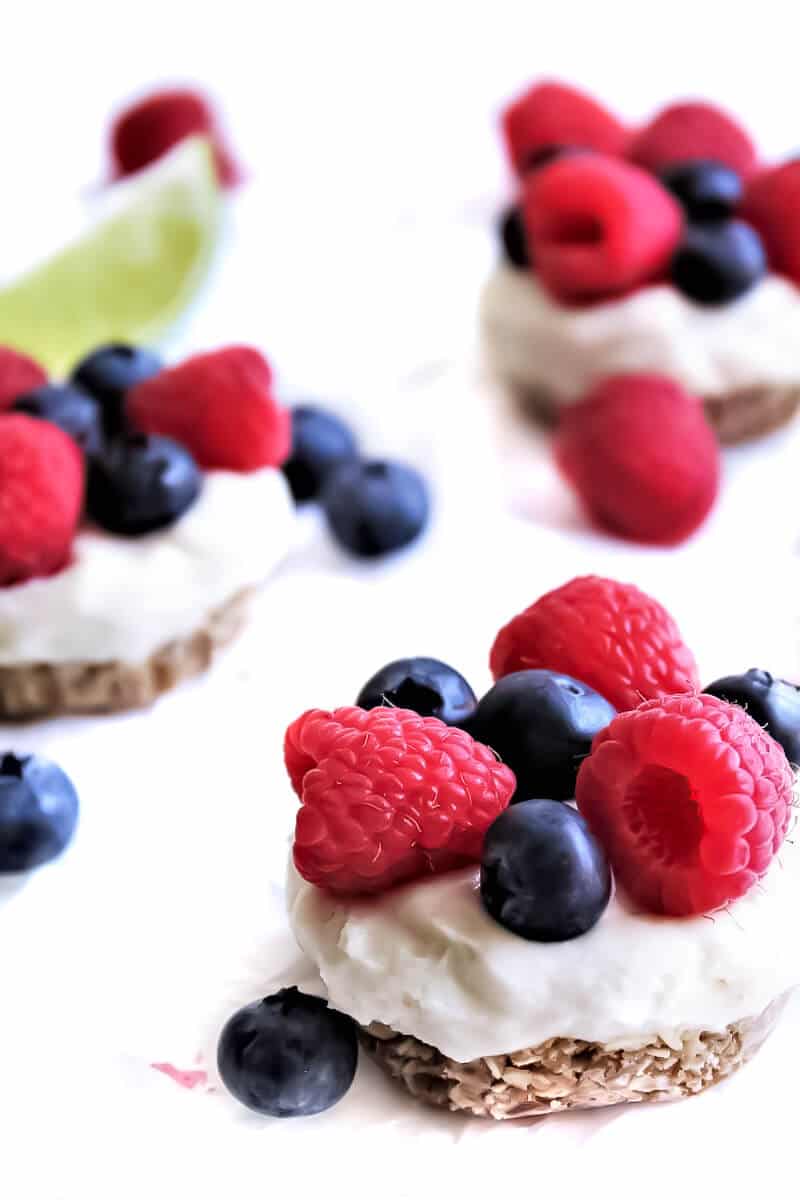 ❓ Can I freeze the cheesecake?
Yes, you can make this cheesecake ahead of time and keep it wrapped tightly in the freezer for up to 3 months or until the day before you are ready to serve it. Allow it to thaw overnight in the fridge before serving.
This dairy-free cheesecake recipe is the base for tons of my other no-bake cheesecake recipes too like vegan blueberry cheesecake, chocolate cheesecake, oreo cheesecake, pumpkin cheesecake, and key lime cheesecake.
🫐 Other vegan cheesecake flavors
I'm a huge fan of cheesecake in any flavor. My son always says, "Cheesecake is the best kind of cake" and I have to agree! Be sure to check out other flavors too!
🍨
More no-bake desserts
📌 Be sure to follow me on Pinterest for new vegan recipes!
📋 No-bake vegan cheesecake recipe
Print Recipe
No-Bake Vegan Cheesecake
This no-bake vegan cheesecake is made dairy-free, gluten-free, and nut-free with vegan cream cheese and a few basic ingredients.
Instructions
Allow the cream cheese to warm up for a while before blending or put it in the microwave for about 20 seconds to make it close to room temperature before blending.

Place the cream cheese, melted oil, and sugar in a blender or mixing bowl and blend until mixed.

Add the lemon juice and blend again until very creamy.

Chill for at least 4 hours to set. (For best results chill overnight.)
Notes
For a firmer cheesecake, allow it to sit for longer in the refrigerator.  It will continue to firm up slightly the longer it chills.
Let the cream cheese warm up to room temperature before blending.  This will ensure that the coconut oil doesn't cool too fast.  This will make it smoother and creamier.
Only heat the coconut oil until it melts.  Don't use very hot coconut oil or it will take much longer to cool completely and set.
Nutrition
Serving:
1
slice
|
Calories:
232
kcal
|
Carbohydrates:
15
g
|
Protein:
2
g
|
Fat:
20
g
|
Saturated Fat:
11
g
|
Sodium:
145
mg
|
Potassium:
10
mg
|
Fiber:
2
g
|
Sugar:
12
g
|
Vitamin C:
4
mg
|
Calcium:
24
mg
|
Iron:
0.4
mg
*This recipe was originally published on May 25, 2018. It was updated on June 30, 2020, to include new images and more detailed recipe instructions.
⭐⭐⭐⭐⭐ Click the stars above or leave a comment! I'd love to hear from you!